As every day goes by, British satellite giant Inmarsat (OTCPK:IMASF, OTCPK:IMASY) seems like a more enticing stock buy, but at the same time, is one that warrants a great deal of caution.
Currently, the stock is sitting at the bottom end of its 52 week period. At the time of writing, one share of Inmarsat stock will cost you 463.70p, which is around a 60% discount from its highest price of 1137p back in 2015.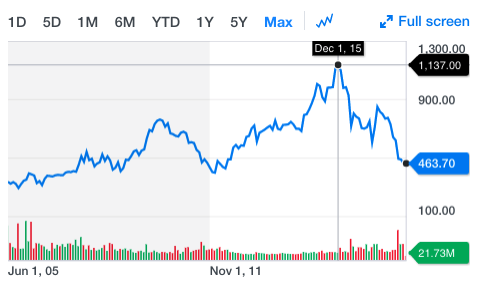 [Source: Yahoo Finance]
Indeed, Inmarsat has taken a battering over the last few years.
In its most recent results (Q3 November 2017), Inmarsat revealed that revenues remained unchanged in their maritime sector. The news caused the stock to tumble because maritime revenue accounts for 48% of the company's overall revenue. Even 2015-2016 only saw a 3% growth in maritime revenue.

[Source: Inmarsat Investor Relations Q3 2017]
So why should investors be interested in it? Even at its seductive low P/E ratio of 9.8, uninspiring figures in its financials would suggest that investors simply leave this one alone.
However, Inmarsat has a trump card that investors need to pay attention to: aviation. Last quarter Inmarsat's aviation sector saw an increase in revenue of 50.1%. By any measure, a revenue increase of 50.1% is impressive. The growth was accredited to a deal with AirAsia Group, which signed a contract to offer Inmarsat's GX Aviation high-speed broadband on over 120 aircrafts.
This is where it gets even more interesting.
In the same month of releasing earnings, Inmarsat and airline giants Emirates also confirmed a deal. The Dubai based airline agreed to install Inmarsat's GX Aviation high-speed inflight broadband service on its Boeing 777X aircraft fleet, with deliveries scheduled from 2020.
News of this should not be taken lightly. Not only will this deal result in incredible turnover for Inmarsat's aviation sector, but it confirms that Inmarsat deserves their position as the world's leading provider of global mobile satellite communications. Emirates, which recently revealed its new 'zero gravity' first class suites, is known for its unparalleled onboard luxury and prioritizing customer service. Entrusting Inmarsat with their inflight broadband service is a statement in itself.
Rupert Pearce, CEO of Inmarsat, recently said that there has been an increase in demand for inflight Wi-Fi from passengers. Passengers are comprising of "more and more of people who grew up connected and insist on being connected." Pearce said. "They're telling the airlines, 'connect me or I fly with someone else'."
I agree with him. Inflight Wi-Fi used to be considered a luxury, but now, the lack of internet onboard feels like a hindrance. Even if you feel comfortable without Wi-Fi onboard right now, you'd be foolish to suggest that onboard internet isn't inevitable in the future. Inmarsat certainly has the potential to be at the forefront of this development.
Sadly, this is where the good news ends.
Aviation only contributes 12% of Inmarsat's overall revenue. Government and enterprise provide the rest of the company's revenue, after maritime. Government and enterprise growth last quarter was only 4.2% and 1.6% respectively - figures which are almost as uninspiring as maritime.
So what's an investor to do? The majority of Inmarsat feels lackluster and uninspiring. Although the company isn't suffering maritime losses, the lack of growth in any company's biggest sector is never good news. On the flip side, aviation is doing extremely well for the company and the future looks incredibly bright.
Well, as long as there aren't any troubled waters ahead for its maritime division, Inmarsat seems like a safe stock to buy. However, whether it's worth buying just for its aviation potential is a tougher question to answer. I fervently believe that its aviation division has even better days ahead of it, even with 50% revenue growth last quarter, but the fact that it makes up such a small percentage of the company is unnerving.
Disclosure: I/we have no positions in any stocks mentioned, and no plans to initiate any positions within the next 72 hours. I wrote this article myself, and it expresses my own opinions. I am not receiving compensation for it (other than from Seeking Alpha). I have no business relationship with any company whose stock is mentioned in this article.
Editor's Note: This article discusses one or more securities that do not trade on a major U.S. exchange. Please be aware of the risks associated with these stocks.