Market Intro

Well, the Fed has got to be cheering this excellent news, right? Inflation targets appear to have a solid shot at being reached. That must be good for the economy!


CNBC: 12:11 PM
Actually, as scary as this week has been within the scope of the last couple years, this is overall just pulling back from a run-up that was pretty intense in January (see Gundlach Tweet below). The pull-back really came from out of nowhere, and the fact that it occurred alongside a melt-down in cryptocurrency may make the facts appear more salacious than they really are.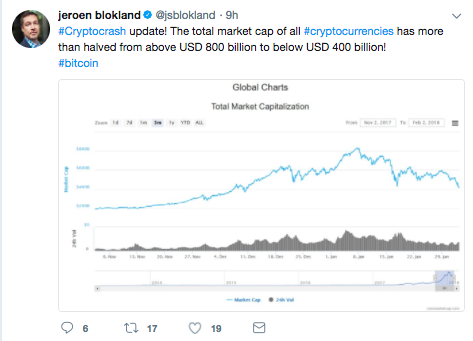 Really we've had a week at this point that was almost a perfect reversal of 2017, and for that matter most of January. For now, it is worthwhile to consider the action in equities (SPY, DIA, QQQ, IWM) in that light.

The move higher in yields (IEF, AGG, TLT, LQD) has been breathtaking. It certainly feels like we're on the door step of 3%. I think you should ask yourself why 10 days ago that did not seem concerning at all (yields had been on the rise for quite some time), and all of a sudden it is a harbinger of volatility and a "rout cause" (pun intended).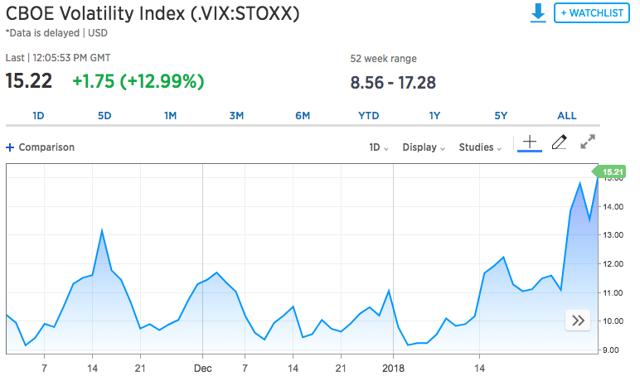 Thoughts on Volatility

Don't worry Mr. Gundlach: stocks seem to be reevaluating their belief structure from last month.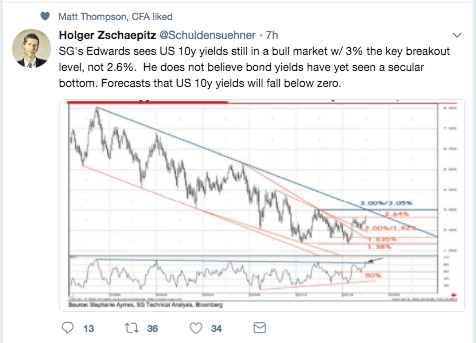 Rates have been on the incline. That's no secret of late. There's plenty to this story, in terms of expectations for inflation, for the USD, for "stocks". The truth is that higher inflation and/or rates can and will generate different impact on various sectors of the stock market. It is worthy of consideration, however, that only in July of 2016 Treasury yields hit an all-time low and were destined to fall below 1% and maybe to 0% as Albert Edwards predicts (see above Tweet). If inflation ticks up this thesis becomes a more difficult sell.

Steve Peterson reminds us that FX appears to just be running on its own curious dynamic of late, mostly dollar bearish (see comments from atom & humber in the conclusion). So far it does not appear that FX has been a big contributor to equity vol, and perhaps the reason for this is that at present it is not following the same script that bonds are.

Fund flows into SVXY, XIV, and equities ran at ambitious levels last month. So far February has not been gentle. We think that, regardless of how this plays out, there will be many pockets of "Buy the Dip", as every retail investor knows by this point what you have to do when stocks fall. This is to say that we think that the current drop will at some point be met with frenzied buying (whether the strategy proves successful is another story altogether).
Term Structure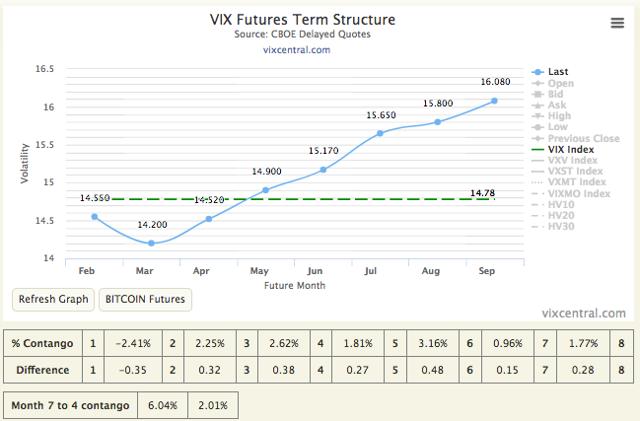 What a peculiar shape!! If you start with M2 the curve almost looks steep! In reality the curve is really 1.8 vol points wide from bottom to top, and so the scale matters. Let's add some perspective: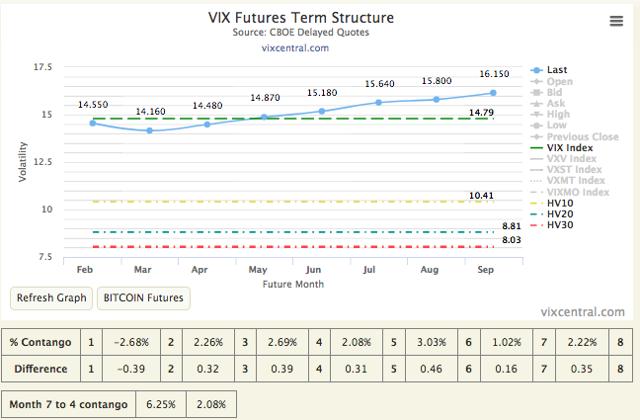 Eli Mintz of VIXCentral fame reminds us that the last time VX futures traded in backwardation was August 11.
Really there's a great lesson here. Some of the worst one-day returns in the history of the XIV occurred right around that time, believe it or not. Mostly that was just because XIV was starting off such a low base.
But by August 24th, the whole scare began to swiftly resolve. The ETN nearly doubled over the next four months. At the time it was geopolitical scares. Now it's Treasury yields.

The real question comes down to whether market behavior has changed. Is 2018 setting up to turn the previous patterns on their head? Maybe, but really all we have so far is one singular week that shows that stocks can actually fall, and VIX can maintain a presence in a higher range.
Conclusion
If this is your first time reading Market Volatility Bulletin, thanks for giving it a try. If you're a regular, we thank you for your ongoing contributions in the comments section.
In the last MVB comment section Atom & Humber shared the following:

Reading this does not lead me to conclude that A&H is some kind of dollar mega bull. It's just a simple question of asking about how skewed the odds need to be before taking the other side of a bet. The recent market action in cryptocurrency should act as a reminder that reversals can be swift.
Please consider following us.
Disclosure: I/we have no positions in any stocks mentioned, and no plans to initiate any positions within the next 72 hours.
I wrote this article myself, and it expresses my own opinions. I am not receiving compensation for it (other than from Seeking Alpha). I have no business relationship with any company whose stock is mentioned in this article.
Additional disclosure: I actively trade the futures and options markets, potentially taking multiple positions on any given day, both long and short. I also hold a more traditional portfolio of stocks and bonds that I do not "trade". I do believe the S&P 500 is priced for poor forward-looking returns over a long timeframe, and so my trading activity centers around a negative delta for hedging purposes.