U.S. Shales Delivering Solid Oil Production Growth
The U.S. oil industry posted another impressive monthly production increase, demonstrating the competitiveness and fast response of North America's crude supply.
Based on the EIA's survey released this week, U.S. production of crude oil in November 2017 was 10.038 million barrels per day, matching the historical record achieved by the U.S. 47 years ago. The milestone was reached significantly earlier than many observers had anticipated.
Production estimates for September and October were revised higher by 15,000 b/d and 17,000 b/d, respectively.
As we had predicted, the result for November significantly exceeded the EIA's new STEO model estimate of 9.87 million b/d (that had already been revised significantly higher from the previous forecast).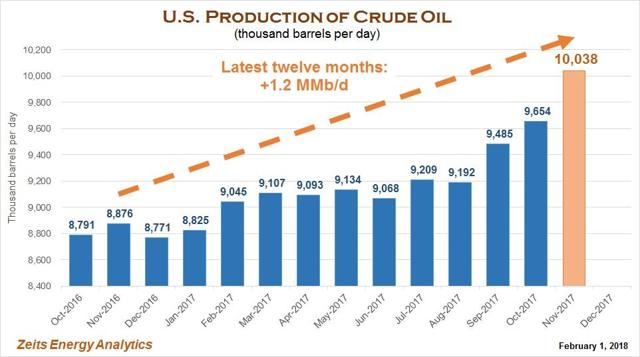 Hurricane Impacts
It is important to note that the oil production trajectory in the U.S. was obscured in August, September, and October by the impact of the active hurricane season.
While production in November grew by 384,000 b/d sequentially, only a portion of that increase represents new production. OIL ANALYTICS estimates that 225,000 b/d of the increase in November reflect volumes returning online in the Eastern Gulf area after Hurricane Nate forced significant shut-ins in October.
In August and September, production was suppressed materially due to Hurricane Harvey.
To avoid the distortion by the hurricanes, one may wish to look at production growth from July to November. During the four-month period, U.S. production of crude oil increased by an impressive 0.8 million barrels per day, catching up after an extended period of slow growth earlier in the year.
The "It's All Condensate" Myth Discredited Again
Recently, we have received a large number of questions and comments regarding the percentage of super-light and ultra-light crudes in the U.S. production mix. (We refer to crudes with 50+ degree API gravity as super-/ultra-light).
According to the EIA's data, the U.S. production of crudes in the 50-55 degree API gravity range ("super-light" crudes) increased only modestly in October and November. Volumes in this category have been relatively stable over the last twelve months, lagging the growth in the heavier category.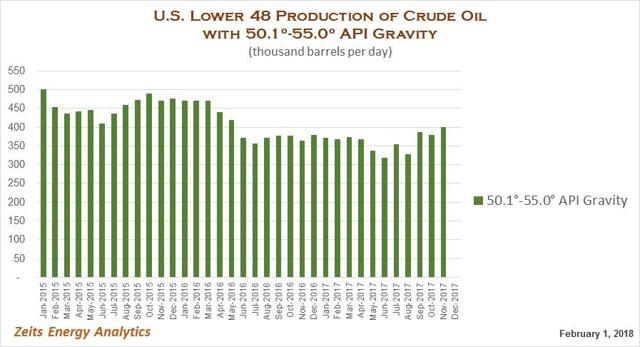 On the other hand, the production of ultra-light crude with API gravity exceeding 55 degrees staged a strong recovery in the last two reported months, October and November.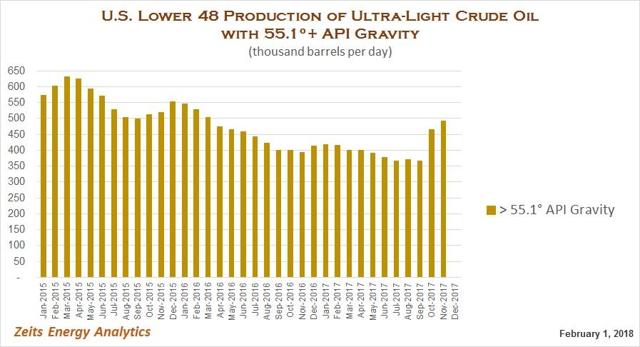 How would the U.S. crude oil production look like if one were to fully exclude volumes with API gravity above 50 degrees?
The conclusion does not change: the U.S. production growth in this category has been equally robust. Production volumes with API gravity of 50 degrees or less increased by over 1 MMb/d during the last twelve months.

Taking Market Share
The EIA's report for November sends a clear warning to the market. U.S. shale production remains a powerful source of actual and potential supply growth, despite oil prices having shifted to a new paradigm.
U.S. and Canadian crude oil production can accelerate further in 2018, resulting in an even faster market share gain. On a combined basis, supply growth from the U.S. and Canada alone could outpace global demand growth in 2018.
Disclosure: I/we have no positions in any stocks mentioned, and no plans to initiate any positions within the next 72 hours. I wrote this article myself, and it expresses my own opinions. I am not receiving compensation for it (other than from Seeking Alpha). I have no business relationship with any company whose stock is mentioned in this article.