Visa (V) really is everywhere we want to be. It is one of the best performing stocks we have recommended, and we think there is room for this amazing growth stock to keep going higher. Just look at this nonstop growth: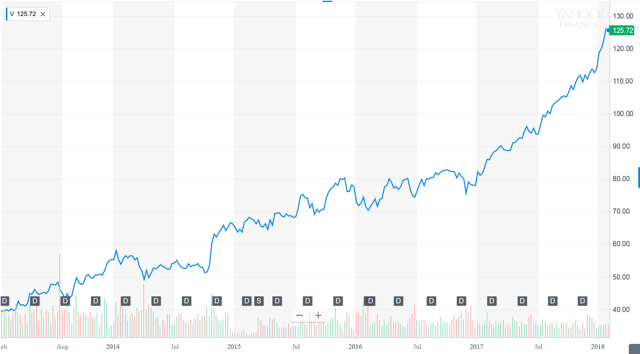 Source: Yahoo Finance
The fact is that the Street is pushing the stock to new all-time highs, every quarter. Without a broader market pullback, or a drastic decline in performance, the stock is just going to keep moving higher it seems. Now, we will be clear, the stock isn't cheap, and the Street has been baking into the stock prices ongoing beats against consensus estimates, with its multiple approaching 45 times trailing earnings. Right now, the stock is at 52-week highs, again, and flirting with going higher as we write. The question is though, is this valuation justified? Can this run continue? In this column, we examine trends in sales and earnings, and discuss our updated expectations looking ahead for Visa here in 2018.
Revenue continues to impress
It all starts with revenues. The just-reported quarter saw another impressive top line for Visa, with solid increases over the past three years: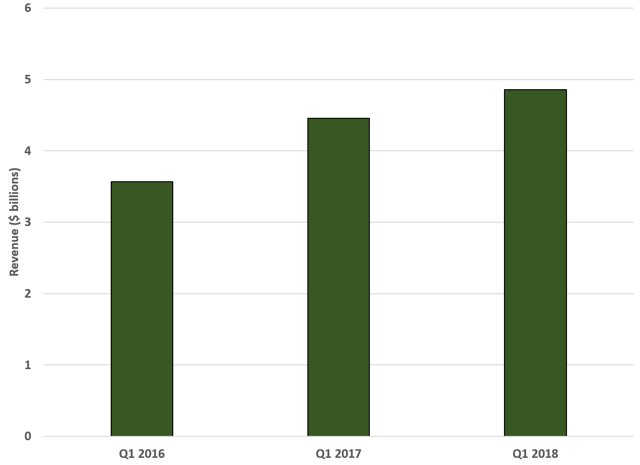 Source: SEC filings
Let us be clear. This is exactly what we want to see. The company delivered a strong report, and revenues were strong, and surpassed our expectations for $4.82 billion in revenues. The results strongly suggest the company is executing to perfection and also is indicative that the company will continue its stable and reliable growth. Net revenue for the quarter came in at $4.86 billion, a 9% increase over Q1 2017. This was primarily due to a 10% jump in payment dollar volume and a 12% increase in processed transactions to approximately 30.5 billion. Transaction growth continues to grow significantly: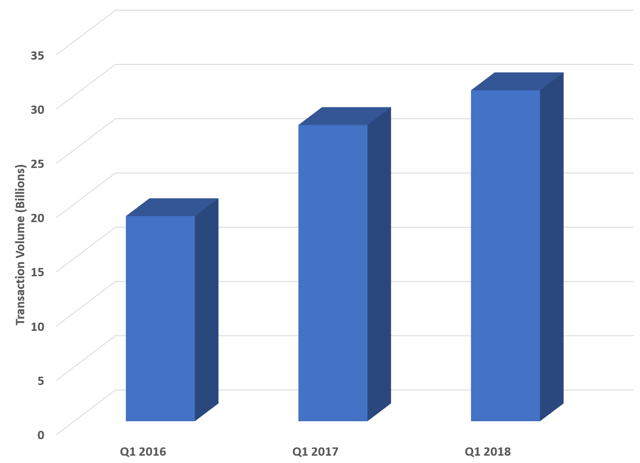 Source: SEC filings
This is simply stellar execution once again. This helps explain the growth in the stock; continued growth like this is impressive for a long-standing company like Visa. So once again, revenues were up nicely on the back of transactions increasing. What is most impressive for us is that our expectations were surpassed with authority top line. Revenues surpassed our expectations in part because both dollar payment volumes and processed transactions exceed our 8% expectation and met our and 12% projections respectively for these measures. This is a major sign of strength. What we have concerns with of course is that when revenues continue to rise, we question whether expenses are rising and thus offsetting these gains.
Operational expenses disappoint
Operational expenses do continue to rise. Last quarter in Q4, one of the strongest results we noted was that expenses were flat from last year. Now, this was in part due to strong expense management by the company, although it is worth noting that last year's quarter had some additional expense items that were isolated. Still, even backing these out, expenses rose only slightly. As such, we were predicting a similar pattern for Q1, and anticipated a mid-single digit increase in operation expenses. We were disappointed that expenses rose 13%: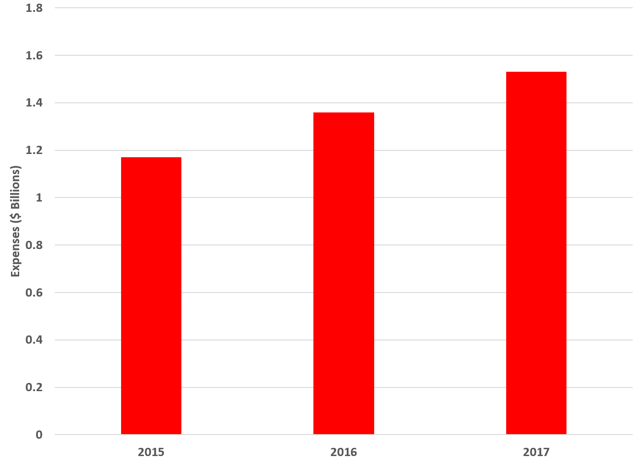 Source: SEC filings
While we hate to see rising expenses, given that revenues were up 9% we of course expected to see a bump in expenses. However, it led to our expectation for $1.42 billion being incorrect, as they came in at $1.53 billion. Did this have an impact on our earnings projections in the actual results?
Earnings grow 26%
Earnings per share continue to impress. While expenses higher than we would have liked, the higher spending is still justified by the strong pace of revenue growth. That said, they weighed very slight on margins. Prior to this quarter we had seen expanding margins, which were a sign of strength. This quarter margins contracted 1 point to 68% from 69%. However, thanks to our revenue expectations being surpassed and when we factor in the billions of shares repurchased over the years, we have seen another nice bump in earnings per share: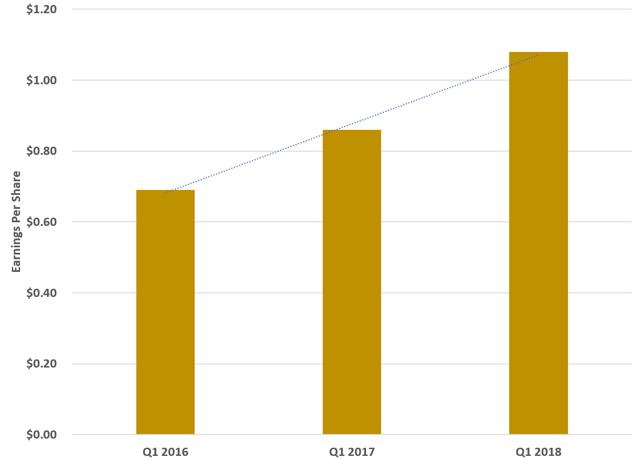 Source: SEC filings
For the last three years, the company has been expanding its bottom line. And not just expanding it, but doing so with authority, justifying the stocks premium valuation. Net income came in at $2.54 billion, up 23% from last year's $2.07 billion. Further, earnings per share were $1.08, rising 26% over last year's $0.86. This figure surpassed our estimates of $1.04 per share in earnings, mostly on the back of the higher-than-expected revenues and the fact that the company also repurchased $1.7 billion worth of stock in the quarter (15.5 million shares). With our estimates surpassed, we now expect an even stronger 2018, especially now that we have real tax reform, which will boost earnings per share.
Our 2018 projections boosted by tax reform
Considering 2017 performance, share repurchases, and the current business trends we believe 2018 revenue will now approximate $19.8 billion to $20.2 billion. This assumes top line growth of up to 10%. In addition, thanks to continued strong margins and bottom line outperformance, we are bullish on the bottom line. Prior to tax reform we were preliminarily estimating earnings coming in at $4.15 to $4.30 per share. We now see earnings rising 21%-25% from 2017, which makes our new projections $4.54 to $4.70. As a whole, we anticipate 2018 continuing the momentum seen over the last few years, and we will be closely watching expenses in addition to payment volumes and processed transaction figures.
Our take on the stock
The company exceeded our expectations in Q4, which is a sign of strength as we were more bullish than most analysts. The only hiccup we noted was that expenses rose thanks to higher personnel costs. Although the stock is expensive at 45 times trailing earnings, however, we are paying this premium to earn a 25% growth in adjusted earnings, justifying the valuation. We really can't see anything other than a broader market sell-off hitting shares. If our projections are correct, and the multiple is maintained and stays around times earnings, shares could then grow to $181 to $188 per share by this time next year. Obviously, this assumes the trajectory of the stock holds, and assumes that the bull market continues unabated. All things considered, we Visa is still a buy.
Note from the author: Quad 7 Capital has been a leading contributor with Seeking Alpha since early 2012. If you like the material and want to see more, scroll to the top of the article and hit "follow." Quad 7 Capital also writes a lot of "breaking" articles, which are time sensitive, actionable investing ideas. If you would like to be among the first to be updated, be sure to check the box for "email alerts" under "Follow."
Disclosure: I am/we are long V. I wrote this article myself, and it expresses my own opinions. I am not receiving compensation for it (other than from Seeking Alpha). I have no business relationship with any company whose stock is mentioned in this article.