I love batting my way through the weeds of "junky companies" (or what the market at least perceives as junk), and Martin Midstream (MMLP) fits that profile. The company's share price has tanked throughout the past several years for a variety of reasons, particularly lackluster management execution and an out-of-whack capital structure compared with peers. Moreover, the dividend has already been cut once recently, and calls are out there once again for another slash. There are some big reasons out there to justify a cut, namely a highly levered balance sheet and some growth capital needs within the next six months.
However, I don't think we'll see that happen. For better or for worse, the general partner is highly incentivized to push for the distribution to remain as is, and I think the market is a little too bearish on likely results next year. There is a fair price for everything, and I believe we've reached the level where shares are beginning to look attractive, both from an underlying valuation perspective (EV/EBITDA), as well as the yield, which now stands in excess of 12%.
Business Overview
The asset base here is incredibly diverse - perhaps too diverse at first glance - but once you dig into the holdings, clear themes emerge: a distribution network focused on niche, specialty refined products. Given that bias, it shouldn't be surprising to see a concentration of company assets centered around the Gulf Coast, which remains the most key region for U.S. refinery production; PAD District III (Alabama, Arkansas, Louisiana, Mississippi, New Mexico, Texas) holds more than half of United States' refined production capacity.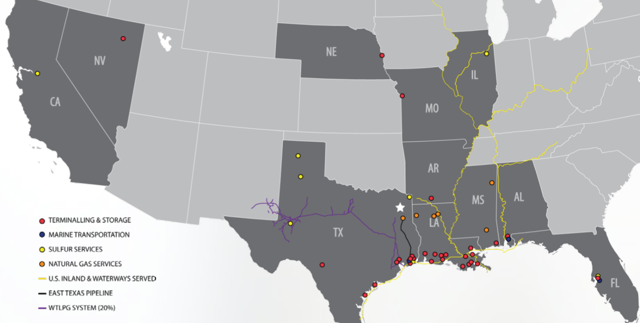 *Martin Midstream, Fall 2017 Presentation, Slide 8
Before getting into their operations, it is important to remember that Martin Midstream, at least compared to other operators, generates substantially less of its cash flows from fee-based contracts versus most other operators. So comparatively, having only two-thirds of EBITDA tied to agreements with some sort of take or pay or minimum volume floor naturally lends itself to more short-term volatility in cash flow, and the share price will demand a higher risk premium. Given most investors in the midstream space look for stability, that likely is off-putting, but at the end of the day, having take or pay is not going to protect a company with poor or structurally obsolete assets for long.
Terminaling and Storage. Holdings are made up of 26 marine shore-based terminal facilities and 14 specialty terminal facilities. These are, as mentioned, primarily located around the U.S. Gulf Coast, providing storage and handling services for producers and suppliers of raw and refined products. This includes specialized products like molten sulfur and asphalt, which ties into the company's Sulfur Services segment. Late in December, Martin Midstream sold its 900,000 barrel crude oil storage and barge terminal (as well as associated dockage and trans-loading) in Corpus Christi ("CCCT Assets") to NuStar (NS) for $107mm (net of $93mm after transaction fees and expenses).
Natural Gas Services. Martin Midstream purchases natural gas liquids ("NGLs") in the open market and sells wholesale to propane retailers, refineries, and industrial NGL users in Texas and the Southeastern United States. The company operates an NGL pipeline ("East Texas NGL Pipeline"), as well as holding a 20% interest in West Texas LPG Pipeline ("WTLPG") which is operated by ONEOK (OKE) (80% owner). This is a common carrier pipeline system, transporting NGLs from New Mexico and Texas to Mont Belvieu for fractionation. Rounding out assets, the firm owns 100% of Cardinal Gas Storage, which operates natural gas storage facilities in Northern Louisiana and Mississippi.
Sulfur Services. Much like within NGLs, Martin Midstream has built out the infrastructure and transportation assets to handle sulfur. It either handles the distribution on a fee-based level, or buys molten sulfur outright on contracts, turning it into prilled/pelletized sulfur at their facilities in Stockton and Beaumont before sale. The company operates five sulfur-based fertilizer production plants, as well as one emulsified sulfur blending plant, selling those products to distributors or end market buyers in the industrial sector directly.
Marine Transportation. Martin Midstream owns 35 inland tank barges, 19 tugboats, and one offshore tug and barge unit used to transport petroleum products and byproducts around the Gulf Coast. Most of these are under annual contracts, and the asset base is fairly modern compared to most similar assets operating in the area.
Martin Resource Management Corporation, Incentive Distribution Rights
Like is the case in pretty much every general partner/limited partner ("GP/LP") structure in the midstream space, a keen eye has to be placed on the structure and layout of the relationship between GP and LP. I think this is one aspect of investing within this space that retail investors have consistently underappreciated. Martin Resource Management Corporation ("MRMC") is the general partner, owning a 51% voting interest in the general partner (Alinda Capital Partners, an investor in MRMC, holds the other 49%), as well as holding 6.3mm units of the LP units (~16% ownership). MRMC is unfortunately privately held, which leads to a degree of uncertainty on the company's financial health (which ties into motivations). Investors also have a relatively unclear look on the future pipeline of dropdowns - so far $400mm since the IPO - given the lack of granular detail available. Per Martin Midstream's presentations, MRMC did generate revenue in excess of $1,100mm last year and has worked significantly to delever its balance sheet (which at least points to some prior trouble).
There are deep ties at work between the two firms. Martin Midstream reimburses MRMC for both its direct overhead expenses (roughly $130mm annually) and indirect expenses via its Omnibus agreement. One quarter of Martin Midstream EBITDA is derived from contracts with MRMC, and Martin Midstream is a large buyer of MRMC products as well within its cost of goods sold (e.g., marine fuel). LP shareholders are incredibly reliant on the Conflicts Committee ensuring transactions are both appropriate and billed in line with what fair value would be in an arm's length transaction, whether that be direct overhead expenses, terminal servicing agreements, or costs of doing business. In general, there is always going to be an inherent discount put in place by the market depending on who the GP is, and in this case, this is about bottom of the barrel.
However, there are heavy incentives not to cut the distribution due to the incentive distribution rights ("IDR") structure. The GP only receives 2% of quarterly distributions up to $0.55/unit, 15% between $0.55-0.625/unit, 25% between $0.625-$0.75/unit, and 50% of all quarterly cash distributions thereafter. At current rates, MRMC is earning next to nothing, and if it cuts further, arrearages build up to the first hurdle rate that must first be cleared. MRMC, given its indicated elevated leverage from public disclosures, is therefore heavily incentivized to see the distribution maintained where it is. That is likely as a good a reason as any that management has repeatedly stated they are confident in maintaining the $2.00/share distribution.
Balance Sheet Leverage, Upcoming Capital Spend
Martin Midstream holds its $830mm in gross and net debt (the company is basically operating with a cash balance next to nothing) on two issuances: $457mm on its secured revolver (4.24% weighted average as of Q3 2017, matures March 2020) and $373mm on its senior notes (7.25%, due February 2021). Debt/EBITDA was 5.12x according to banking definitions, with the maximum permitted leverage of 5.25x. While this appears like a tough situation to be in, leverage increased primarily due to seasonal working capital during Q2/Q3 (primarily due to butane inventory). For those unaware, butane is added to winter blend gasoline. It is plentiful and cheap, but can't be used in summers to any large extent (or at all in certain areas), because it will boil at high temperatures - even in a blend.
Within the butane logistics business, Martin Midstream stores butane until it can be used for winter blending; total butane working capital totaled $89mm, and the majority will be sold off heading through Q4 of 2017 and Q1 2018. Working capital was higher this year (higher butane selling prices, higher working capital needs for storage), which hit the company hard. Expect GAAP working capital to swing positive, and for management to deploy this cash flow back to getting leverage back down. Remember that adjusted EBITDA on a trailing basis has not changed materially ($166mm fiscal 2017, guidance for $157mm), and that dip is largely driven by the sale of the CCCT assets, which resulted in $93mm in net proceeds.
Gross debt is down to $830mm from $914mm ($84mm), and it would not surprise me to see $790mm in debt by year end, or close to 5x leverage. That isn't ideal - and it the company does not have a clear path to paying it all down - but it should move the company away from violating financial covenants, with another strong quarter likely come Q1 (historically the strongest quarter for operating cash flow). The debt markets realize this, with the senior notes trading with no signs of distress (trading above par). Despite the blunt maturity profile upcoming in 2020/2021, I don't see too much risk in getting these refinanced and rolled over, and likely could be reissued at similar terms to today.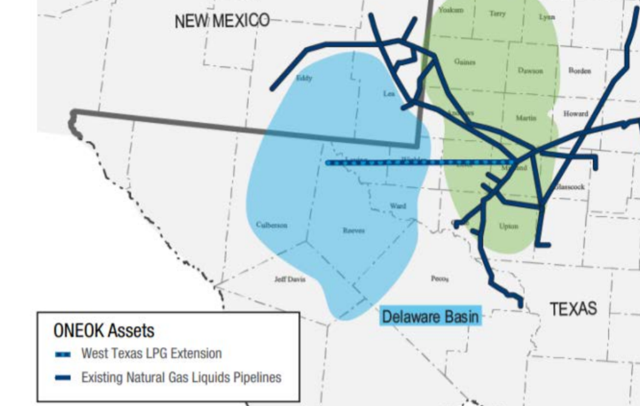 *Planned route of the West Texas LPG Extension, ONEOK Presentation
Martin Midstream does have the problem of upcoming capital expenditures related to certain projects, however. Given its ownership interest, the company is going to be responsible for $40mm in capital outlay for an expansion on its WTLPG pipeline (recall it's a JV with ONEOK), which will add a 120-mile lateral extension with 110,000 barrels per day of capacity into the Delaware basin, as well as adding infrastructure to handle these flows on the main line (pumping stations). Keep in mind this is the same line where both ONEOK and Martin Midstream have appealed to the Texas Railroad Commission for higher market rates; there was a supposed formal hearing set for December 5th with the Texas Railroad Commission, but I do not see these two parties listed on the docket for that day, and investor relations has not yet gotten back to me on the status there.
With leverage where it is, Martin Midstream cannot afford to pay out $40mm (worth slightly more than 0.25 turns of leverage) from its revolver without getting into leverage issues in Q2/Q3 of next year due to seasonality. It also cannot issue equity; 14.2% yield as of the time of this writing makes all but the most economical projects unviable via equity funding. Management is trying to squeeze it out via some non-core asset sales ($14mm of assets held for sale at the end of Q3), with guidance of half of that closing by the end of the year. The idea of preferred stock has been floated. Management needs to make a decision soon, as most of the cash will be needed by the end of 1H 2018.
Performance: Not Great, But Not Game Over
Natural Gas Services has been weaker than expected in recent years for a few reasons. First, Martin Midstream paid $135mm for its stake in WTLPG; that works out to more than 15x EBITDA guidance for 2017 (and 18x on 2016 actual results). That isn't economical and is the primary reason for why the company continues to push for rate increases from Texas regulators mentioned above. It was a poor move in retrospect. On the other side, Cardinal Gas Storage was an excellent purchase and has been at near full capacity for some time. NGLs and Propane assets, while not a big contributor to earnings, have also underperformed, but those are about as bad as they are likely to get. Butane outperformance has been the big driver of keeping EBITDA stable, and that might not persist forever. It remains one of the big unknowns for me heading into fiscal 2018 forecasts.
Within Terminaling and Storage, shore-based terminals have performed well below expectations (lower utilization), but specialty terminals (asphalt, fuel oil, molten sulfur, etc.) have done the exact opposite. I expect strength there to continue, buffeted by a full year of contribution from the Hondo terminal ($5mm annual, or 7.2x EBITDA dropped down by MRMC). Smackover Refinery (naphthenic lube refinery) should remain stable at $20-21mm in annual EBITDA as well. There is no reprieve on the way for Marine Transportation assets, given the ample supply of Jones Act which has overshadowed a pretty decent demand environment. Weak day-rates are likely to persist. It is a buyer's market out there, and buyers know it. Contracts continue to stay spot/short term because counterparties know the industry is in a tight spot. I expect further bleeding, and think that these assets could be shopped for sale at some point.

Given this is likely an income play, the primary concern is whether the $77mm in annual distributions is sustainable. My estimates call for $163mm in EBITDA next year. With $50mm in interest expense, $8mm in preferred distributions (assuming they float $80mm @ 10%), and $20mm in maintenance capital expenditures, that is supportable here. Management has guided to 1-1.2x distributable cash flow ("DCF") next year, and this would be within the middle of that. Risks here include my assumption for a positive result on the WTLPG rate case (driving ~30% increase in EBITDA), take-out of some costs on the SG&A front, and a decent year in Terminaling and Storage (keeping in mind the Hondo acquisition, no repeat of Hurricane impact) despite the roll off of some favorable contracts.
There are a few risks to keep in mind here:
Downside risk here off of a distribution cut, which would be a short-term negative despite no impact to the underlying fundamentals. This would allow them to self-finance the WTLPG expansion and create excess cash flow to delever.
The lack of a positive decision on the WTLPG rate case (I assumed a 30% increase in underlying EBITDA, or $3mm increase to $12mm for 2018 on an asset level basis).
Surprise shift in butane profitability next year, given its increasing importance to overall company health.
The usual natural disaster risks. There Is a large concentration of assets in the Gulf, and the company made it through this year relatively unscathed despite the season. That might not be the case next year.
At the end of the day, the company should trade off of EV/EBITDA, with shares currently trading at 8.5x my 2017 estimates. This is incrementally better than comps currently - I focused on natural gas firms with a Gulf Coast presence as the best peer group - with Boardwalk Pipeline being the sole "cheaper" peer:

That firm has lumped with a large discount by the market after the massive 80% slash to the distribution back in 2014, a move done in order to curb debt that had gotten out of trouble. Additionally supporting the valuation, investors have seen 8-10x multiples on most terminaling and storage asset sales or dropdowns, including Martin Midstream's own CCCT sale (sold at 10x fiscal 2016 EBITDA).
I do think a solid case can be made for incremental relative upside here, likely to around $16.50/share. That would place Martin Midstream around 12% yield. Shares have had a tough time trading below 11.25% yield over the past several years, and it would take a sector-wide rally to push shares past that point. I do think that the midstream space offers a lot of value currently, so that does give opportunity. Perhaps most importantly, I do think the current distribution is sustainable and that management has large incentives in place to keep it that way. I've started to nibble on the long side to get exposure here and think that share prices below $15/share are a good place to think about getting involved in this firm.
Disclosure: I/we have no positions in any stocks mentioned, and no plans to initiate any positions within the next 72 hours. I wrote this article myself, and it expresses my own opinions. I am not receiving compensation for it (other than from Seeking Alpha). I have no business relationship with any company whose stock is mentioned in this article.