Exxon Mobil Corp. (NYSE:XOM) has committed to aggressive spending in the United States over the next five years as it seeks to dramatically increase its presence in the country's upcoming energy boom. It will focus a lot of its efforts in the Permian Basin and the Gulf Coast, with lots of other companies standing to benefit from the infrastructure build-outs in the near-term. With Saudi Arabia and OPEC helping to constrain global supply, one of last year's dogs of the Dow has a good chance at becoming a thoroughbred this year if energy prices stabilize or continue to appreciate.
Exxon Mobil made headlines this week as it committed to spending over $50 billion over the next five years as it benefits from tax reform, and looks to benefit from the potential upcoming energy resurgence in the U.S. Here is a look at how U.S. rigs have been faring recently over the past year along with the price of oil as the environment has sweetened considerably for renewed energy investment.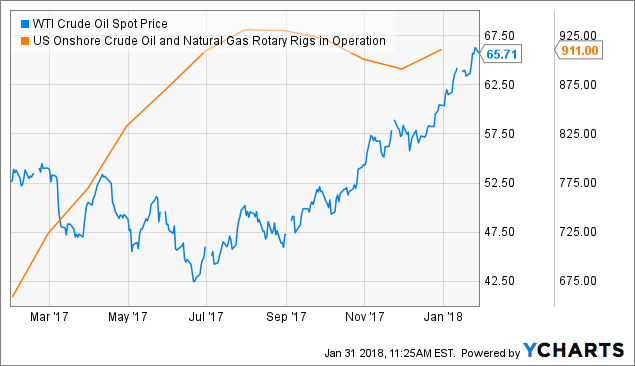 The rally over the last year has been impressive for both rigs and oil prices which look to be stabilizing at this time around 900 oil and natural gas rigs along with a $60-65 a barrel for oil. This price range is highly lucrative for producers as costs have come down considerably since the last U.S. energy boom that resulted in a crash in 2014. Not only have costs come down substantially from 2014, but oil producers are also getting a lot more production out of current rigs as productivity has erupted as new technologies and methods are paying huge dividends. Here's the latest chart showing oil rigs and production as costs continue to dive across the industry: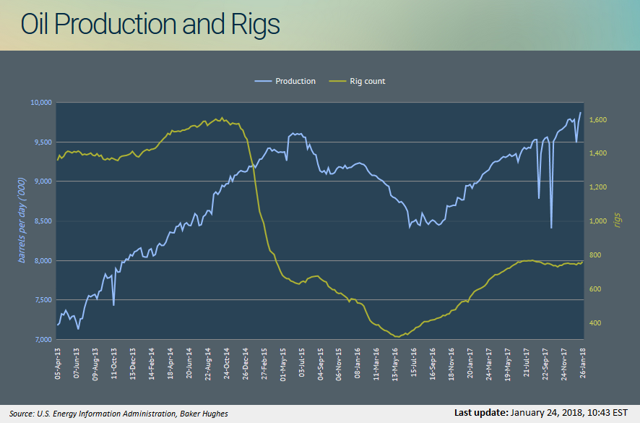 Getting a lot more oil per rig means that companies can easily make great money with oil in the mid $60s instead of in the past where places like the Permian only really got interesting and started taking off when oil went to levels of $80 and above.
The Permian Basin is where Exxon Mobil expects to focus a lot of its resources in West Texas and New Mexico. Its plans include tripling its production to around 600,000 barrels of oil and equivalents by 2025 in the Permian as its total output in 2016 was 4.1 million barrels a day. After doubling its land holdings in the Permian last year for $5.6 billion, it has more than enough land to set up new facilities on as it seeks to grow its U.S. earnings dramatically over the next five years.
While Exxon Mobil sets itself up for long-term gains, other companies look to materially benefit in the short term especially sand companies like Hi-Crush Partners LP (HCLP), which was a first mover in the Permian, and looks to continue to dramatically boost its earnings in the near term as sand prices continue to climb quarterly as supply isn't expected to start to catch up until the back half of 2018. Also service companies like Halliburton Company (HAL) should benefit markedly over the near term, as it is an industry leader in North America, and has the ability to provide technological superiority over many other smaller competitors as its earnings call delivered on many analyst predictions.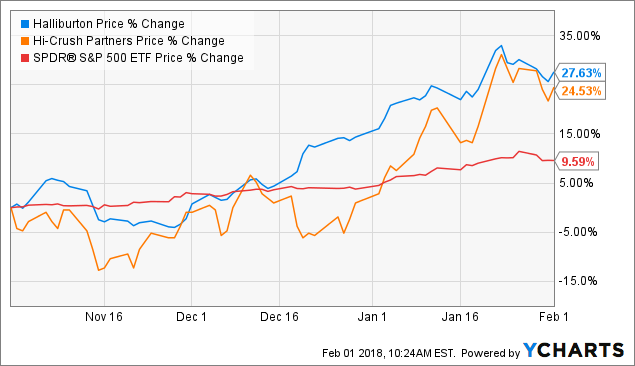 Exxon Mobil also is scheduled to dramatically build and expand out its manufacturing facilities in the U.S. Gulf region as part of its Growing the Gulf initiative. Last March the company pledged $20 billion to construct chemical, refining, lubricant and liquefied natural gas facilities along the coast along with a projected 12,000 permanent jobs in the area.
The recent energy resurgence has allowed the U.S. to become a global energy exporter of oil as well as liquified natural gas. The volumes and output expected could be great enough over the next five years that it could start to reshape global energy use by weakening Russia's dominance over Europe, along with helping end the use of coal as a cheap energy alternative in countries like India and China. Some of the best short-term plays in this space should include pipeline companies like Kinder Morgan, Inc. (KMI) and construction companies like Jacobs Engineering Group, Inc. (JEC).
Finally, Saudi Arabia is working on getting its IPO ready for Saudi Aramco as it tries to figure out the details of this massive potential offering. This potential IPO has been two years in the works, but continues to slowly make progress. I see Saudi Arabia leading OPEC, and non-member countries like Russia, in continuing supply curtailing in oil over 2018, and possibly 2019, as it will be focused on supporting the price of oil in the near-term for the sake of its planned upcoming IPO. I do not see it trying to bring the IPO to market if oil is crashing like it did in 2014, so I would expect continued strong constraints from OPEC and possibly Russia to continue until Aramco's IPO is complete.
Exxon Mobil is prepared to capitalize on the U.S.'s upcoming energy boom with recent land purchases along with massive growth and build-out of key infrastructure plays in the Permian and Gulf Coast over the next five years. This long-term growth strategy should be helped by Saudi Arabia's lead in constraining oil supply in the near-term as it works on bringing its blockbuster IPO to market. Exxon Mobil was a dog of the Dow in 2017, but looks ready to benefit from a nice catch-up trade over 2018 as it benefits from short-term catalysts along with long-term growth as America solidifies itself as a global energy leader. Best of luck to all :).
Disclosure: I am/we are long XOM, HAL, HCLP, JEC. I wrote this article myself, and it expresses my own opinions. I am not receiving compensation for it (other than from Seeking Alpha). I have no business relationship with any company whose stock is mentioned in this article.