At the end of last year, I wrote an article titled, "2018 Could Be a Difficult Year for Utilities," where I argued that increasing interest rates would create a difficult trading environment for the utility sector. That has come to pass, with Treasury bonds selling off in a fairly big way – especially for the bond market: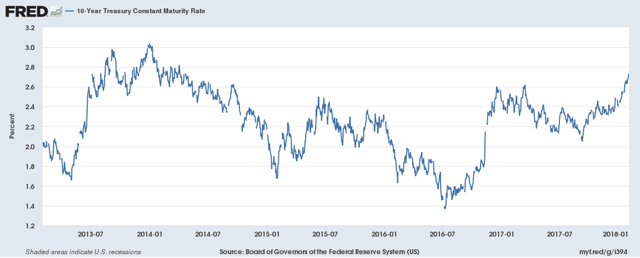 Since 4Q17, the 10-year yield has climbed 67 basis points (as of this writing). The bond market is adjusting to a new economic scenario. Traders view the tax cuts as expansionary and potentially inflationary, driving up the long-end of the yield curve. However, other macroeconomic factors should act as a natural ceiling on interest rates. These factors are a low natural interest rate, low inflation and low inflation expectations (I explain these in more detail here: The Macroeconomic Environment Will Contain The Bond Market Sell-Off).
For the sake of argument, let's assume there is a ceiling to the treasury market sell-off. If that assumption is correct, then we need to look at what level that might be to determine when we'll hit it. Looking at the chart above, 3% is a clear resistance level for the last five years. This is about 25-28 basis points above current levels, which is actually a long way in the fixed income market. And 3% is a round number which is also something that traders like. Just to be safe, let's use the 3.1-3.15 area as our top-level resistance. What this means is there is a potential top to the current sell-off.
The utilities sector has sold-off in conjunction with the treasury market sell-off: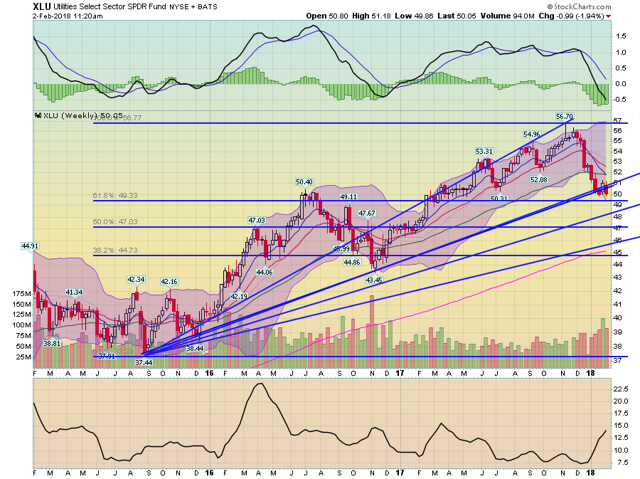 Above is the weekly chart of the XLU, which is currently right at long-term technical support. I've also drawn the standard Fibonacci fan and retracement levels, which show that prices are right above key technical support areas. Also remember that utilities have another technical support mechanism: dividends that are typically higher than the 10-year treasury. As of this writing, the XLU is yielding 3.33% and other, larger utilities are yielding more.
Tying all of this together, we get the following points:
The treasury market is selling-off, but it is doing so at an accelerated pace. Assuming there is a top-end to the yield the market settles on, we're probably closer to it than we think.
The XLU is currently near long-term support, and key Fibonacci levels lie just below current levels.
Some of the larger utilities are yielding in the high 3%'s (and higher), which is not only attractive but also provides a technical floor.
Assuming all of this is true, it's time to put some utilities on our radar screen as potential purchases. But we also have to play this intelligently; the market background of this trade is a bit more volatile than the average utility investor is used to. So, here are the criteria:
Large companies and higher: As we are beginning a period of higher interest rates, I want a large company because they'll be able to demand a lower interest rate when they refinance their debt.
Low betas – This will eliminate some of the newer issues.
A dividend payout ratio less than 100%. A big part of the return for this trade will come from dividends. I want the payout to be as safe as possible
US company: An entirely arbitrary line.
At least 75 basis points over the comparable Treasury. As of this writing, the 10-year is 2.72. Just to be safe, I'll use 3.50 as the minimum yield.
Electric utilities: We are at the beginning of the year when we should start to see electricity demand ramp higher.
All that being said, here are the potential candidates:
Dominion Energy (D) – market cap of $49.61 billion – is the third largest electric utility by market cap. The company provides service for 6 million customers east of the Rocky Mountains. Their current beta is .18 with a dividend payout ratio of 90.8%. They are currently yielding slightly over 4%. Their chart is attractive from a technical perspective: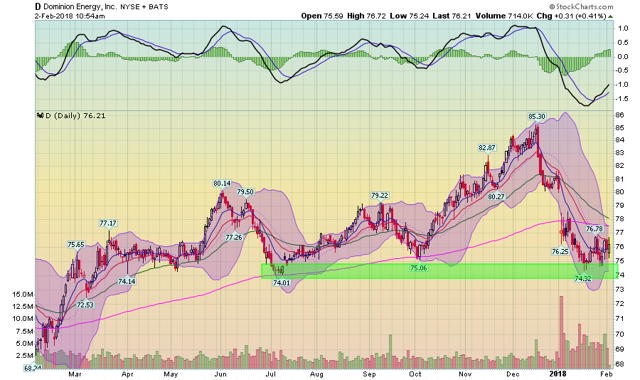 Prices have declined 13% in the last few months. But they have found support at an important technical level in the mid-$70s with a rising MACD.
[UPDATE FROM THE AUTHOR: I've written an in-depth profile which you can view at this link.]
PPL Corp. (PPL) delivers power to customers in Pennsylvania, Virginia, Kentucky, and Tennessee. They are the 9th largest electric utility by market cap ($21.68 billion). Their current yield is 5.08% with a payout ratio of 71%. Their chart is technically attractive: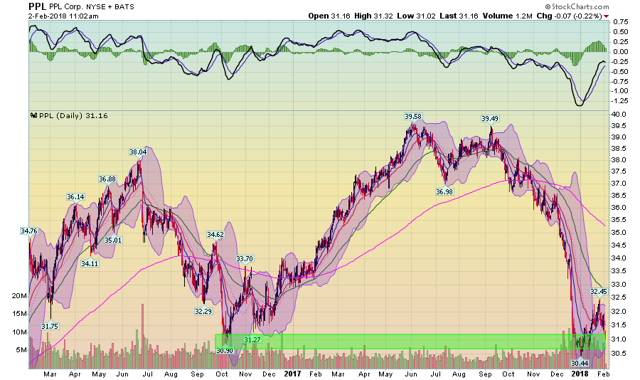 Prices have fallen 23% over the last few months. But it appears they have found a near-term bottom in the lower $30s with a rising MACD.
[UPDATE FROM THE AUTHOR: I've written an in-depth profile which you can view at this link.]
American Electric Power (AEP) provides power to the following states: Arkansas, Indiana, Kentucky, Louisiana, Michigan, Ohio, Oklahoma, Tennessee, Texas, Virginia and West Virginia. They are the fifth largest electric utility (market cap $33.83 billion). Their current yield is 3.66% with a payout ratio of 65%. The chart is technically attractive: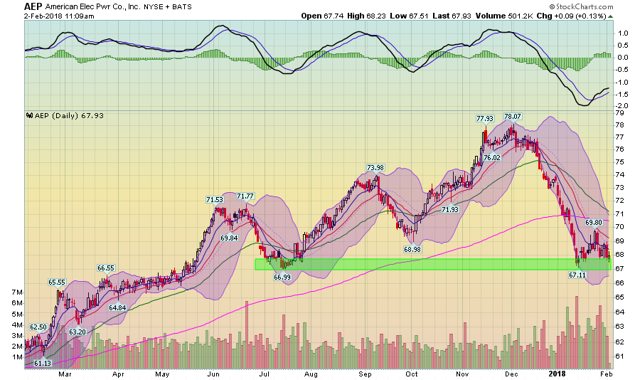 Prices are down about 14%, but they have found technical support in the mid-$60s.
[UPDATE FROM THE AUTHOR: I've written an in-depth profile which you can view at this link.]
Finally, we have Consolidated Edison (ED), which is the sixth largest electric utility at $24.41 billion. It provides services to New York and surrounding areas. It has a current yield of 3.6% and a payout ratio of 71%. Like the others, ED's chart is also attractive: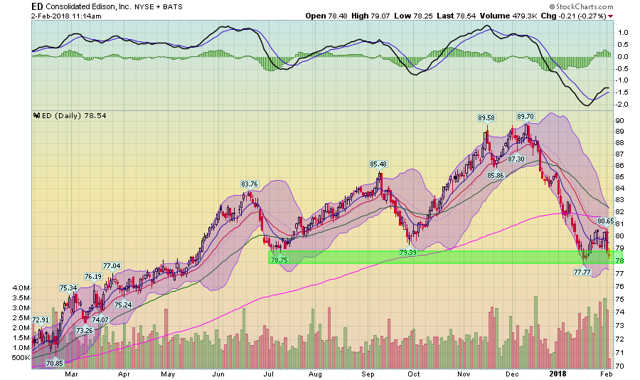 The stock has fallen about 14%. But it has found support in the upper $70s.
[UPDATE FROM THE AUTHOR: I've written an in-depth profile which you can view at this link.]
Let me add this important word of caution: Dividend investors are, by definition, conservative. This proposed strategy carries a higher level of risk than most utility investors are used to. And, the shake-out in the utility sector might not be over yet. But if you can deal with a higher level of risk and think the bottom may be in (or that we're close to it), consider this strategy.
This post is not an offer to buy or sell this security. It is also not specific investment advice for a recommendation for any specific person. Please see our disclaimer for additional information.
Disclosure: I am/we are long ED.
I wrote this article myself, and it expresses my own opinions. I am not receiving compensation for it (other than from Seeking Alpha). I have no business relationship with any company whose stock is mentioned in this article.