eBay (NASDAQ: EBAY), once one of Silicon Valley's hottest companies, has reported Q4 earnings that failed to dazzle most investors, though the immediate reaction on the results was overwhelmingly positive. Certainly eBay's results packed a bit of punch for one other company - PayPal (NASDAQ: PYPL), which tanked on the news - when eBay announced it would not be renewing its contract with PayPal and instead powering its payments through the Netherlands unicorn Adyen.
As it concerns eBay itself, however, its competitive positioning and long-term viability as a company are very much unchanged from the previous quarter. eBay followers will recall that the company crashed after its Q3 report (which, like this one, was just in line) and its weak Q4 outlook. Now - with Q4 in the rearview mirror and eBay just barely meeting expectations for an already-weakened outlook - it's confusing why any investor would think there's any juice left in eBay at all.
In line is probably going to be the norm from here on out. For Silicon Valley companies, which prize growth, in line isn't exactly an achievement. It would be one thing if eBay were immensely profitable and had earnings support for its valuation (like, for example, Microsoft (NASDAQ: MSFT)), but as it stands, eBay's earnings aren't meaningful enough to warrant valuation support. With eBay projecting full-year 2018 EPS of just $2.25-2.30 (on a continuing operations basis; total company EPS will be lower at $1.65-$1.75), eBay trades at a forward P/E of about 20x - not exactly cheap for a company whose growth trajectory is in question.
See below eBay's forward P/E and forward revenue multiples: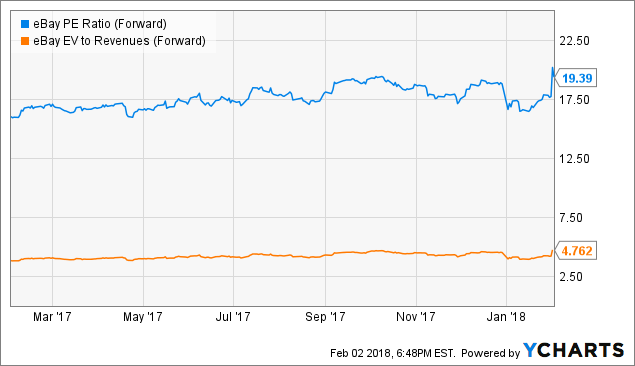 Turnarounds in Silicon Valley are tough bets, especially in the Internet sector. Very few companies can pull it off (Twitter (NYSE: TWTR) seems to be the only one that's mildly succeeding right now). At eBay's current valuation premium, it's not worth putting money on the line for a decades-old company that doesn't really have any new tricks up its sleeve.
Risks to GMV growth evident in the quarter
Just like in the previous quarter, eBay's biggest problem is sluggish growth in GMV and active users. GMV, for those who are unfamiliar, represents gross merchandise value - the dollar value of the transactions conducted on eBay's platform. It's both the most direct measure of eBay's viability as an e-commerce platform and the biggest driver of its revenues.
GMV in the fourth quarter was $24.4 billion, up only 10% y/y (and only 7% in constant currency terms). Growth in global active buyers was even weaker, up only 5% to 170 million users.
On a segment basis, Marketplace (eBay's core functionality) grew GMV by 9% y/y to $23.0 billion, and StubHub grew 16% y/y to $1.4 billion (note that StubHub faltered in a big way two quarters ago, and is likely to see additional volatility ahead).
This drove revenue growth of 9% y/y to $2.61 billion, exactly in line with analyst estimates. See the financial summary below:

Source: eBay investor relations
It's important to take eBay's top-line numbers in context. When the company unveiled its Q4 revenue guidance along with Q3 results of $2.58-$2.62 billion, the stock fell on concerns that the company wasn't doing more during the crucial holiday season. Hitting $2.61 billion - essentially in line with this guidance - shouldn't be treated as an accomplishment, especially when the original attitude toward that ~$2.6 billion range was bearish.
The impact of Amazon (NASDAQ:AMZN) on retail stores is well-documented. Stocks like Macy's (NYSE: M), Nordstrom (NYSE: JWN) and grocery names like Kroger (NYSE: KR) have all fallen on fears of Amazon stealing a disproportionate amount of share from them. But Amazon probably has an even larger impact on old-school e-commerce names like eBay as well. When we look online for our purchases, unless we're really trying to score a tremendous deal on a used item, we generally turn first to Amazon (and even on that used item, Amazon might have it cheaper).
The lure of Amazon extends to the supply side of the picture as well, not just buyer demand. eBay's excruciatingly high fees (total fees, plus PayPal fees - though in the future, Adyen's rates might be lower) can take up to a staggering 13% of your sale. For reference, here is eBay's current simplified fees table: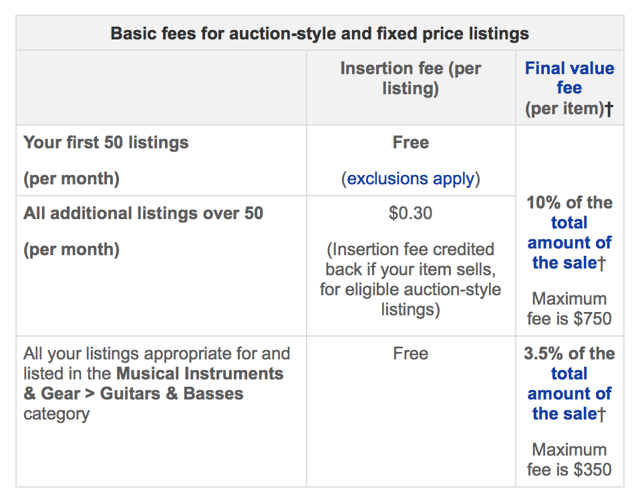 Source: eBay.com
Note that PayPal takes an additional 3% on top - and while PayPal isn't required, it's the most popular option as the credit card route is also costly. Sellers have balked at these high fees, and many of eBay's highest-volume sellers have uprooted their stores to Amazon, hurting the company's GMV growth.
While PayPal was the primary recipient of investors' displeasure after the announcement of the split, eBay has a lot at risk as well. While Adyen has a large presence in Europe, it is relatively unknown in the U.S.; whereas PayPal has built a reputation for credibility and security. A switch from the payment processor that sellers are used to can cause an even greater migration off the eBay platform.
The earnings figures and guidance worries
The bottom line picture, like the top line story, was also entirely uninspiring. eBay's operating margin decreased to 25.4%, down from 26.6% from the same quarter last year. A company that's slowing down its growth trajectory should be turning an eye to opex efficiencies and cost reduction, but clearly eBay hasn't succeeded in that realm.
The company's bottom line was impacted by a $3.1 billion tax charge due to the Trump tax bill, so its GAAP earnings picture is fairly meaningless. On a pro forma basis, however, eBay generated net income of $618 million, or $0.59 per diluted share, up only 3% y/y. This, too, was in line with analyst estimates for $0.59.
eBay's revenue guidance for FY18 is also a concerning figure. The company is pointing to $10.9-$11.1 billion of revenue in FY18 (versus consensus of $10.3 billion - probably the reason the stock rallied immediately after its earnings post). But we really have to ask ourselves: is this guidance, which is an acceleration scenario of 7-9% growth relative to just 7% constant currency growth in Q4, a realistic target? What is eBay doing, exactly, that will allow it to achieve acceleration? In most investors' view, its most dramatic move so far is to kick out PayPal, a decision that may even bear some consequences for eBay. eBay is fairly lacking on the innovation space (at least relative to other e-commerce names), and with continued defection of both buyers and sellers, the company may soon see a return to negative GMV y/y comps as well as negative revenue growth.
Its EPS guidance, as previously mentioned, is $2.25-$2.30. This puts eBay's forward P/E at about 20. For a company that only managed to grow pro forma net income by 3% in Q4, eBay isn't a good deal.
Key takeaways
At current levels, eBay seems to be priced at a premium despite its below-average growth figures on both the top and bottom line. Investors aren't discounting deeply enough the risks to eBay's core business, especially as both buyers and sellers migrate away from the platform.
eBay has already lived through the hype of its heyday. With no exciting offerings coming out of the company that can entice its user base to remain, the company is likely to underperform going forward.
Disclosure: I/we have no positions in any stocks mentioned, and no plans to initiate any positions within the next 72 hours. I wrote this article myself, and it expresses my own opinions. I am not receiving compensation for it (other than from Seeking Alpha). I have no business relationship with any company whose stock is mentioned in this article.