By Oisin Breen, Research
We have written about AI stocks in the past, and since then the market has continued to grow. That said, the AI sector is as broad or as narrow as your definition, as this report illustrates. Estimates on the market's scope for growth are therefore varied.
In this article, we accept the definition provided by Forrester Research. Forrester equates the AI market to a market for cognitive computing technologies, and suggest in the medium term its value will top $1.2 trillion. If this holds true, a shrewd AI buy today might well yield substantial long-term rewards.
Here we consider five AI plays, not including the heavily commented on FANG stocks, and ask whether they might bring home the bacon: Arotech Corporation (ARTX), Omron Corp. (OTCPK:OMRNY), Cray (CRAY), Veritone (VERI), and Xilinx (XLNX).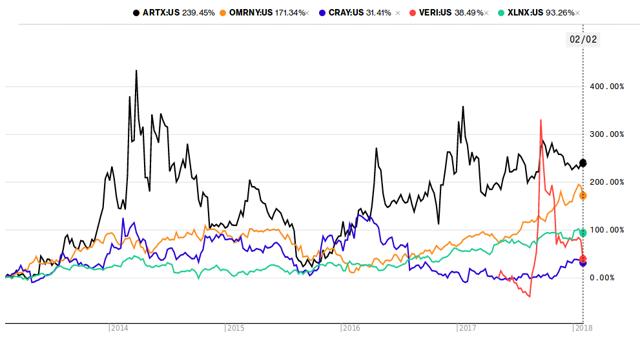 Five stocks fluctuate over five years, but all have increased in value.
Source: Bloomberg
Fluctuations
First of all, if you're considering making an AI investment outside of the usual major technology firms, from the FANG stocks, to firms like NVIDIA (NVDA), the risk will naturally increase. The above graph indicating the five-year share performance of the firms analysed in this article demonstrates this fact amply. Nevertheless, if the companies indicated in the graph are considered together as an investment basket, the figures for one- and five-year share price growth are in fact quite positive. Over five years, the average share price firm of these five companies grew by 115%, whilst for one year this figure stands at a solid 26%. This might not be absolutely stellar growth, but it is a solid return, outpacing the S&P 500 (SPX) by 3% and 29% over one and five years, respectively.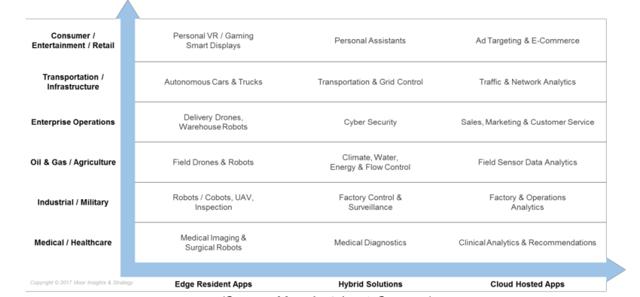 Machine Learning Application Landscape - What can be done?
Source: Moor Insights & Strategies
All Kinds of AI
As Heather Richards, CEO of Transversal has noted, AI has essentially become more of a buzzword for many firms, rather than being emblematic of the type of machine learning paradigm shift that continues to steal a march in every sector, albeit slower than some futurist thinkers might have anticipated.
"All too often [AI] projects have been box-ticking exercises in an AI arms race," says Richards. "2018 will see the fog of hype clear and the C-suite demand a more demonstrable return on investment. 2018's biggest winners will be the projects where Artificial Intelligence augments people's ability to recall or research information and process data."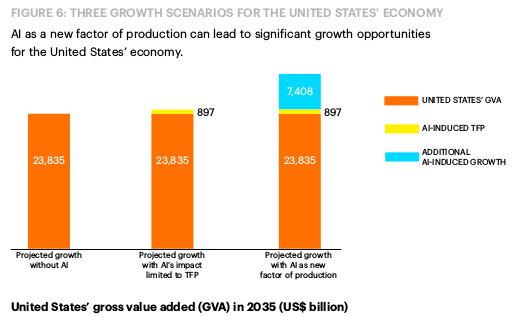 Research suggests AI has significant value-add for economies.
Source: Accenture
If you ask five people what AI means to them, you'll likely receive five different answers, varying widely based on factors as different as whether they grew up watching science fiction or if they work for a firm that actively uses machine learning. For some, AI brings to mind androids, cyborgs, and the kind of disconnected neural matrices popularised in William Gibson's Neuromancer. For others, and this is a far more realistic assessment, AI suggests huge thrumming data centres of machine intelligences munching their way through complex algorithms in order to analyse datasets.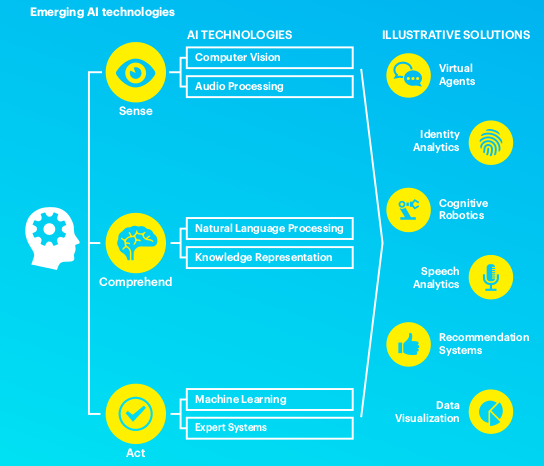 Emerging AI Technologies, a breakdown.
Source: Accenture
The five companies considered in this article, however, offer a variety of plays on the AI market. Arotech is a potential penny stock investment loosely tied to AI, and more particularly a play on military training and simulation, and the deployment of AI solutions for attack and surveillance drones.
Omron Corporation is perhaps a more "traditional" AI play in that the firm is first and foremost an electronics company that works on a range of products from AI solutions to robotics, automation, and sensors. Indeed, in January 2018, Omron showcased the world's first AI-equipped table tennis tutor.
Cray, if you grew up in the seventies or eighties, was the supercomputer firm. Since then, of course, it's had a rocky road, being bought, sold, declared bankrupt, and essentially restarted. That said, the firm has maintained a strong position throughout in terms of research, and remains heavily involved in the development of the systems on which AI relies. For Cray, the keyword is complexity, which if you're unfamiliar with complex dynamic systems suggests that systems ought to be understood as interrelational wholes and that their processes are not necessarily reducible to their constituent parts. Such an approach chimes well with advances in theoretical AI and theories of mind and gives Cray's attitude to AI some credence.
Veritone, Inc., a cloud-based technology company provides machine learning solutions for the indexing and searching of unstructured data. In other words, it does the deep data crunching so you can spend your time making decisions.
Lastly, Xilinx is a technology company with a long history in designing and developing the kind of logic device that underpins a lot of modern computing, and the firm has a proud history of successful innovation behind it. The company has recently increased its investments into the application of AI in the cloud, embedded vision, the IoT, and telecommunications, and many expect that sales of the type of logic gates Xilinx produce will steadily climb.
Ask not what your country can do for AI... Source: Accenture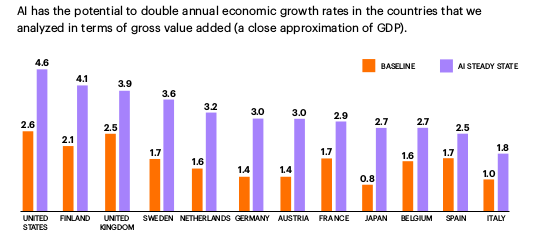 Forecasts In Unison

Xilinix and Arotech Forecasts.
Source: CNN
Before providing a short run-down on the strengths and weaknesses of the companies considered in this article, it might well prove useful to consider some of the currently available forecasts surrounding them. The price targets here are an aggregate of analyst targets obtained from sharewise and MarketBeat.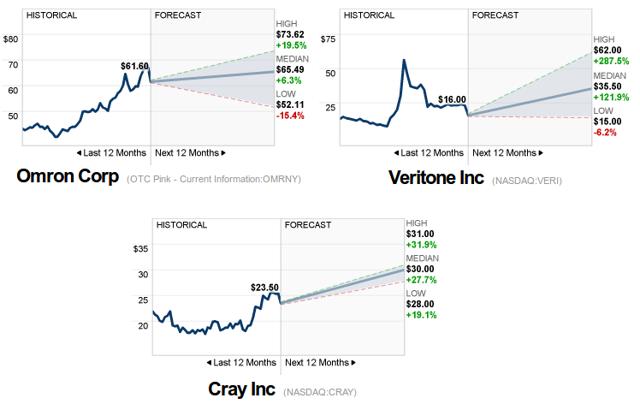 Omron, Veritone, & Cray Forecasts.
Source: CNN
In terms of price targets, as a basket of AI firms, it is anticipated that the basket's average share price will increase in the medium term by upwards of 16%. The highest climber is expected to be one of Arotech, forecast to rise from $3.7 per share to $4.75 (+27%), or Veritone, which is forecast to climb from $18.1 to $23 (+27%). The firm with the lowest price target issued by analysts is Xilinx, with a return of just 6.5% expected. It should, however, be noted that of the five firms considered, given their lower values, and frequent price fluctuations, both Arotech and Veritone are somewhat more prone to suffering from volatility.
Arotech - Taking Aim at AI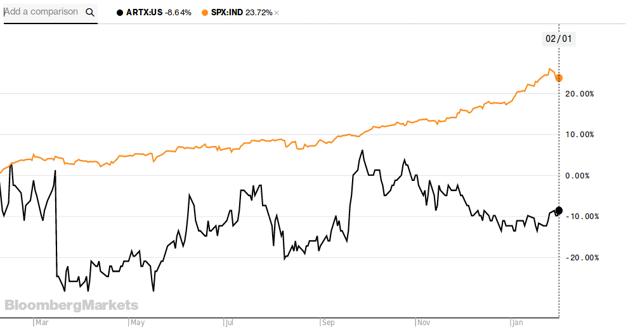 SPX significantly outperforms ARTX in the past year.
Source: Bloomberg
Based in Delaware, Arotech is a defense and security products and services company, with a market capitalisation of $97.62 million. The firm's share price highs of $5.82 were reached in March 2018, and since October 2015 lows of $1.34, the firm has seen its share price rise steadily to its current level of $3.70 (+276%). The firm operates two major divisions, interactive simulation for the military, law enforcement and commercial markets, which is where Arotech's AI-involvement is most pronounced, and a battery and power systems division for the military. Arotech is also involved in the production of aircraft armor, and decision making software for U.S. fighter planes.
Dean Krutty, Arotech's acting CEO suggests growth on the horizon

Financially the firm's fortunes look mixed. Cash flow is positive, with free cash flow of $1.09 million, or $0.04 per share, the firm's total debts of $13.51 million remain below net current assets of $24.8 million, revenues climbed by 6.6% year-over-year, or $0.86 million, as per the firm's latest earnings call, and orders from the U.S. Department of State appear to be climbing and supporting growth. That said, the firm has failed to meet market expectations on a number of occasions, most recently missing EPS targets by $0.03. Revenues and operating income also fell in the most recent quarter year-over-year by $1.8 million and $0.5 million, respectively. The firm's EPS figures do remain broadly consistent, although by extrapolating from the currently available data to cover the remainder of the year, a potential yearly EPS of $0.11 remains below 2016's $0.14. EPS forecasts from the WSJ, however, suggest that Arotech will beat its 2016 performance by $0.02, which may well see the firm's stock experience a small positive bump.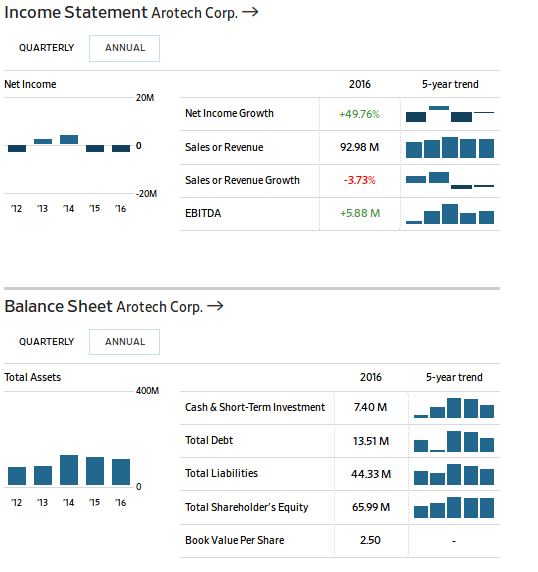 ARTX Income & Balance Sheet FY '16
Source: WSJ
Whilst by no means an AI pure-play, Arotech's involvement in using AI to help problem solve combat and enforcement scenarios marks it out as a firm active in a growing sector, as more and more simulations are deployed to train military and law enforcement personnel. Arotech may well be the riskiest stock in this article's basket, but sales of almost $93 million for a firm with a market cap of under $100 million, and net income steadily on the rise since a December 2016 slump, marks it out as a low-cost investment that might see 2018 as the year it returns to real growth.
Omron Corp. - To the Machine the Work of the Machines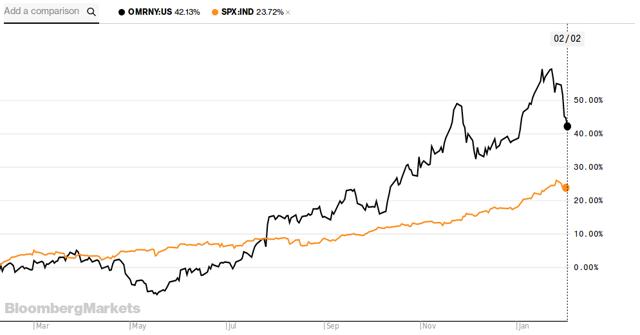 Omron Climbs Above S&P in July.
Source: Bloomberg
Omron Corporation, based in Kyoto, Japan, is famous for its 1980s' and 1990s' motto: "To the machine the work of machines, to man the thrill of further creation." Bombastic though it may be, it continues to signal the way in which the firm sees its involvement in AI and general manufacturing. The firm has eight key product lines, including industrial automation, electronic components, automotive electronics, and healthcare.
In terms of the firm's finances, Omron's is secure. Although the Japanese company saw income fall slightly in 2017, sales of $794.2 billion remain robust for the $13 billion market-cap company. Despite these falls, quarterly net income has grown by 87%, and sales are up by 10.73%, suggesting the decline is not permanent. Cash flows are strong, with $175.48 free cash flow per share, and net profit margins of upwards of 5% are positive. Also, whilst a dividend of 1% is nothing particular to write home about, it adds a further positive to an investment in the firm. Currently trading at $62.68, and forecast to climb as high as $73.62 (+17%), there's plenty to like about Omron.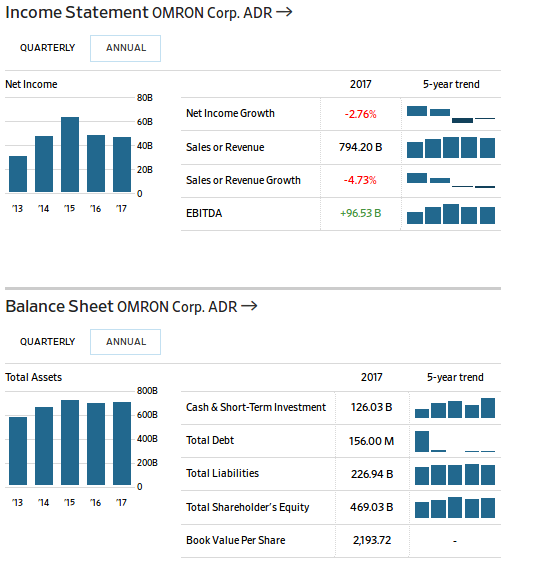 Omron Financials.
Source: WSJ
What marks Omron out as an interesting AI investment is the fact that its deployment of machine learning is quite wide. The firm has developed advanced processors and sensors that it hopes to deploy both in manufacturing and medicine, and recently showcased its ability to model the interactive complexity of shoals of sardines, which, for instance, demonstrates Omron's ability to accurately map the complex dynamics of moving multi-part systems, for instance, in the urban environment. Heavily involved in robotics and automation, there's a lot of the traditional science fiction AI play to Omron's product offering.
Cray - Do We Need Supercomputers Any More?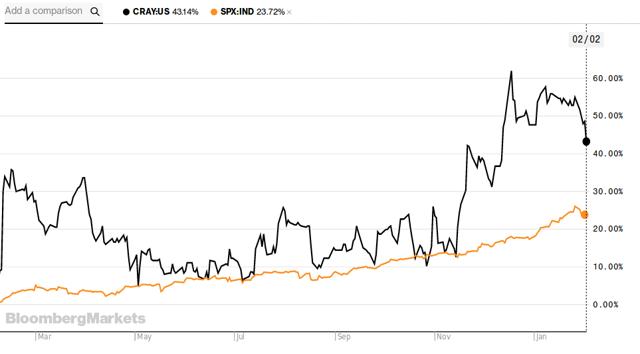 Cray Outstrips the S&P.
Source: Bloomberg
Whilst Cray may well have had its heyday as the world's leading supercomputer provider, the $984.67 million firm has once again found itself a niche. In addition to developing computers, Cray also produce systems for data storage and analytics. The firm's supercomputers are ranked as the third most used by the TOP500 project, as is the Cray derivative of Unix, the Cray Linux Environment. Signifying perhaps Cray's increasing return to prominence is the Winter 2017 agreement between Microsoft (MSFT) and Cray to work together to develop new cloud solutions.
Financially, although Cray's balance sheet is climbing, its most recent income data is worrying. Nevertheless, despite recently falling revenues, FY18 guidance suggests a return to form is in the offing with growth of 10-15% expected. Ultimately, whilst it's hard to be enthused by a firm whose revenues have fallen for the past three years, dampened expectations after a tough 2017 have been priced in, so any good news forthcoming in the February 14th earnings call is likely to provide a share price boost. EPS is expected to come in at $0.24, whilst profits of $9.67 million are also anticipated, meaning that the firm's P/E ratio will stand at a reasonable 26.09. Further signs that the bottom may have been reached for Cray and that 2018 may see the firm's share price climb is the number of institutional investors that have recently got on board again with Cray. Schwab Charles Investment Management Inc., for instance, has increased its stake by 21%, as has Ameriprise Financial, Inc. by some 75.3%.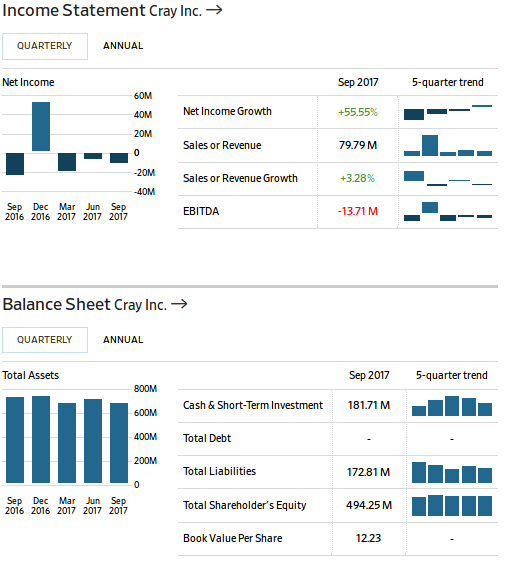 Cray Financials.
Source: WSJ
In terms of AI, as was already mentioned, Cray really has a focus on complexity, something that ties in very well with the more theoretical research in the field. The firm's own website carries several interesting reports on its current work, for instance here, here, and here, and its links with other industry leaders and game-changers, from NVIDIA to Microsoft, and more recently Samsung (OTC:SSNLF), ought to ultimately yield machine learning fruit.
Ultimately, however, the opportunity in an AI investment in Cray is long-term. Cray is heavily investing in providing the infrastructure for deep machine learning, and the firm has an awful lot of know-how in the space. Indeed the surge in technologies from IoT to self-driving cars and big-data will require ever-larger processing needs, which means companies like Cray, which provide the infrastructure behind the scenes, could well stand to benefit.
Veritone - Intelligence in the Cloud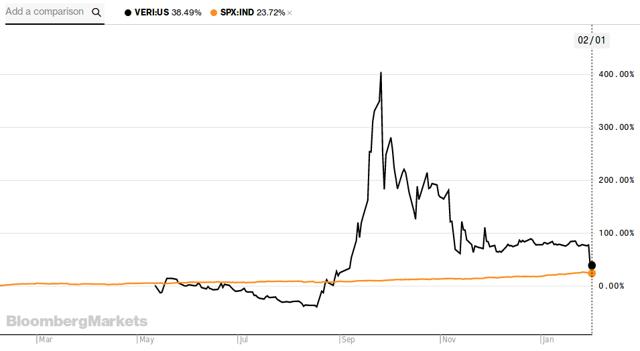 Despite the Surge & Slump VERI stays ahead.
Source: Bloomberg
Veritone, if you've been following the technology markets, is probably most famous for its dramatic share price slump following a hugely negative tweet by short-seller Citron. Not long after the tweet was published, the Veritone plunge began. Veritone closed at $65.91 on the 26th of September, and by the 13th of November, the firm was trading at $21.04 (-69%). Since then, Veritone has fallen further to $18.10; yet, over the past 12 months, the firm remains up 20%, and one thing is for sure, the markets now have an idea of how high Veritone might appreciate if it gets everything right.
With a market cap of just $291 million, Veritone nonetheless boasts some impressive clients on its roster, from Uber to ESPN, and Microsoft to CNBC. The firm itself offers AI-driven data analysis and machine learning tools for the entertainment, legal, and governmental markets, and is recognised as a key machine learning provider by Amazon's (NASDAQ:AMZN) AWS. Indeed its belief that multi-engine cognition, that is to say, AI that is driven not by a single core engine but by several threaded functional centres, chimes well with those who believe that distributed architecture, like that of the human brain, remains the future path for intelligence research. Currently, through its aiWARE platform, over 800,000 cognitive searches are made per hour with 36.4 million computations on 178 different engines. Applications for Veritone's software include transcription, facial recognition, object recognition, audio/visual fingerprinting, geolocation, and data research.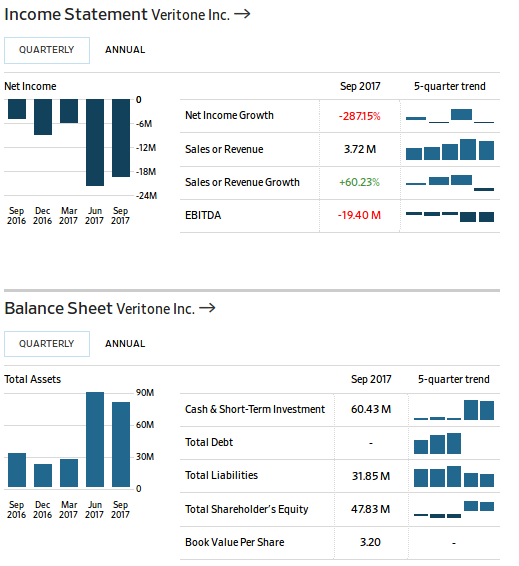 Veritone Financials.
Source: WSJ
What perhaps ought to be borne in mind when discussing Veritone is the fact that the company was perhaps celebrated too quickly. Less than three months after the firm's IPO, Veritone was straddling the quite typical post-IPO lows for a technology firm, but one month later, the firm had climbed to more than six times its then value of $7.87 on the back of an in-depth feature by Barron's. What remains as true in 2018 as it did in 2017 is this, Veritone is a clear pure-play on the AI market, the firm is trading above its initial launch price, and its product offering is interesting if perhaps not yet fully mature. A long investment could well be fruitful.
Financially, as a very young company still pushing its first growth stages on the back of initial investment and its IPO, it would perhaps be harsh to be overly critical of Veritone's negative income levels; however, the fact should not be forgotten that Veritone does not yet yield a profit and remains a speculative investment play. That said, revenues are increasing, up 60% in the most recent quarter to $3.7 million. Similarly revenue figures for the first nine months of fiscal 2017 were up 70% to $10.9 million, whilst new bookings on the firm's AI platform increased a phenomenal 571% to $2.6 million.
Veritone's net losses continue to be high, with the most recent quarter's $19.5 million significantly higher than the same quarter in 2016, when losses incurred were at the level of $6 million. That said, $11.7 million of that figure was a result of one-time stock-based compensation for the firm's founders as a result of Veritone climbing above $400 million in market cap for five consecutive days. Veritone suffered from the fact that its share price shot up too soon in a speculative climb, meaning rewards were paid out far ahead of time.
Put simply, Veritone's finances seem to present a risk to the firm in the medium term since with present cash levels of just above $60 million and yearly losses of near to $50 million, there is a gap to be bridged. If sales continue to climb, it may just be.
Xilinx - Logic, If, and only If…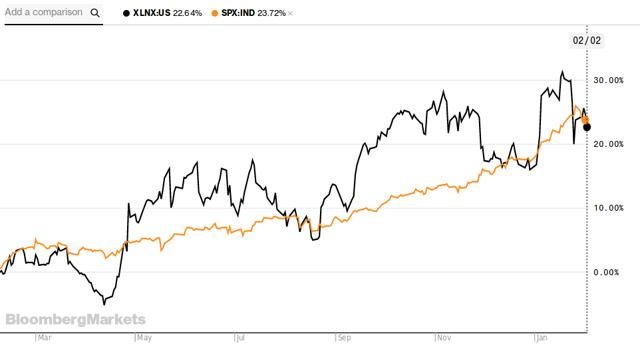 Xilinx Matches S&P.
Source: Bloomberg
Xilinx provides logic devices and most famously invented the field-programmable gate array, an integrated circuit that enabled ad-hoc configuration of hardware. Logic gates, providing complex combinatorial functions or simple IF and OR functions are essential in all computer architecture. The firm's more advanced hardware has been used in some of the most complex scientific systems built, including the CERN facility on the French-Swiss border, and the company is also working with the Airforce Research Laboratory's Space Vehicles Directorate to improve the extraterrestrial function of logic gates, owing to radiation damage.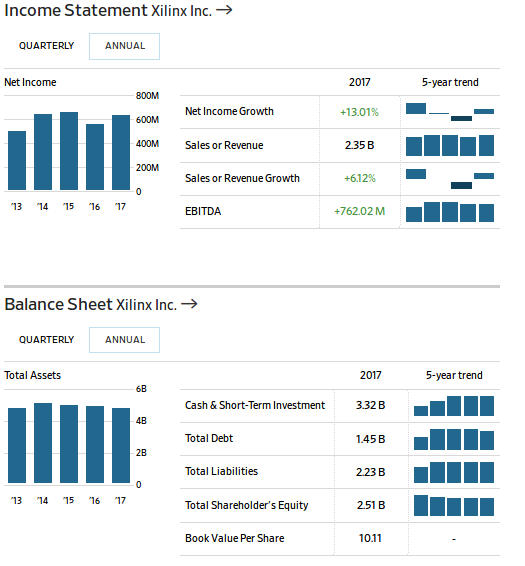 Xilinx Financial.
Source: WSJ
Currently trading at $71.82, and with a market capitalization of $18.47 billion, Xilinx is a healthy company financially, posting EPS figures of $2.61, and issuing a dividend of 1.93%. Trading at P/E ratio of 23.04, Xilinx also offers attractive value in terms of its potential growth. That said, with less risk often comes less potential reward, and the price targets available for the San Jose, California-based firm offer estimated share price returns of just 6.5% in the coming year. The firm's earnings are expected to continue to grow in the double digits in the coming years, which marks it out, however, as a company that should, all things being equal, see sustained share price growth in the longer-term. That said, although Xilinx has just posted its ninth consecutive quarter of growth, there are some concerns that the firm is potentially overvalued.
As a company, Xilinx provides some of the most important infrastructure in computing in the form of its logic gates, the firm is growing, its products are popular, it's profitable, it's stable, but it would seem it is unlikely to turn you into a new millionaire.
Conclusion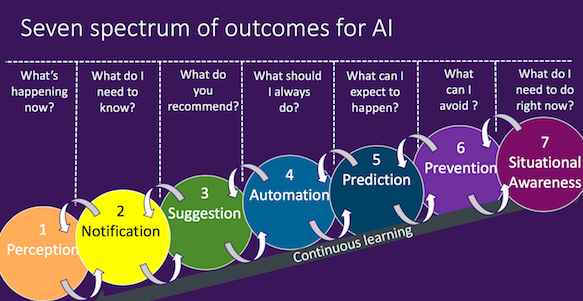 7 Stages of AI Development in business.
Source: Constellation Research
Ultimately, of all the stocks considered here, it is true that none bear comparison with big-hitters like Microsoft, or Google (NASDAQ:GOOG) (NASDAQ:GOOGL). Arotech, whilst offering an interesting product, remains streaky in terms of its performance, and Veritone has a lot of growing to do in a very short time. The three larger firms, Omron, Cray, and Xilinx, certainly offer more security than the smaller two, and if price targets are to be believed ought to offer reasonable 2018 returns, but they do not appear set to embark on a tremendous share price surge.
As long holdings that offer exposure to cognitive computing and the infrastructure that underpins it, Omron, Cray, and Xilinx certainly have something to offer a diverse portfolio, but by no means does the phrase all-in spring to mind.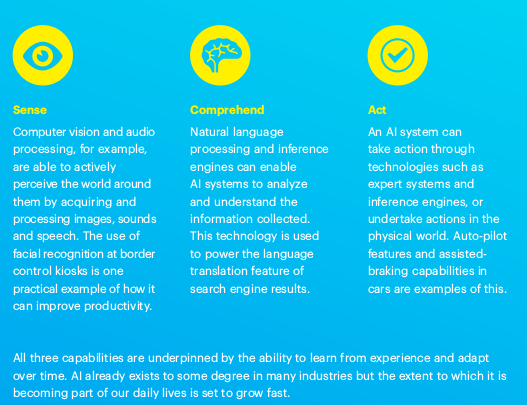 What is AI? A rundown.
Source: Accenture
Disclosure: I/we have no positions in any stocks mentioned, and no plans to initiate any positions within the next 72 hours. I wrote this article myself, and it expresses my own opinions. I am not receiving compensation for it (other than from Seeking Alpha). I have no business relationship with any company whose stock is mentioned in this article.
Additional disclosure: CFDs, spread-betting and FX can result in losses exceeding your initial deposit. They are not suitable for everyone, so please ensure you understand the risks. Seek independent financial advice if necessary. Nothing in this article should be considered a personal recommendation. It does not account for your personal circumstances or appetite for risk.
Editor's Note: This article covers one or more microcap stocks. Please be aware of the risks associated with these stocks.