Last week's turmoil in the stock market might have gotten you thinking: Is it time to take gains and build cash after a nearly 9-year bull market?
I don't have any advice on the stock market, but I do have an idea on the best place to set aside cash in today's market: 4-week Treasury bills. They are a 100% safe, no-commission investment with an ultra-short term. There is no credit risk and no interest rate risk. And here's the thing: 4-week Treasurys are paying top-of-the market yields.
If you have an account at TreasuryDirect, you can buy 4-week Treasurys with no commission and set up automatic reinvestments. Auctions are offered every week of the year - the next auction is on Tuesday, February 6. Here are some things to consider:
4-week Treasurys are sold at a discount determined at auction. So if you bought $10,000 at the January 30 auction, you paid $9,988 and will receive $10,000 four weeks later. That's an annualized return of 1.46%.
They pay interest only at maturity. The interest is equal to the face value minus the purchase price.
They are sold in increments of $100. The minimum purchase is $100.
Bills are issued in electronic form.
Why are 4-week Treasurys attractive?
When the Federal Reserve raises the Federal Funds rate, its key short-term rate, 4-week Treasurys generally rise in lockstep. Here is that trend over the past three years as the Fed began gradually increasing rates: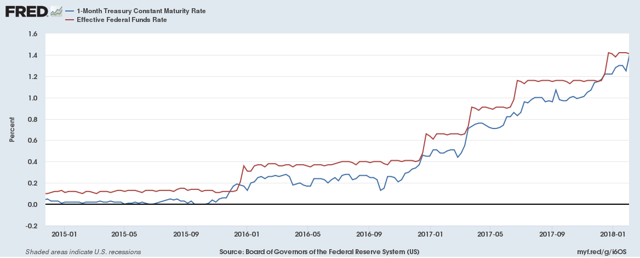 The big benefit of 4-week Treasurys is that they react quickly to Fed actions, so there is little lag time until the yield rises. That certainly isn't true of your local bank or credit union, where CD rates might remain flat for months after a Fed increase.

Because the Federal Reserve is expected to raise interest rates at least three times in 2018, 4-week Treasurys are a safe way to ensure the highest return for your cash. Today's range for the Federal Funds rate is 1.25-1.50%, with the effective rate trending toward the high end of that scale. If the Fed raises that rate three times in 2018, it will rise to a range of 2.00-2.25%, meaning 4-week Treasurys could be paying about 2.10-2.20% by the end of the year. Rolling over these investments will ensure that your money will earn a competitive rate.
Take a look at how the competition stands up, as shown in the chart. Even as rates are rising, your local bank or credit union is probably still offering ridiculously low interest rates, barely budging from the 0.05% common in recent years. This is also true for cash accounts at most brokerages. Vanguard is a great exception, with an attractive 1.29% yield on its base cash account, the Vanguard Federal Money Market Fund.
I think it's a bit of a scandal that the U.S. Treasury is offering returns - in most cases - higher than even the best-in-the-nation banks CDs, across the board, from very short term to 5 years. Banks aren't budging, but the Treasury has to respond to the market, and the market is demanding higher short-term rates.
I've been a fan of rolling over 14-week Treasurys for cash holdings, but there's only an 8 basis point advantage to the 14-week yield, so the 4-week is more attractive. It has quicker rollovers, meaning quicker reactions to rising rates. At this point in the market cycle, with rates rising, the 4-week Treasury is the way to go.
Here's a comparison of yields for Treasury bills with yields ranging from 1 month to 1 year since August 2017. Notice that in the last week, the 4-week yield has taken a sharp move higher as the market prices in stronger job and wage growth. It is predicting a Fed rate increase in the near future.

Conclusion
If you are looking to hold cash, for whatever reason, rolling over 4-week Treasurys is a safe, smart decision. You'll get top-of-the-market yields with an ultra-short maturity. And your money is never more than a month away for use elsewhere as the market shifts.