New York (Feb. 2, 2018) - Jobs printed today at 200,000 jobs, slightly better than the consensus 184,000 that had been anticipated and considerably less than the 234,000 jobs that had been proffered a day earlier by ADP National Employment Report.
Data Points
Average three-month job creation was 192,000 jobs, including the January revisions, the highest since February, 2017, when the average three-month jobs creation was 213,000 (after numbers were finalized with subsequent monthly revisions.)
The unemployment rate was 4.1 percent, down 0.7 percent from the same period last year and unchanged from December.

The labor participation rate was 62.7 percent, down 0.2 percent from the same period last year and unchanged from December.

The U-6 measure of people marginally attached to the workforce was 8.2 percent, down 1.2 percent from the same period in 2016, and up 10 bps from last month.

Total jobs were up 40,000 M-to-M but down -59,000 from the same period last year.

The biggest M-to-M category of job gainers was Retail, which gained 41,000 more jobs, net, in January than last month's loss of -25,600 jobs. The biggest category of losers was Healthcare and Social Assistance, which gained 9,800 jobs less than last month.

The biggest Y-to-Y category of job gainers was Transportation and Warehousing, which produced 11,200 more jobs than in the same month last year. The biggest Y-to-Y category of job losers was hospitality, which produced 18,000 jobs less than in January, 2017.

Average weekly wages increased 2.59 percent from the same period last year. But month-to-month average weekly wages dropped 24 bps.

Six-month average jobs creation for January was the lowest since 2011. It is the lowest three-month average January job creation since 2014.


What's The Data Saying?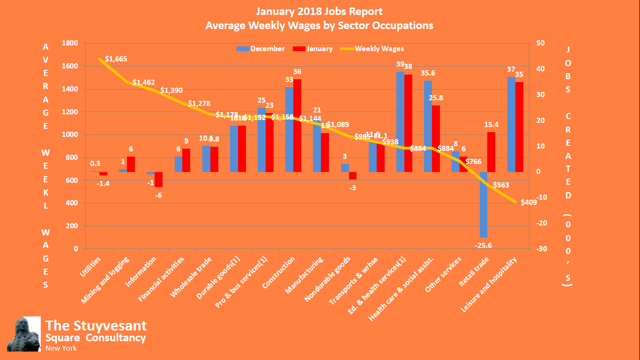 SOURCE: The Stuyvesant Square Consultancy from BLS statistics.
Less-than-anticipated job creation, low six-month and three-month average job creation, weaker-than-expected GDP, a small increase in U-6, and a M-to-M decline in average weekly wages indicate that the economy did not grow at a robust rate in December and that it got off to a weak start in January.
The China Effect
Nevertheless, we saw a significant increase in the 3Mo/10Yr yield curve, precipitated by what we believe was China's warning shot.

In January, China's "fake news" story that it would reduce its stake in US Treasuries boosted the 3Mo/10Yr yield curve 6 bps from 249 bps to 255bps, or 2.41 percent, the highest such percentage increase since December 19th and among the 15 highest percentage increases in the 3Mo/10Yr curve since last January.

We believe that the continuing increase in the spread is almost entirely attributable to the exogenous geopolitical effect of the China "warning shot". Since that event, roughly three weeks ago, the 3Mo/10Yr has increased 35 bps, the greatest increase within 30 days since at least the beginning of 2017.

While we generally prefer to see the yield curve in the 3Mo./10Yr. yield curve spread over 120, we believe the precipitous rate of increase in January, some 31 bps from the China warning shot to today, February 2nd, is too much, too soon.
Heightened Eurozone Concerns

We believe that the rapid run-up in the yield curve, together with a credible possibility that Angela Merkel's CDU/CSU may not reach agreement with the SPD and cause snap elections, has created a risk-off environment that will reduce equity prices as uncertainty affects the Eurozone. (A member of the right-wing AfD, Peter Boehringer, who has been highly critical of Eurozone bailouts, and called for the repatriation of all German gold to Germany, has been named chair of the Bundestaag's Budget Committee. He has called Chancellor Merkel "Merkel-b***h".)


A Tenuous Inflation Expectation

Ray Dalio, the head of Bridgewater Associates, has said, "There are two main drivers of asset class returns - inflation and growth." But the former is a nominal return of no value; the latter is "real."
Phil Gramm, the former Senator and onetime professor of economics at Texas A & M, used to tell his students: "Inflation is like pregnancy. There may be numerous complex factors and unique circumstances surrounding the event, but there is only one basic cause.

We don't believe that "cause" - too few goods being chased by too many dollars - or higher costs - has yet occurred.

We believe that expectations of inflation have been driven by China's "on-again, off-again" threat to reduce its holdings in U.S. Treasuries, together with the prospect of surplus cash from the tax cut. Those expectations, in turn, have driven much of the spread in the yield curve and likely caused the 650+-point drop in the market we saw today.

But we find those expectations to be overstated. We think there is significant room for additional capital expenditures, or CAPEX, in the Gross Domestic Invesment segment of GDP and that such investment will occur given the generous expensing rules of the new tax act. We also foresee agreement on infrastructure spending in the first six months of this year that will also absorb what the market now thinks is excess cash in the market. We note, too, that M-2 velocity turned the corner from record lows in 2017Q2, so inflation from "too much cash chasing too few goods" is unlikely.

We think it would be appropriate for the Fed to give forward guidance that rate increases will be orderly, timely, and data-dependent (as opposed to "date-dependent") and that increases will be reassessed and additional forward guidance given after each Fed meeting, including those that do not have press conferences.
Summary
Our expectations for 2018Q1 have improved since the December jobs report, as detailed more here. We think real wages will increase just 2 percent for 2018, which is an improvement, but not sufficient to drive cost-push inflation.

We hope that the Fed will be circumspect and adopt normalization much more cautiously and with much firmer data points than the markets currently believe. The biggest risk to the equity markets now is a misplaced market concern with inflation that only the Fed can manage to assuage.
_____________________________________

Author's note: Our commentaries most often tend to be event-driven. They are mostly written from a public policy, economic, or political/geopolitical perspective. Some are written from a management consulting perspective for companies that we believe to be under-performing and include strategies that we would recommend were the companies our clients. Others discuss new management strategies we believe will fail. This approach lends special value to contrarian investors to uncover potential opportunities in companies that are otherwise in downturn. (Opinions with respect to such companies here, however, assume the company will not change).
If you like our perspective, please consider following us by clicking the "Follow" link above.
Disclosure: I/we have no positions in any stocks mentioned, and no plans to initiate any positions within the next 72 hours. I wrote this article myself, and it expresses my own opinions. I am not receiving compensation for it (other than from Seeking Alpha). I have no business relationship with any company whose stock is mentioned in this article.
Additional disclosure: The views expressed, including the outcome of future events, are the opinions of the firm and its management and do not represent, and should not be considered to be, investment advice. You should not use this article for that purpose. This article includes forward looking statements as to future events that may or may not develop as the writer opines. Before making any investment decision you should consult your own investment, business, legal, tax, and financial advisers.