Quick Opinion
Just to be clear, I have no plans to buy or sell Exxon Mobil (XOM) based on the results reported on Friday, January 2nd:
While the XOM story isn't as bright as I expected, it's not dark enough to get me to sell. In other words, there's nothing catastrophic in play. Furthermore, XOM's dividend is strong and steady. There doesn't appear to be any sort of immediate threat to the growing dividend stream.
I'm going to HOLD. My cost basis is about $85 and I have no plans to add unless XOM drops significantly more. To be specific, I'm looking for a potential buy below $75 which would provide a 4% dividend yield.
The $75 target is aggressive but the 10-year trend in yield has been up: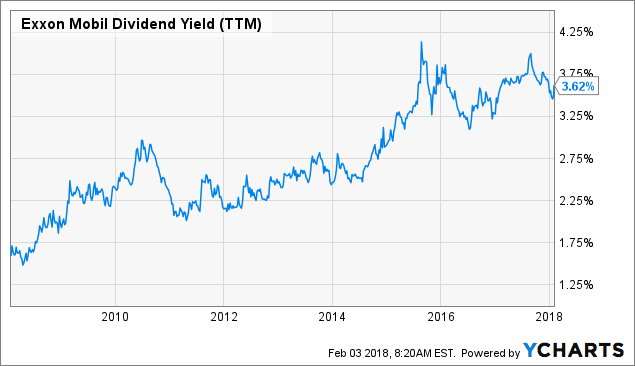 Maybe we'll return to a time with 4-5% XOM yields. Hey, you never know.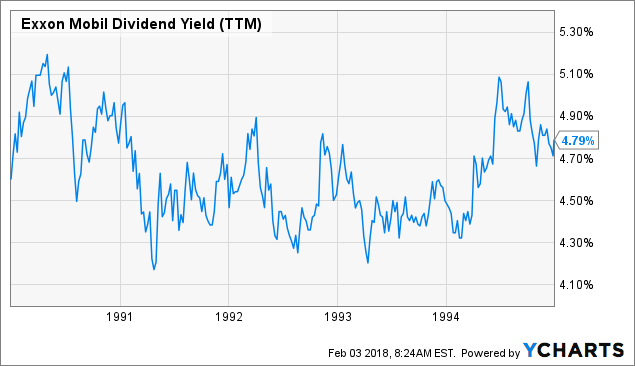 In any case, XOM is still muddling through. It's a disappointment, but it's also reality and that's where we play. I'm not dripping and I'm not adding, even though I'm close to my cost basis. I am only interested in averaging down.
Sea of Red
On Friday, Exxon Mobil (XOM) dropped by more than 5%. It looked ugly: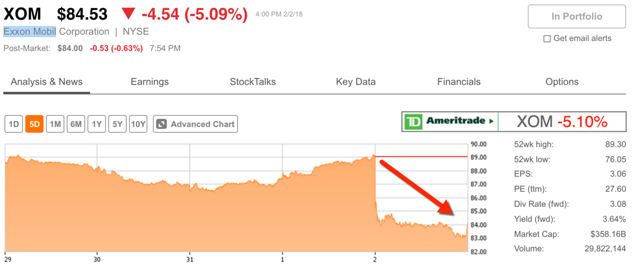 Source
Like many investors, I was a bit shocked by XOM's results. Before I dive deeper, I do want to point out that Friday was bad for almost all stocks.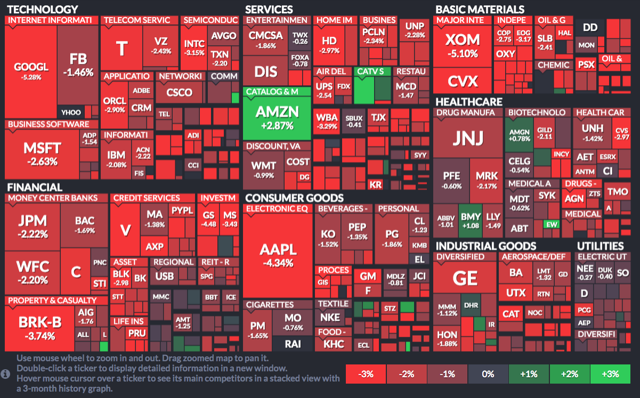 Source
Only a few big winners pop out:
So, it's highly doubtful that XOM's drop is self-contained, and only from the reported results. There's always background and context, and there are always opportunity costs to consider.
Weird
Here's what's happened with energy prices in the last year: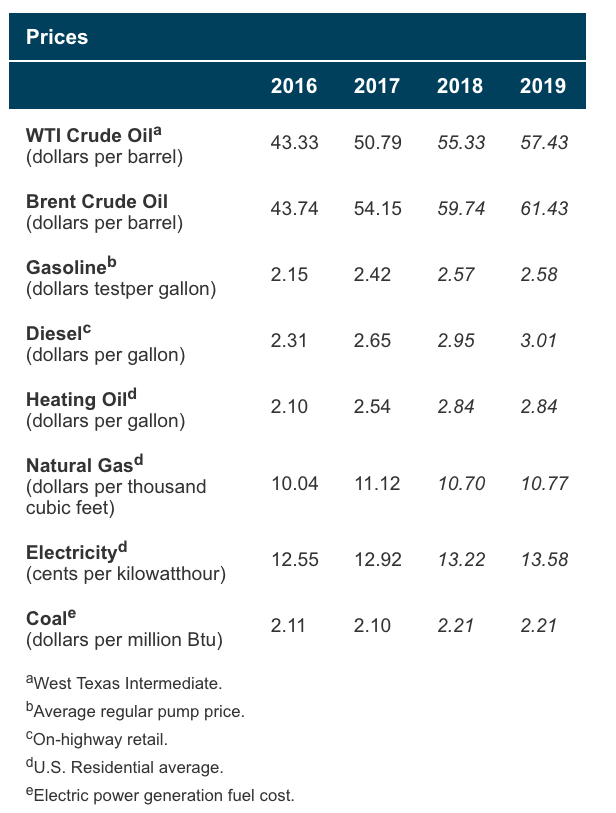 Source
Brent crude oil averaged $54/barrel (B) in 2017, an increase of $10/b from 2016 levels. Prices increased fairly steadily through the second half of the year, with year-end prices higher than the annual average. Daily Brent spot prices ended 2017 near $67/b, which was the highest level since December 2014. The monthly average spot price of Brent crude oil increased by $2/b in December to $64/b, marking only the fourth time that monthly Brent crude oil prices averaged more than $60/b in the past 36 months
Now, I've never claimed to be an energy genius, but it's pretty clear that 2017 was a reasonable year. Prices went up, and that should roughly translate into gains for XOM. Instead, this is what we're seeing: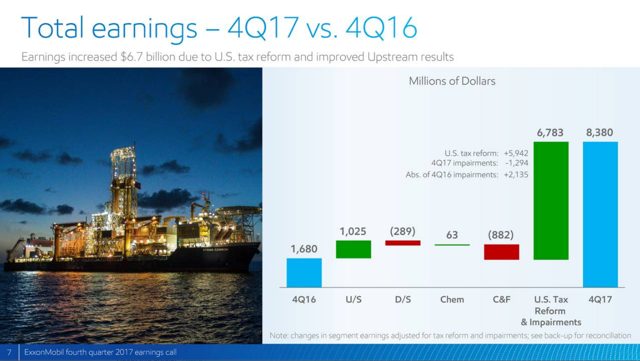 Source
At a glance, looks pretty good, right? But you already know that the "good news" is almost entirely due to U.S. tax reform. In fact, in case you missed it, XOM was flat year-over-year.
Simple math:
4Q16 = $1,680
4Q17 = ($8,380 - $6,700) = $1,680
It's right there on the chart. It's possible I'm missing something really big here, but I'm literally seeing a flat Y-o-Y change in earnings as directly reported by XOM.
It's quite strange to me that in a year of energy price gains XOM couldn't do better than this. It's a let down, at least from a capital gain perspective. XOM dividends still flowed without any problem.
Nothing Special and Nothing Terrible
Just to be clear, I am not worried about any sort of sudden collapse. I'm not seeing anything deadly.
Here's something that provides a small lift of confidence: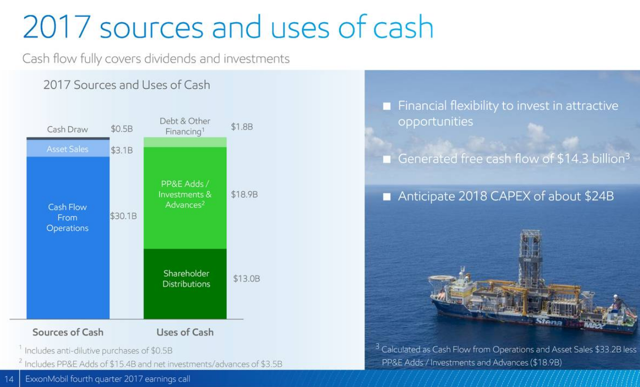 Source
Cash flow fully covers dividends and investments
For longer term investors, and those who watch the dividends, there's not much here to worry about. Billions flowing in, billions flowing out. I expect XOM to pay a growing stream of dividends, so nothing's changing there.
It also sounds like XOM is allocating money into growth versus financial engineering through buybacks:
As we've said many times and as I said today, we're going to maintain our commitment to a reliable and growing dividend. And then with excess cash, we'll decide whether there are more opportunities that we can invest in or do we go ahead and return that to the shareholder via buyback program. And we think about that on a quarterly basis. We look at a number of factors to assess whether we want to go ahead and buy shares or we want to pursue some additional opportunities. But I think the underlying message in what I'm trying to convey is that we have a very attractive investment opportunity and we really do believe that we can generate a better shareholder return by pursuing these investments if they're ready to go ahead and be funded. [Author's emphasis]
I'm generally a fan of buybacks and cannibalization when the company is trading below intrinsic value. And, XOM also has a history of buybacks: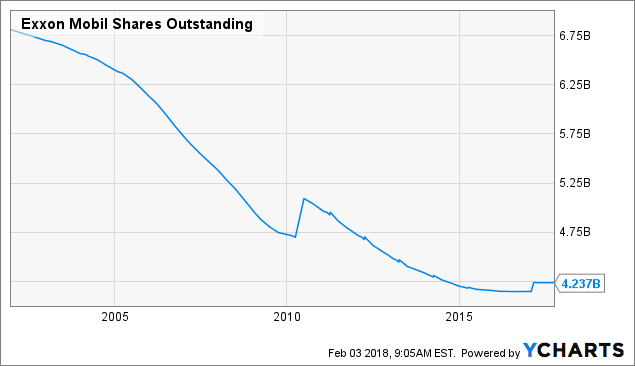 In any event, the point is that XOM seems to be more interested in production growth. Leadership sees growth opportunities, and will continue laying out plans, beyond this:
We've got – at a low price forecast we've got returns in excess of 10% with a $40 per barrel flat rail. I would tell you the investment plan is optimize to achieve attractive returns even in a low price environment. And the plan includes – it does include some investments to maintain our license to operate as well as investments that have attractive future potential. But the lion share of that increase year-on-year is associated with more short-cycle investment that is highly attractive even in a low price environment.
Again, I don't see anything special or magical in XOM's reporting or results. Roughly speaking, it feels like business-as-usual.
Wrap Up
First, XOM's reported results weren't great but they weren't terrible. I think what really happened is that the results were unexpected. I admit I got my hopes up on the potential due to rising energy prices. And, the analysts pumped me up a bit too. In the end, it was flat to slightly down, and really nothing special. Again, results were not a train wreck.
Second, XOM's dividends are not threatened in any way. Leadership has been friendly about this, and will continue to reward those who hold. The yield is creeping up, and could reach 4% if prices drop. It's wait and see.
Third, it feels like XOM is going to push for growth. It would have been nice to see about two years ago, with better bargains, dagnabbit! Still, XOM is a big ship, and it can be a challenge to move fast in the market.
Lastly, I'll say again that I see XOM as a HOLD right now. I have no plans to buy at these prices. I'm looking for a potential buy below $75. If I can't get that price, no worries. I'll sit and collect the growing stream of dividends.
Stay frosty!
Follow Me
Move your mouse over to the orange button.
Please click on that button and Follow me.
Thank you for inspiring me to write more!
~ John
Disclosure: I am/we are long XOM. I wrote this article myself, and it expresses my own opinions. I am not receiving compensation for it (other than from Seeking Alpha). I have no business relationship with any company whose stock is mentioned in this article.