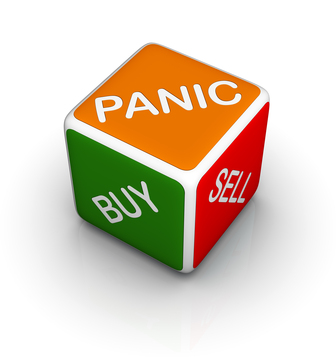 Source: Google Images
Overview
Over the past few years, much has been written regarding the inevitable stock market crash. I do not pretend to know the exact future, but I do diligently monitor economic and industry drivers which provide information of economic health. The first question I have asked myself as market volatility has increased is, did anything fundamentally change?
The simple answer is no. In fact, expectations for growth continue to accelerate, and many companies in varying industries are expecting increasing revenues and profits. But when digging into many companies in various industries, there are definitely good buying opportunities out there, presuming that economic growth continues.
Inflation has been very tame for a while now. But signs are pointing to this trend no longer remaining at this level. For various freight sectors, cost inflation for drivers, insurance and claims and purchased transportation has been on the rise over the past few quarters. This has translated to companies seeing robust double-digit top-line growth most recently, but witnessing operating income deterioration. The lag effect of contract negotiations is going to hopefully reduce cost inflationary impacts for 2018 and beyond.
The recent decline in equities as interest rates have risen, is not a shock. It has happened before, and there have been extreme equity sell-offs during some cases. But for those thinking that there has always been and will continue to be an inverse relationship between interest rates and asset prices, this is just not true.
For the purposes of this review, I will be focusing specifically on the 10-Year Treasury Note as the primary interest rate vehicle. And this will be compared against both the SPDR S&P 500 ETF (SPY) and Dow Jones Industrial Average (DJI) indices.
An excellent review for those looking for information on this topic can be found as Moody's Analytics (MCO) provided a weekly capital markets review and outlook in early January 2018, with a core topic on the relationship of equities and interest rates. Information in this piece underscores the complexities associated with different periods where interest rate volatility has impacted equities; with the most notable example being 1987.
However, Moody's research states that the historical record shows that since 1982, interest rate inspired declines by broad equity indices have been relatively brief and shallow. During a time where economic growth is accelerating and prospects for companies are improving, it is important for investors to consider their strategies and remain focused on opportunities.
As an active manager of the Lean Long-Term Growth Portfolio (LLGP), I am interested in positioning all of my holdings for the long-term. Of course, no one wants to buy equities at a peak before a correction/recession. But having a short-sided reactionary approach can be just as detrimental.
For long-term investors, active and cash management are the key ingredients for success. Buying stocks low, most often during times that are not perceived as the best short-term opportunity, is prudent during an economic growth cycle. For correction/recession cycles, having cash is important as these times offer the best prices for the long-term, and often make or break higher performance over time.
It is plain and simple; grow the money that is invested into equities. From this perspective, I am not looking for the perfect time to buy and sell. Rather, I am looking for opportunities to buy, and based on my thesis, opportunities to trim positions when it makes sense. On this premise, I expect to actively be buying equities every year.
For 2018, the question is, will equities finish positive or negative? If negative, by how much? Are we headed for a recession this year, or next year, or in a few years? Based on demand and supply trends for transports, and based on consumption, both nationally and globally, and 2018 does not seem like the year for a recession. But this does not mean that a substantial correction could not occur. To Moody's point regarding interest rate driven equity downturns, they have been relatively brief and shallow. If the economy continues to grow, equities will visit new highs at some point in the near future. As long-term investors, we need to be prepared for the opportunities.
Moody's Perspective
I like Moody's review of interest rate increases and equity impacts because it looks at historical records, and does not spend a lot of time trying to pieced together theories of an uncountable number of variables to come to a more exact conclusion.
If there is one thing that everyone can agree with, it is that the expectation for interest rates to rise is the new reality. This coincides with increasing inflation, which translates to a lot of things including increasing wage rates, raw material costs, contract agreements, and ultimately for a lot of industries, higher revenues and profits.
This all sounds good, but unfortunately, most economic recessions have occurred during and/or immediately following peak growth cycles. To Moody's review, even the 1987 stock market crash saw gross domestic product (GDP) growth at over 5 percent year-over-year (YoY), along with an average yearly increase by pretax operating profits of 23 percent.
1987 is often referred to because as noted, a decline of 27 percent occurred from the peak of July 1987 to December. It was not until July 1989 that a return to the July 1987 high occurred. For the first quarter of 2018, GDPNow has estimated GDP growth greater than 5 percent. With interest rates spiking up, there is an eerie similarity, which has led some to draw comparisons.
But the research shows that 1987 has been an anomaly compared to other times that interest rate increases have impacted equities. With 1994 being another example, the surge in Treasury bond yields, which increased by 35 percent, saw the market value of U.S. common stock bottom by -3 percent by December of this year.
Through the review of history and different levels of performance over time between the relationships of interest rates and equities, Moody's has concluded that a steep jump in interest rates could potentially weigh on the 2018 equity markets, but that the depth of decline by share prices would most likely be comparatively shallow compared to damage typically generated from significant and extended contractions in profits – namely a recession.
10-Year Treasury Note Review
Getting historical perspectives from Moody's is great, but I think that a review of some basic trends is of value for long-term investors.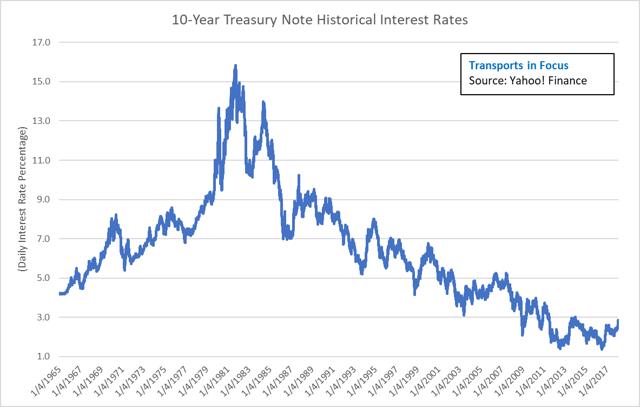 The chart above is what many refer to when talking about the 35-year bond bull market. As can easily be seen, the Treasury bond yield has been in considerable decline since the September 30, 1981 peak at nearly 16 percent. It's incredible to think that buying a home in the early 80's entailed such a high borrowing cost when compared to today.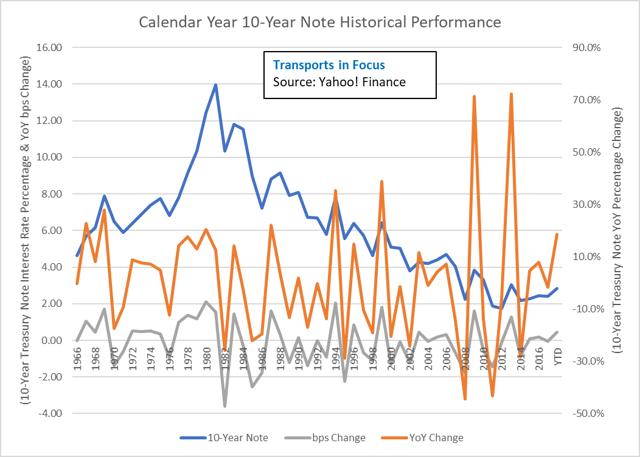 Another way to look at Treasury bond yields, is by annual performance. 1981 set the record over this period with an increase in interest rates at 14 percent from 1980. The gray and orange lines provide further details on the annual change in basis points (bps) and YoY percentages.
It is interesting to note that over a nearly 54-year period, that there have only been 8 times where interest rates have increased by greater than 20 percent YoY. During this period, interest rates have only increased greater than 200-bps 2 times. One of those times was during 1994, which as Moody's put it, witnessed a very shallow equity decline of 3 percent. In 1987, the year saw a 160-bps decline.
Both 2009 and 2013 witnessed the two highest annual percentage change increases at 71 and 72 percent respectively. Each year also witnessed 160 and 127-bps increases as well. The market's sensitivity has likely related to the fact that with only one month of performance, interest rates have already increased by 19 percent from last year, with a 45-bps increase. With eleven months left in the year, uncertainty surrounding the number of increase and extent of percentage and bps increase has generated some uncertainty.
Comparing the Dow Jones to the Treasury bond yield from 1985 to current has three story lines from the graphic above. From the mid-80s to the late-90s, interest rates were in steep decline, while the Dow was increasing rapidly. From the late-90s to the Great Recession, performance was not as inverse, and actually was correlative to a degree. Post the Great Recession, interest rates have continued to fall much lower, while the Dow has risen strongly.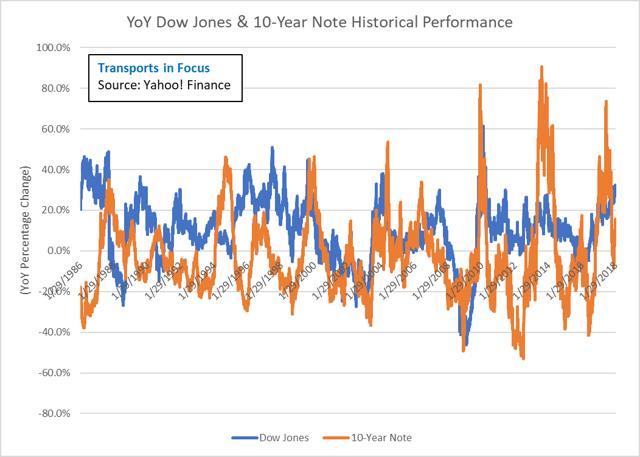 Observing the same period, but focusing on YoY percentage changes, and we can similarly see distinct areas of inverse patterns, as well as areas of strong correlation. The period of correlation based upon YoY percentage changes is from September 1999 to May of 2010. Interestingly, interest rate volatility has been rising when compared to the Dow since 2010.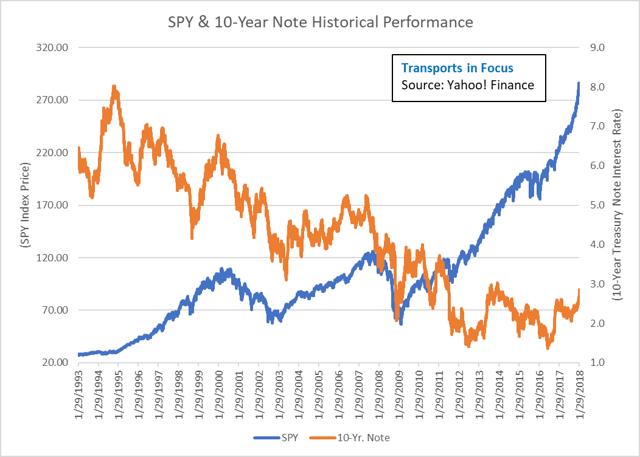 Looking to the SPY, since 1993 there has been a similar pattern as observed from the Dow. The only difference has related to the period of correlation as the SPY has mirrored interest rate patterns from early 2008 to the summer of 2011.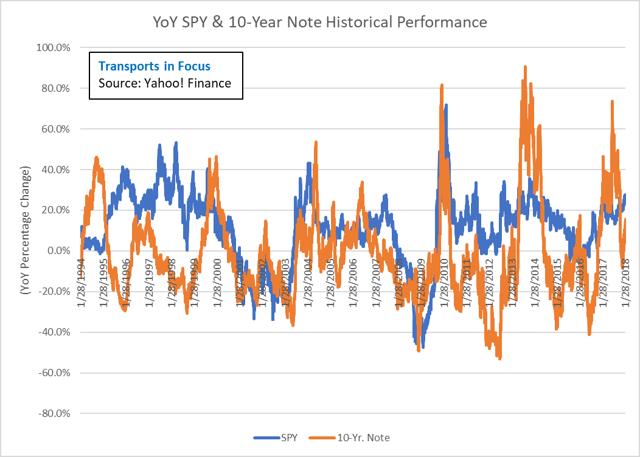 Performing the same YoY percentage change comparison, and there is a much longer and stronger correlation stemming from August 1999 to April 2010. This period is nearly identical to that of the Dow, missing each start to finish bookend by only one month. At the same token, interest rate volatility has increased substantially since April 2010.
Summary
Looking at historical relationships of equity indices and Treasury bond yields, we can see that there are both times where inverse relationships exist, but there are considerable times where correlation has been very pervasive.
Investors need to understand this, and think about the economic variables. GDP growth is rising, inflation is rising, and consumers are spending, businesses are spending, and despite interest rates jumping by 19 percent to start 2018, the current ten and five-year averages for interest rates were at 2.4 and 2.1 percent respectively.
It is not surprising that some look to 1987 as a cautious approach. From July 1987 to the same month of 1989, markets took two years to get back to parity. However, as has been documented, this still remains as a major anomaly based on historical trends. This suggests that regardless of the volatility that lies ahead, a more "shallow" impact from interest rates on equities is likely.
From an investment management perspective, this can be an important distinction as volatility may offer buying opportunities. As I stated earlier, it is my objective to buy positions in many of the holdings within the LLGP every year. I took the liberty to buy some positions towards the end of last week. I suspect that there will be further volatility down the road, but also am cautiously optimistic that we see equities up by year-end.
Disclosure: I/we have no positions in any stocks mentioned, and no plans to initiate any positions within the next 72 hours. I wrote this article myself, and it expresses my own opinions. I am not receiving compensation for it (other than from Seeking Alpha). I have no business relationship with any company whose stock is mentioned in this article.