The only company that's raised its dividend by 25% (or more) for 7+ years is Broadcom (AVGO). Even more amazing, we're not talking about a company with an extremely low starting yield.
Here's how things looked until recently: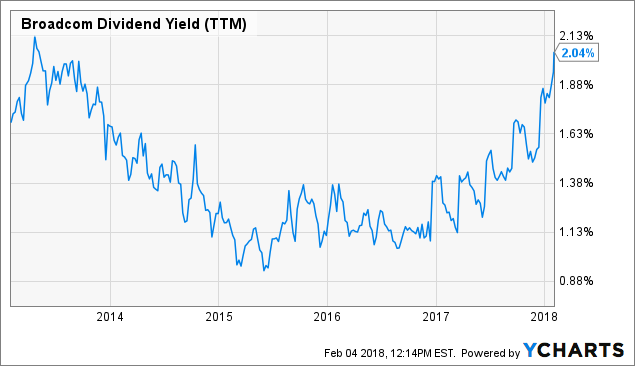 However, AVGO has fallen from a high of $285 back in November 2017 down to $235 right now. That's pushed the starting dividend up to nearly 3%.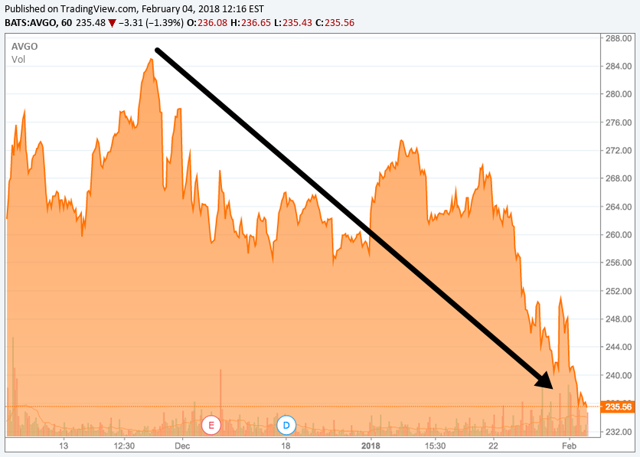 Source
A Quick Look Inside Broadcom
In case you're not familiar, here's what AVGO is all about:
Broadcom Limited is a diversified global semiconductor leader built on 50 years of innovation, collaboration and engineering excellence. With roots based in the rich technical heritage of technology powerhouses AT&T/Bell Labs, Lucent and Hewlett-Packard/Agilent, Broadcom focuses on technologies that connect our world. With the addition of industry leaders LSI, Avago Technologies and Broadcom Corporation, the company has the size, scope and engineering talent to continue leading the industry into the future.
Here's another at-a-glance view into the business: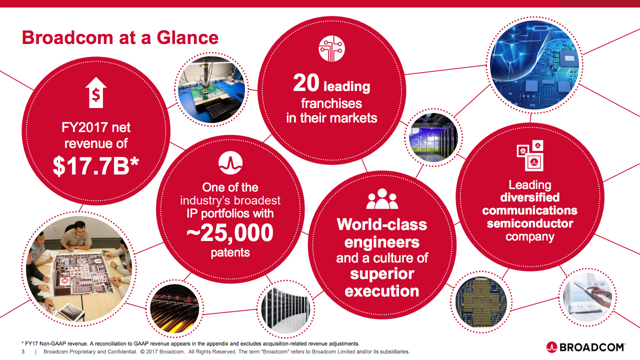 Source
And, here's a nice quick view of Annual Performance over the last 5 years: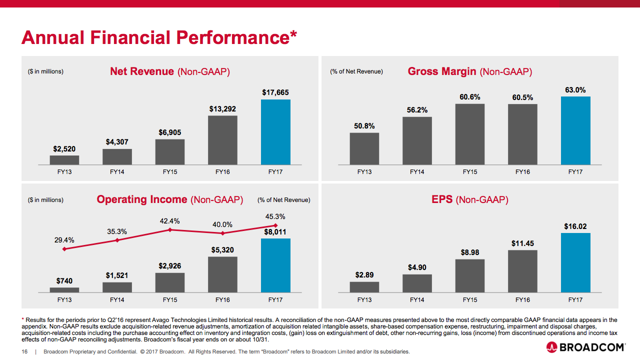 I think it's important to spend a moment to add a touch of clarity. The footnote is pretty important:
Results for the periods prior to Q2'16 represent Avago Technologies Limited historical results
So, the "Broadcom" dividend machine hasn't existed long. That is, unless you treat Avago as the real engine, which acquired Broadcom in 2016.
If you're concerned about Avago's history, just keep in mind that it's got a pretty solid history, including technology and connections with AT&T (T), Agilent, LSI Corporation, Lucent, and more. The Avago and Broadcom connection goes back into the early 1990's. The essential point is that Avago isn't really a new company.
Who Are Broadcom's Customers?
Not surprisingly, AVGO sells to wired and wireless communication equipment suppliers, that includes:
• Alcatel-Lucent
• Huawei Technologies
• Apple
• Pace
• Arris
• Samsung
• Cisco
• Thomson
• Hewlett-Packard
• ZTE
One risk is customer concentration:
Sales to our five largest customers represented 48.3%. Sales to Samsung represented 21.3%. Sales to Apple represented 13.3%.
So, roughly 35% of all sales are going to Samsung (OTC:SSNLF) and Apple (AAPL). I took a look back into the Avago + Broadcom transaction proposal, back in late 2015 and here's how AVGO laid it out: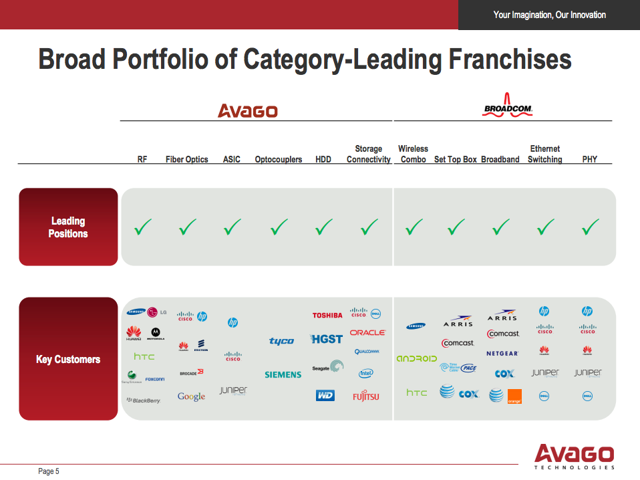 Source
To emphasize, despite the large range of customers, and a real breadth of product offerings, AVGO does have customer concentration risk.
The Other "Ugly" Complication
If you've been following AVGO for any period of time you already know about the unsolicited bid to buy Qualcomm (QCOM).
Under the proposed offer, Broadcom would pay $70 in cash and stock for each share of Qualcomm. The deal would consist of $60 in cash and $10 per share in Broadcom shares. The proposed transaction value of $130 billion includes $25 billion of net debt.
The deal faces many hurdles, including QCOM's resistance, and anti-trust. Of course, the usual chatter about "synergies" and cost savings are throw around. I'm skeptical and generally look at such things with deep skepticism. The cynic in me says that this is simply a power grab, and it's about ego.
As of early February 2018, it's still messy:
Broadcom is expected to raise its offer. It is considering a massive break-up fee, perhaps the biggest of all time, to soothe anti-trust concerns, the sources said. It could also include a material adverse effect clause.

Qualcomm reported first quarter revenue and profit that beat expectations on Wednesday, but its operating profit fell 96 percent year over year to break even as Apple and its partners continued to withhold royalty payments.
I've been pouring through the documentation and I don't see too much that clears up the confusion. Qualcomm has some great technology, but it's high profit model is also messy in terms of getting money from patents.
I point to those because these are AVGO's two largest customers. As of today, things seem to be rough with AAPL, but getting better with Samsung. Any of this could change tomorrow.
In short, there's tremendous uncertainty.
Final Thoughts
Broadcom has clearly been a dividend machine for several years now. It's easy to get caught up in the price drop from $285 to $235. So, here's a 5-year view that's probably more appropriate for long-term, dividend growth investors.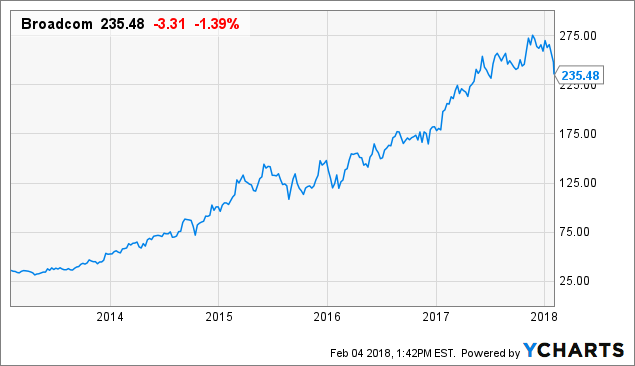 I don't always believe analysts, but they're estimating just under $20 EPS in 2018, just under $21 in 2019, and just over $22 in 2020. Bluntly put, that's not exact robust growth going forward.
Therefore, it's important to moderate any expectations for incredible dividend growth. I do think double digit growth is possible, but I doubt we'll see too many more years of 25%, or more. The underlying growth isn't expected. Plus, the payout ratio has been between 15% and 30%. I don't expect radical expansion there; AVGO wants that money for growth and M&A.
If AVGO can keep moving forward through the fog of uncertainty, I'm conservatively estimating a 13-15% annual rate of return through 2020. If AVGO can smoothly navigate through the current uncertainties, I think we're probably looking at a 16-17% annual rate of return, including all capital gains and dividends.
Because of the customer concentration risks as well as the QCOM buyout, I'm going to remain extremely cautious. I would consider buying below $205 which should provide a significant margin of safety at this point in time. You might have a much higher risk tolerance.
Stay frosty!
ATTN: Individual Investor
You know how it's hard to be a winning investor on your own?   
I solve that with Rhodes to Wealth. 
I send out a FREE daily email that shows you how I've beat the market for years... using simple tactics, buying great companies and piling up dividends, month after month.
Disclosure: I am/we are long AAPL,T. I wrote this article myself, and it expresses my own opinions. I am not receiving compensation for it (other than from Seeking Alpha). I have no business relationship with any company whose stock is mentioned in this article.