For those betting that Apple (NASDAQ:AAPL) beats Alphabet (GOOG) (GOOGL) and Amazon (AMZN) to the $1 trillion market value threshold, it appears that their product line is continuing a long trend of not being able to sustain unit sales growth. The big story this quarter was the mix of iPhone X and 8 sales, but the real story is competition in the marketplace and where Apple's global market share has been and will go in the future.
Apple reported iPhone unit sales of 77.3 million during the just-completed holiday quarter, about 1 million less than in the prior holiday quarter in 2016. Combined unit sales of iPads and Macs also declined year over year. In fact, iPhone unit sales actually peaked in 2015, their ninth year on the market: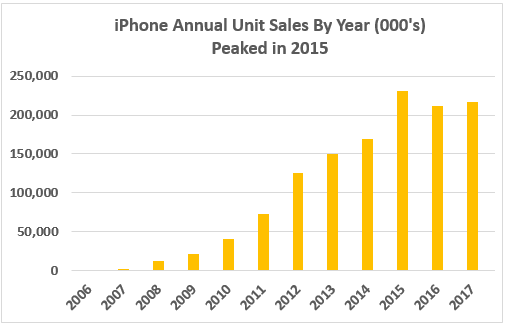 Apple products peaking in unit sales less than a decade after their debut would not be a new problem for the company. Here is a chart of iPod unit sales by year (the company stopped disclosing numbers in 2015) that shows unit sales peaked in 2008, their seventh year on the market: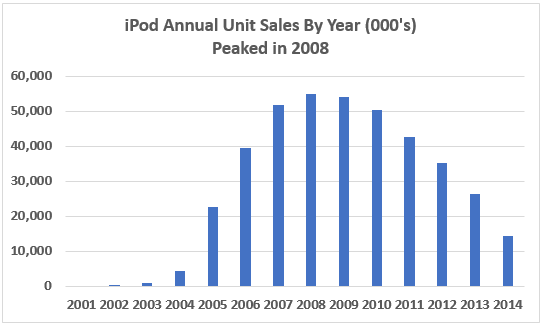 Can you guess what the data looks like for the iPad? Peaked? Yes. In their fourth year on the market: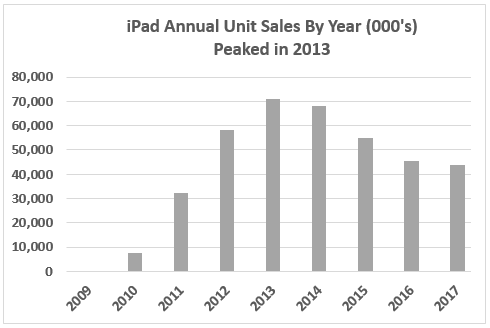 The Mac computer lifecycle has been a bit different, given how long they have been around and considering that the operating system has seen ebbs and flows in popularity over time. Still, though, Mac sales seemed to have peaked in 2015: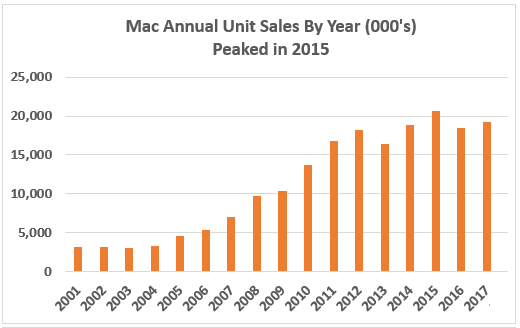 These trends are probably why Apple stock has had a tough time garnering a market multiple on Wall Street. They indicate that Apple really is a hardware company that relies heavily on big product launches, but over time, competitors either take a lot of market share or Apple itself renders their own product lines obsolete.
That earnings multiple though, has been rising in recent years on the notion that Apple will become more of a services company that relies on high margin software-based products for growth, as opposed to unit sales increases.
While Apple shares ended fiscal 2015 trading for 9 times trailing 12-month free cash flow, that figure expanded to 12x by the end of fiscal 2016, and reached 16x by the end of fiscal 2017. In essence, moving from "hardware" stock to more of a "hybrid" business. That despite the fact that services only represented 13% of total revenue in fiscal 2017 (vs. 62% for iPhone, 11% for Mac, and 8% for iPad, and 6% for "other" hardware).
In recent days, we have seen investors become a bit skittish about iPhone sales figures and that higher earnings multiple appears to be on slightly less firm footing. The good news is that the company intends to get to a "zero net cash" position over time, thanks to the new tax law. With $31 per share of net cash right now, Apple's operating business fetches only about 13 times trailing free cash flow of ~$10 per share. Such a price does not require much in the way of hardware unit growth.
Of course, the hidden benefit that comes with declining hardware unit sales is that services will grow faster, as a percentage of total revenue. If they eventually reach 25% or so, investors will have more of a reason to justify a higher multiple of earnings. That end result seems likely to be years away, but if Apple shares continue to fall and get back to having a "hardware multiple," it will likely be an attractive entry point.
So while I am not keen on their hardware product sales trajectories, or their innovation in recent years along those lines, that does not mean the stock is a poor investment. Instead, it just means that we should all probably lighten up holdings when it gets materially above say, 15x, and add to positions when it drops materially below 15x.