Notes from the Dog House
Pressure. In the oilfield we spend a lot of time trying to control it, and mostly we do a good job. When we don't, it's on the evening news... and not in a good way.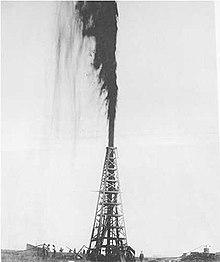 In the picture above, we see an example of what happens when pressure overcomes restraints. A blowout, a big ugly mess and a lot of pain.
(Data Source: OilPrice; Chart by author)
That's kind of the same pain energy investors are seeing today as oil suffered a decline. Selling pressure built up, and oil issues got hammered out of proportion with the drop in oil. And completely unrelated to any long-term fundamentals in this commodity. It was a day where:
Interest rate fears bubbled over;
Oil backed off its highs;
"The memo" was released;
Throw a dart... we were due for a sell-off, and we got one finally.
So, I speak sooth. Chill. Do not close out all of your energy positions and head for the bomb shelter. The world is not ending, and people will wake up tomorrow, notice that the gas gauge is down below a quarter of a tank and do what I am going to do with this baby later on today.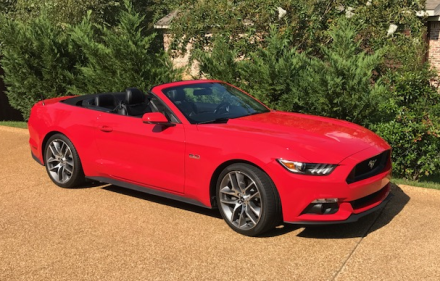 Fill 'er up.
Here's what I did on Friday
The Oilfield Allstars Portfolio was off ~4% on Friday. Ouch! A couple of stocks hit my buy levels, and preset buy orders went into action. I doubled my holding in Transocean (NYSE:RIG) and bumped my holding in Newpark Resources (NYSE:NR) to a full position.

I am watching CEO closely. If it drops below $145.00, I am going to pick up another 100 shares.
I am watching Tetra Technologies (NYSE:TTI) closely. If it drops back to $3.00, I will add another 5,000 shares.
Tool Box Talk
Here are some of my investing rules. I don't claim to have invented any of these rules. Far from it. I just got tired of being hammered in the stock market. It is a cruel mistress if you're just throwing money at it. Every business has rules. Investing is no different. Please give these a read and see if they resonate with you as they did me. Nor am I saying these are it. If you have some that have worked for you, please comment thusly.
1. Maintain discipline. Do not jump off the cliff with the other lemmings. Sure, we had a bad day. But tomorrow will be better. It always is. The stock market always goes up in the long run. One of my gurus once said, "Discipline always beats strategy." Now that's a little zen, but I think I get it. For me, it means figuring out a strategy... and then sticking to it, regardless of short-term distractions.
2. Keep some dry powder. That means have some cash ready to go shopping on bad days. Example, if I liked BP at $43.00. I really ought to like it at $41 and change... shouldn't I? It just got 6% cheaper. Do I not like a bargain? Of course I do, and you should as well. Don't believe me?
Let's look at Halliburton (NYSE:HAL) on February 2nd, 2016. The hedgies finally drank the Kool-Aid, took their chips and ran for the hills.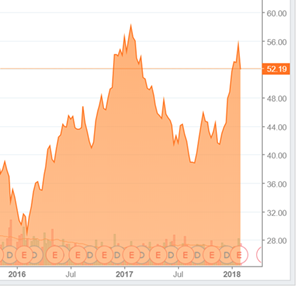 (Source: Seeking Alpha)
What would you give to have been a buyer of HAL on February 3rd? Over the next couple of months or so, it rose from $28.99 to $41.35 on April 18th. That's almost 42% of the $29.46 it gained (at its height on January 23rd, 2017) from the low point! That's the easy money.
3. Beware of "Sell-stops." I am not going to tell you how to manage your portfolio. That's going beyond what I am here to do. I do want to say that sell-stops can be a trap. I've used them early in my investing career, and every single time I've lost money doing it. I was already down a certain amount, so I locked in a loss and then missed the rebound. I cannot think of a single time where this has worked out for me. In the spirit of full disclosure, I'll list some of my worst sell-stop debacles.
Apple (NASDAQ:AAPL) @ $132.00... by about 10 cents from the low. My entry point was $135. All during the recent run-up, I've listened to the naysayers. And you know the result.
Amazon (NASDAQ:AMZN) @ $990.00. Volatility last summer got the best of me, and I lost sight of the fact everyone uses them... all the time. I know, I know. Sigh!
Halliburton @ $40... back in 2013. It topped out in the middle of 2014 at $76.00/share. I'm not saying I would have seen the end of the world sell-off that began in July that year. (I was in Australia working for Exxon Mobil (NYSE:XOM) on its Janzz development and was working 18-hour days.) All I'm saying is, it was not hewing to a thesis about why I was in the stock to begin with and letting a machine make my selling decision for me!
If you are really worried about losing capital in stock but don't really want to sell, covered call spreads are a good option. Fellow SA contributor RoseNose wrote an awesome discussion of this technique a while back. Please give it a read. It's terrific!
4. Go shopping when "blood is in the streets." There is never a better time to buy than capitulation day or the day after. When the hedgies and the traders throw in the towel, pick some of the perfectly fine stocks they are exchanging for good 'ol cash. Moolah. Wherewithal. Whatever they think will tide them over while the background radioactivity drops.
5. Make some of the easy money. Running fluids on drilling rigs was viewed by the rig hands as making "easy money." That's what they called me sometimes. "Easy" for short. Nothing could be further from the truth... I worked my butt off maintaining the fluids system. But I digress. As I pointed out in #2, most of the money is made by the courageous in the first short period after capitulation by the timid or those who just can't take any more pain. Run with the lions and not the lemmings!
6. Don't fall in love with a stock. We learned in Sunday school, "To everything there is a season." No stock is perfect forever. I read a lot of commentary on SA that there are "hold forever" stocks. Nonsense!
Markets change. Key personnel move on. Technology destroys a once-good company's market. The reasons are endless. The point is you have to actively manage your portfolio if you are a stock picker.
As an example, I love Shell (RDS.A, RDS.B). I mean, I really, really love Shell. I am writing articles recommending that you buy Shell, putting my SA name and reputation on the line doing so. There will come a time when I do what is now unthinkable. I will sell Shell.
Loving Shell doesn't mean it is a SWAN (Sleep Well At Night) stock. I'm not sure that anything is actually. It means that I am reading all the information the company puts out, along with articles by other writers on SA and other places, and making a decision everyday to stay long this stock.
Here's a throwaway line that resonates with me. "Closing long a stock is the same as putting in a buy order at the closing price." A lady named Karen Finerman said that on CNBC's Fast Money the other day. It means you need to have a reason to be in a stock. Period. Ok, 'nuff said.
7. Buy what you know. It just makes sense when you think about it. The more you know, the more rational your investing decision becomes.
I am not saying to only pick one sector to invest in, something that you may be comfortable with. What I mean is do some work before plunking your money down. Don't just listen to me... wait, listen to me, but don't stop there. Read the 10-Qs. Read the CC summaries. Read everything you can to be as informed as you possibly can. Investing is work; there are no short cuts.
As an aside, have you ever noticed that when you are in a comfort zone, you're not making any money? Making money takes work, usually... and work is most often uncomfortable. Just sayin'.
Final Thoughts!
Thanks for reading this article. If you found it informative or helpful, I would appreciate your clicking on the "Follow" button. That way, you'll be notified of updates and future articles.
I am not an accountant or CFA and have no training in those disciplines. Please do you own due diligence before plunking down your hard-earned cash for any stocks.
Consider subscribing to The Daily Drilling Report
I hope you will consider joining my investing community. I am different than anyone else covering the oilfield on Seeking Alpha. I have spent years on drilling rigs, working with oil companies, and intend to put this knowledge to work... for all of us.
Like most of you, I am a retiree. I live on social security, a pension from my employer and savings. Savings supplies over 50% of my present income, so you can just better bet I am looking for ways to maintain and increase it. I want safe, secure dividends from my big-cap companies, along with some price appreciation. I want to score some long-ball home runs from my small caps: companies that have the potential to double or triple within a couple of years. Those are things I want, and I expect you want them too.
My pledge to you:
I am here nearly every day. Typically, I work 10-12 hours a day. Hey, that's the way I worked on the rigs, and I am too old to change. What am I doing? Reading summaries, articles, writing my own articles, answering questions on comments left on my previous articles, etc. I am active and engaged in looking for winners.
I will put my years of experience to work on your behalf. I will look past the fluff and get you real, actionable intelligence that can aid you in making an investment decision.
I will post several articles weekly that will be of use to you in looking for oilfield investments.
I will be available for chat several hours a day. More commonly in the early mornings (CST).
I will reply promptly to emails.
That's it in a nutshell. I hope you will join my private investing community as we search the oilfield for gems that will make us money.
Cheers,
The Fluidsdoc
Disclosure: I am/we are long TTI, BP, NR, ESV, RDS.A. I wrote this article myself, and it expresses my own opinions. I am not receiving compensation for it (other than from Seeking Alpha). I have no business relationship with any company whose stock is mentioned in this article.