It's been a fairly brisk start to 2018. Project $1M has continued where it left off from 2017, and was up almost 12.3%. For comparison, you can see where Project $1M finished off 2017.
Candidly, I wasn't expecting this magnitude of returns so soon in the year. In fact, my expectation for total return performance of the portfolio for 2018 was low to mid-double digits. I still believe that this will be the case. In my mind, this suggests we will either see a significant pullback or downturn over the course of the year, or that the markets will do nothing for the rest of the year.
My view and expectation is for a return back to significant volatility and major swings down in the market for the balance of the year, with the Project $1M ending the year at roughly where it is today. So what's driven the strong performance of the portfolio in January?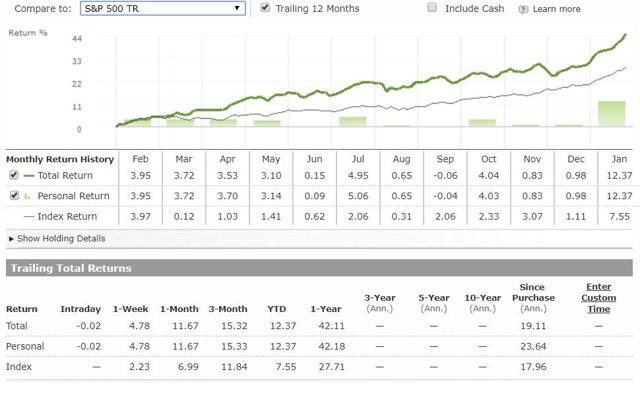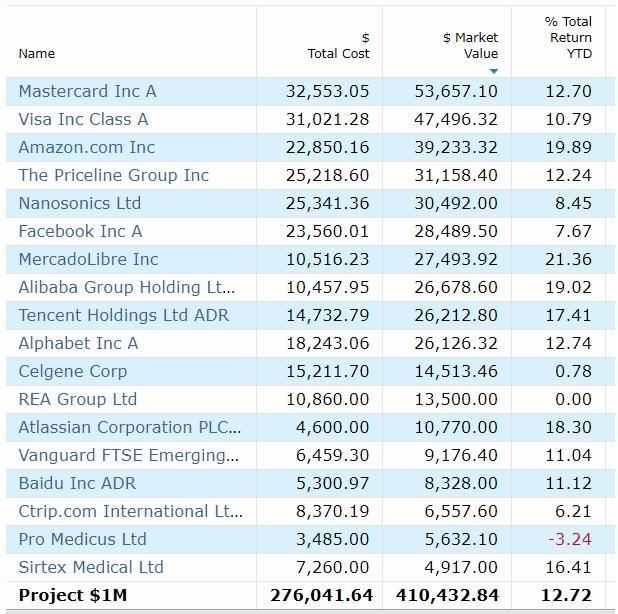 Technology in emerging markets continues to be in a period of strength
MercadoLibre
While large tech has had a really strong run across the board, it's MercadoLibre (MELI) that is head and shoulders above the rest in terms of my performance. The stock is up an amazing 21% in the last month.
I recently did a review of MELI's stock, suggesting that while it is a great business, it's likely one that has gotten a little ahead of itself in terms of share price. MELI benefits from a lot of the factors that tend to enshrine market leaders in a network effects driven business.
However, there is still no shortage of near-term threats, most notably Amazon (AMZN), as well as cash flow pressures on the business that come from the free shipping incentive that MELI is driving long-term market share with. This is still a business I plan to 'bottom drawer'; however, it's one that I would be cautious of investing at these prices.
Alibaba
Alibaba (BABA) is another position in the Project $1M portfolio that has stormed out of the gate. The stock is up almost 20% in the last one month. 2017 was really the year of the Chinese tech giants with both Alibaba and Tencent (OTCPK:TCEHY) (another project $1M holding) doubling in value.
I like both of these businesses. The long-term increases in Chinese consumer disposable income, the natural secular movements to e-commerce based marketplaces and the relative lack of physical retail infrastructure in this market suggest to me that the large Chinese internet giants have a decade plus of growth in front of them.
With that said, I am still leery of the political and regulatory environment in China which is less than transparent. That lack of transparency can make these businesses targets of the government at will. I'm less inclined to believe that the Chinese government will make their 'poster children' for economic success and advancement the victim of a political crack down; however, there have been moves to bring the large Chinese tech leaders closer to the vest.
Rumors have been rife that the government is looking to take equity stakes in businesses such as Alibaba and Tencent. Becoming an owner of the business alongside the Chinese government is potentially a scary proposition. While I still believe that the benefits of investment in Alibaba and Tencent still strongly outweigh the risks of investment, I would want to be compensated with an adequate margin of safety before making an investment in these businesses.
Alibaba was pretty cheap the last time I made an investment. It was dirt cheap the first time I took a position. I wouldn't say Alibaba is fantastic value now given the risks inherent in the business. It is still fairly priced in my view, however, given the long-term potential. It will be interesting to see if 2018 is also the year of the Chinese tech giants.
Amazon has been undergoing a steady upward revaluation by the market
Amazon is a business that has clearly split and confounded the investment community on Seeking Alpha.
A cursory review of many of the articles on Amazon reveal very split views in terms of its valuation and prospects of long-term returns. There are those that will tell you the business is one giant bubble and has been for many years.
There are others that will tell you it now has a lock on e-commerce volumes in the US, with close to 45% of e-commerce sales in the US coming through the Amazon platform. I put myself in the camp of those that have a great appreciation for Amazon's management vision, structural advantages and e-commerce foothold.
However, there's a price to pay for even the best businesses. I've argued before that I believe operating cash flow is the right metric with which to value Amazon, based on the fact that the business is not focused on profit generation. Amazon is effectively recycling operating cash flow back into growing its top line business, spending heavily on marketing and R&D, and doing this very tax effectively, given its lack of profitability.
That was the basis on which I invested in late 2015 when I thought the valuation of Amazon seemed reasonable. That discount of operating cash flow to enterprise value has steadily eroded, with Amazon up almost 70% since I made my initial investment. January 2018 just saw a continuation of that trend and the share price was up almost 18%.
Amazon's potential given the assets it has is pretty compelling. Various analysts have the business pegged at a $1 trillion opportunity or even a $3 trillion opportunity over the long term. I'm willing to back management in their quest to build the e-commerce infrastructure for merchants to leverage globally.
With ongoing investments in distribution, warehouse robotics and last mile fulfillment, Amazon will have major structural advantages in e-commerce execution, without the legacy of investments in physical retail. That combination makes it hard to fight against in my view and I'm willing to let this business ride further in Project $1 Million. However, like many of the other businesses that I have in the portfolio, I'm not looking to add at these prices.
Biotech remains in a depressed state
Celgene
It wasn't all nonstop growth in the Project $1 Million in January. In keeping with how it performed for the last quarter in 2017, Celgene (CELG) barely moved as the broader S&P was up almost 7 1/2%.
I still haven't given up on this great business. It's been making some very interesting moves in acquiring a cancer drug portfolio through the recent acquisition of Juno and still should see fairly good growth in the existing Revlimid franchise at least out through 2022. I am backing this business to rebound in 2018. We'll see if my confidence is well-placed
Overall, Project $1M is out of the blocks fast. Like the rest of the market, it won't keep up this cracking pace from here. I'm expecting the portfolio to end the year at close to levels that it is at currently.
If that's the case, shouldn't I sell in January and go away? Absolutely not.
As I recently detailed, I believe that a substantial majority of my positions will end the term of Project $1M substantially higher than where they are today. Besides that, market timing is either for fortune tellers or chumps.
I'll be back in February for another update on how things are progressing.
Disclosure: I am/we are long ALL STOCKS MENTIONED.
I wrote this article myself, and it expresses my own opinions. I am not receiving compensation for it (other than from Seeking Alpha). I have no business relationship with any company whose stock is mentioned in this article.
Editor's Note: This article discusses one or more securities that do not trade on a major U.S. exchange. Please be aware of the risks associated with these stocks.