Preliminary market shares of top semiconductor equipment manufacturers for calendar year 2017 indicate large gains by Tokyo Electron and Lam Research while top supplier Applied Materials dropped, according to The Information Network's report Global Semiconductor Equipment: Markets, Market Shares, Market Forecasts.
Table 1 shows seven of 2016's top 10 equipment suppliers, which I detailed in a March 8, 2017 Seeking Alpha article entitled "Top 10 Semiconductor Equipment Companies Grew 14.1% In 2016 - Will They Repeat In 2017?."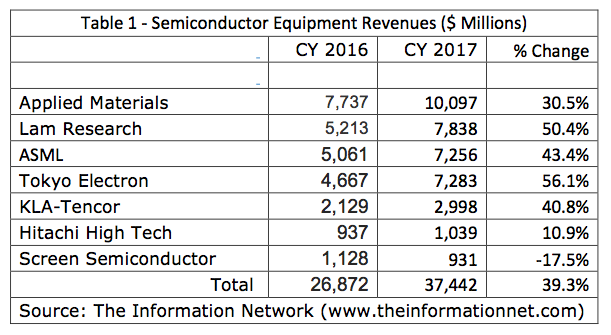 Revenues are for equipment only, excluding service and spare parts, and have been converted for revenues of foreign companies from the currency of the country to U.S. dollars on a quarterly exchange rate. These top seven companies grew 39.3% YoY in 2017.
The chart below compares shares for calendar years 2016 and 2017.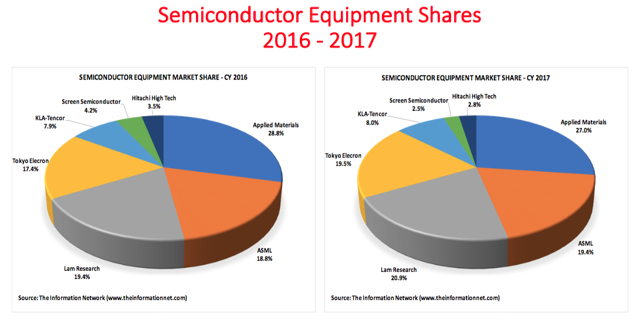 Market leader Applied Materials (AMAT) lost 1.8 share points among the top seven companies, dropping from 28.8% in 2016 to 27.0% in 2017. Gaining share are Tokyo Electron Ltd. (OTCPK:TOELF), which gained 2.1 share points while rising from 17.4% in 2016 to 19.1% in 2017, and Lam Research (LRCX), which gained 1.5 share points and grew from a 19.4% share in 2016 to a 20.9% share in 2017.
In third place ASML (ASML) gained 0.6 share points, growing from an 18.8% share in 2016 to a 19.4% share in 2017. I discussed ASML's dominance in the lithography market in a January 23, 2018 Seeking Alpha article entitled "ASML's Dominance Of The Semiconductor Lithography Sector Has Far-Reaching Implications."
On a competitive basis, Applied Materials competes against both TEL and LRCX in conductor and dielectric etch equipment and in deposition equipment (atomic layer deposition [ALD] and non-tube low pressure chemical vapor deposition [LPCVD]). TEL also competes against Screen Semiconductor Solutions, which dropped 1.7 share points, in photoresist track and wet clean equipment.
Second place LRCX recently announced its CY 2Q 2018 earnings. In the company's conference call, which can be read in Seeking Alpha, CEO Martin Anstice noted:
"2017 recorded more than two percentage points of shipments based share gains across the equipment segments that we serve. Our market share performance was broad-based with strengths coming from areas that are most critical to the success of our customers with a focus on technology enablements across the full suites of industry inflections anticipated as relevant for our customers for the next five to 10 years.

We had very strong momentum in atomic layer deposition products which has been a focus area for new product introductions for several years. We more than tripled our shipments of ALD products in 2017. We had record shipments in dielectric etch with more than a tripling of the installed base to over 1,000 process modules for our Flex G Series products which address the most challenging aspects of 3D NAND scaling. We had a record year for conductor etch with application wins across foundry and NAND markets.

We strengthened our position in tungsten CVD and ALD as well as electrical deposition. We had a strong year for clean products with a 50% growth in our EOS clean product installed base."
These comments from CEO Anstice corroborate our findings in the above chart. In addition to ALD competition from AMAT, TEL, and ASM International, the ALD sector is facing strong competition from Korean ALD suppliers Jusung and Wonik IPS in the NAND and DRAM markets in Korea.
Fifth place KLA-Tencor (KLAC) is the dominant supplier in the process control sector (inspection and metrology) and competes against AMAT and Hitachi High-Technologies, as well as several other companies including Nanometrics (NANO), Nova Measuring Instruments (NVMI), and Rudolph Technology (RTEC). KLAC gained market share against each of its competitors in this sector in 2017.
Investor Takeaway
Much of the equipment revenue growth was attributed to strong growth in the DRAM and NAND sectors as equipment was installed in memory manufacturers Intel (INTC), Micron Technology (MU), Samsung Electronics (OTC:SSNLF), SK Hynix, Toshiba, and Western Digital (WDC).
I discussed in a December 13, 2017 Seeking Alpha article entitled "The Memory Sector Is Distorting Overall Semiconductor Industry Growth In 2017," that the memory sector is expected to have grown 60.1% in 2017 and another 9.3% in 2018 according to industry consortium WSTS (World Semiconductor Trade Statistics).
Following the strong growth in the semiconductor equipment market, we project another 11% growth in 2018. Thus, these top semiconductor equipment will witness another year of solid growth.
The table and chart shown above are important data points for the investor, because market share is an important indicator of continued growth in a competitive environment. Why?
I noted in a January 4, 2018 Seeking Alpha article entitled "The Meteoric Rise In Semiconductor Equipment Stocks Should Moderate In 2018," that
"Semiconductor companies purchase what's called "best-of-breed" equipment because of price/performance. These machines cost many millions of dollars each and many are purchased in a fab to equalize the throughput of wafers per hour. But there are several nuances involved in a purchase. If it is to increase capacity, a semiconductor company will invariably buy more of the same equipment it is already using.

However, if it is a technology purchase, such as moving to a smaller linewidth node, then an intense internal evaluation begins within the chipmaker to find the best equipment to do the job. Not all equipment in a fab is replaced, just equipment to process the critical changes at smaller feature sizes for the updated chip.

Ultimately these technology purchases will become capacity purchases as the semiconductor manufacturer ramps up production. When that happens, more of each type of equipment is purchased. Thus, an equipment company with a technologically-advanced processing tool will further increase market share through the production lifetime of the new node at the chipmaker. This historically would happen every 2-3 years as the chipmakers followed Moore's Law."
Disclosure: I/we have no positions in any stocks mentioned, and no plans to initiate any positions within the next 72 hours. I wrote this article myself, and it expresses my own opinions. I am not receiving compensation for it (other than from Seeking Alpha). I have no business relationship with any company whose stock is mentioned in this article.
Editor's Note: This article discusses one or more securities that do not trade on a major U.S. exchange. Please be aware of the risks associated with these stocks.