Ok, so I was a bit optimistic with Phillips 66's (PSX) Q4 EPS report. That said, the Q4 report and conference call revealed several growth catalysts that are still firmly in place. As a result, and in combination with a $9 drop in the stock price last week, I reiterate my previous $115 price target and recommend investors BUY this dip and consider owning the shares as a core holding in a qualified retirement account. The stock - which offers an excellent mix of capital gains and dividend growth - is a perfect stock to own in a Roth or IRA account.

While Seeking Alpha reported adjusted earnings of $1.07 as a $0.21 beat, the analysts average consensus as of my article on PSX at the beginning of this year was $1.19/share (see PSX: Rising 2018 EPS Estimates - Increasing my PT To $115). But a closer look at the Q4 EPS report shows several "one-offs" that are not indicative of PSX's long-term mid-cycle returns.

In the company's largest segment - Refining - note that West Coast margins fell off a cliff and the company actually reported adjusted earnings of -$26 million for the quarter: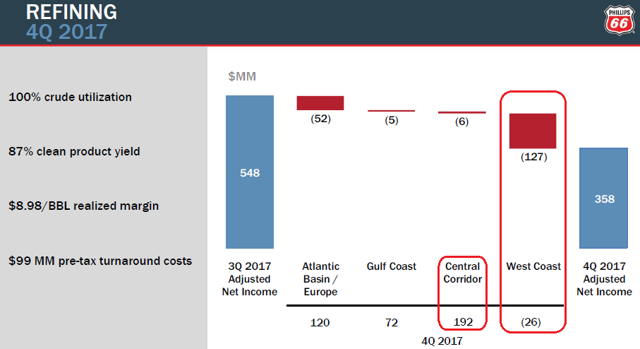 Source: Q4 Presentation
As a result, Refining Segment adjusted earnings were down $190 million (35%) from Q3. That said, note that the Central Corridor region remains very strong with $192 million in adjusted earnings. And this is because there are four refineries in this region that have an advantage slate of feedstock - much of which comes from the Canadian oil sands:
Note the last two refineries on this list represent the "WRB" 50/50 JV with oil sands producer Cenovus (CVE). Yes, the same company that ConocoPhillips (COP) recently sold a substantial portion of its Canadian oil sands assets to (see COP: The Big Oils Sands - Deal 6 Months Later). The important thing to know about PSX's "Central Corridor" refineries is that it sources much of its feedstock by pipeline from the oil sands. In fact, on the Q4 conference all management said that PSX is:

... the largest importer of Canadian crudes, buying over 0.5 million barrels a day of Canadian crude.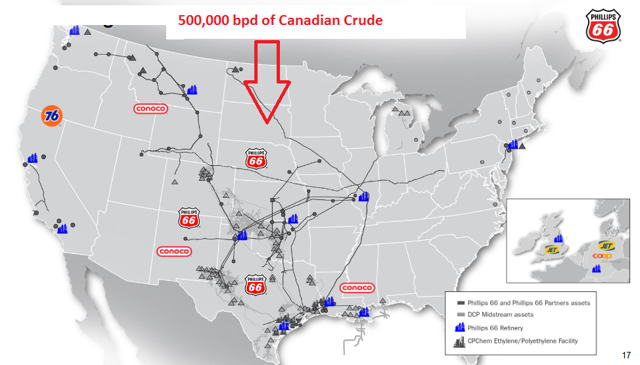 Source: November Investor Update
The other important aspect of these refineries is that Western Canada Select is seeing a glut of oil backup due to:
A lack of adequate pipeline capacity (see my article Woe Canada!).
More supply (Suncor's (SU) Fort Hills).
As a result, the 500,000 bbls that PSX imports from Canada every day is currently selling at a substantial discount (over $25/bbl through May) to WTI: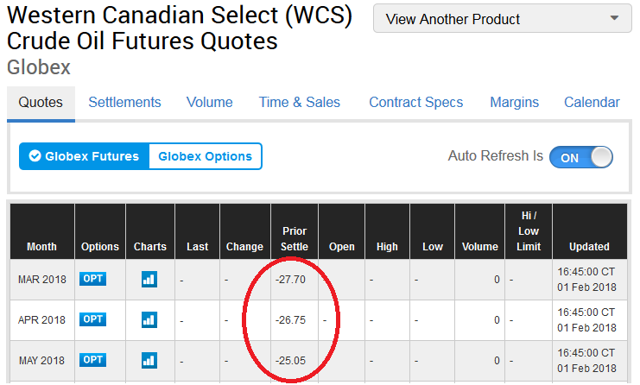 Source: CME Group WCS Futures
This bodes well for PSX's refining results in Q1FY18 and for the rest of the year. That said, the full benefit likely won't be seen in Q1 because it is a heavy maintenance turn-around quarter this year.
In addition to the "West Coast" issue in Q4 (but note that the West Coast refineries can also be strong out-performers, as when they delivered $154 of adjusted earnings in Q1FY15), PSX also saw weak Chemicals Segment earnings which were lower due to reduced volumes as a result of Hurricane Harvey.
Yet despite these negative factors, the company delivered $1.9 billion in CFO - PSX's highest quarter since 2013. The Midstream Segment is starting to come alive as its earnings were up $43 million as compared to Q3 with relatively strong results in all three categories (Transportation, NGLs, and DCP) with DCP Midstream benefiting from higher commodity prices and increased volumes.
Shareholder Returns
The reason PSX is a good choice for an investors is because of excellent return of capital to shareholders through a growing dividend and share buybacks. During Q4 Phillips 66 funded $537 million of capital expenditures and investments, $463 million in share repurchases and $353 million in dividends. The company ended the quarter with 502 million shares outstanding. That compares to 519 million shares at the end of 2016 - a 3.4% reduction of the company's outstanding shares during 2017.

Note that - in spite of the stock's nice run in Q4 - the $463 million spent on buybacks during the quarter were the highest amount spent in FY2017:

Source: Phillips 66 (Q4 added by the author)
Also note that Q4 cap-ex, dividends, and share buybacks totaled only $1.35 billion as compared to Q4 CFO of $1.9 billion. That's one reason PSX ended the year with $400 million more of cash ($3.1 billion) than what it started the year with ($2.7 billion). The company is literally a cash-flow machine.
The point is, investors can expect continued strong dividend increases and - if management's comments about the stock are any indication (i.e. it is undervalued) - more stock buybacks.
Last year, the company announced an 11% increase in the dividend on May 3. I expect the dividend increase this year will be even better considering the new chemical and pipeline assets that have come, or are coming online in Q1 and Q2 combined with a reduction in cap-ex due to reduced funding on those new projects.
Summary & Conclusion
PSX remains my best long-term idea on "Shale USA" and the prospects for higher domestic oil and gas production. As management said on the call, high oil prices and low natural gas prices are great for chemicals margins and that is just the environment we have now as CPChem's new projects come online. With the help of advantaged crude slates, new projects, and a big cut in the corporate tax rate, I expect PSX to earn at least $7/share in 2017. With a P/E=20, that's a $140 stock. But for now, I will be restrained and only reiterate my BUY and $115 price target. Buy this $9/share dip! And keep a long-term perspective ... this is a stock you simply want to buy and hold and enjoy the dividend growth. Which makes it a great core-holding for an IRA or Roth retirement account.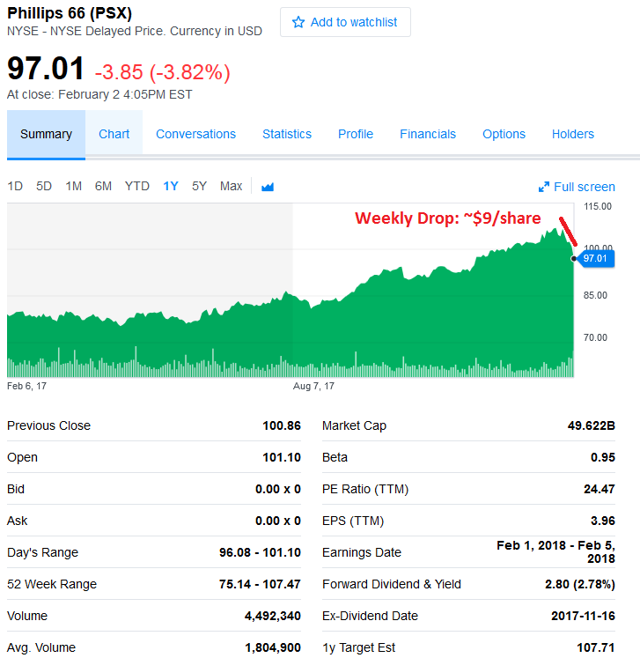 Source: Yahoo Finance
Disclosure: I am/we are long COP PSX SU. I wrote this article myself, and it expresses my own opinions. I am not receiving compensation for it (other than from Seeking Alpha). I have no business relationship with any company whose stock is mentioned in this article.
Additional disclosure: I am an engineer, not a qualified investment advisor. While the information and data presented in my articles are obtained from company documents and/or sources believed to be reliable, they have not been independently verified. Therefore, I cannot guarantee its accuracy. I advise investors conduct their own research and/or consult a qualified investment advisor. I explicitly disclaim any liability that may arise from investment decisions you make based on my articles. Thanks for reading and I wish you much success with your investments.