Editor's note: Seeking Alpha is proud to welcome Reid Schaworski as a new contributor. It's easy to become a Seeking Alpha contributor and earn money for your best investment ideas. Active contributors also get free access to the SA PRO archive. Click here to find out more »
Hi-Crush Partners LP (HCLP) is sitting pretty with unique competitive advantages and favorable macro-trends pushing the stock up 48% in the last 6 months. Management has made key strategic moves positioning Hi-Crush for strong financial performance as oil & gas activity is on the rebound.
Hi-Crush is a producer and transporter of high quality monocrystalline sand (frac sand) used as proppant during the well completion process to recovery oil and natural gas. They own and operate 5 extraction facilities making them a low cost provider and have a flexible distribution network.
Demand Rebounds
Oil prices in recent months have rebounded from the 2014-2016 glut. With WTI Crude over $65/barrel and Brent Crude over $69/barrel rig activity has picked up. JP Morgan recently raised their oil price forecast for 2018 to $70 per barrel, expecting prices in the first half to reach up to $78 as demand increases. Hi-Crush's frac sand is in high demand as prices have picked up and oil producers are looking for well efficiencies and to extract more oil & gas.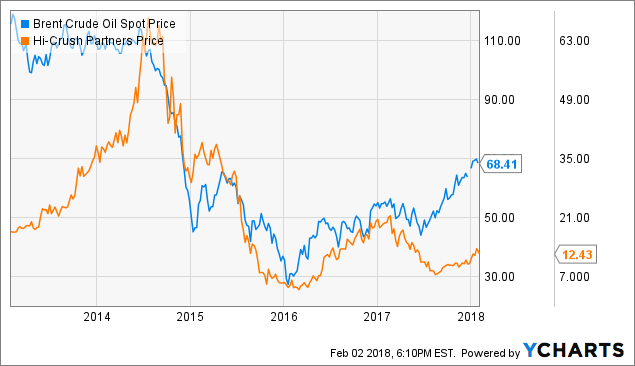 Hi-Crush's share price is closely correlated with the price of oil. The company is very sensitive to changing oil prices, delivering more sand when prices are high and less when prices are low. Hi-Crush sold 2.45 million tons of sand in the most recent quarter, more than double the volume of sand sold in the same quarter a year ago! Hi-Crush is expecting strong revenue growth from both increased sales volume and pricing to continue into Q4. The company is expecting to sell between 2.7 and 2.9 million tons next quarter with increased pricing as high demand for frac sand is causing tightness in existing supply. The company is expecting average utilization of 85% across all 5 mines. While being profitable at only 85% capacity Hi-Crush has the extra capacity needed to supply the increasing market demand that is expected to be driven from high oil prices in the first half of 2018.
Increased Proppant Use
Total active rig count in the U.S. has recently been increasing and is near a 2 year high as oil producers are looking to capitalize on high prices. Proppant and frac sand producers are becoming very profitable again. The pain caused to frac sand producers from the slow down in rig activity in 2015 has been eased as oil & gas producers are using increasing amounts of frac sand per well.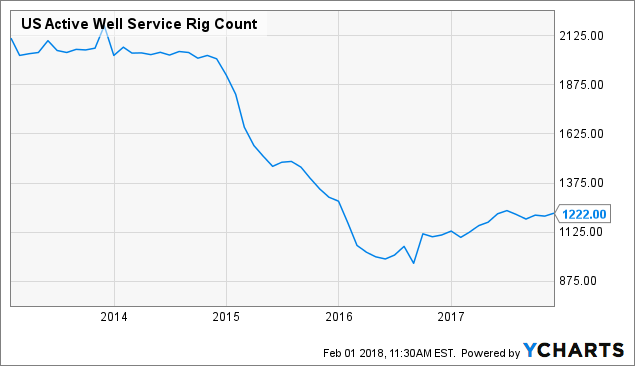 Overall North American proppant demand is expected to be 110 Million tons in 2018 compared with 45 million tons in 2016. Proppant intensity increased 17% from 2014 to 2016 as the number of wells completed decreased 26% during that time.
The pick up in rig count is a result of rising oil prices while the demand for additional proppant per active well is an industry trend, these two factors are driving up spot prices and demand for frac sand in a hurry. Greater proppant use increases the economics of the well, providing better return for producers. Producers have been looking to squeeze every last barrel from active wells, even more so now that prices rebounded.
Kermit Mine
Hi-Crush's new Kermit Mine in Texas is the only producing mine in the entire Permian Basin. The Kermit mine gives Hi-Crush the first-mover and competitive advantage for supplying the basin. Kermit will be able to supply high quality sand to surrounding wells while minimizing transportation costs, this will increase profit margins and allows Hi-Crush to have pricing power in the region. Competitors will have to ship sand by rail to terminals in the basin from far away mines incurring additional costs if they want to compete with Hi-Crush in this basin. The mine opened in 2017 has a capacity of 3 million tons annual, once at full capacity it will be able to produce more sand than any other Hi-Crush mine.
The opening of the Kermit mine comes at the perfect time, right when spot prices of frac sand is being pushed higher from increase demand. The mine opened two months ahead of schedule, the early opening highlights the competence of management. Building the only Permian in-basin mine is an excellent strategic play which will benefit shareholders handsomely. Kermit's low-cost structure, high sand quality and in-basin market access makes it difficult for competitors to profitably compete in this major oil & gas basin. In the third quarter 10% of Hi-Crush's total volumes sold were from Kermit, at full capacity Kermit represents 22% of Hi-Crush's capacity. Hi-Crush is set to see significantly increased financial performance for Q4 as this mine is reaching full capacity. The Kermit mine increased Hi-Crush's production capacity by 29% to 13.43 million tons annually, the opening of this mine positions Hi-Crush to have a strong 2017 and an even better 2018.
PropStream Vertical Integration
Hi-Crush's purchase of PropStream vertically integrates the last leg of frac sand delivery into the companies offering. PropStream is a small investment compared to a new mine such as the Kermit but PropStream has huge potential to be scaled. Hi-Crush will capture more market share in the "last-mile" delivery market by owning the plant property and equipment needed to deliver frac sand directly into the blender immediately before being injected into the well. Adding PropStream to Hi-Crush's portfolio enables them to control the entire supply chain all the way from mine to blender for their in-basin plays. Hi-Crush is looking to expand their use of PropStream in the immediate future and capture more of the "last-mile" delivery market. Now is an ideal time for Hi-Crush to gain market share while the market is growing and PropStream will be in high demand.
Back In the Black
Hi-Crush returned to profitability in Q2 2017 with earnings of $0.18 per share after suffering losses in 2016. Q3 was more successful with earnings of $0.32 per share fully diluted. Q4 earnings are set to be released Feb 19th, analysts are expecting $0.55 per share earnings, earnings high enough to see their quarterly dividend raised again. Hi-Crush stopped paying dividends in the August 2015 when oil slumped, the company paid their first dividend since then in October last year and paid a second one at the end of January this year. Now that Hi-Crush has returned to profitability it has significant cash flow to return to shareholders. I am expecting to see their quarterly dividends grow and become more consistent. Hi-Crush is planning on raising their quarterly dividend by approximately 10% per quarter for the foreseeable future. Hi-Crush will likely return around $1 per share in dividends alone in 2018, at the current share price of this works out to be an 8% annual dividend. The dividend will likely bring "yield hogs" flocking to the stock looking for high returns. With only 35-40 million of capital expenditures planned for 2018 look for Hi-Crush's large free cash flow and higher returns to shareholders.
Bottom Line
The pick up in demand combined with higher spot prices of frac sand creates strong drivers for revenue and profitability. Increased sand usage per well will continue to benefit Hi-Crush. Hi-Crush with is already taking advantage of higher oil prices with the new in-basin Kermit mine and PropStream. Kermit will significantly add to the companies top line and increase margins. PropStream will provide incremental revenue and new market opportunities. Hi-Crush has the potential to be more profitable in both 2018 and 2019 than it was in 2014 when oil prices peaked. The management team has positioned the company for excellent financial performance. Expect shareholders to reap the benefits in 2018.