About six months ago, I opined in an article that the REIT space had developed some chinks in a collective armor that had seemed all but impenetrable since the financial crisis. I argued that secular headwinds in some REIT operating spaces coupled with a generally slowing growth backdrop should signal caution for investors.
Half a year later, REIT pricing (measured by VNQ) is down roughly ten percent. While most of the early year REIT drubbing has been on account of a rise in the longer-end of the yield curve, there continues to be concern about intermediate growth trajectory (or lack thereof) in many widely-held REITs.
Meanwhile, in the chart below, you can see performance divergence between VNQ and the S&P 500 over the past two years along with the recent REIT downleg. Clearly, the market's generally far-flung optimism as of late is not translating over to real estate.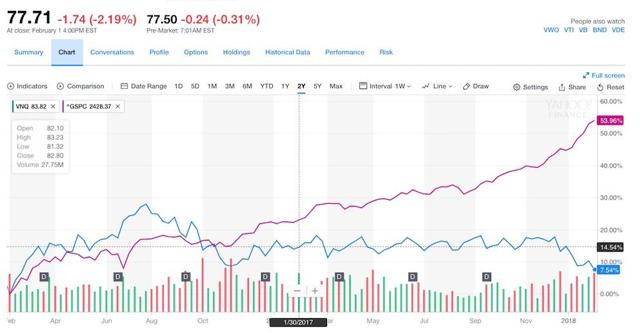 Even data center REITs, which had impressive performance in many preceding years, have seen price moderation over the past six months. About the only space that has seen robust gains since last summer have been hotels - many of which, including Host Hotels & Resorts (HST) and Park Hotels & Resorts (PK) are up on the order of ten percent or more. Hotel gains would be generally consistent with the market telegraphing a view for gradually improving economic conditions.
REITs & Rates
The interrelation between REITs, rates, and bond yields always makes for interesting discussion. The incorrect (in my opinion) broad-brush assumption by many is that rising rates are a wholesale negative for REITs. The more sophisticated viewpoint, again, in my opinion, is that it might be negative for some, not-so-negative for others. It depends on a variety of factors:
Why are interest rates/bond yields rising?
What is the sensitivity of a specific REIT's operating model to rates?
What is the sensitivity of a specific REIT's balance sheet to rising rates?
How much lease-price control does the REIT have?
Taking a more circumspect view of the many variables that envelop the REIT space is a must. Otherwise, you won't be able to discern why it is that the multiples for triple net REITs have been contracting recently relative to why hotel REIT multiples have been expanding.
Rising bond yields, specifically, are going to hit companies with longer-term blended contract duration the hardest. With the 10-year Treasury vault here at the beginning of the year, triple net REITs, which typically have amongst the longest of contractual lock-ins are taking in on the chin. Thus, Realty Income (O), STORE Capital (STOR), and others, despite their generally undisrupted operations, will continue to trade lower and with higher yield if the 10-year Treasury meanders higher.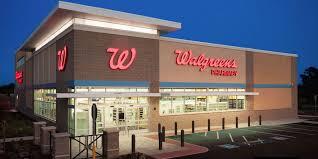 Run-of-the-mill triple net stand alone property
Hotels, on the other hand, since rooms are leased on a much shorter basis, don't have the fixed-price "problem" that triple nets have in a stronger economy. The Marriott or Hampton Inn you like to stay at each summer might charge you 10% more for this year's stay compared to last, while Realty Income might only be getting 1% more this year, and for the next nine years, in rent from the retail operation just down the street from your hotel.
In a stronger economy, philosophically speaking, it is likely that newer triple net retail leases should be signed with higher starting rates than a comparable property's current rate at mid-contract. Of course that's only a logical assumption and not necessarily guaranteed - especially given the dramatically changing retail backdrop.
The worst-case scenario for REITs with long weighted lease duration is for a quick ramp in bond yields such as was seen in 1994 (~300bps in one year). While that's not likely to happen this year, if the Fed is able to string four hikes together, which is being predicted by some Fed Governors, we could see a 10-year Treasury push well above 3.5 percent.
Still, the Fed has serially overshot its predictions the past few years, so something a bit more dovish (3 or less hikes) might reasonably be predicted this year. But REIT investors should maintain perspective on what rapid bond yield rises do to sector pricing. The so-called "Taper Tantrum" of 2013 would be our last piece of evidence to that effect. And it wasn't particularly pretty.
From peak to trough that year, VNQ declined 17%, as the 10-year Treasury vaulted from 1.5% to 3% in a matter of six months. The blood was worse for the REITs with longer lease duration. Over the same time period:
Realty Income's price dropped 33%
Ventas (VTR) dropped 35%
Welltower (HCN) dropped 34%
National Retail Properties (NNN) dropped 28%
Future World
In the REIT universe, the fundamental foundation has perhaps become nowhere weaker than in retail. The trend towards online shopping has created mild panic for what the future holds for malls of all sorts as well as stand-alone operations. B-mall operators like CBL and WPG are trading with stratospheric dividends as their very existence has come squarely into question. Even the A-malls like SPG, MAC, and TCO, whose future existence generally does not come into question, are trading with much thinner multiples compared to a few years ago.
Long-term buy-and-hold investors need to be very careful here in my opinion. For some time now, I've dissuaded investors from developing emotional attachment to names like Tanger (SKT), which I continue to see as having more downside risk then upside potential even at current depressed valuation.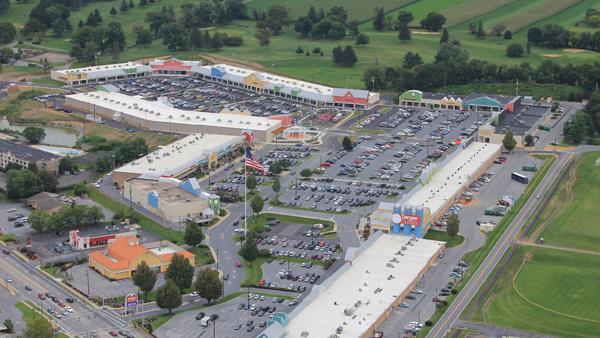 Newly expanded Tanger Outlet property in Lancaster, PA
My allocative preference in retail has been to own niche stand alone retailers themselves like the home improvement guys (HD/LOW) off-price clothiers (BURL, TJX, ROST), and dollar stores (DG, DLTR) rather than trying to guess what the future trajectory for malls, strips, and their top tenants will necessarily be.
Declining Health
Elsewhere, even the healthcare REITs, which have historically been seen as possessing secular growth attributes, have come under pressure. There is justifiable concern for how health care dollars will be allocated - especially in the SNF group. Still, I'd see the wholesale sell off here as perhaps a bit less fundamentally justifiable than in the retail space. But, HC leases are generally of long duration, so there will be continued pressure here should rates continue to rise, regardless of how the fundamental backdrop unfolds.
Controversial Omega Healthcare (OHI) now trades with a 10% yield. But with no clear path for operator stepped funding, I see this as appropriate pricing given the rather speculative situation. Certainly less speculative would be Ventas and Welltower (HCN), but sustainable growth for both of them appears to be decreasing. Ventas' dividend hike of 2% and a lack of one from Welltower in 2017 says mountains in my view.
Succinctly, this is no longer the growth opportunity it once was.
Strategy Session
Almost a decade since the depths of the financial crisis, and with the Fed having raised interest rates five times in about two years, we appear to be slowly, but surely, exiting ZIRP. While this may bode positively, generally speaking, for the economy overall, rapid interest rate and bond yield movements can create rampant volatility for the most credit-sensitive of equity.
REIT investors must self-introspectively consider this potentially game-changing development carefully. First off, what is your rationale for holding or buying REITs in the first place? If it is for their income-production attributes foremost, that analysis might be somewhat different than if for their forward total return capabilities. While the former reason may largely be intact, the latter is starting to lose its luster on a collective basis.
And even if you are content with the durability of individual income production capabilities and less considerate of total return, one must also come to terms with what appears to be a secular dividend growth slowdown across the board in this space.
While I have tended to be a bit more dovish than most on the credit front, this is not a time to wear rose-colored glasses to that end. Whether you are buying REITs for their income or total return potential, consistently inefficiently allocated capital will damage you over the long run, no matter how you invest.
Expectations need to be tempered with regard to collective REIT returns. Frankly, at this point, I wouldn't be in a rush to overweight them in a portfolio or otherwise back up the truck, despite the recent sell off. Income investors with longer-term perspectives can probably maintain some sort of allocative averaging-in philosophy for cash flow generation. Total return investors should probably underweight the group and/or rotate monies into faster growing dividend-equity.
As far as individual equity selection goes, I still own MAA (the old Mid-America Apartments), with a current 4% buy-in yield. If you're fearful of rising rates, but still want to own REITs, apartment landlords are probably a decent place to hide. Self-storage might be okay too, although the growth there appears to be rapidly moderating. National Storage Affiliates (NSA) had been my first choice there, but I no longer own it.
If the economy really goes on a tear, aforementioned hotels are a good choice. The only one I currently own is Park, although there would be a slew of names that would also benefit.
I still own shares of Digital Realty (DLR) that I inherited from its merger with DuPont Fabros. The company is guiding for upper-single-digit growth in 2018 and currently sells with a 3.5% yield. With a dividend hike announcement likely coming up next month, and with a mid-teens funds flow multiple, this might be a good time to add to positions.
Conclusion
Though the recent sell off in REIT shares might be viewed as a golden opportunity by value seekers and "buy-on-the-dippers," I'm not so sure I'd be in a huge rush to start, up, or top off positions, especially if they are already large. Macroeconomic developments and operating fundamentals will likely continue to create problems on a collective basis, giving new money ample and logical pause.
While REITs aren't likely to implode over the near-term, that foundation I viewed as eminently shaky about half a year ago, has started to develop some rather noticeable cracks. Do a proper inspection before you take the leap.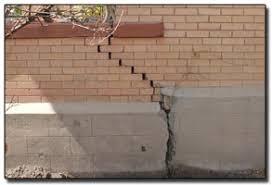 Disclosure: I am/we are long DG,DLR,HD,MAA,ROST,STOR,2019 LOW CALLS. I wrote this article myself, and it expresses my own opinions. I am not receiving compensation for it (other than from Seeking Alpha). I have no business relationship with any company whose stock is mentioned in this article.