Company Description
Liberty Braves (BATRK) is the tracking stock for Braves Holdings, which owns the Atlanta Braves and the prime real estate surrounding its brand-new ballpark. In turn, Braves Holdings is owned by Liberty Media (NASDAQ:FWONA), which also houses two additional assets (Formula One (NASDAQ:FWONK) and a stake in Sirius XM (NASDAQ:SIRI)). Hence, John Malone, who controls Liberty Media, created three different tracking stocks in 2Q16 to reflect each entity's underlying results and to enable investors to invest in each separately. He has a long history of creating value through tracking stocks and other unique structures. For reference, Malone produced a ~30% annual return for his shareholders during ~25 years at Tele-Communications and has generated a ~25% annual return over the past ~decade during his second act with Liberty Media.
Trophy Assets with Scarcity Value
If you grew up in the Southeast (excluding Florida), then you were likely a fan of the Atlanta Braves because it is the only major league baseball (MLB) team in that region. Since the Braves fanbase covers one of the broadest and most populous geographic regions, it has the largest radio affiliate network in MLB with 147 stations. The Braves brand also benefits from being the oldest continuously-playing team in major North American sports and the second-winningest MLB team over the past ~25 years. In effect and like other MLB teams, the Braves has its own regional monopoly with impenetrable barriers because MLB has not added a team in ~20 years and is unlikely to add in the future (especially near Atlanta).
The most appealing aspect of MLB (and other major professional sports) teams is their scarcity value, which comes from two perspectives. First, the rapid shift in the consumption and delivery of TV has resulted in sports being the only category that consumers need (or even care) to watch live. As a point of reference, sports accounted for only 14 of the top 100 most viewed broadcasts in 2005, but that expanded to 93 by 20151. As a result, sports have captured a much larger share of advertisers' wallets. More specifically and according to the WSJ1, "Spending on ads for sports rose 50% in the decade to 2015, even as advertising rates in the industry generally stayed flat or declined." We will likely eventually live in a world where the cable bundle is non-existent, but this should not change viewers (and therefore advertisers) demand for live sports. In the past year, Facebook, Amazon and Google (via YouTube) have each acquired or considered acquiring TV rights for various sports leagues as even these tech behemoths want a piece of the action. Second and partially thanks to quantitative easing, the list of billionaires continues to grow longer. Therefore, the number of potential acquirers (demand) is expanding, while no teams (supply) are being added – hence the price tags for pro sports teams keep rising. On top of the secular pressures that should continue to drive team values higher, billionaires are also attracted to teams because they can amortize 90%+ of the purchase price over the first fifteen years of ownership resulting in an enormous tax shield2.
In addition to the Atlanta Braves and its five related minor league clubs, Braves Holdings has two valuable assets. The first is the $700mm+ ballpark called SunTrust Park, which was funded through a combination of municipal & Braves debt and opened to fans on the first day of the 2017 season. Other than a small portion retained by the local government, the Braves capture all revenues generated at SunTrust Park and have the option to purchase the stadium at a 50% discount to fair value when the lease ends in 30 years. The second asset is Battery Atlanta, which is the $550mm+ real estate development surrounding the new ballpark. This prime real estate consists of 400k square feet of retail & restaurants, 600 upscale residences, a 265-room Omni hotel, and a nine-story regional headquarters for Comcast. Before mid-2018, all of this should be open and utilized. SunTrust Park paired with Battery Atlanta has certainly received positive feedback thus far. In fact, the MLB commissioner described it as "a roadmap for clubs to get stadiums built."
As evidence of the uniqueness of Braves assets, its revenue has expanded at an average annual rate of 9% over the last quarter century, while its value (as measured by Forbes each year) has appreciated at a 12% CAGR during this timeframe. Very few companies have a comparable track record. The outlook is also certainly bright for the team itself. After hitting 25-year lows in 2015 and 2016, its winning percentage increased slightly and attendance was up ~25% in 2017. Coupling this higher attendance with more premium seating in the new ballpark, revenue rose 40%+ y/y. Performance on the field should continue to improve because its minor league system (and driver of future talent) has jumped from the bottom five a few years ago to being ranked #1 by multiple baseball analysts today3. This top ranking persists despite losing 13 prospects from the MLB's recent investigation and subsequent punishment. Of the 13 players forfeited by the Braves, only one prospect was noteworthy.
Market at a Significant Discount to Forbes' Conservative Valuation
Forbes estimates the value of each professional sports team every year, including MLB teams in March/April. Historically, these valuations have proven to be highly conservative. As a recent example, Forbes valued the Miami Marlins for $675mm in March 2016 and then the team was sold for $1.2b or an ~80% premium less than eighteen months later. In another case, Forbes estimated the Houston Rockets were worth $1.5b in January 2016 and then the franchise was acquired for an NBA record of $2.2b, or a ~50% premium ~eighteen months afterwards.
Last April, Forbes valued the Braves for $1.5b4. Conservatively assuming John Malone earns zero return on Battery Atlanta and it is only worth the $200mm of equity contributed, then Forbes 2017 estimate implies that Liberty Braves should trade for $30 per share or 25% above its current price. Assuming that Forbes estimate is once again 50% low, then implies a private market value of $42 per share for BATRK or ~80% above its current stock price.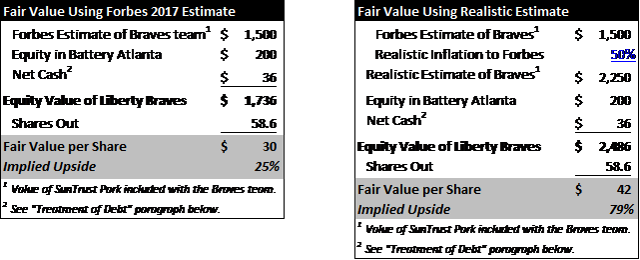 The Braves sources of revenue are concessions, tickets, sponsorships, broadcast rights, and shared licenses from the MLB, while its main cost is payroll. Teams generally reinvest their profits to expand their talent because this ultimately leads to more wins and greater revenue. The timing of free-agent signings and bonuses for star players results in volatile profits margins. This fact coupled with the valuable tax shield received from owning a team are the reasons that teams are typically valued on a revenue basis. As mentioned, Braves revenue grew 40%+ in 2017. Last year, Forbes valued only six MLB teams for 6x (or higher) with the Marlins marked at only ~4.5x. Then, the Marlins were sold for nearly 6x, so Forbes will need to increase the valuation multiples for MLB teams this year. The combination of more revenue for the Braves and higher multiples for all MLB clubs should result in Forbes 2018 estimate of the Braves rising substantially when released in March/April.
Trading at a Sizeable Discount to Recent and Highly Comparable Transactions
The Miami Marlins were sold for 5.8x revenue. Until rumors of a sale, the Marlins were consistently ranked in the bottom tier (often second to last) by Forbes because its ballpark is often empty and its team is rarely competitive. At its current stock price, the Braves are only trading for ~3x implying a ~50% discount to the Marlins. The Braves have consistently been ranked far ahead of the Marlins by Forbes due the organization's rich history, extensive fan base, and winning culture. Nevertheless, if we assume the Braves only sell at the Marlins' multiple, then it still implies a $42 stock with ~80% upside.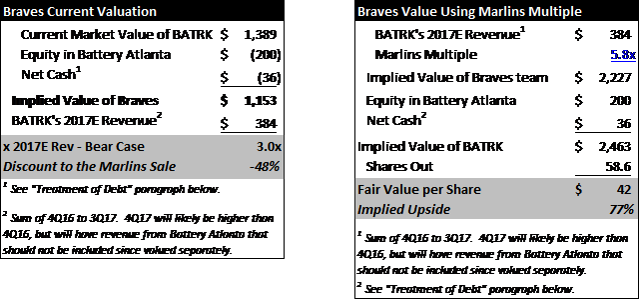 Treatment of Debt
Careful readers have noticed the footnote for Net Cash on the tables above. BATRK's debt can be bucketed into three categories: non-project debt, Battery Atlanta debt, and SunTrust Park debt. For non-project debt, we net that from cash so it is covered. Regarding Battery Atlanta, we are assuming it is at least worth the equity contributed so debt has been netted from it as well. It is possible the Battery is a failure and the equity is worthless, but we think that is highly unlikely based on Malone's successful history of capital allocation, his partners in those various development projects, and progress in filling capacity already. The last category of debt is the $330mm used to fund the Braves new ballpark. As highlighted above, the Braves have a 30-year lease on this facility and the right to buy it at 50% of fair market value (FMV). Assuming FMV is the construction cost ($700mm+), then the Braves will likely be able acquire it for only $350mm and have excess value (or free equity) of $350mm+, which more than covers its debt contribution.
Attractive Valuation Relative to Other High-Quality Companies
As compared to a select group of companies with reputable brands, competitive moats, and comparable growth, the Braves' valuation of ~3x revenue suggests a potential ~50%+ discount.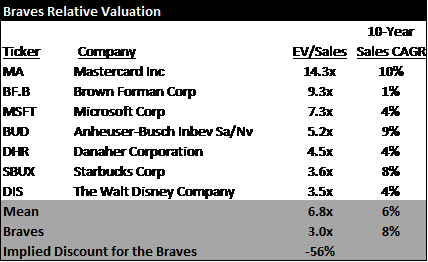 We are value investors that focus on cash earnings. We would not buy a software company based on "comparable" EV/revenue multiples because one software business is very different than the next. However, we are comfortable investing in the Braves based on EV/revenue because we can point to recent transactions involving highly comparable enterprises. There is little difference between the Braves and Marlins or even the Rockets for that matter. That being said, Braves valuation is also compelling on an EV/EBITDA basis once you consider the value being attributed to its revenue-generating assets. As illustrated in the table below, you can buy the Braves at 25%+ discount to other high-quality companies' EV/EBITDA.

For more color, we start with BATRK's market value and then deduct: (i) equity contributed to the Battery, (ii) net cash, (iii) estimated values for stakes in BAMTech & MLBAM, and (iv) the present value of the imputed tax shield to arrive at a ~$470mm adjusted EV or amount being paid for Braves revenue-generating assets. We have explained (i) and (ii) above. Regarding (iii), BAMTech powers streaming for MLB, HBO, NHL, WWE, and Disney's upcoming services. It was spun-off from MLBAM (MLB Advanced Media), which operates MLB's website and app. Disney recently acquired a stake in BAMTech implying a $3.75b value5 and Forbes estimates MLBAM is worth $12b6. Braves own 0.5% of BAMTech and 3% of MLBAM through MLB. The income from these entities is reported below EBITDA, so therefore not included and thus their values should be broken out. As described above for (iv), buyers of teams receive large tax shields so we calculate the value at an 8% discount rate. Though volatile, EBITDA margins have historically averaged ~10% and that was the ~margin over the past twelve months so we thought it was appropriate to use TTM EBITDA. It results in an adjusted EV/EBITDA of only < 14x.
Malone's Monetization Strategy
In order to sell Braves Holdings (which are the underlying assets of BATRK), Liberty Media needs to own 80% of another business and to have had some ownership (that can be less than 80%) for five years. LM has held a stake in Sirius XM for more than five years. SIRI continues to aggressively buyback stock, while LM has not been selling so it should result in LM owning 80%+ of SIRI within ~24 months. At that point, we expect Malone to sell the Braves to the highest bidder.
Conclusion
BATRK is a unique stock consisting of trophy assets that continue to rise in value, yet the shares are currently on sale at a considerable discount to private market transactions, Forbes conservative appraisal, and other high-quality businesses. Forbes will release its updated estimate by April and that should lead to a near-term catalyst. By 2020, we expect Malone to sell the Braves for far above today's stock price.
Disclosures
This article is provided for informational purposes only. The information contained in this material does not purport to be complete, is only current as of the date indicated, and may be superseded by subsequent market events or for other reasons. No one should rely on the information contained in this document to make any investment decision. The material contains and is based upon information that the author believes to be correct but they have not verified that information and assume no liability if such information is incorrect. The author does not have any duty to correct or update the information contained herein. This document contains forward-looking statements based on the author's expectations and projections. Those statements are sometimes indicated by words such as "expects", "believes", "will" and similar expressions. In addition, any statements that refer to expectations, projections or characterizations of future events or circumstances, including any underlying assumptions, are forward-looking statements. Such statements are not guarantees of future performance and are subject to certain risks, uncertainties and assumptions that are difficult to predict. Therefore, actual returns could differ materially and adversely from those expressed or implied in any forward-looking statements as a result of various factors. You should assume that as of the publication date the author (possibly through his/her employer) has a short position in the stocks covered herein and therefore stand to realize significant gains in the event that the price of its stock declines. The author may also cover his/her short position at any point in time without providing notice. The author encourages all readers to do their own due diligence.
Footnotes
1 Will Regulators Penalize Fox-Disney Deal Over Sports?
2 A History of Tax Sheltering Techniques for Sports Team Ownership
Rich sports fans find tax shelters in team ownership
3 2018 Organizational Talent Rankings | BaseballAmerica.com
Keith Law ranks Braves' farm system No. 1 in baseball
4 Atlanta Braves on the Forbes MLB Team Valuations List
5 BAMTech valued at $3.75 billion following Disney deal
Thank you for reading this Seeking Alpha PRO article. PRO members received early access to this article and get exclusive access to Seeking Alpha's best ideas. Sign up or learn more about PRO here.
Disclosure: I am/we are long BATRK. I wrote this article myself, and it expresses my own opinions. I am not receiving compensation for it (other than from Seeking Alpha). I have no business relationship with any company whose stock is mentioned in this article.