Implications for inflation in focus
By James Ong, Senior Macro Strategist, Noelle Corum, Associate Portfolio Manager, and Megan Heard, Associate, Market Research.
Posted on Expert Investment Views: Invesco US Blog.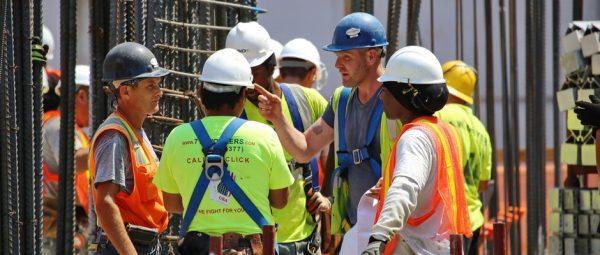 Today's nonfarm payroll and wage statistics point to solid growth for the US economy. At 200,000 jobs, January employment gains were above consensus, and average hourly earnings surprised to the upside, growing 2.9%, a cycle high.1 Invesco Fixed Income has been very positive on US growth in the last several quarters, and these results support our view. January wage data were generally in line with our "wage tracker" model, which has been pointing to consistent (although slow) gains in wages. Today's robust jobs numbers support our forecast that the US economy could grow by around 2.75% in 2018.
So what does this mean for inflation? Higher wages are supportive of inflation over the medium term. Today's wage report may raise confidence that inflation will reach the US Federal Reserve's (Fed) 2% target in the long term. However, wage gains can take a long time to translate into actual price increases for consumers. Overall, Invesco Fixed Income is maintaining its six-month outlook for inflation, and we estimate that inflation will likely remain at around 1.7% for the first half of 2018. However, if we see persistent wage increases going forward, we may raise our inflation forecast for 2018 above our current expectation of 1.8%.
In terms of interest rates, we believe today's data affirm the Fed's expectation of three interest rate hikes in 2018. It also increases the chances that the Fed will revise up its view of how high the federal funds rate could ultimately rise. If wages continue to rise sharply, the Fed hiking cycle may extend into 2019 and 2020, and could be at a faster-than-expected pace. Increased expectations of further rate hikes in the medium term and perceived higher inflation risk could steepen the US Treasury yield curve and push interest rates higher.
Average hourly earnings ticking up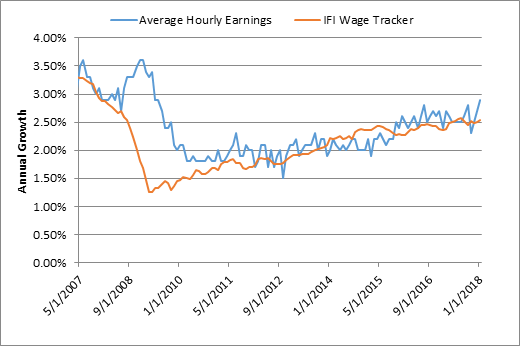 Source: US Department of Labor, IFI Wage Tracker. Data from April 30, 2007 to Jan. 31, 2017. The IFI Wage Tracker is Invesco's model of wage growth based on several indicators.
1 Source: US Department of Labor, Jan. 2, 2018
Important information
Blog header image: MikeDotta/Shutterstock.com
The yield curve plots interest rates, at a set point in time, of bonds having equal credit quality but differing maturity dates to project future interest rate changes and economic activity.
Past performance is not a guarantee of future results.
Fixed income investments are subject to credit risk of the issuer and the effects of changing interest rates. Interest rate risk refers to the risk that bond prices generally fall as interest rates rise and vice versa. An issuer may be unable to meet interest and/or principal payments, thereby causing its instruments to decrease in value and lowering the issuer's credit rating.
The risks of investing in securities of foreign issuers, including emerging market issuers, can include fluctuations in foreign currencies, political and economic instability, and foreign taxation issues.
The information provided is for educational purposes only and does not constitute a recommendation of the suitability of any investment strategy for a particular investor. Invesco does not provide tax advice. The tax information contained herein is general and is not exhaustive by nature. Federal and state tax laws are complex and constantly changing. Investors should always consult their own legal or tax professional for information concerning their individual situation. The opinions expressed are those of the authors, are based on current market conditions and are subject to change without notice. These opinions may differ from those of other Invesco investment professionals.
| | | |
| --- | --- | --- |
| NOT FDIC INSURED | MAY LOSE VALUE | NO BANK GUARANTEE |
All data provided by Invesco unless otherwise noted.
Invesco Distributors, Inc. is the US distributor for Invesco Ltd.'s retail products and collective trust funds. Invesco Advisers, Inc. and other affiliated investment advisers mentioned provide investment advisory services and do not sell securities. Invesco Unit Investment Trusts are distributed by the sponsor, Invesco Capital Markets, Inc., and broker-dealers including Invesco Distributors, Inc. Each entity is an indirect, wholly owned subsidiary of Invesco Ltd. PowerShares® is a registered trademark of Invesco Ltd., used by the investment adviser, Invesco PowerShares Capital Management LLC (PowerShares) under license. PowerShares and Invesco Distributors, Inc., ETF distributor, are indirect, wholly owned subsidiaries of Invesco Ltd.
©2018 Invesco Ltd. All rights reserved.
Solid job gains and wage pickup in January affirm strong growth outlook by Invesco US