Over a week ago, in my analysis to my members, I noted that, ideally, I was looking for the market to pullback and test the 2800SPX region. And, the market certainly dropped down to the 2800 region, but also broke the 2796SPX support upon which I was focused. That had me begin to focus on the 2700SPX region of support. And, today, we dropped and broke my next level of support at 2700SPX. But, this is the pullback I have been looking for over the last several months which had not materialized. Now, it has come in with a bang.
While this pullback took many by surprise, the common reason attributed to the decline last week was the rise in interest rates. I need help understanding this "reason." Allow me to explain.
Back on June 27th, 2016, we published analysis to our members entitled "Beware of Bonds Blowing Up." That was the first long term top call we made on bonds in the 5 years we had been open to that point. And, as we now know, the bond market topped a little less than two weeks later.
So, since July of 2016, rates have been rising. Most interestingly, the heart of the strongest segment of the drop in the bond market in 2016 coincided with the bottoming of the equity market at the time of the election, which began an extraordinarily strong rally in the equity market. Therefore, it is quite clear that the market rallied quite strongly while rates were rallying strongly at the same time.
Today, with the market dropping even stronger than last week, rates went down. Now, isn't that a head scratcher?
So, shall we now review the common reason we read about the "cause" of the decline in the stock market last week? When we shine the light of facts on these reasons, do they really hold water? Of course not. Yet, that does not stop almost every analyst and their mother from making their specious claims.
Do you know why they make these claims? It is because they see the market dropping, and then look for what else is happening at the same time for what they can blame as the obvious cause. First, they saw good jobs numbers Friday morning, so that clearly cannot be the reason for the market dropping almost 2%. Then, they see rates rising on the same day, so they assume that this must be the cause since there is no other reason they can come up with. In truth, one could claim that the drop was due to the good jobs report, and it would make just as much as sense as blaming it on the rise in rates.
And, if rates were not rising, I can assure you they would have blamed the decline on Friday to the release of the Congressional memo (and I even heard some make this ridiculous claim). Maybe they will now claim that the drop was due to the release of the GOP memo, and then we rally when the Dems release their Memo?
In fact, why not claim that today's drop was due to the Eagles win?
Is this really an intellectually honest way to analyze the markets? Clearly, it is not. So, how accurate do you think prognostication can be based upon the common manner in which these people view the market? Yet, this is what you look to read day in and day out to make your assessment about market direction?
Now, don't get me wrong. I clearly missed the market's direct move to 2800SPX this early in the cycle, as I did not expect us to strike 2800 until the end of 2018. Rather, I expected we would only reach 2611SPX from the 1800 region based upon my market call back in 2015, after which I expected a pullback before we head up to the 2800+ region. However, because I miss an extension which resides in the category of a probabilistic anomaly does not suggest that the methodology I use is intellectually dishonest. Yet, I think it is quite clear that these common perspectives on what moves the market is clearly intellectually dishonest.
Now, when the market provides us with an upside move which is a statistical anomaly, it puts itself in a very dangerous posture. And, today, we saw the result of the unwinding of that dangerous posture. In fact, we saw another statistic anomaly, but on the way down.
I am certain you will now hear constant talk about how this is the end to the bull market. But, I think the probability of that potential is still quite low. Rather, this is the wave (4) pullback for which I have been awaiting. And, as you saw in my last article on the market, I provided you with a chart showing that we were completing wave (3) of v of 3 off the 2009 lows. That meant we were expecting a wave (4) to be overdue. As you can see on my attached chart updated below, we are looking for the market to hold support between 2424-2539SPX, and then start a rally into year end which will target at least the 3011 region, but with strong potential to extend to the 3223SPX region.
So, while you will undoubtedly hear about how this bull market has now come to an end, I am still thinking we are going to set up another rally over 3000 into the end of the year. But, once we complete this next rally, that will likely set us up for a 20% (maybe more) correction taking us into 2019.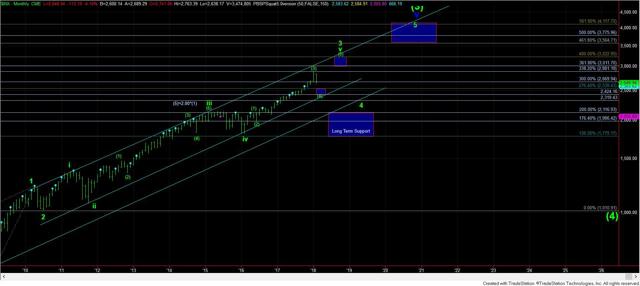 Housekeeping Matters
Lastly, it seems that Seeking Alpha has changed the way they tag articles. So, while my articles used to be sent out as an email to those that follow the metals complex, they are now only being sent out to those that have chosen to "follow" me. So, if you would like notification as to when my articles are published, please hit the button at the top to "follow" me. Thank you.
The Market Pinball Wizard
I would like to invite you all to come join us in our relatively new service entitled The Market Pinball Wizard, which has recently moved up to the 7th largest service in the Seeking Alpha Marketplace offerings of 159 services.
Within The Market Pinball Wizard service, I provide several formal updates a week on the metals complex, as well as a directional bias on the S&P 500 every day and weekly USD and USO analysis. We also host one live webinar a week to go deeper into the charts.  I also provide updates throughout the day in our chat room within the service, as well as answer questions.
In fact, many of our members have noted how accurate our work has been, as one of our members just posted:
"I have to admit that for a time, I thought that you were in the know, but not anymore.  I think you HAVE A REAL SYSTEM WITH AN ACCURACY I HAVE NEVER SEEN BEFORE."
And, lastly, we provide a library of webinars for you to learn our Fibonacci Pinball method because we want you to learn our system so you can learn to fish on your own, rather than having others provide you the fish:
"About 5 years ago after taking a big loss I lost my confidence to trade and sat on those holdings and sold them when the loss was bearable.  Today I am pleased to say (with your incredible guidance) I have got my confidence back. YAY! 
I see the charts in a whole new way and I am slowly but methodically entering and exiting trades profitably using EW Fib Pinball. The Pinball Wizard Service it is exactly what I needed to help me succeed in the market."
Disclosure: I/we have no positions in any stocks mentioned, and no plans to initiate any positions within the next 72 hours. I wrote this article myself, and it expresses my own opinions. I am not receiving compensation for it. I have no business relationship with any company whose stock is mentioned in this article.