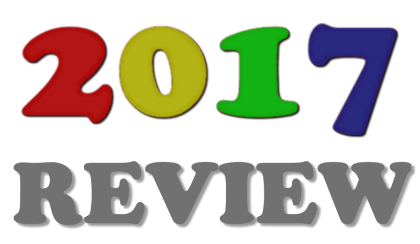 Welcome to the 5th annual review of DivGro, my portfolio of dividend growth stocks. I created DivGro in January 2013 to generate a reliable and growing dividend income stream.
Keeping track of DivGro in a public forum helps me to learn and grow as a dividend growth investor. Much of my learning comes from the research I do while writing articles, but I've also learned a lot from interacting with like-minded investors. So, I want to say Thank You! to all my readers for your encouragement, questions, and comments. Please keep it coming!
In my annual reviews, I look at DivGro's performance as measured by dividend income, dividend increases, annualized returns, and rate of return. I also look at some highlights of the past year and share my outlook for the coming year.
Introduction
Last year was a spectacular year for stocks. The Dow added 25.2% in 2017, and the S&P 500 racked up gains of 19.7%, while the Nasdaq added an impressive 28.2%! The stock market returns in 2017 were the best since 2013, and the bull market is now the second oldest and second strongest in history.
I wonder what (the rest of) 2018 will bring? Credit Suisse Analysts have a bullish outlook for 2018 and expect global economic growth to remain strong, though not as strong as 2017. It is expected that the Federal Reserve will continue to raise interest rates despite the low inflation rate of about 2%. The unemployment rate is down to 4.1% and is expected to decline further.
In January, the stock market had its best start to the year in more than three decades. As a dividend growth investor, I'm very happy with DivGro's total returns, but finding quality stocks trading at or below fair value is getting harder and harder.
So, let's look at DivGro's performance in 2017.
Performance
Dividend Income
The main goal of DivGro is to generate a reliable and growing dividend income stream.
In 2017, DivGro generated a total of $14,823 in dividend income, and I recognized past dividend income of $1,705 due to account consolidation. The total of $15,391 is 7% higher than 2016's total dividend income of $15,391.

Projected annual dividend income (PADI) increased by 28% to $15,885, meaning I can expect to earn monthly dividend income averaging at least $1,324 in perpetuity. (PADI one year ago was $12,376).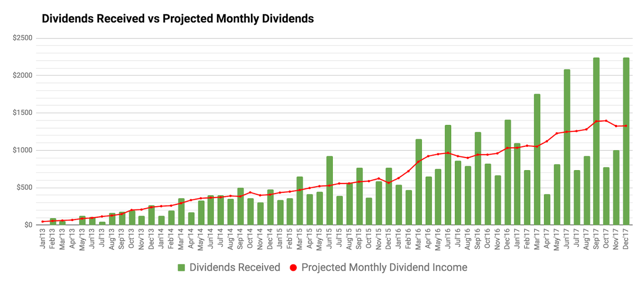 Here is a chart showing the contribution of each stock position to DivGro's PADI. Larger positions and higher yielding stocks (such as BDCs and REITs) dominate: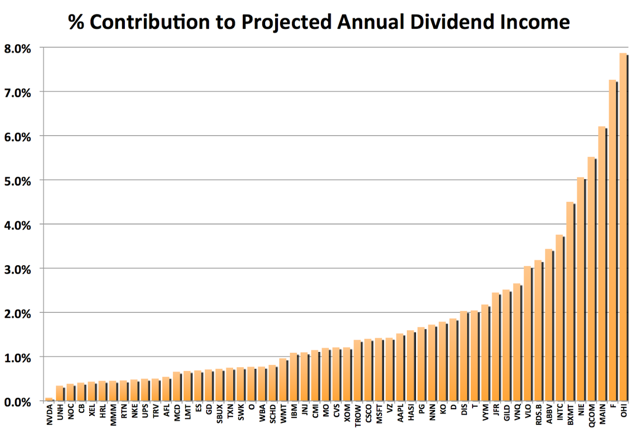 One of the things I want to tackle in 2018 is DivGro's risk profile. Perhaps this chart will prove to be helpful - I have a sense that higher quality and lower risk stocks should move over to the right side of this chart!
Dividend Increases
In dividend growth investing, regular dividend increases are just as important as dividend income. I use selection criteria that favor stocks with a track record of paying higher dividends every year. In 2017, the following DivGro stocks paid or announced higher dividends:
1-Year
Increase

Company

Ticker

Increase

%Incr

High
(above 9%)

Starbucks
UnitedHealth
Valero Energy
Cisco Systems
Nike
Northrop Grumman
AbbVie
Gilead Sciences
Apple
General Dynamics
Hormel Foods
Dominion Energy
Lockheed Martin

25¢ to 30¢
62.5¢ to 75¢
60¢ to 70¢
26¢ to 29¢
18¢ to 20¢
90¢ to $1.00
64¢ to 71¢
47¢ to 52¢
57¢ to 63¢
76¢ to 84¢
17¢ to 18.75¢
64.75¢ to 70¢
$1.80 to $2.00

20.00%
20.00%
16.67%
11.54%
11.11%
11.11%
10.94%
10.64%
10.53%
10.53%
10.29%
10.00%
9.89%

Medium
(4 - 9%)

Raytheon
Stanley Black & Decker
Altria
Microsoft
Disney
Qualcomm
Travelers
McDonald's
Nvidia
Int'l Business Machines
Eversource Energy
Walgreens Boots Alliance
Omega Healthcare Investors
United Parcel Service
Xcel Energy
3M
Coca-Cola
T. Rowe Price Group, Inc
Cummins
Johnson & Johnson
Realty Income
Intel
Aflac

RTN
SWK
MO
MSFT
DIS
QCOM
TRV
MCD
NVDA
IBM
ES
WBA
OHI
UPS
XEL
MMM
KO
TROW
CMI
JNJ
O
INTC
AFL

73.25¢ to 79.75¢
58¢ to 63¢
61¢ to 66¢
39¢ to 42¢
78¢ to 84¢ [S]
53¢ to 57¢
67¢ to 72¢
94¢ to $1.01
14¢ to 15¢
$1.40 to $1.50
44.5¢ to 47.5¢
37.5¢ to 40¢
61¢ to 65¢
78¢ to 83¢
34¢ to 36¢
$1.11 to $1.175
35¢ to 37¢
54¢ to 57¢
$1.025 to $1.08
80¢ to 84¢
20.25¢ to 21.25¢ [M]
26¢ to 27.25¢
43¢ to 45¢

8.87%
8.62%
8.20%
7.69%
7.69%
7.55%
7.46%
7.45%
7.14%
7.14%
6.74%
6.67%
6.56%
6.41%
5.88%
5.86%
5.71%
5.56%
5.37%
5.00%
4.94%
4.81%
4.65%

Low
(below 4%)

Procter & Gamble
Chubb
Main Street Capital
Exxon Mobil
Verizon
AT&T
Walmart

0.6695¢ to 0.69¢
69¢ to 71¢
18.5¢ to 19¢ [M]
75¢ to 77¢
57.75¢ to 59¢
48¢ to 49¢
50¢ to 51¢

3.06%
2.90%
2.70%
2.69%
2.16%
2.08%
2.00%
Unless indicated otherwise, the Increase column shows quarterly dividends ([M] and [S] indicate monthly and semi-annual dividends). The arithmetic average of these 43 increases is 7.74%, down from last year's 8.15%. If, instead, we weight the increases by contribution to PADI, the picture changes somewhat. DivGro's weighted average increase of the 43 increases is 5.15%.
The following table shows DivGro holdings that did not pay higher dividends in 2017:
1-Year Increase

Company

Ticker

Dividend

Yield

None

AllianzGI Equity &
Convertible Income
Ford Motor

38¢

15¢

7.00% at $21.68

5.57% at $10.77
These are holdings that are at least one year old. NIE is a closed-end fund (CEF). I invest in CEFs for income and diversification, not for dividend growth. My investment in F is focused on boosting Ford's performance with options, and I'm not concerned about the company's decision not to increase its dividend.
I prefer to see dividend increases of 7.5% or higher. In the following chart, DivGro stocks with increases of at least 7.5% are shown in orange.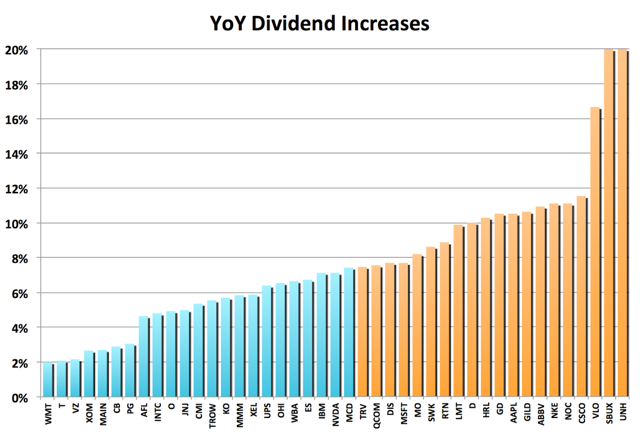 I'm very happy about the outstanding increases from UNH, SBUX, and VLO! Such increases are not sustainable in the long run, but I'll celebrate them whenever they come!
Other Performance Measures
Below is a chart showing annualized returns for stocks I've owned longer than one year, on average. UNH and GD and lead the pack with annualized returns of 46%, followed by MSFT with 45% and NOC and ABBV with 41% each: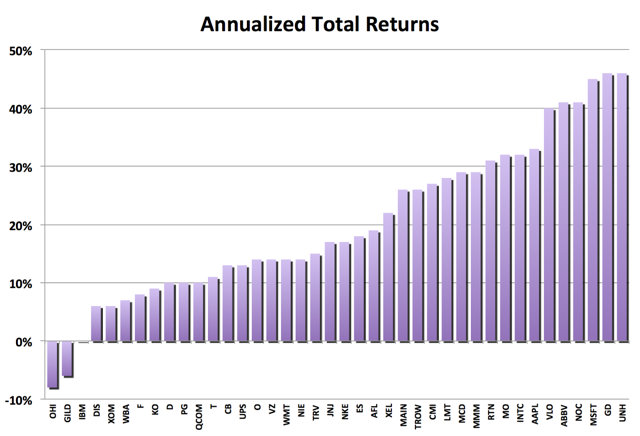 DivGro's average annualized return improved from 16.99% at the end of 2016 to 20.12% at the end of 2017.
On 31 December 2017, DivGro's internal rate of return was 17.4%, up from 11.9% at the end of 2016.
At the end of 2017, DivGro's average YoC was 4.0%, down slightly from last year's average YoC of 4.3%. Over time, as stocks I own pay higher dividends, DivGro's average YoC should increase. My goal is to achieve and maintain an average YoC of 12%.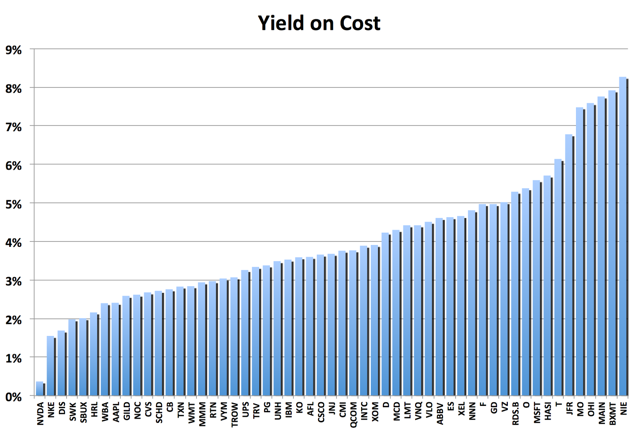 Higher-yielding stocks currently dominate my YoC chart. I expect this picture to change in time, as dividend growth and the power of compounding from reinvested dividends kick in.
DivGro's payback increased from 9.9% at the end of 2016 to 11.3% at the end of 2017. Payback is the proportion of capital returned as dividends. I consider it to be a reasonable measure of portfolio maturity.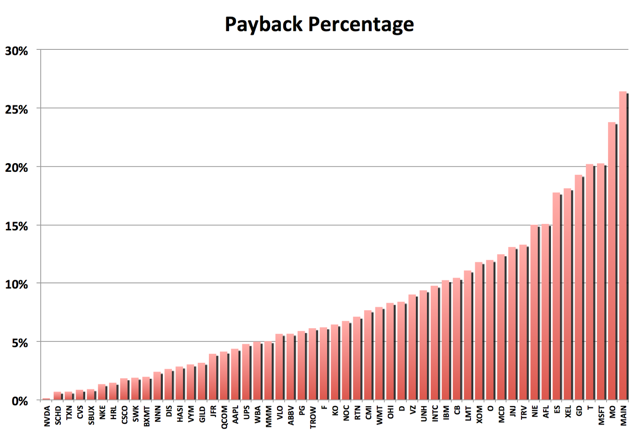 MAIN dominates because of its higher yield (currently about 5.74%) and because it is one of my longest-term holdings. MO yields 3.70%. (The YoC of these payback leaders are 7.76% and 7.48%, respectively).
2017 Highlights
Thanks to the stellar stock market performance in 2017, DivGro's market value crossed the $500,000 level! Dividend income topped $16,000 and options income topped $12,000 in 2017. I'm happy to see that my options trading activity is starting to pay off - the extra income allows me to buy more dividend growth stocks and so boost DivGro's dividend-generating capability.
In my annual reviews, I also like to share some personal highlights.
Last year, I mentioned that Piper was nominated for an Academy Award for Best Animated Short. Well, it turns out that we won! This was Pixar's first win in the shorts category since the 2001 win for For the Birds.
Another highlight is that my oldest son got married in October and that both sets of grandparents made it to the wedding all the way from South Africa! In turn, we traveled to South Africa in December to celebrate the wedding with family and friends that couldn't make the wedding (and to experience our first summer Christmas since 2001).
DivGro's page views topped one million in December 2017. In 2017, I averaged about 922 page views per day compared with about 800 page views in 2016.
In 2017, I posted 151 articles on my blog. Here are some of the most successful articles in 2017, based on page views:
Top 2017 DivGro Articles:
• 14 April: 10 Dividend Growth Stocks For April 2017
• 28 March: DivGro Pulse: March 2017
• 01 April: I'm Looking To Buy Dividend Champion Hormel Foods
Last year, I wrote 77 premium articles for Seeking Alpha. Here are some of the most popular ones, based on page views:
Top 2017 Seeking Alpha Articles:
• 08 Jan. '17: Top Holdings Of Dividend Growth Bloggers, 2017 Edition
• 17 Feb. '17: 10 Dividend Growth Stocks For February 2017
• 26 Nov. '17: Top Holdings Of Dividend ETFs (November 2017 Edition)
2018 Outlook
I've set some challenging goals for 2018, including a very aggressive goal of securing $12,000 in options income. Adding $12,000 in new capital and $18,000 in dividend income gives a total of $42,000 to put to work in DivGro in 2018.
This year, I'm challenging myself to write 72 premium articles for Seeking Alpha and to launch a subscription service to provide value-added content for dividend growth investors. Additionally, I'll continue to publish non-exclusive articles at DivGro.
A special word of thanks to all my readers, especially to those that comment regularly and continue to encourage me! This community is amazing, and I really love being part of it!
Thanks for reading and all the best with your investing in 2018!
If you liked this article and would like to read similar articles in future, please click the Follow link at the top of this article.
Disclosure: I am/we are long AAPL, ABBV, AFL, CB, CMI, CSCO, CVS, D, DIS, ES, GD, GILD, GOOG, HASI, HRL, IBM, INTC, JNJ, KO, LMT, MAIN, MCD, MMM, MO, MSFT, NFLX, NIE, NKE, NNN, NOC, NVDA, O, OHI, PG, QCOM, RTN, SBUX, SCHD, SWK, T, TROW, TRV, TXN, UNH, UPS, VLO, VZ, WBA, WMT, XEL, XOM. I wrote this article myself, and it expresses my own opinions. I am not receiving compensation for it. I have no business relationship with any company whose stock is mentioned in this article.