Forces Driving Bond Yields
As most readers are undoubtedly aware, the 10-year U.S. Treasury Bond yield has recently spiked to 2.85%. This has sent bond funds careening lower, especially those with longer durations. For example, the iShares 20+ Year Treasury Bond ETF (TLT) is off almost 8% from recent highs, as shown in this chart:
The story goes that markets are pricing in expectations for higher inflation. Much of the global economy is on a sound footing and unemployment is very low so the market is anticipating that we are going to see a pick-up in wage growth and thus inflation as consumers generally have more money to spend. Also, the recovery in oil prices is driving gasoline prices higher and commodities as a whole are pushing higher off of historically low levels. The following 2 charts show the rise in U.S. gasoline prices and the uptick in U.S. inflation: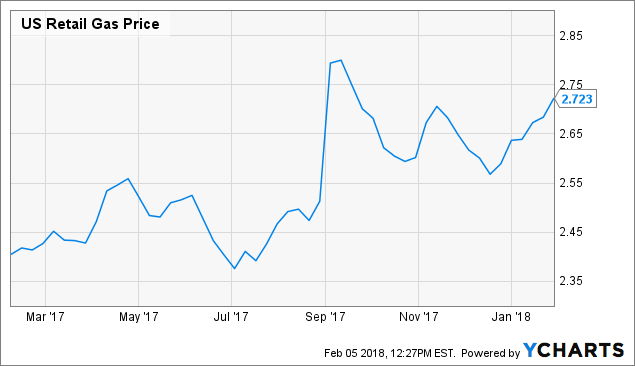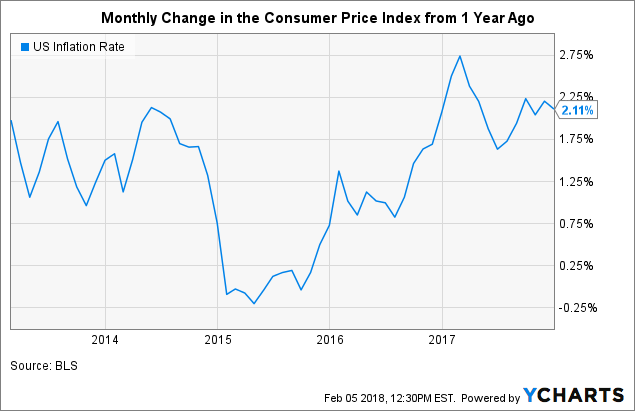 Coinciding with this increase in inflation are significant increases in U.S. treasury supply on the horizon from 2 sources: an increasing budget deficit and central bank balance sheet reduction efforts.
The Committee for a Responsible Federal Budget is projecting that the fiscal year 2019 deficit will exceed $1 trillion, which is more than twice the projected fiscal year 2018 deficit. (I tend to expect it will be less though due to lower tax rates spurring investment and economic growth that ultimately leads to an increase in tax revenues.) This means the U.S. Treasury may have to begin borrowing an additional $500 to $800 billion per year more than current levels beginning later this year.
The Federal Reserve has also begun selling treasury and mortgage bonds to reduce its balance sheet. The Fed is expected to sell almost $1 trillion in treasuries over the next 3 years ($252 billion in 2018, $360 billion in 2019, and $360 billion in 2020).
Taken together, treasury supply is likely to increase by over $1.5 trillion over the next two years.
At the same time, the European Central Bank is likely to end its bond-buying program in 2018 so there will also be a net shift globally in supply.
On the positive side, a recent article in the Financial Times, Higher Treasury yields are no certainty under Basel III regulations, provided commentary from Pri del Silva, an analyst at CreditSights, pointing out that commercial banks will need to replace almost $2 trillion in assets currently held as reserves at the Fed. As the Fed bought bonds from the market in past years, many of which came from commercial banks, these banks ended up holding much of the proceeds as reserves with the Fed. Mr. De Silva argues that these commercial banks will thus replace these reserves at the Fed with treasury bonds, notably because government bonds are the only other financial asset with a 0% risk weighting when it comes to bank capital requirements. Because of this 0% risk weighting, commercial banks have an incentive to hold treasury bonds as capital instead of riskier assets that subject them to capital charges.
However, this would still not account for the roughly $1 trillion in mortgage bonds that the Fed is scheduled to sell over the next several years.
Conclusions on Yields
My expectation for the near term is that yields will continue to move higher as the force of economic strength continues to outweigh the early stage effects of Fed balance sheet reduction. I would not be surprised to see some periods of significant rate spikes this year as the market hits pockets of oversupply before yields find more stable footing at somewhat higher levels.
I expect to see longer-term rates rise until we reach the point where investor demand begins to increase due to a slowdown in economic conditions. At some point, maybe its a 4% 10-year Treasury yield, investors could look at slowing economic growth and decide they are happy owning more bonds yielding 4% to 6% instead of stocks yielding 2% with reduced growth prospects.
How to Position in Bond Funds
In some client portfolios that I manage, I have set allocations that must be invested in bonds. At present, I only hold very short duration individual bonds or bond funds for these clients because I expect to see further increases in rates. This strategy has clearly paid off so far this year. I see no reason to be taking on duration risk—the risk that bond fund prices fall due to rising rates—in the current environment.
Because of this view, my favorite bond fund right now is Thompson Bond (THOPX) followed, to a lesser extent, by DoubleLine Low Duration (DLSNX; DBLSX). Not only do these 2 funds have the lowest durations amongst no transaction fee, short-term bond funds, but they are both managed by seasoned experts with excellent track records. The following table shows some important statistics for the 3 short-term bonds that currently have the lowest durations which include these 2:
| | | | | |
| --- | --- | --- | --- | --- |
| Fund | Duration (years) | 30-day SEC Yield | Net Expense Ratio | 5-Year Performance |
| Thompson Bond | 1.09 | 2.71% | .72% | 3.12% |
| DoubleLine Low Duration | 1.35 | 2.49% | .70% | 1.67% |
| PIMCO Low Duration (PFIDX) | 1.6 | 2.22% | .87% | 3.06% |
Note: data as of December 31, 2017
When a fund has a duration of 1 it means that its price will fall by 1% if rates rise by 1%. If the 10-year treasury rose to 5% over the next 12 months, investors would still likely get positive returns from Thompson Bond or DoubleLine Low Duration. Conversely, many intermediate or longer-term bond funds currently carry durations that are twice their yield and their yields are barely above or even lower than that of Thompson Bond. Investors have already lost money this year on these funds and they should be prepared to lose more.
It is important to note that the data in the above table was as of December 31, 2017. The managers of these funds had them well positioned before the recent bond sell-off. Notably, the managers of Thompson Bond—John Thompson, Jason Stephens, and James Evans—have had this fund well positioned for quite a while now. I know this because I began allocating more client funds to it over 6 months ago in anticipation of the current uptick in yields.
About 90% of the 354 holdings in Thompson Bond are at least investment grade (74% of the fund's holdings are rated BBB). Investors are not taking on an exceptional amount of credit risk by owning this fund, and given the current period of economic strength, this is somewhat less of a concern for me.
Lastly, the short duration of Thompson Bond and DoubleLine Low Duration mean that these funds will have more securities maturing in the near-term that they will be able to soon reinvest in higher yielding paper. They will be able to quickly take advantage of the higher yield environment for their shareholders.
Thompson Bond and DoubleLine Low Duration are two excellent places to hide in the current yield environment if you must own a bond fund.

Disclosure
I am an investment adviser and owner of True Vine Investments, a Registered Investment Advisor in the State of Pennsylvania (U.S.A.). I screen electronic communications from prospective clients in other states to ensure that I do not communicate directly with any prospect in another state where I have not met the registration requirements or do not have an applicable exemption.
Any investment advice or recommendations involving securities referenced in this article is general in nature and geared towards a readership of sophisticated investors. This article does not involve an attempt to effect transactions in a specific security nor constitute specific investment advice to any particular individual. It does not take into the account the specific financial situation, investment objectives, or particular needs of any specific person who may read this article. Individual investors are encouraged to independently evaluate specific investments and consult a licensed professional before making any investment decisions.
All data presented by the author is regarded as factual, however, its accuracy is not guaranteed. Investors are encouraged to conduct their own comprehensive analysis.
Positive comments made regarding this article should not be construed by readers to be an endorsement of my abilities to act as an investment adviser.
My clients always come first. I reserve the right to buy or sell any security at any time, often for reasons not related to my articles, in order to properly manage their portfolios.
Are you looking for inflation protection in your portfolio? Check out my Industrial Minefinder™ Marketplace Service for opportunities in the industrial mining sector.
Disclosure: I/we have no positions in any stocks mentioned, and no plans to initiate any positions within the next 72 hours.
I wrote this article myself, and it expresses my own opinions. I am not receiving compensation for it (other than from Seeking Alpha). I have no business relationship with any company whose stock is mentioned in this article.