How to Build a Large Roth IRA
Many 401k plans allow their plan participants to make after tax contributions. For some investors, this can be an opportunity to build large Roth IRA accounts, irrespective of their income levels. This article outlines the benefits of a coordinated strategy of after tax 401k contributions and regular distributions to IRA accounts.
The 401k plan dates back to the early 1980s. Historically, employees have allocated tax-deductible funds to a 401k account. Traditional 401k accounts pay no taxes until they are distributed for the benefit of the employee. In 2006, US employers were allowed to amend their 401k plans to allow participants to defer salary to a Roth 401k account. These latter contributions are NOT tax deductible. However, distributions from Roth 401ks are tax free.
Aggregate deferrals to traditional or Roth 401ks are subject to statutory limitations that have increased with inflation over the years. As of 2018, these contributions cannot exceed $18,500. Those aged 50 and above can contribute an additional $6000 annually.
That's not the end of the story, however. 401k plans have long been able to accommodate after tax contributions to traditional 401k accounts above the salary deferral limit of $18,500. Such contributions would be comingled with traditional salary deferrals for tax-deferred accrual. The option has never been popular … and for good reason.
After tax contributions, by definition, do not generate a tax deduction. Any economic gains from these funds are taxed as ordinary income when distributed for the benefit of the plan participant. This tax treatment suffers in comparison with the favorable long-term capital gains rates that apply to returns on stocks retained in taxable accounts
Thus, the tax mathematics of after tax 401k contributions held for long periods is unattractive. No tax deduction today and ordinary income tax on gains later. However, that math can shift dramatically for larger savers due to recent changes in the regulations governing 401k distributions.
In 2015, the IRS clarified rules governing the disbursement of assets from 401k plans. The plan administrator will distribute the funds per the wishes of the investor in 2 separate checks — 1 representing pretax contributions to their (traditional) IRA, the other after-tax contributions converted to their Roth[1].
These streamlined distribution rules provide an interesting opportunity. Plan participants can make after tax contributions to their 401k in excess of the $18,500 limit. Then, at the earliest opportunity, transfer these directly to a Roth IRA.
Why is that helpful? If after tax contributions can be moved to a Roth IRA after a short period of time, the vast majority of the appreciation on the underlying assets will be concentrated in the tax free Roth IRA account. Conversely, after tax funds that accumulate over many years in the traditional 401k will be taxed at high ordinary income levels when they are finally distributed.
Let's consider an example. An employee contributes $10,000 in after tax dollars to an S&P 500 stock fund (SPY) at the beginning of 2018. His ordinary income tax rate is 32%. The stock fund earns 8% per year:
If the $10,000 investment is allowed to accumulate for 20 years in a traditional 401k account, it will reach a value of $46,610 with a return of 8% per year. Unfortunately, the employee will owe ordinary income tax on the gain of $36,610 if it is then distributed. 32% x $36,610 = $11,715 in tax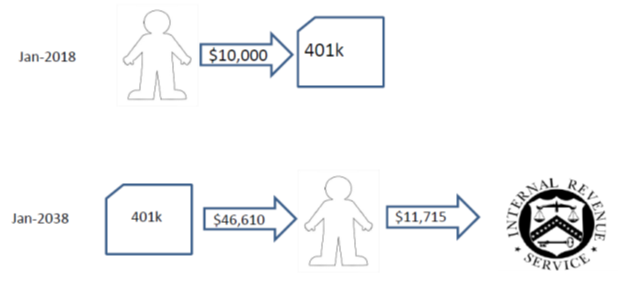 If, instead, he rolls over the sum to a Roth IRA immediately, those funds grow tax free. At the end of 20 years, his IRA will be worth $46,610 with NO TAX LIABILITY.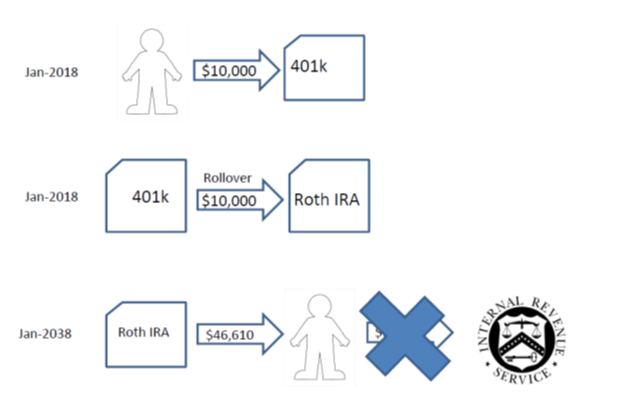 The foregoing is a simplified scenario but it does illustrate the increased benefit of a rapid rollover of after tax 401k contributions to a Roth IRA account. The plan participant should move after tax contributions from the tax-deferred account (401k) to the tax free account (Roth IRA) as soon as possible.
Current tax law stipulates that plan sponsors can allow up to $55,000 in annual contributions to qualified plans. As pretax salary deferrals are limited to $18,500 and employer contributions are usually much less, that can leave plenty of room for additional after tax contributions.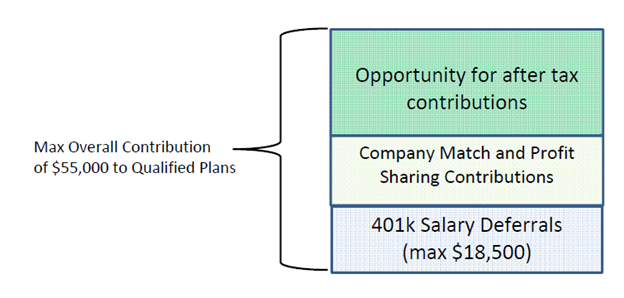 The value of after tax 401k contributions hinges on the immediacy with which the plan participant can move after tax contributions to a Roth IRA outside. That depends on how the plan is designed. 401k plans vary in the flexibility they offer employees. Typically, 401k plans allow participants to withdraw funds if they reach age 59 ½ or if they separate from service. Many 401k plans allow participants to take "in-service" withdrawals (withdrawals while currently employed) if they provide proof of hardship. Of course, that generally excludes the heavy savers that are making after tax 401k deferrals in the first place.
Some 401k plans do allow for non-hardship in service withdrawals. To find out, ask for a copy of the plan's Summary Plan Description, which must be provided upon request to plan participants. Or, refer to your year-end 401(k) statement. If the plan allows such withdrawals, the statement might have a separate column that indicates the dollar amount of funds available for in-service withdrawals[2].
Some readers may have heard about the "Back Door Roth Contribution". High income individuals make a non-deductible contribution up to $5500 to a traditional IRA and convert it to a Roth IRA soon thereafter. The strategy outlined here operates on the same principle. One key advantage to it is that qualifying 401k plan participants should will be able to move more money into their Roth IRA.
It's important to note that after tax 401k contributions are NOT substitutes for conventional 401k deferrals. They are supplemental savings. You'll want to capture matching funds from your employer that are typically conditional on a standard deferral strategy.
Who are the best candidates for after deferrals? Young savers with surplus income that are looking to set aside cash for long periods of time in exchange for tax savings. Other candidates for the strategy are employees that are nearing retirement who want to seed a Roth IRA. Keep in mind that older retirees need not participate in a plan that allows for in service withdrawals. They can roll over their after tax contributions after their imminent separation from service.
---
[1] In-service, Non-hardship Withdrawals, Putnam Retail Management, August 2017, link here
---
[2] New IRS Rules on After-tax 401(k) Rollover to Roth IRA, Bankrate.com, January 11, 2016, link here
Disclosure: I am/we are long SPY. I wrote this article myself, and it expresses my own opinions. I am not receiving compensation for it. I have no business relationship with any company whose stock is mentioned in this article.