ImmunoGen (NASDAQ:IMGN) is a clinical-stage biotechnology company focused on cancer treatments. The stock price has been on a roll this year, rising from a 52-week low of $2.30 per share on February 8, 2017, to a 52-week high of $10.04 on February 2, 2018.
ImmunoGen does not yet have approval from the FDA to market a drug. The excitement is based on clinical trial results so far, raising hopes for future approvals. The question for new investors is, or at least should be, does the possible reward from a potential FDA approval offset the risk that the pipeline candidates will fail?
Another reason the stock price is up recently is a collaboration with Jazz Pharmaceuticals (JAZZ). This kind of vetting by a larger company should carry more weight than the guesses of stock analysts.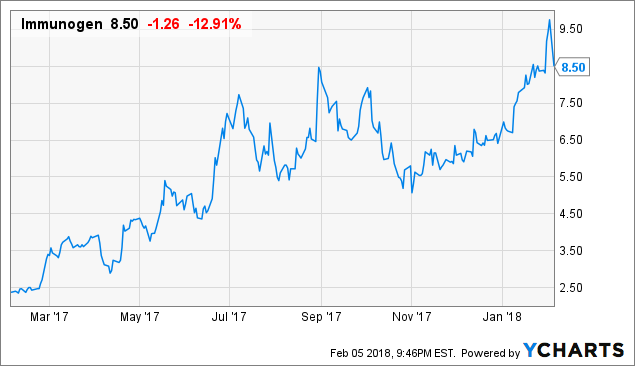 ADC technology
ADCs (antibody-drug conjugates) received a bit of a bad reputation with investors in the past because only a few received FDA approvals compared to the number that failed. The new generation ADCs from several companies look more promising. An ADC consists of an antibody, a linker, and a payload. Each of those three can be engineered to help target a specific type of cancer.
ImmunoGen's ADC technology was used for Roche's Kadcyla, which is used to treat HER2-positive metastatic breast cancer. ImmunoGen has developed its own linkers as well as cancer-killing payloads based on tubulin-acting maytansinoids and DNA-acting IGNs.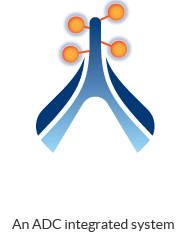 Lead candidate: Mirvetuximab soravtansine (IMGN853)
Mirvetuximab soravtansine for ovarian cancers that are FRα antigen positive is in a Phase 3 trial. Enrollment is expected to be completed around mid-2018, with a data readout and possible FDA approval in 2019. I'll call it 853 for short.
853 is an example of the new, highly-targeted cancer strategies that are revolutionizing the field. A particular antigen, FRα, was identified that's presented only on cancerous cells. The antibody finds the cells with the antigen, and introduces the payload, which kills the cancer cells. At least in theory.
In its Phase 1 trial, including an expansion cohort, results were positive and roughly in line with the level of FRα expression of the cancer. In the population selected for the Phase 3 trial "the ORR was 44% and median PFS was 6.7 months (95% CI, 3.9-11.0 months) . . . Current single-agent therapies for platinum-resistant ovarian cancer typically have an ORR of 15%-20% and median PFS of 3-4 months, including in patients receiving no more than two prior regimens." It is notable that the patient group in the ImmunoGen trial had received up to five previous therapies, and so would be expected to do worse than the comparison group. See Data from a 46-patient Cohort of Mirvetuximab soravtansine for more detail.
Nevertheless I would be remiss to not point out that ImmunoGen chose to go straight from Phase 1 to Phase 3. A larger, positive Phase 2 trial would be a better indicator for a positive Phase 3 trial. On the other hand, that would add about two years to the process.
Rest of pipeline
Post the Jazz collaboration (detailed below) ImmunoGen is developing only one drug candidate with 100% ownership aside from Mirvetuximab soravtansine. That's Coltuximab ravtansine for NHL (non-hodgekin lymphoma), which is in a Phase II trial.
Here's ImmunoGen's pipeline chart of the other partnerships: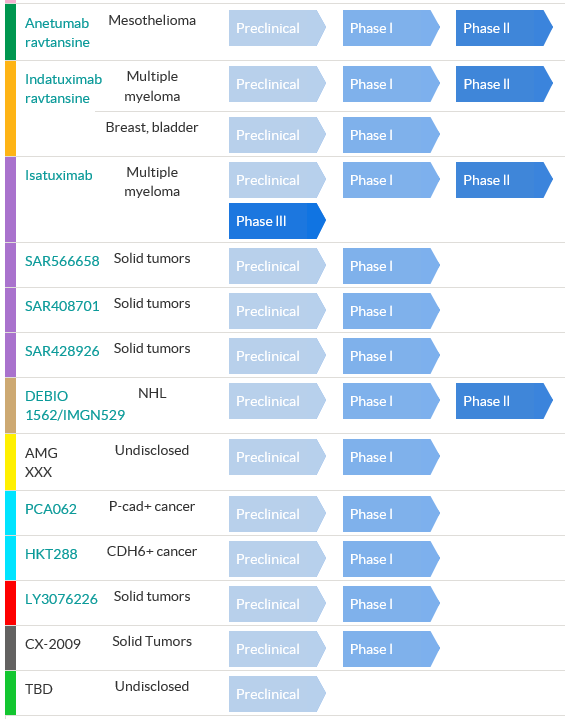 Generally I assign very little value to Phase 1 drugs, even if they turn out to be safe and effective enough to move on to Phase 2. The breadth of this pipeline is significant, however. In each case milestone payments and royalties could be substantial, so even if only a fraction reach FDA approval, the pipeline could be worth billions of dollars in market capitalization. The fact that companies like Bayer, Amgen (AMGN), and Novartis (NVS) have invested in them takes some risk off the table for ImmunoGen investors.
The one candidate that has Phase 2 data and is in a Phase III trial is isatuximab, which is partnered with Sanofi (NYSE:SNY). The Phase 3 study for multiple myeloma was announced December 5, 2016. Sanofi called the Phase 2 result encouraging. For details see Sanofi Genzyme Announces Start of Phase III Study of Isatuximab for Relapsed and Refractory Multiple Myeloma.
I believe successful Phase 3 results and FDA approval of isatuximab would in itself justify $1 billion in market capitalization. By successful I mean results good enough to allow the drug to compete with the many current MM drugs on the market. I note that, for instance, Celgene (CELG) MM drug Revlimid had sales of over $2 billion in Q4 2017 alone.
Jazz Pharmaceuticals collaboration
On August 29, 2017, Jazz and ImmunoGen announced a collaboration to develop ADCs. ImmunoGen is selling the opt-in global rights to IMGN779 for AML (acute myeloid leukemia) and IMGN632 for blood malignancies, plus a drug to be designated at a later date. Jazz is to pay $75 million upfront and provide up to $100 million for development. There are additional milestone payments upon success. If commercialized ImmunoGen would receive tiered royalties between the 10% and a percent in the low 20s.
I would point out, again, that ADCs are not all alike. Jazz was attracted to IMGN779 for its "novel indolino-benzodiazepine payloads, called IGNs, which alkylate DNA without crosslinking, resulting in potent preclinical anti-leukemia activity with relative sparing of normal hematopoietic progenitor cells."
IMGN779 was sold partly based on the positive data from its Phase 1 study, which was announced on July 14, 2017.
Cash and burn rate
ImmunoGen ended Q3 2017 with $195 million in cash and equivalents. In the quarter $30 million was received from Sanofi as a license fee, $75 million upfront from Jazz, and $25 million upfront from Debiopharm. After the quarter ended, in October, $101.6 million was raised with a commons stock offering and $96.9 million of debt was converted to common stock.
Guidance for end of Q4 is cash and equivalents of between $260 and $265 million.
In Q3 operating expense was near $40 million. If that is the burn rate going forward, ImmunoGen should have cash to last until mid-2019, even without further milestone payments. That should be long enough to get the results from the Phase 3 Mirvetuximab soravtansine for ovarian cancers trial.
While the need to sell more stock to raise cash, causing dilution of current shares, is possible, positive data would likely propel the stock price high enough to more than compensate. Negative data, of course, would present a much more serious problem.
Valuation
I always try to emphasize how subjective valuing development-stage companies can be. We like to see science as objective, but it is only objective when all the data is in. Investing before we see exactly how much revenue a drug generates involves some guessing. We can say something like "the drug has an 80% chance of approval, and would generate $1 billion per year at peak," but either the drug will be approved or not. And I have seen revenue estimates that seemed reasonable when made fall to pieces in the real world.
After coming off its 52-week high, IMGN closed on February 5 at $8.53, giving it a market capitalization of $1.13 billion. Compare that to the 52-week low, about a year ago, of $2.30, for a market cap of about $305 million.
Now imagine if ImmunoGen had a market cap of $4.0 billion. How would Wall Street rationalize that? An analyst might (simplifying) say that Mirvetuximab soravtansine (853) is worth a billion, isatuximab is worth a billion, the Jazz deal is worth a billion, and the rest of the pipeline and the platform that generates it would be worth a billion. Said with authority, that might sound believable. But I would not buy the stock today at that market capitalization. It assumes to much in positive outcomes.
I think any capitalization between $1 billion and $4 billion can be rationalized for ImmunoGen. I would tend to want to point to the $2.5 billion mark to take into account that even the three well-vetted candidates could still fail to achieve FDA approval. A $2.5 billion market cap would correspond to a stock price of $18.94.
So my goal would be $18.94, dependent on passable Phase 3 data on at least one and preferably two drug candidates. I would note that there was a time in mid-2015 when IMGN hit $19.39. That is a poor way to confirm a valuation, but worth considering.
ImmunoGen is scheduled to release its Q4 2017 results and hold its analyst conference on February 9, 2018.