Hartford CT GO Bond Price Snap back from Lows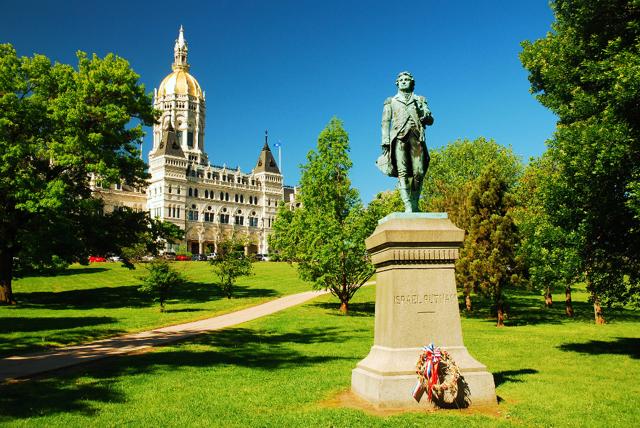 Hartford General Obligation Bonds Bounce Back After Flirting With Bankruptcy
In the summer of 2017, Hartford CT Mayor, Luke Bronin, declared that without help from the State of Connecticut, the capital city would need to file bankruptcy. The Mayor went so far as to hire bankruptcy council to advise the city on the process. If you need a refresher on this northeast bond drama, read my post on Seeking Alpha from May of 2017. Mayor Bronin's dramatic move (and in my opinion, a reckless and unnecessary move) sent the price of Hartford General Obligation bonds crashing, for example, Hartford G.O. 5's of 2027. Prior to the mayor's declaration, the bonds were trading right around par (100%). After the mayor publicly made it known that he was exploring bankruptcy, the price of bonds fell to below 70 cents on the dollar. It may have been political theater, but for investors looking for liquidity in the face of media articles about Hartford's impending financial implosion, the price hit was about 30% of face amount on their holdings. For those brave souls that held on through this episode, their patience (and surely added stress) has paid off.
Why Bond Prices Have Turned Around
Hartford's general obligation debt remained at depressed levels until the State of Connecticut reached a bipartisan budget agreement. This process was not an easy one. Connecticut finally arrived to an agreement over 120 days after their legally stated deadline. Contained within the budget agreement was emergency relief for Hartford. The State of Connecticut, even with its own budgetary issues, agreed to provide Hartford with $40 million of relief, with $20 million coming in the form of direct cash injection and another $20 million arriving in the form of assumed debt payments. The state will provide $20 million a year specifically to cover debt service payments.
Also, there are two recent developments that could help Hartford grow in the future. First, the new University of Connecticut campus opened in the summer of 2017. The influx of students should give a boost to the local economy as the students need places to eat and to entertain themselves. Secondly, Aetna (NYSE:AET), a Hartford stalwart for over 150 years, which had in 2017 announced it was leaving the city for greener pastures, has stated that it intends to remain in Hartford. After CVS (CVS) announced it was going to purchase Aetna, the delay in movement caused New York City to renege on some of the promised tax benefits to Aetna, prompting Aetna to remain in Hartford.
Structural Problems Still Persist
While it is true that Hartford and Connecticut have bought the city some time, they have failed to address most of the structural issues that brought the city under duress in the first place. Approximately half of the properties within the city limits are still occupied by entities that do not pay property taxes (government buildings, hospitals, places of worship, etc). The lack of property tax on such a large percentage of taxable land has long been a drag on the capital cities ability to raise funds to make improvements needed by a modern city. Also, Hartford still has an underfunded pension liability of approximately $50 billion. Although Hartford recently reached an agreement with police department unions on certain contract issues, the city still has an enormous outstanding liability that will need to be addressed.
Things Are Looking Up, For Now
Prices of the municipal debt issued by Hartford CT have almost recovered to the pre-bankruptcy theater levels. Most of the outstanding debt is trading back near par; signaling that the market is comfortable with the lifeline that Connecticut has provided Hartford.
Moody's Investors Services also feels that the situation in Hartford is improving. On January 30th, it revised its outlook on the city's debt to developing from negative. This change in outlook was primarily in response to Connecticut's creation of an oversight board to assist Hartford with its finances going forward.
While the rebound in bond prices could be attributed to renewed, or new-found confidence in the city and state, it could also be attributed to the lack of Connecticut bonds available in the secondary market. Demand for tax free bonds in high tax states such as NY, NJ, CT, and CA has increased significantly since the passing of the Tax Reform bill that reduced the state and local tax (SALT) deduction allowed for individuals and couples.
Disclaimer: NatAlliance Securities LLC may hold a position in Hartford Connecticut GO bonds, and in the future may be a buyer or a seller of the securities. This is not a recommendation to buy, sell, or hold the securities. Las Olas Wealth Management is a wealth management group within NatAlliance Securities LLC.
Disclosure: I am/we are long HARTFORD, CT, BONDS. I wrote this article myself, and it expresses my own opinions. I am not receiving compensation for it (other than from Seeking Alpha). I have no business relationship with any company whose stock is mentioned in this article.
Additional disclosure: I, Dean Myerow, am a contributor to various websites as well as personal blogs.