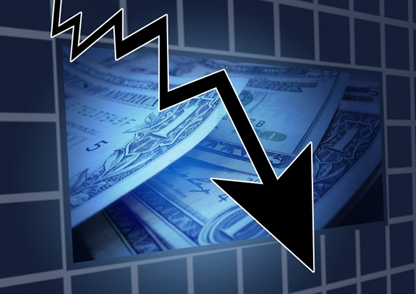 Image source: Schaeffer's Investment Research
Investment Thesis
The Chinese currency gained 3.35% in last year's lackluster December month. FX settlement had turned back into positive territory from a negative $4.7 billion in November (the highest level since June 2014) to $6.7 billion in December 2017. Hence, central banks are no longer concerned over the weakness in Chinese Yuan Renminbi (NYSEARCA:RMB).
In this market analysis, we will try to find the reasons that caused the RMB to get stronger and the risk measures that monetary authorities are considering to temper RMB strength against the US dollar.
Higher RMB
In a research note, the Italy-based UniCredit Bank indicated that China is engaged in tightening capital controls in a bid to de-leverage its economy. The bank revised its USD/RMB forecast to 6.85 at end-2017, below the previous 7.00.
Similarly, Bank of America Merrill Lynch lowered its forecast for USD/RMB from 6.95 in July last year to 6.70 in the third quarter. Morgan Stanley's forecast is a tad higher at 6.90.
According to State Administration of Foreign Exchange (SAFE), commercial banks in China booked a lower net forex settlement deficit in July last year. Cross-border capital flows were stable. The banks purchased $128 billion worth of foreign currencies. Then, they sold $143 billion, yielding net sales of $15 billion. Such transactions resulted in a 26% drop in the monthly deficit of $21 billion in June.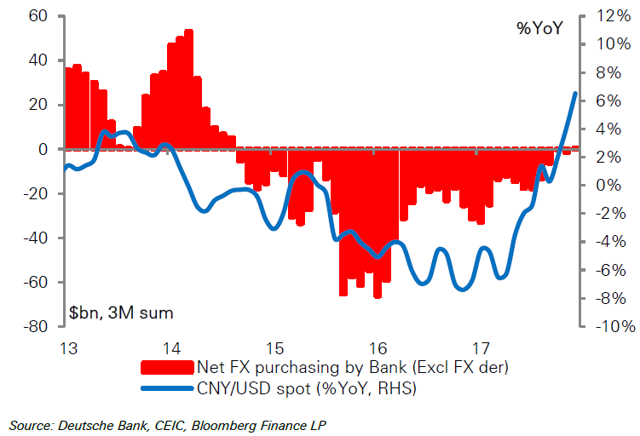 Source: Deutsche Bank, CEIC, Bloomberg Finance LP
In December, corporate as well as foreign investors engaged in heavy buying of RMB. Foreign investors alone accumulated around $6.8 billion of Chinese government bonds. In yield terms, government bonds appear to be attractive, with fund inflows into the bond market continuing adding to RMB appreciation.
The strength of the Chinese currency is also attributed to the news that China will soon be included in the Emerging Markets Bond Index this year.
IMF Allocation of Foreign Reserves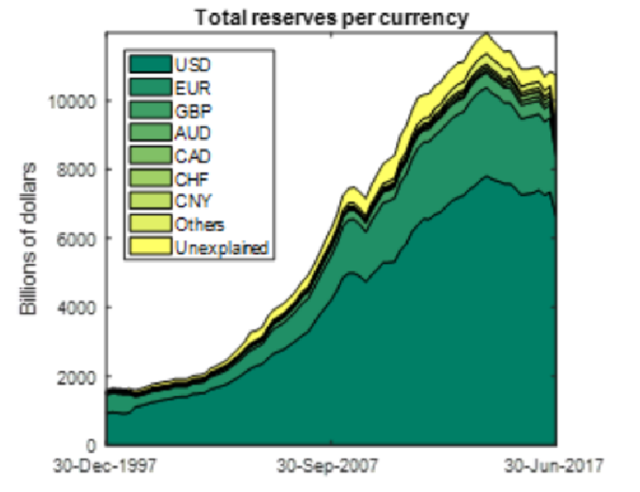 Source: Deutsche Bank, Bloomberg, IMF, National Central Banks
We believe central bank authorities in China would not aim to weaken the RMB. Banks would possibly buy US dollars in the Lunar New Year. This move is expected to slow down the pace of RMB appreciation.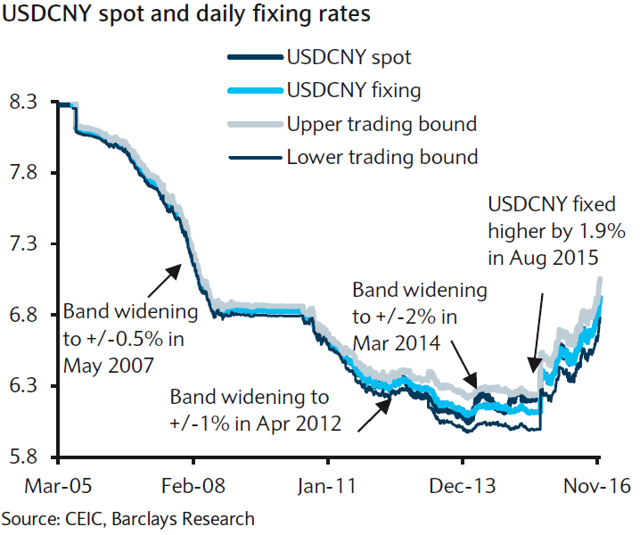 Source: CEIC, Barclays Research
To enhance risk controls, the central bank will firmly regulate the central parity rate each trading day to stabilize RMB. The spot forex market in China would allow the RMB to rise or fall by 2% from the central parity rate. The central parity rate of the yuan versus the US dollar is derived from the weighted average bid prices made by market movers prior to the opening of interbank market each trading day.
The RMB also strengthened against the US dollar on the back of a firming economy and weaker US dollar. China's economy grew 6.9% in the first half of 2017, well above the target of around 6.5%. The country is continuously pushing innovation and entrepreneurship to invigorate the real economy. It also targets a steady growth by restructuring.
During the first half of 2017, consumption, exports and investment registered a rather "balanced growth". Consumption comprised 63.4% of GDP growth during the first half of 2017. The services sector sustained strong growth during the same period accounting for 54% of the economy. The heart of the Chinese economy which is the manufacturing industry expanded rapidly thanks to high tech and equipment manufacturing sectors.
The Chinese currency similarly proved to be superior to the US dollar with a more stabilized market expectation. China has already changed the central parity system allowing the country's market to play a significant role in the formation of exchange rate.
Our Takeaway
The foreign exchange market in 2017 was filled with excitement as it started on a positive note in anticipation of Trump "fiscal reflation". The soft US inflation data, accompanied by the US Fed's temporary shift away from interest rate hikes to unwinding of central bank balance sheet, culminated the year. The year 2017 also marked the Euro currency peak. The US Dollar has slowly crept back into some well-defined ranges.
We believe that banking regulators will be more welcoming of the RMB strength than succumbing to its own weakness. This will allow the US dollar to get time in order to manage growth expectations and deleverage risks.
We noted that monetary authorities will proactively review banking regulations. They will scrutinize the regulations surrounding capital account convertibility to ensure that fund flows going to China are at appropriate levels.
Further refinement of regulations may include changing the overseas withdrawal limit of RMB100,000 per individual account. This is to consider that individual fund flows are a larger driver of fund outflows.
We also noted that these banking regulators are comfortable with the current levels of RMB. The RMB is currently outperforming the China Foreign Exchange Trade System (CFETS) index which was in the range of 94.3 to 95.3.
The RMB will proceed with momentum in 2018, making use of a slew of encouraging economic indicators reported in the second half last year. Aside from manufacturing, we noted property sales and infrastructure investment will provide fresh incentives for the Chinese economy.
Disclosure: I/we have no positions in any stocks mentioned, and no plans to initiate any positions within the next 72 hours. I wrote this article myself, and it expresses my own opinions. I am not receiving compensation for it (other than from Seeking Alpha). I have no business relationship with any company whose stock is mentioned in this article.
Additional disclosure: This article was written by Hans Centena, a business journalist. Gold News is not a registered investment advisor or broker/dealer. Readers are advised that the material contained herein should be used solely for informational purposes. Investing involves risk, including the loss of principal. Readers are solely responsible for their own investment decisions. If you found this article to be informative and would like to hear more about my investment research, please consider hitting the "Follow" button above.