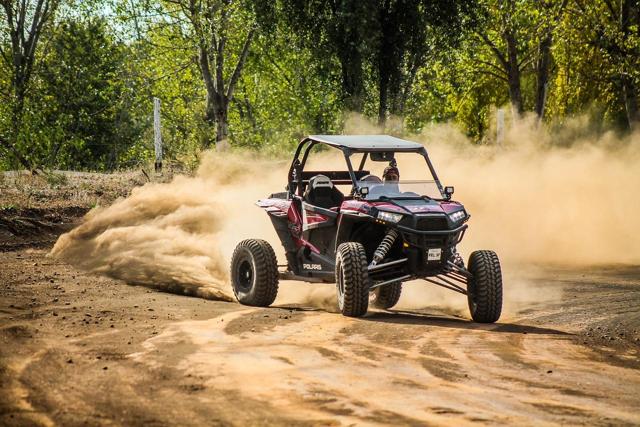 It is a rather puzzling market. Consumer staples companies with declining revenues trade at premium valuations because the income is considered safe. Investors in a company embroiled in outright systemic fraud (cough, Wells Fargo (NYSE:WFC)) have been treated to an almost 34% gain in the 17 months since the CFPB revealed the scandal. Additionally, time and again these days, steady low-beta stocks in my universe of the dividend growth space get treated to parabolic moves as the result of overreaction to less-than-stellar quarterly conference calls or other minor business events that are but flashes in the pan. On a few occasions, this has resulted in gains for the patient.
For instance, Stanley Black & Decker (NYSE:SWK), Kroger (NYSE:KR), Briggs & Stratton (NYSE:BGG), and La-Z-Boy (NYSE:LZB), among others, have all suffered quick multi-double digit losses that have largely been eradicated in rather short order. This has also recently led me to L Brands (NYSE:LB) and now Polaris Industries (NYSE:PII).
Company Overview
Getting its start in 1954 in snowmobiles, Polaris now operates in four business segments:
Off-Road Vehicles (ORV) / Snowmobiles
Motorcycles
Global Adjacent Markets - This segment houses people movers and various other products for the commercial and defense markets.
Other - This segment houses the company's emerging Aftermarket strategy to help alleviate its cyclical nature, largely buoyed by the Transamerican Auto Parts acquisition.
Polaris just reported 20% year-over-year revenue growth, but the fallout from its recent earnings report suggests that it is going out of business.
Unjustly Muddied
In my view, Polaris suffered because its earnings report happened to be concurrent with Harley-Davidson's (NYSE:HOG) quarterly results. To compare the two leads one to the assumption that it is only raining on one side of the street. While Harley's quarterly revenue of $1.05 billion was up 12.5% QoQ, revenue for the full year was down almost 6%. Of particular interest to me was one panel in the company's slide deck:

If not for 4.9% QoQ sales growth in Canada, Harley's retail sales number would be negative for every corner of the globe it sells in.
Harley-Davidson is sunsetting for two big reasons. First is an image problem, in that it is seen as largely the brand of old, rich white guys in a climate where the worst thing one could be is an old, rich white guy (Full disclosure: I desire to be one). Harley's future depends on its ability to bring others under the tent and to tell the story of a future rather than simply being nostalgic about the past. Second, Harley is being squeezed at both ends of the age demographic. At the top end, customers are eschewing hogs for RVs. At the lower end, Harley has largely priced itself out of the market of people needing to choose between buying a motorcycle and repaying student loans.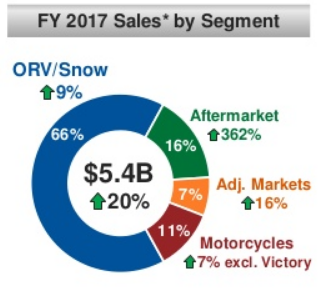 At Polaris, it wasn't a perfect quarter by any stretch, with 2018 model availability issues, lower-than-expected demand for its RZR line, and lower-than-expected snowfall leading to a drop in snowmobile sales and a loss in market share.
However, all operating segments in all regions reported sales growth for the quarter and full year - 17% over the year-ago quarter and 20% for the year, easily beating Wall Street expectations. Of particular interest to me (in light of the troubles at Harley-Davidson) was the 15% growth in the Indian nameplate.
What soon sent the stock price downwards, though, was the muted sales guidance for 2018. Analysts were expecting the company to guide for 9% revenue growth, while Polaris would only commit to 3-5%, leading some to think that the good times for this cyclical segment of the market could be over. The $6.00-6.20 EPS target was above the $6.03 2018 analyst estimate and 23% above 2017's at the low point, but this wasn't enough. As a result, shares can be had for over 17% cheaper than the day before it reported.
The cash in my account is now on high alert because I think this is overdone.
Wiped Out
I admire the conservative tone by management, as it increases the odds of overdelivering. My personal view is that management's target is too low by a couple of percentage points.
First, this revenue guidance does not include tax reform. True, Polaris's management highlighted that the company's lower tax bill will result in a $0.55 impact to EPS for 2018, but there is no accounting for tax reform in revenue guidance.
An improving economy is in no small part due to sentiment. And as Americans put their various "crumbs" to work in the economy and see others do the same, the switch from pessimism to optimism means there will be less of a felt need to "hunker down". This is imperative for segments like Polaris / Harley-Davidson / Arctic Cat (NASDAQ:ACAT), which are among the first to go in the minds of consumers when discretionary income becomes nonexistent.
Second, guidance prudently does not include impact from acquisitions, even though they have been a big part of the puzzle in recent years. Transamerican Auto Parts, 509, Taylor-Dunn, GEM, and Aixam Mega, among others, have been brought into the fold, but Polaris's market is still fragmented, especially overseas.
Third, the comparative numbers at Harley-Davidson lead me to think that Polaris's reboot of the old Indian Motocycle Manufacturing Company will continue to take market share and is better equipped to do so than the now-discontinued Victory nameplate.
Valuation
The recent price decline means that Polaris is now trading at ~18x the low point of 2018 EPS guidance, which is under that of the S&P 500, while in my view, having above-average prospects. It is also a good entry point in relation to what people have been willing to pay back to the Great Recession. Moreover, the company is trading under its 5-year averages for price/book, price/sales and price/cash flow ratios, while the dividend is 20 basis points higher.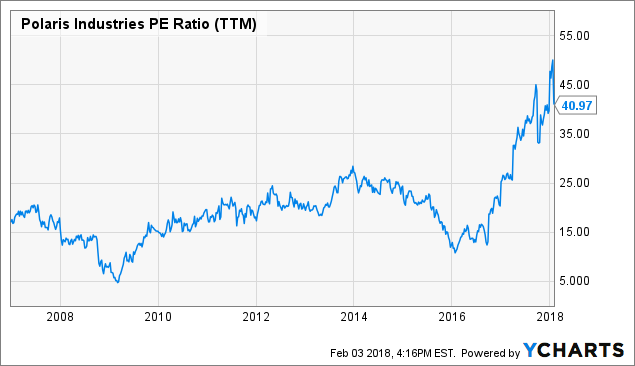 On a discounted cash flow basis, assuming an 8.7% discount rate, the company would need to grow cash flow by 5.6% to come in under today's price. In my view, this growth rate is not untenable given its market position and its stated goal of cost cutting and margin improvement.
Risks
There are three main risks to the thesis that I've presented here. Unfortunately, only one is something the company can actually control.
The first is that Harry Dent and others are right in that the economy is essentially a house of cards, that things aren't as well as they appear, and so on and so forth. If this is indeed true, then Polaris is nowhere close to being defensive enough to become desirable in an economic slowdown - both in terms of product sales and stock ownership.
Second, Friday taught us the side effects of inflation and rising bonds. In the eyes of many income investors, buying a company with a dividend yield of ~2.2% - even though the payout has now been raised for 23 consecutive years - in an equity that is more volatile than the stock market (beta 1.4) makes no sense when even a 5-year treasury yields more.
Third, the company has built a good name. Warranty recalls and delayed shipments cannot become the norm. Polaris is retooling its facilities and estimates bumping capital expenditures to around 5% of sales in 2018. While the desire to cut $300-500 million in annual costs is certainly desirable, zero-tolerance product quality needs to become and/or remain the top company priority, because switching costs in this industry are nonexistent and competition is fierce. Even the perception of inferior product quality means immediate loss of pricing power.
Summary
For the long-term owner of Polaris, this recent price decline is just a bump in the path for arguably the best-of-breed in the space. For the long-term investor who happens to be on the sidelines, this presents a pretty good opportunity to get in. Given the recent bloodbath, however, it would be prudent to be patient and determine if even a better price can be had.
Disclosure: I/we have no positions in any stocks mentioned, but may initiate a long position in PII over the next 72 hours. I wrote this article myself, and it expresses my own opinions. I am not receiving compensation for it (other than from Seeking Alpha). I have no business relationship with any company whose stock is mentioned in this article.
Additional disclosure: Additional disclosure: I am long LB.