Welcome to another edition of "Elroy's Elliott Wave Weekly." The aim of this series of articles is to review possible scenarios in various markets using Elliott Wave, fractals and other technical analysis.
It's been a month since my last update as I'm still struggling to balance how can I write a useful article while not giving too much away from our paid site over at Matrixtrade.
For now I'll write a quick update detailing the markets Matrixtrade does not cover, and make some general observations.
Equities
We finally got some sort of crash. I won't pretend I nailed the top, but I did point out the 2870 S&P500 (SPY) level in a comment section as it is where the 2011-2015 rally (wave 3) and the 2016-2018 rallies (wave 5) are exactly equal in size.
Quite a reaction! Anyway, the pertinent question now is "what next?"
Well, the overnight low of 2530 on the 5th-6th February came at an important confluence of the 200dma and a 38.2% retrace from the Brexit lows.
It's certainly enough for a bounce (and futures are 80 off the lows already), but the impulsive structure of the decline makes it likely the cash lows (2593) are re-tested at some point in a second leg lower. What happens during this second leg will guide the view going forward.
Some markets look more "toppy" than others. It's unusual for a market to turn straight down without making a few speed bumps first. This unwinds the prevailing trend, creates divergence on indicators such as momentum oscillators and the AD line. Even the 2000 top had some sort of slowdown near the peak. Yet in 2018 the Nasdaq (QQQ), the S&P500 and the Dow Jones (DIA) all turned sharply lower directly from a strong uptrend. It's therefore reasonable to expect more highs. Only the Russell 2000 (IWM) made a pattern associated with the trend completing. As I said in my last article,
IWM is approaching the equality target near $160, and from there should roll over for a very significant decline.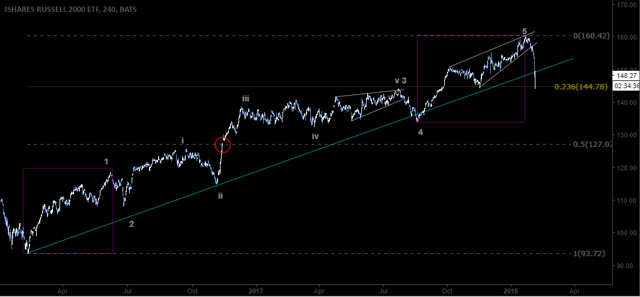 source: all charts from Tradingview
144 is the 23.6% retrace of the entire 2016-2018 rally and should support. However, if the 2009 rally is indeed complete, prices should not make a new high like the other indices.
Alphabet (GOOGL) is a stock I have covered in a few articles, and has a reasonably clear count. I closed longs near $1190 based on the below chart. Unfortunately, I didn't get the chance to short due to earnings.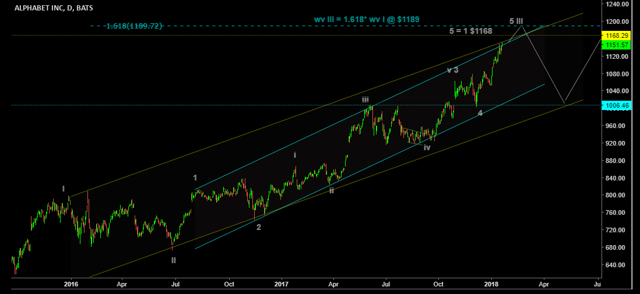 $1000 is a place to consider longs again for new highs over $1200.
Apple (AAPL) has an interesting repeated pattern targeting $145.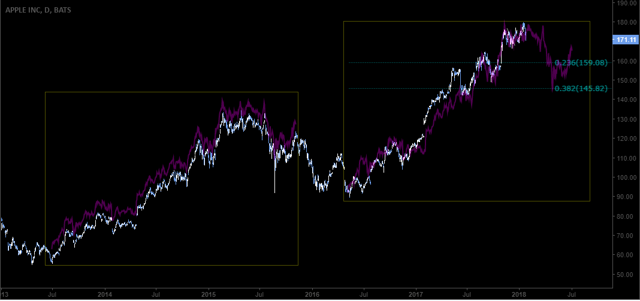 Before buying any dip, I suggest to let the downtrend weaken first. Look for failed new lows and somewhere to put a hard stop. I've seen perma-bears finally getting a big correction and they buy in the middle of a crash!
Precious Metals
Last time I proposed this path for silver (SLV).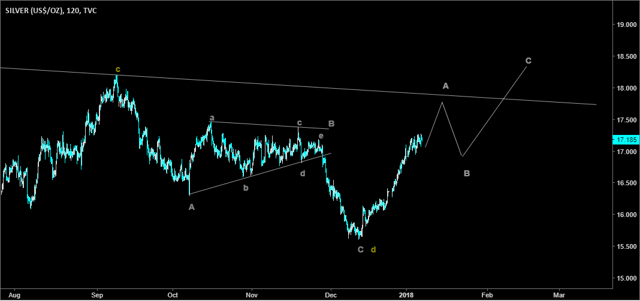 So far so good.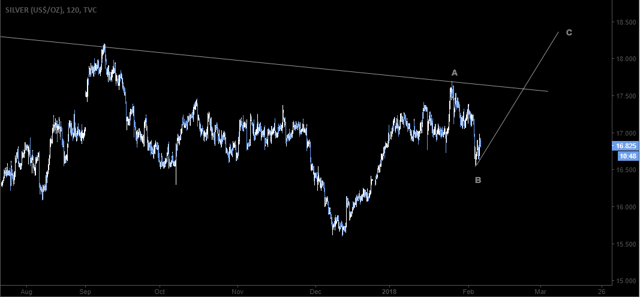 Silver has a chance to rally again to the $18.5 area, but it's safer to wait for a move above $17.1 first to invalidate some of the near term bearish patterns. To be honest, a rally in precious metals doesn't seem likely if yields keep spiking and the dollar (UUP) recovers, but stranger things have happened and one final dollar capitulation could inspire an out-sized rally in silver.
There's nothing to suggest oil is due a reversal, yet. The trend higher is firmly in place and a measured move with the 2016 rally targets $67.5.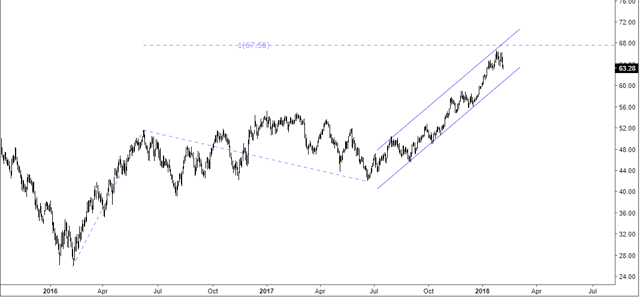 Oil should manage at least one more high and as long as the channel is intact we should stick with the trend.
Natural Gas (UNG)
I don't follow natural gas every day and I was surprised to see it had traded all the way to $3.6 before collapsing to $2.7. It turns out this is a data issue on my charts (I checked three different sources) and as such I will focus on the short term and the April contract.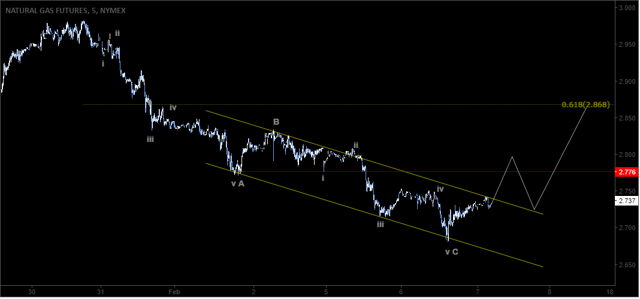 Even this chart isn't as clean and clear as we may hope for in terms of price action. Nevertheless, if it manages to break the channel and trade above 2.776, the downswing can be considered complete and we can look for a long entry. This could target the 61.8% retrace at 2.86, but without a clear picture on the higher time-frames to set context, the moves are hard to map beyond this.
Bonds (US10Y)
The rally in yields has been getting a lot of attention so I'll include the count we are using at Matrixtrade for the 10 year yield.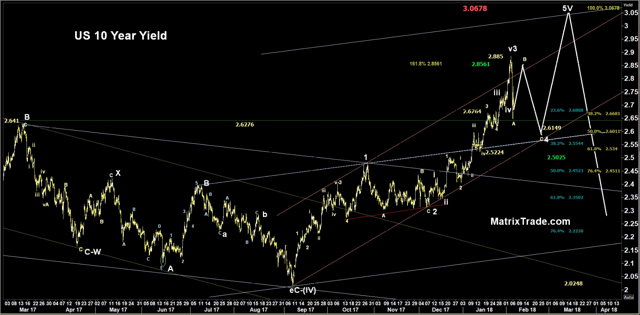 A pullback to 2.6% will set up a final rally to 3% where I guess equities will come crashing down again.
The Dollar (UUP)
The dollar has met the 88 target and the decline from the 2017 high should soon be coming to an end. Ideally we get one more low, but when dealing with higher time-frame reversals, anything can happen.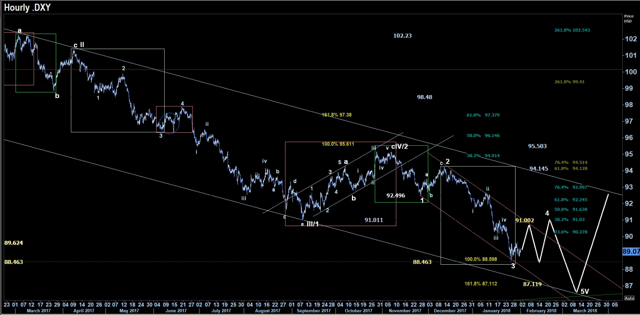 The completion of this large downtrend should lead to a proportional recovery, and based on the patterns made on a higher time-frame chart in the 2000s, it could well look like this: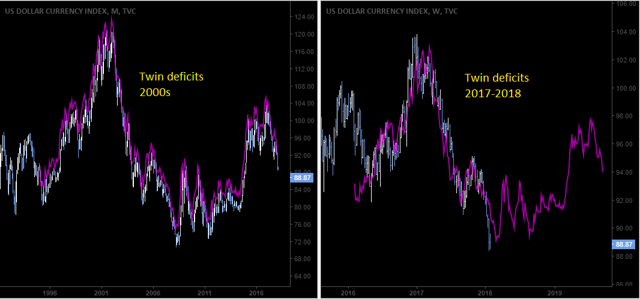 Conclusions
This article maps the most likely scenarios in various markets based on my interpretation of probabilities. It is rare for every scenario to play out exactly as expected, but combined with other analysis and good money management, they can help frame profitable trades. Good luck!
Disclosure: I/we have no positions in any stocks mentioned, and no plans to initiate any positions within the next 72 hours. I wrote this article myself, and it expresses my own opinions. I am not receiving compensation for it (other than from Seeking Alpha). I have no business relationship with any company whose stock is mentioned in this article.