For a currency that strengthens when global growth accelerates, recent moves in the Australian dollar have been fairly disappointing. While the currency rocketed higher between mid-December and late January, the Australian dollar has sold off sharply in recent weeks. The currency first began weakening against the Japanese yen, which led us to downgrade our short-term AUD/JPY outlook to neutral on January 29. While the pair traded above 88.0 at the time, AUD/JPY is trading below 86 today. Turning to the US dollar, we downgraded our short-term outlook on AUD/USD to neutral earlier today, and expect to downgrade the currency itself later this week. The Australian dollar rally is rapidly running out of momentum. Looking at recent developments, we believe the currency is set to underperform thanks to weak economic growth and neutral monetary policy expectations.
Australia not keeping up with developed market peers
Looking at Australian economic data, the current upturn has been decidedly weaker than previous booms. Historically, Australia has comfortably outperformed other developed markets with year-over-year GDP growth rates in excess of 3%. For the first three quarters of 2017 (Q4 2017 data has yet to be announced), Australian GDP growth has averaged just 2.1%. This figure is right in line with traditional slow-growth regions including the Eurozone (2.4%) and Japan (2%). Despite a strong turnaround in industrial commodity prices and the fortunes of the Chinese economy (the country's largest trading partner), Australia has been underperforming. An overview of year-over-year GDP growth rates are shown below:
Recent "boom" looks weak at best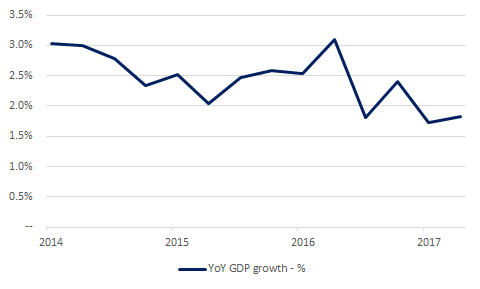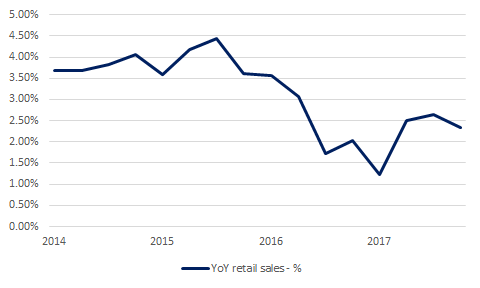 Disclosure: I/we have no positions in any stocks mentioned, and no plans to initiate any positions within the next 72 hours. I wrote this article myself, and it expresses my own opinions. I am not receiving compensation for it. I have no business relationship with any company whose stock is mentioned in this article.