General Motors Co. (NYSE:GM) is out with a much-anticipated earnings report. In this column, we will highlight a few issues which give us high hopes for 2018, including strong market share despite a transformational year, as well as the company's plans to focus on its more profitable business lines. Further, we will discuss trends in some of the critical metrics of the name that you should be aware of. We believe that despite the recent sell-off, you should remain long the stock. Let us discuss.
Revenue declines were expected
Let us turn to the results. Sales were down in Q4 versus last year, thanks to planned production declines and divestitures: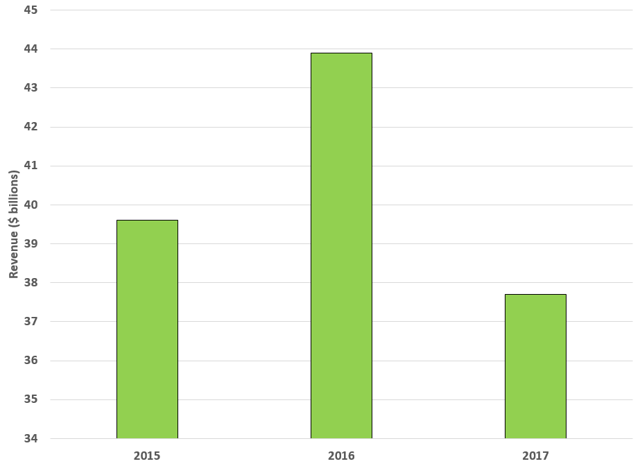 Source: SEC filings
As you can see, revenues are volatile and reflect the changing business and adaptations GM has made over the last year. That said, the top line actually surpassed our expectations. GM trounced our revenue estimates by a solid $750 million. That is astounding, despite being down 5.5% year-over-year. What is more, our estimates were more bullish than the Street consensus, which was looking for sales of $35.85 billion. In addition, the annual 2017 sales were a touch lower versus 2016: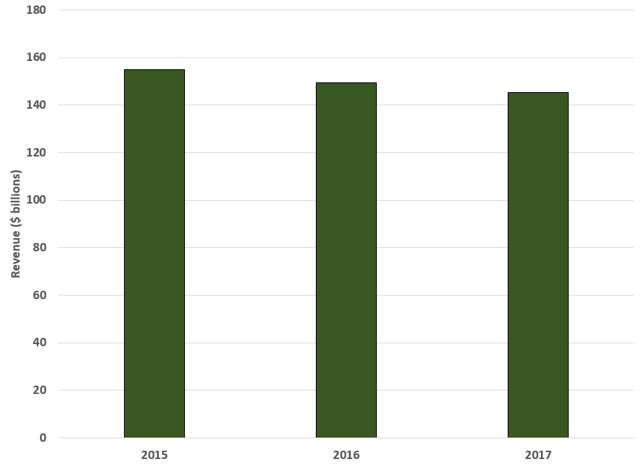 Source: SEC filings
Total sales were down 2.4% to $145.6 billion for the year. Keep in mind that this decline was primarily driven by the divestiture of Opel/Vauxhall and GM Financial operations in Europe. In addition, GM left much of Africa and India. The new GM is leaner, and more efficient, but the declining sales led to declining earnings.
Reduced sales weigh on earnings, but they still impress
We often hear the argument that declining earnings is a reason to avoid the name. While this argument often has many merits when considering an investment in any company's stock, it is tough to use this reason this year when the company was busy offloading underperforming business lines to strengthen its future. As we saw, this weighed on revenues. When we factor in expenses and the outstanding share count, we can see fourth quarter earnings still rose tremendously: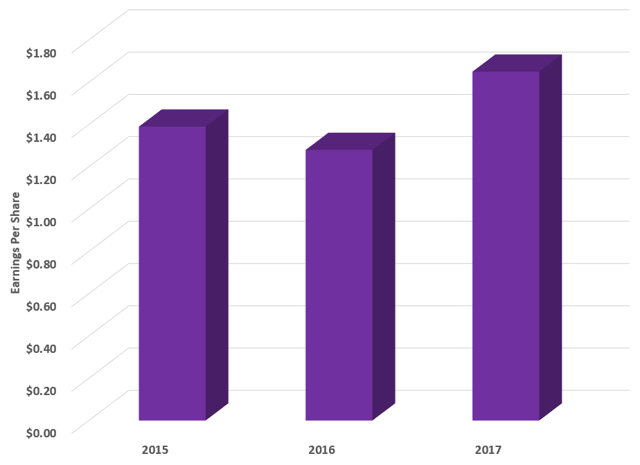 Source: SEC filings
Earnings rose despite the decline in revenues thanks to incredible expense management and a reduced share count. What is more, the earnings of $1.65 per share actually crushed our expectations for $1.40 per share by $0.25. Further, we were more bullish than the Street consensus thanks to our outlook for sales, and so GM also surpassed consensus by an even wider margin, $0.27.
As the top line came down, we anticipated earnings would feel some pressure but still rise thanks to a reduced share count. But the expense management really surprised us here and led to profit coming in way ahead of expectations. Expenses in Q4 declined 11% year-over-year. What is more, the total year 2017 expenses were lower versus 2016: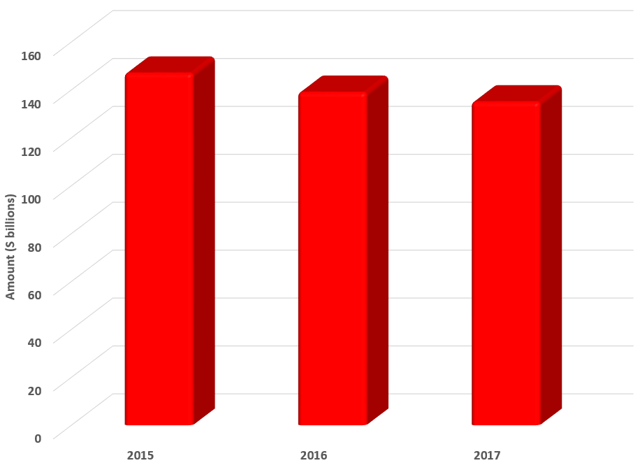 Source: SEC filings
As you can see this is a welcomed trend. Total expenses were down 2.9% to $135.5 billion. We anticipate moving forward that expenses will decline more in 2018 with the offloading of underperforming business lines. In addition, we expect earnings per share to also get a bump from increased repurchase activities.
Share repurchase activity
Share repurchases boost earnings per share by reducing share count. GM bought back $4.5 billion worth of shares in 2017, continuing its strong buyback history: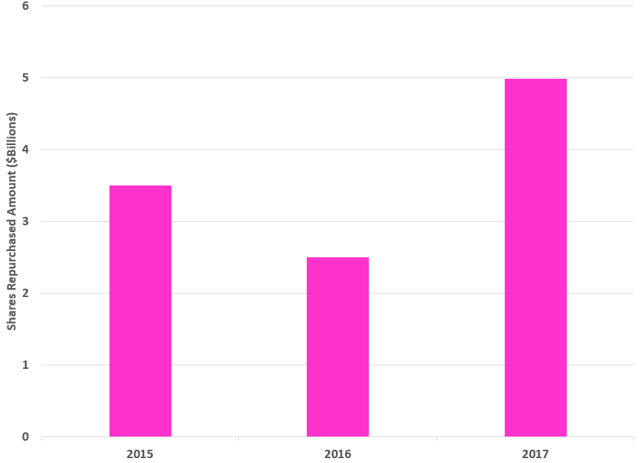 Source: SEC filings
As you can see the company has been buying back shares consistently. What we find to be quite impressive is that since rebounding from the financial crisis, GM has authorized more and more cash toward repurchases, while continuing to pay its bountiful dividend. But this is not just an income name, it has growth.
Shifting global presence
Despite planned reductions, retail sales remained strong globally for both the quarter and the year, particularly in Asia Pacific, but also in North America: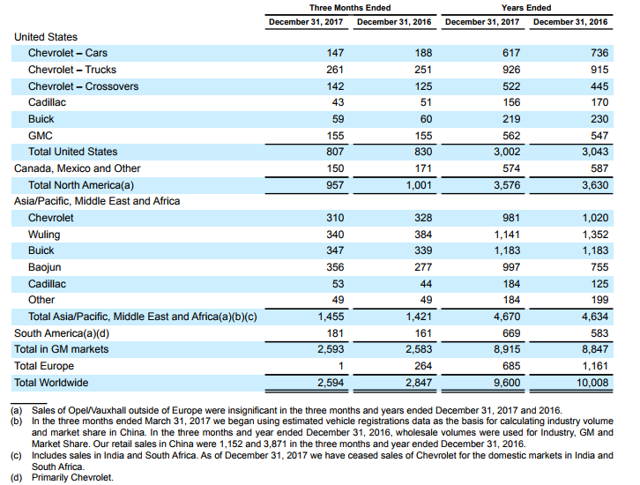 Source: GM Q4 2017 release
As you can see, North American sales volumes were down slightly in the quarter and for the year. While overall North American sales were down slightly, there was growth in trucks, GMC, and crossovers. Further, South American volume was up noticeably. Worldwide total vehicle sales were 6.6 million, down from 10.0 million last year. That said global market share fell: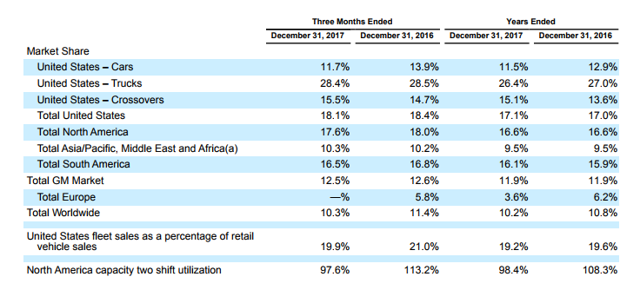 Source: GM Q4 2017 release
Despite falling total vehicle sales, North American market share remained constant. In addition, Asia/Pacific sales remained stable, while there was growth in South American market share. The global decline versus last year is driven by the exit from Europe, India and parts of Africa. Looking ahead, we are projecting growth in North America in 2018
2018 projections
2017 was a year of transformations across the company which has led GM to now be focused on its most profitable lines. In 2018 GM is launching all new full-size trucks, the Chevrolet Silverado and GMC Sierra. These high margin products are also selling with strength and we anticipate that these will help bolster revenues.
We are targeting revenues of $144 to $148 billion. In other words, we are targeting just under flat to low single digit sales increases. This is a strength considering the lack of business lines after the major exits made. As for earnings, factoring in the pace of repurchases, expense management and tax reform, we are currently looking for $6.70 to $7.00 in earnings.
Take home
Top and bottom line beats versus our estimates, continued buybacks, and a strong dividend are all reasons to remain long the name. 2017 was a transformational year, and 2018 looks set to reflect the changes made as the company focuses on profit and boosting shareholder value.
Quad 7 Capital has been a leading contributor with Seeking Alpha since early 2012. If you like the material and want to see more, scroll to the top of the article and hit "follow." Quad 7 Capital also writes a lot of "breaking" articles that are time sensitive. If you would like to be among the first to be updated, be sure to check the box "Real-time alerts on this author" under "Follow."
Disclosure: I am/we are long GM. I wrote this article myself, and it expresses my own opinions. I am not receiving compensation for it (other than from Seeking Alpha). I have no business relationship with any company whose stock is mentioned in this article.