Green bond issuance in 2017 shattered the record from 2016, with both new and repeat issuers helping to satisfy the increasing demand for sustainable bond investments. Approximately $155 billion was issued by 242 issuers, including 156 first time green bond issuers. Total issuance was 84% higher than in 2016, an illustration of the spectacular growth that the market continues to experience.1
New issuers bring diversity
As the market's size continues to increase, so does its diversity. The top three issuers were not only first time issuers, but also allowed investors to gain new types of exposure. Fannie Mae rocketed to the top of the issuance league tables with $24.9 billion of green asset-backed securities (NYSE:ABS), backed by loans that finance either green multi-family housing, or energy, or water efficiency improvements. Although not new to the green bond market, Fannie Mae's enhanced reporting and transparency allowed it to obtain the green designation from the Climate Bond Initiative2 in 2017. It should be noted, however, that although this designation makes the bonds eligible for inclusion in the S&P Green Bond Select Index, issuance was spread over more than 1,000 individual issues, none of which met the Index's rigorous criteria on tradability and liquidity due to their issue size. Nevertheless, the growth of recognized green ABS issuance represents an important development and is an example of the opportunities that the securitization market can provide in addressing climate goals.
France was the second largest issuer in 2017 with its benchmark sovereign green bond issuance. Although not the first ever sovereign green bond, it was by far the largest with over $10 billion issued in total, and helped pave the way for Fiji and Nigeria to come to market with sovereign green bonds later in the year. China Development Bank rounded out the top three issuers, with over $4.6 billion issued, including approximately $1.7 billion in EUR- and USD-denominated global issues. These bonds were "Certified Climate Bonds" and, therefore, satisfy rigorous pre- and post-issuance standards, and allow global investors to finance environmentally friendly "Belt and Road"3 projects related to energy, transportation, and water management.
Despite the massive ABS issuance from Fannie Mae and a growing sovereign presence, non-financial corporates were the largest category of issuance in 2017. The largest corporate issue came from Mexico City Airport Trust, which issued $4 billion of secured green bonds to finance the city's new international airport. The majority of corporate green bonds came from European issuers, with Apple rounding out the top 10 with a second green bond issuance that followed its landmark 2016 bond.
The U.S. was the top country with $43 billion of green bond issuance, driven by Fannie Mae and municipal issuance. Corporate issuance in the U.S., however, continues to lag non-U.S. corporates. China and France were second and third highest in terms of issuer country, each with approximately $22 billion. Overall, Europe continues to dominate issuance, but the presence of an increasing number of emerging markets issuers may be a positive sign, given their need for green infrastructure.
Bonds that finance projects focused on improving efficiency grew from 21% of the overall market in 2016 to 29% in 2017. However, energy-related projects (e.g., solar and wind projects) remained the most common from a use of proceeds perspective, with a 33% share of total issuance. Waste management and projects related to climate change adaptation accounted for 15% and 13% of total issuance, respectively.
Once again, the amount of issuance carrying some type of independent verification increased, demonstrating the increasing importance that investors place on receiving some type of third-party review. 75% of total issuance in 2017 carried an independent review, versus an average of about 56% over the prior five years.
Green Bond Issuance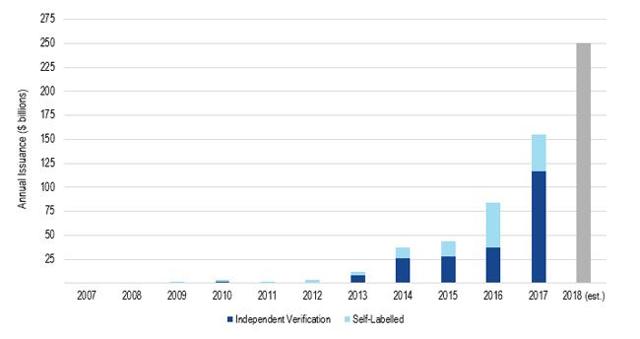 Source: Climate Bonds Initiative. Not intended to be a forecast of future events, a guarantee of future results, or investment advice.
2018 Outlook
Issuance estimates for 2018 point to further growth. The Climate Bonds Initiative's official estimate is for $250-300 billion of new green bonds. We expect the market to continue to diversify, and for a few key themes to emerge this year:
Progress towards harmonized standards: Although it is unclear whether there will ever be, or needs to be, a single global standard for green bonds, progress is already being made to harmonize some of the local green bond standards and frameworks that exist. We believe that getting closer to a common standard could serve as a catalyst for further market growth.
Better reporting: With the use of proceeds concept firmly established and generally accepted taxonomies in place, such as the one developed by the Climate Bonds Initiative, we believe investors will increasingly focus on the ongoing reporting by green bond issuers. Although the majority of issuers already provide some type of reporting, focus will likely shift to enhancing the level of information and providing standardized metrics. The 2017 updates to the Green Bond Principles

4

(which were instrumental in catalyzing growth in the market when first created in 2014), puts increased emphasis on reporting metrics. We believe that better reporting will become commonplace, and perhaps even required, in the not too distant future.
Using green bonds within SDG portfolios: The Sustainable Development Goals ((SDGs)) are 17 internationally agreed upon goals that seek, among other things, to protect the planet in an equitable way while maintaining and increasing prosperity. Institutional investors are increasingly constructing and evaluating portfolios through the lens of the SDGs by allocating capital towards investments which help to achieve these outcomes. Because of their positive impact, and the transparency provided through extensive disclosure, green bonds can be well suited for integration within SDG portfolios. We expect greater recognition and utilization of the SDGs by investors to promote growth of the green bond market.
Billions to trillions
Green bond market growth shows no signs of slowing following last year's record issuance. In fact, out of all possible bond types, heads of debt capital markets at 20 of the top investment banks are most optimistic about green bond volume.5 However, at just ten years old, the market is still in its infancy and must grow dramatically in order to go from billions to trillions of U.S. dollars outstanding. Greater education is needed to bring into the fold fixed income investors who are not explicitly integrating ESG factors into their mandates. Increased demand will in turn encourage issuers who have so far stayed on the sidelines (with U.S. corporates the most glaring example) to jump in. With the ambitious goals of the Paris Agreement6 and the increasing awareness of the risks that climate change generally pose to sustainable development and within investor portfolios, we believe that issuers, investors, and policymakers all have a vested interest in growing the green bond market.
IMPORTANT DISCLOSURE
1 Source: Climate Bonds Initiative.
2 Climate Bond Initiative is an international, investor-focused not-for-profit focused on mobilizing the bond market for climate change solutions.
3China's Belt and Road Initiative aims to promote orderly and free flow of economic factors, efficient allocation of resources and integration of markets by enhancing connectivity of Asian, European and African continents and their adjacent seas.
4 The GlobalCapital debt capital markets survey
5 Green Bond Principles are voluntary process guidelines that recommend transparency and disclosure, and promote integrity in the development of the green bond market.
6 Paris Agreement is an agreement within the United Nations Framework Convention on Climate Change that entered into force in November 2016, and aims to strengthen the global response to the threat of climate change by keeping a global temperature rise this century well below 2 degrees Celsius above pre-industrial levels and to pursue efforts to limit the temperature increase even further to 1.5 degrees Celsius.
This content is published in the United States for residents of specified countries. Investors are subject to securities and tax regulations within their applicable jurisdictions that are not addressed on this content. Nothing in this content should be considered a solicitation to buy or an offer to sell shares of any investment in any jurisdiction where the offer or solicitation would be unlawful under the securities laws of such jurisdiction, nor is it intended as investment, tax, financial, or legal advice. Investors should seek such professional advice for their particular situation and jurisdiction.
The information herein represents the opinion of the author(s), but not necessarily those of VanEck, and these opinions may change at any time and from time to time. Non-VanEck proprietary information contained herein has been obtained from sources believed to be reliable, but not guaranteed. Not intended to be a forecast of future events, a guarantee of future results or investment advice. Historical performance is not indicative of future results. Current data may differ from data quoted. Any graphs shown herein are for illustrative purposes only. No part of this material may be reproduced in any form, or referred to in any other publication, without express written permission of VanEck.
An investment in green bonds may be subject to risks which include, among others, credit, high yield securities, call, and interest rate. International investing involves additional risks which include greater market volatility, the availability of less reliable financial information, higher transactional and custody costs, taxation by foreign governments, decreased market liquidity and political instability. Indices are not securities in which investments can be made.
The S&P Green Bond Select Index (SPGRNSLT) is comprised of labeled green bonds that are issued to finance environmentally friendly projects, and includes bonds issued by supranational, government, and corporate issuers globally in multiple currencies.
The S&P Green Bond Select Index (the "Index") is a product of S&P Dow Jones Indices LLC or its affiliates ("SPDJI"). Standard & Poor's® and S&P® are registered trademarks of Standard & Poor's Financial Services LLC ("S&P") and Dow Jones® is a registered trademark of Dow Jones Trademark Holdings LLC ("Dow Jones"). VanEck Vectors Green Bond ETF (the "Fund") is not sponsored, endorsed, sold or promoted by SPDJI, Dow Jones, S&P, any of their respective affiliates (collectively, "S&P Dow Jones Indices"). Neither S&P Dow Jones Indices make any representation or warranty, express or implied, to the owners of the Fund or any member of the public regarding the advisability of investing in securities generally or in the Fund particularly or the ability of the Index to track general market performance. S&P Dow Jones Indices only relationship to Van Eck Associates Corporation ("VanEck") with respect to the Index is the licensing of the Index and certain trademarks, service marks and/or trade names of S&P Dow Jones Indices and/or its licensors. The Index is determined, composed and calculated by S&P Dow Jones Indices without regard to VanEck or the Fund. S&P Dow Jones Indices has no obligation to take the needs of VanEck or the owners of the Fund into consideration in determining, composing or calculating the Index. S&P Dow Jones Indices is not responsible for and has not participated in the determination of the prices, and amount of the Fund or the timing of the issuance or sale of the Fund or in the determination or calculation of the equation by which the Fund is to be converted into cash, surrendered or redeemed, as the case may be. S&P Dow Jones Indices have no obligation or liability in connection with the administration, marketing or trading of the Fund. There is no assurance that investment products based on the Index will accurately track index performance or provide positive investment returns. S&P Dow Jones Indices LLC is not an investment advisor. Inclusion of a security within an index is not a recommendation by S&P Dow Jones Indices to buy, sell, or hold such security, nor is it considered to be investment advice.
S&P DOW JONES INDICES DOES NOT GUARANTEE THE ADEQUACY, ACCURACY, TIMELINESS AND/OR THE COMPLETENESS OF THE INDEX OR ANY DATA RELATED THERETO OR ANY COMMUNICATION, INCLUDING BUT NOT LIMITED TO, ORAL OR WRITTEN COMMUNICATION (INCLUDING ELECTRONIC COMMUNICATIONS) WITH RESPECT THERETO. S&P DOW JONES INDICES SHALL NOT BE SUBJECT TO ANY DAMAGES OR LIABILITY FOR ANY ERRORS, OMISSIONS, OR DELAYS THEREIN. S&P DOW JONES INDICES MAKES NO EXPRESS OR IMPLIED WARRANTIES, AND EXPRESSLY DISCLAIMS ALL WARRANTIES, OF MERCHANTABILITY OR FITNESS FOR A PARTICULAR PURPOSE OR USE OR AS TO RESULTS TO BE OBTAINED BY VANECK, OWNERS OF THE FUND, OR ANY OTHER PERSON OR ENTITY FROM THE USE OF THE INDEX OR WITH RESPECT TO ANY DATA RELATED THERETO. WITHOUT LIMITING ANY OF THE FOREGOING, IN NO EVENT WHATSOEVER SHALL S&P DOW JONES INDICES BE LIABLE FOR ANY INDIRECT, SPECIAL, INCIDENTAL, PUNITIVE, OR CONSEQUENTIAL DAMAGES INCLUDING BUT NOT LIMITED TO, LOSS OF PROFITS, TRADING LOSSES, LOST TIME OR GOODWILL, EVEN IF THEY HAVE BEEN ADVISED OF THE POSSIBILITY OF SUCH DAMAGES, WHETHER IN CONTRACT, TORT, STRICT LIABILITY, OR OTHERWISE. THERE ARE NO THIRD PARTY BENEFICIARIES OF ANY AGREEMENTS OR ARRANGEMENTS BETWEEN S&P DOW JONES INDICES AND VANECK, OTHER THAN THE LICENSORS OF S&P DOW JONES INDICES.
Please note that Van Eck Associates Corporation serves as investment advisor to investment products that invest in the asset class(es) included in this commentary.
Investing involves risk, including possible loss of principal. Bonds and bond funds will decrease in value as interest rates rise. An investor should consider investment objectives, risks, charges and expenses of any investment strategy carefully before investing. No part of this material may be reproduced in any form, or referred to in any other publication, without express written permission of Van Eck Securities Corporation.