The EIA released its February Short-Term Energy Outlook today. It is now estimating that U.S. crude production will average 10.26 million barrels per day (mmbd) in February, 350,000 b/d higher than its latest estimate for the week ending January 26th of 9.919 mmbd, and a new record.
According to the EIA data, a new monthly production record was set in December at 10.060 mmbd. It shatters the November 1970 record of 10.044 mmbd.
The higher crude production figure is likely to be reported in the weekly statistics on February 7th, for the week ending February 2nd. The upward revision will likely be somewhat less than the full 350,000 b/d, its model allowing for the weekly figures to rise over the month.
EIA is also predicting U.S. crude oil stock gains of 16.0 million barrels in February, 15.5 million in March and 4.4 million in April. The agency does not predict crude exports explicitly, rather it reports net crude imports. Its estimate of net imports averages 550,000 b/d lower from February through April v. the same period in 2016. If exports drop because of the WTI spread (see Why Oil Prices 'May Go to Hell in a Handbasket'), net imports probably will not fall as indicated.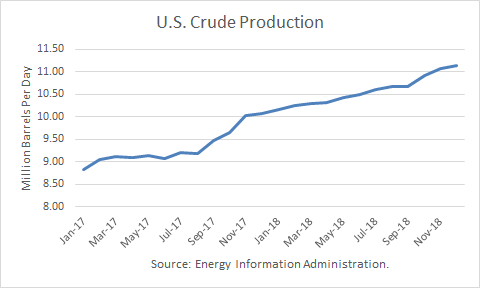 The EIA predicts that U.S. crude production will exit 2018 at 11.13 mmbd, averaging 10.59 mmbd for the year. The production gain would be 1.26 mmbd over 2017, if realized. Globally, EIA is projecting crude production to rise in 2018 by 2.44 mmbd against an increase in global consumption of 1.7 mmbd. As a result, it predicts global OECD stocks will rise by 45 million barrels this year.
This is not how OPEC and friends would like the year to end to exit the deals. Ed Morse of Citicorp recently remarked, "2018 could turn out to look a lot like 2014 — a year that started with very high prices and ended at very low prices." Alternatively, Goldman Sachs predicts that Brent crude will reach $82.5 within six months.
Conclusions
The supply elasticity of production is proving to be too high for OPEC to artificially solve the problem by restraining production. The gains in prices just incentivizes more production, ultimately serving to replace the barrels that have been withheld.
Previously, Saudi Energy Minister Khalid al-Falih seemed to understand this. He remarked in a speech in March 2017: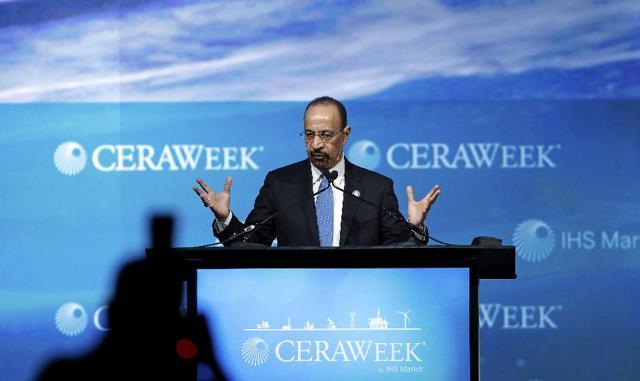 Khalid Al-Falih, Saudi Arabia's energy minister. (Photo: Aaron M. Sprecher/Bloomberg)
…History has also demonstrated that intervention in response to structural shifts is largely ineffective, and I believe we've learned that lesson. That's why Saudi Arabia does not support OPEC intervening to alleviate the impacts of long-term structural imbalances, as opposed to addressing short-term aberrations such as financial crises, economic recessions, unforeseen supply disruptions, or the like."
But OPEC and friends' market intervention being extended over a two-year period appears to be to alleviate the impact of a long-term structural imbalance. And it will, in the end, be largely ineffective, as producers not in the club pick up the slack. Saudi Arabia may have to revert to the market share war once again. The United Arab Emirates imported oil from the U.S. for the first time in December!
For holders of the The United States Oil ETF (NYSEARCA:USO), now is a good time to reconsider a "long-only" stance in the oil market, which has been a financial disaster since 2014.
To guide investors who are interested in profiting from outstanding opportunities in the energy sector, I provide a service on Seeking Alpha's Marketplace oriented toward individual investors, Boslego Risk Services. A long/short Model portfolio is continuously updated, along with on-going analysis of the oil market.
I am now accepting new members to Boslego Risk Services and invite you to sign-up. There are monthly and annual pricing options as described here. You may also read reviews posted by members here.
Disclosure: I/we have no positions in any stocks mentioned, and no plans to initiate any positions within the next 72 hours.
I wrote this article myself, and it expresses my own opinions. I am not receiving compensation for it (other than from Seeking Alpha). I have no business relationship with any company whose stock is mentioned in this article.