We have been known on Seeking Alpha to be very bullish, both on many stocks and on the market in general. So when the market decided to pull back recently, we put out a piece saying near-term turbulence was exaggerated (but necessary), and that any dips in this market should be bought for long term investors — see ProShares UltraPro S&P 500 (UPRO). Our argument was simple: Traditional valuation metrics still aren't overstretched when put in context of economic strength, robust earnings growth, and still relatively low rates.
With the S&P 500 now nearing correction territory, we reiterate our bullishness with even more conviction. We also believe the markets have stabilized and the worst is over. We feel now is an excellent time to buy the dip in equities. We see another 15% upside into the end of 2018.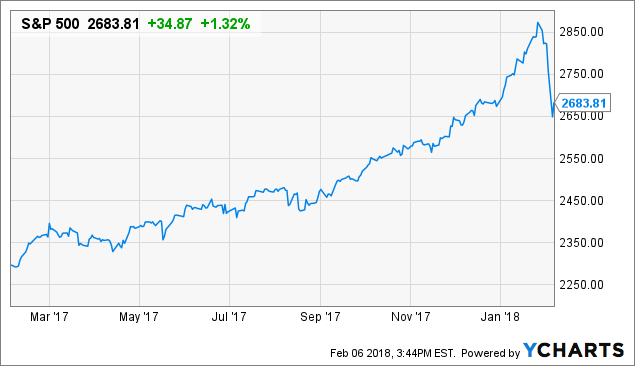 We recommend investors read our prior article on why stocks will head higher in the medium to long term, which discusses multiple reasons the market will trend higher, including strong earnings and robust economic growth. In this article, we will focus on valuation, particularly valuation relative to bonds.
Our thinking is quite simple when it comes to equity valuations. Although stocks may be near all-time-high valuations, fixed-income yields are near all-time lows. While those all-time-low fixed income yields are rising thanks to forthcoming inflation, S&P 500 earnings are also rising, thanks to robust economic strength and tax reform. That means valuations no longer need to be sky-high to support higher stock prices.
The logic makes sense. But the numbers are what make us bullish on the S&P 500 from these levels into the end of 2018.
Using data from multpl.com, we looked at the relationship between stock prices and bond prices. Specifically, we looked at the spread between the S&P 500's trailing earnings yield (1 divided by the trailing earnings multiple) and the 10-Year Treasury yield. In the rest of this piece, we will refer to this spread as the equity risk premium, or ERP. (Again, ERP equals the S&P 500 trailing earnings yield minus 10-Year Treasury yield).
We found what we largely expected, which was that stocks don't usually suffer major, longstanding corrections or head into bear market territory unless that equity risk premium is well below 1% or in negative territory. At the peak of the stock market in 2008, the ERP was around 0.3%. For the most part of 2007-2009, the ERP was well below 1% or in negative territory. At the peak of the dot-com bubble in the period leading up to the bubble popping, the ERP was negative. At the peak of the market in 1987, the ERP was below -4%. Time and time again, we see that the stock market normally doesn't suffer in a big way unless the ERP is well below 1%. See the chart below: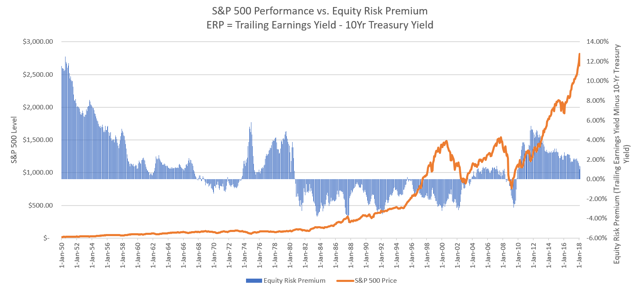 With the 10-Year Treasury yield rising to 2.8% and stocks at all time highs, the ERP collapsed to 1% at the beginning of February. Considering that's as low as it's been since the recession, there was naturally an investor freak-out. Stocks sold off.
But let's take a step back. The trailing earnings yield doesn't take into consideration the fact that earnings are expected to explode higher over the next several years due to synchronized global economic strength and tax reform. Long-term market earnings growth estimates currently stand at 15%, as high as they've been in nearly 20 years. If you consider that, things start to look a lot different.
If you start to look at the numbers going forward, it's easy to see why this market is far from overvalued. Let's say the Philly Fed Survey is right, and the 10-Year Treasury Yield does hit roughly 3% by the end of 2018. The average equity risk premium since 2000 is 1%. The average since 2009 when rates collapsed and stayed low is 2.4%. The average since Trump got elected, and tax reform euphoria took over, is 1.8%.
The average of those 3 is roughly 1.7%. We believe the ERP will trend toward 2% by the end of 2018. We will still have tax reform euphoria in the air, and earnings growth should remain robust. Rates will also remain low, but not as low they have been since 2009. So there's a lot of that 2.4% era in there, and some of the 1.8% era, as well. All in all, 2% feels like the right number going forward.
A 2% ERP on a 10-Year Treasury Yield of 3% implies a trailing earnings yield of 5%, or a trailing earnings multiple of 20 by the end of 2018. S&P 500 earnings are forecast to be $155.26 in 2018. A 20x multiple on $155.26 implies a year-end price target of 3,105, more than 15% higher than current prices.
Overall, we feel this is a good time to buy into the stock market. Trade will likely remain choppy, but Tuesday turned out to be exactly what the bulls wanted, which was a massive turnaround that included a hugely negative open and a hugely positive close. Momentum is clearly swinging back toward the upside, and we feel that, although trade will be choppy in the near term, a relative bottom is in for the stock market. Longer-term, we see 15% upside into the end of the year.
Disclosure: I am/we are long UPRO. I wrote this article myself, and it expresses my own opinions. I am not receiving compensation for it (other than from Seeking Alpha). I have no business relationship with any company whose stock is mentioned in this article.