I bought some Sanchez (SN) stock last year, which was not the typical investment move for me. The intention was always to only hold for a few months, then sell, which I have not done in over a decade. The logic behind the move had to do with the fact that I believed we were on the verge of an oil price rally, while Sanchez in particular was set to produce some better operating results as it was in the process of completing already drilled wells that it acquired from Anadarko (APC) through the Comanche deal. I did sell, technically at a loss given that I took a $20 hit. It is the first official trading loss I suffered in over a decade, which was more of a sting to my pride, rather than to my portfolio, given the small amount involved. Looking at the stock's evolution since then I think I was right to sell, because even though I did get the higher oil prices and the improved operating results right, this stock has simply become unresponsive to the recent oil price stimulus, heading mostly in the opposite direction instead. I think that in the absence of a sudden and sizable increase in oil prices, this will continue to be the case this year.
Acreage Sanchez is sitting on is simply not profitable.
Sanchez Energy does have some things to boast about. It is good at keeping drilling costs down.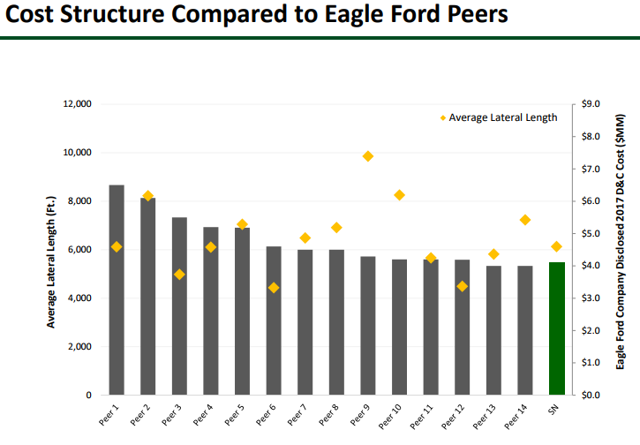 Source: Sanchez Energy.
As we can see, even when adjusting for lateral lengths, Sanchez compares rather well with its Eagle Ford peers when it comes to its drilling costs. Since it bought Catarina in 2014 from Shell (RDS.A), it cut the price of drilling a well in half compared with the previous operator. As I pointed out in an article written on the subject of Catarina profitability prospects, Shell was spending an average of $8.3 million to drill and complete a well in Catarina, while Sanchez currently spends about $4 million. But of course, given Shell's $2 billion loss on that project, it goes without saying that Sanchez always had its work cut out in terms of trying to achieve profitability. Back then, it was thought by most shale enthusiasts that better operating performance was all that was needed. As it turns out, it takes a lot more than that.
While its execution is good, the acreage it is drilling is not. The Catarina acreage did not help Sanchez achieve profitability. It is true that it happened just as oil prices plunged from the $100/barrel price plateau it was on for nearly half a decade. Nevertheless, this is the oil price environment we have, and it is what Sanchez Energy needs to work with, just like all other companies.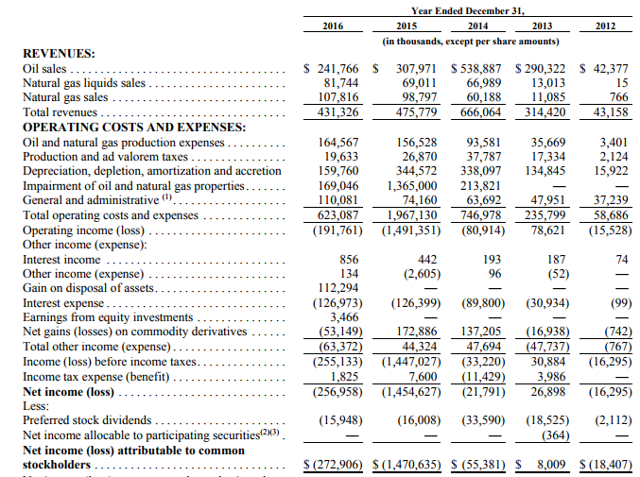 Source: Sanchez Energy.
The Comanche acreage may perhaps be even less profitable. There was a reason why Anadarko wanted to be rid of it. I covered the acquisition in an article back in January, 2017, in which I pointed out among other things that based on my rough estimate of cumulative two year average production at Comanche wells, of perhaps just 64,000 barrels of oil equivalent, the acreage is most likely not profitable. Only about a third of that production is crude oil and another third of it is natural gas, therefore the average wellhead price of that production is about half of the WTI spot price. I should note that Anadarko owned only half of the wells it was drilling, therefore the actual gross well production was most likely about 130,000 barrels of oil equivalent for two years cumulatively, which is less than ideal, especially when we consider the fact that most of it was not crude oil.
The 2018 guidance numbers suggest that my original assessment of the Comanche acquisition, as well as Sanchez Energy's overall profitability potential I made over a year ago was roughly in line with reality. The midpoint of its capital costs guidance is about $450 million for this year. Production is set to reach about 90,000 b/d in oil equivalent on average for the year. At first sight, it may seem like a strong performance, given that if we assume an average oil price of $65/barrel and natural gas at $3/MBTU's, given the product mix, Sanchez may be looking at wellhead revenues of about $1.15 billion. I am assuming an average wellhead price of about $35, given that only about a third of its production is crude oil. After the royalties of about 20% will be paid, remaining revenue will be about $900 million. For 2017, interest expenses alone came out to about $130 million. There is an additional yearly financial obligation of about $75 million related to its preferred stocks. These obligations alone are equivalent to about 23% of post-royalty revenue. It is by no means a rosy picture. If Sanchez would be free of such financial obligations, and if we were to see a further increase in oil prices going forward, this might still be a financially viable company. But as things stand right now, it is clearly not viable within the current oil & gas price environment, despite its relatively strong performance in terms of drilling costs.
Just to help visualize the problem that Sanchez is facing in terms of acreage quality, I want to compare it to EOG's (EOG) own dilemma in this regard.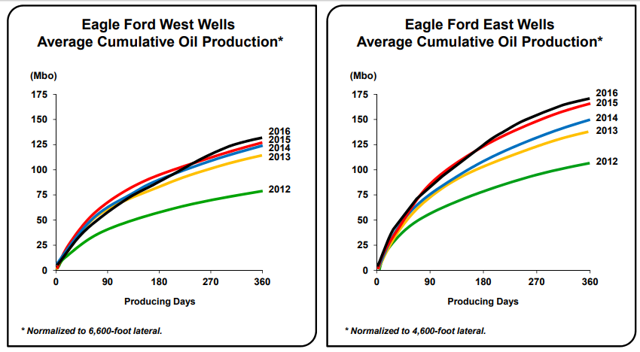 Source: EOG.
EOG is a company which managed to distinguish itself as a one of the more profitable shale producers. In the Eagle Ford field, it mostly focused on drilling its Eastern acreage, which as we can see has been yielding superior production on average compared with its Western acreage, despite the shorter laterals. It now has to increasingly rely on the Western acreage, given the Eastern acreage located in the oil zone, with overall higher production is increasingly overcrowded with wells. I should mention that this production is crude oil, therefore the average wellhead price is much higher compared with the production coming out of Sanchez wells.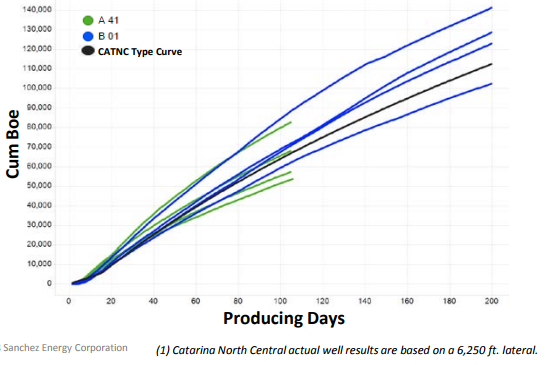 Source: Sanchez Energy.
While the Sanchez graph depicting 200 day initial production in Catarina is shorter in terms of timeline compared with EOG's graph, it is clearly comparable with EOG's Eastern acreage results in terms of volume, if we were to only compare with EOG's 200 day mark. But of course, not all volume is equal, given that Sanchez is producing mostly NGL's and natural gas from its wells, with only about a third being crude oil. And the laterals used by Sanchez are much longer, which highlights the fact that the acreage it is drilling will yield less per foot drilled in absolute volumes compared with EOG's more profitable acreage, in addition to yielding less valuable products.
When I bought Sanchez stock last summer, it was trading at about $5,50/share while WTI was trading at just under $50/barrel. Right now WTI is close to $65/barrel, while Sanchez stock is trading at about $4.50/share. I managed to get out in late December on an upswing, more or less breaking even, as I pointed out. I decided not to continue holding on to this stock, because I feared that it may keep declining even as oil prices continue to improve, as I pointed out in an article where I announced I was selling. As it turns out, I was right, because since I sold the stock in late December, oil prices increased by another $6/barrel, while the stock is currently down almost 20% since then. I think this stock is a clear candidate to be one of the oil & gas producers which will not benefit if oil prices will see further gains this year, while deep losses could be inflicted on those holding the stock if oil prices happen to see a reversal of its gains for the past year or so, which could still be a possibility this year.
Disclosure: I am/we are long RDS.A. I wrote this article myself, and it expresses my own opinions. I am not receiving compensation for it (other than from Seeking Alpha). I have no business relationship with any company whose stock is mentioned in this article.