Campbell Soup (NYSE:CPB) has become more and more attractive as its share price falls to new 52 week lows. Analysts have not made any efforts to increase earnings projections for the company, even as tax reform has been finalized. The acquisition of Snyders-Lance (NASDAQ:LNCE) is expected to be accretive to earnings by next year, and the combination of these two events should push earnings to between $3.50-$4.00 per share in the coming years. The company is transforming itself into a faster growing, snack focused company, which should drive the share price higher. If however the share price continues to lag, Campbell would make a nice acquisition for a larger food company. With a generous dividend, low valuation, and even lower expectations, Campbell Soup is a buy.
The funny thing about investing is that when it's done right, your opinion about something should change as its price changes. Investors should be price focused, or price obsessed. To give a better sense of what I mean, Campbell Soup was a $68 stock in the summer of 2016. At that point, it was trading at over 22 times earnings, which was far too high for a slow growing food company. Investors however, bid the stock to new highs, calling it a "bond proxy" in the face of record low interest rates. Today, with interest rates on the verge of breaking out to the upside, Campbell's is now viewed as a stodgy, unattractive company that has no business being owned by anyone. At the end of the day, Campbell's is still the same company. The main thing that has changed is investors' perception, and that is where the opportunity for investors comes in.
Campbell's Earnings Estimates Are Way Too Low
During the past few months as tax reform has caused analysts to have to reassess their earnings projections for companies, Campbell has seen almost no upward revisions to their earnings projections. Looking at the Campbell Soup annual report, we see that their effective tax rate has been in the 31% range. Now that the new federal statutory rate has been reduced to 21%, we have to recalculate earnings to adjust for this reduction. Last year, Campbell's pre-tax income was $1.29 billion. Using the new 21% tax rate, their net income would have been almost 50 cents higher had tax reform been enacted a year earlier. The fact that analysts' estimates have barely budged tells me that they are clearly too low.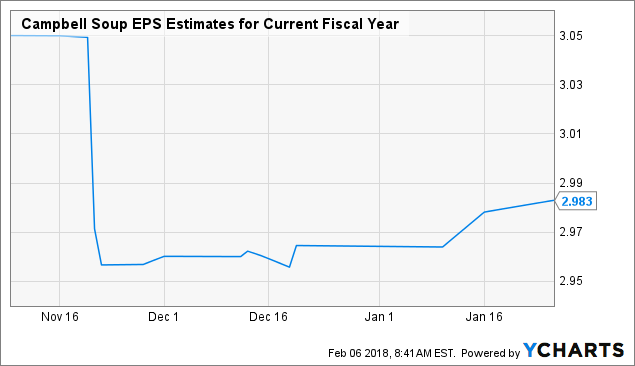 No doubt analysts are waiting for Campbell to update them at the next earnings call, but in the meantime, investors who make a surface level look at Campbell will see a P/E ratio that is 15.5 when in reality it is likely closer to 13.
Campbell's Acquisition Of Snyders-Lance Will Also Grow Earnings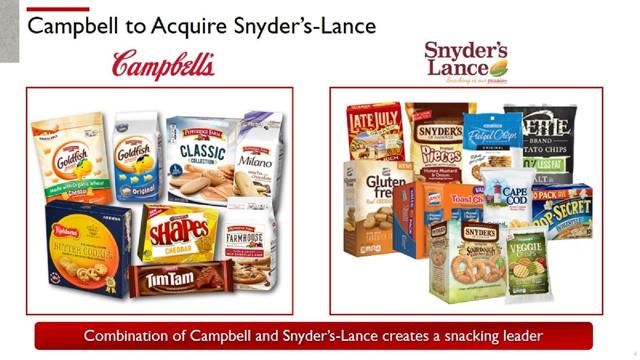 Source: Campbell Soup

In addition to the tax benefits from lower tax rates, Campbell is working on the recently announced acquisition of Snyders-Lance (NASDAQ:LNCE). This cash and debt funded purchase is projected to be 5%-7% accretive to earnings by next year, and 15%-20% accretive to earnings by 2021. The combination of tax reform and this acquisition should drive earnings per share somewhere into the $3.50-$4.00 range in the coming years, creating a nice opportunity for investors to get into Campbell at a valuation that is about as low as it gets for a major food company.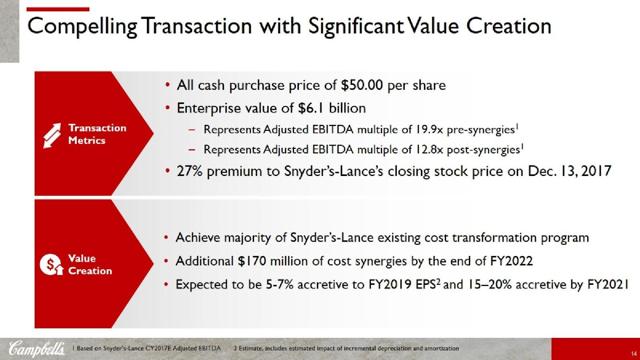 Source: Campbell Soup

Snyders-Lance Is Not The Only Acquisition Campbell Soup Has Made
Over the past five years, Campbell Soup has been actively working to transform itself from a slow growing canned soup company into a faster growing snacking and fresh foods powerhouse. The purchases of Bolthouse Farms, Plum Organics, Garden Fresh Gourmet, and Pacific Natural Foods, are clear signs the company is determined to move where consumers are going. The company is also appealing to consumers' preference for clear ingredient labeling and disclosure on food sourcing.
As Campbell continues its transformation I expect two things to happen. First, sales, volume, and earnings should resume organic growth again, something that has been missing from Campbell's traditional simple meals categories, and secondly, investors should warm up to the stock once they see a trend of growth instead of the flat sales and volumes they have become used to. As expectations rise, future investors will naturally bid up the shares to a higher valuation, and today's investors will reap the benefit.
Campbell Would Make A Nice Acquisition Target Itself
Once Campbell digests the recent Snyders-Lance and Pacific Natural Foods acquisition, the company may find itself a takeover target if its stock price doesn't rise. The company, adjusted for tax reform and the accretive Snyders-Lance purchase, is trading at a pro forma multiple of only about 13 times earnings. This compares to larger rivals such as Kraft-Heinz (NASDAQ:KHC) and PepsiCo (NYSE:PEP) which trade above 20 times forward earnings estimates. These companies could use either cash or stock to buy Campbell and the deal would be instantly accretive simply because of the wide P/E variance between the companies. Campbell's simple meals and snacks would also fit well with either Kraft-Heinz or PepsiCo's brands and create the possibility for meaningful synergies. Assuming Campbell's share price continues to trade at these low valuations after it completes the Snyders-Lance purchase, I would not be surprised to see these larger companies taking a look at Campbell.
With A Generous Dividend, Low Valuation, And Even Lower Expectations, Campbell Soup Is A Buy
With investors clearly unimpressed with Campbell lately, the stock is trading just off of its 52 week low. The shares are now down 33% from the highs set in the summer of 2016. While the shares were unappealing in 2016 at over 22 times earnings, today they are a bargain at 13 times earnings. The company pays a well covered 3.1% dividend, and investors are pricing the company for a no-growth future. Investing is all about what you give and what you get. With the market pricing in a very bleak future, Campbell Soup is a buy.
Disclosure: I am/we are long CPB. I wrote this article myself, and it expresses my own opinions. I am not receiving compensation for it (other than from Seeking Alpha). I have no business relationship with any company whose stock is mentioned in this article.