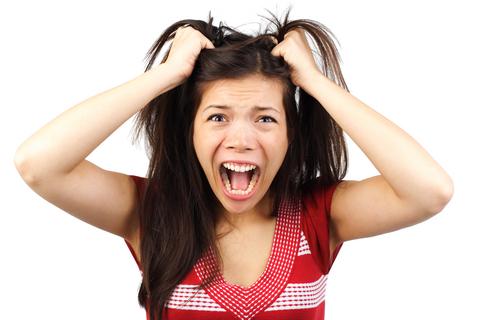 Over the course of 6 recent trading days, the market lost its collective mind. Those investors who have sat on the sidelines for years, waiting for just such an occasion, got their wish come true. In a matter of days the market lost 10% of its value and we finally had a real correction on our hands.
Total return investors did not look kindly on this development. They were happier seeing their portfolio value appreciate almost daily as the market set record after record.
Value investors and income investors who didn't lose their heads in the morass were able to see the meltdown in a different light. Waiting months and years to put money to work, the correction was like a dream, finally come true. Now that prices were floating back to earth, closer to fair value, further from over-inflated, unrealistic value, more rational prices and the higher yield points and higher income potential were coming closer into focus. Keeping our focus squarely on growing dividends for retirement made this correction a welcome development for us.
New Year's Special Dividend Edition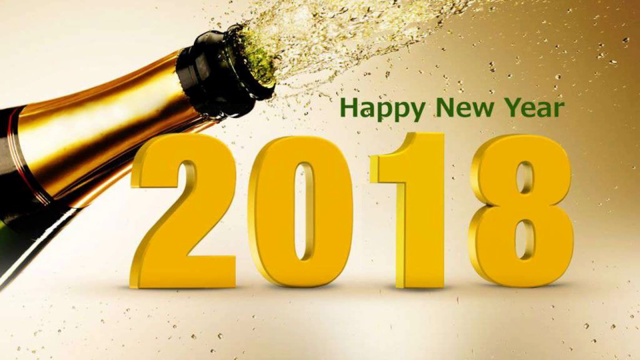 Wishing you and your family a very happy and healthy and prosperous New Year!
With all the ups and downs we lived through in 2017, virtually every time we bought at value prices when others panicked, we were able to get excellent, accidental high yield off of temporary market mispricing. Do this often enough, and those extra percents of yield really add up.
When you're building a portfolio to provide supplemental income to the very meager Social Security benefits most of us receive (or will in the future receive), I can't emphasize enough how important this aspect of our investing regimen is. As you know, I refer to this as "Vigilant Dividend Growth Investing".
It is the active element that we apply to our purchases, by staying vigilant, that allows this extra dividend enhancement to occur and boost our income for the time we'll need it.
Daniel Amerman, CFA, published an excellent piece recently that detailed all the ways Social Security recipients, now and in the future, are continually losing purchasing power. The title of the article is "The Critical Impact Of Medicare Premiums On Social Security Inflation Indexing, Part 4". I highly recommend it.
One aspect deals with the fact that the increase, if any, is determined in November of the preceding year, and by the time you've received your December payment of the following year, it's lost 2% of purchasing power, even when the government calculates a low inflation rate of just 1.29%. And this loss of purchasing power keeps compounding every year thereafter.
Another aspect of this has to do with the rapid increase of Medicare premiums which are deducted from most people's checks. This large increase, from $109 last year to $134 per month this year, easily wipes out, for most recipients, the measly 2% increase in the S.S. benefit that will occur starting this month.
He makes the point, with very detailed charts, and solid arguments, that by 2024, just 6 years from now, Social Security recipients will find that instead of having 52 weeks of purchasing power, our benefits will only buy 39 weeks of needed purchases. He suggests this slow, but unnoticed effect, will, if unchecked, gradually impoverish a whole generation of retirees.
This is why it is more important than ever, that we take the matter into our own hands and provide for ourselves. The more we delve into dividend growth investing, the better off we will be, the more prepared we will be for our own futures.
My Two Cents
In my recent article, "Did Your Medicare Premium Just Double? Here's How I'm Dealing With It", I added additional color to the conundrum faced by many investors whose income climbs past certain threshold levels determined by the federal government. As seniors receiving Medicare, if our income rises past those levels, whether as a result of work income, rental income, increasing dividend streams, or RMD distributions from deferred taxation vehicles like an IRA, our Medicare premiums double, triple and quadruple as we ascend each higher wrung of the income ladder.
Almost 600 comments have been contributed by over 40,000 readers. Please add your opinion today.
Now, For The Good News
FTG Semi-Annual Dividend Update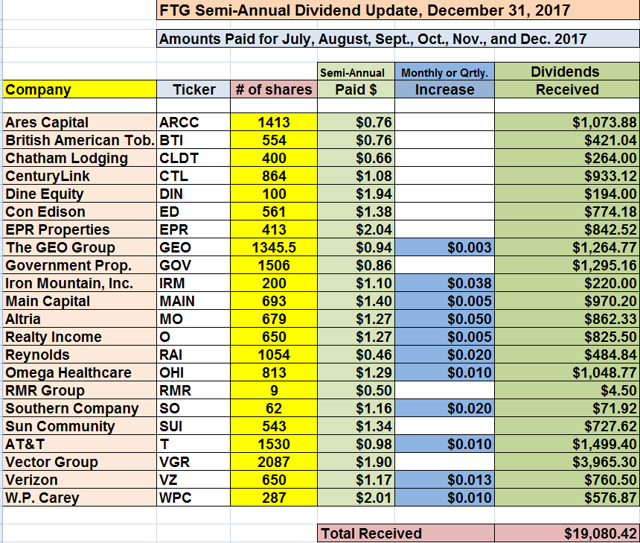 chart source: the author
Dividend Increase Recap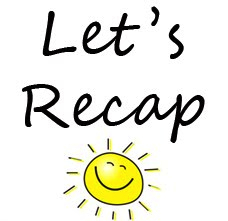 You'll note from the above chart, over the past 6 months, fully eleven of our portfolio equities gave us a raise. This included many of our monthly payers as well as our quarterly payers. All of those penny, $.02, $.03 or $.04 per quarter, per share increases add up.
We collected $19,080.42 in dividends the last six months. If you have been proportionately mirroring the Fill-The-Gap Portfolio exactly, this is the amount you earned over the last six months.
If you've mirrored it with less funds, you're dividends will be proportionately less. However, if you've mirrored it with a larger funding base, your earnings will be higher. The most important idea is that if you've been mirroring the portfolio with any amount of dollars, your percentage gains in capital appreciation as well as income will be the same. Percentages are everything when it comes to portfolio performance.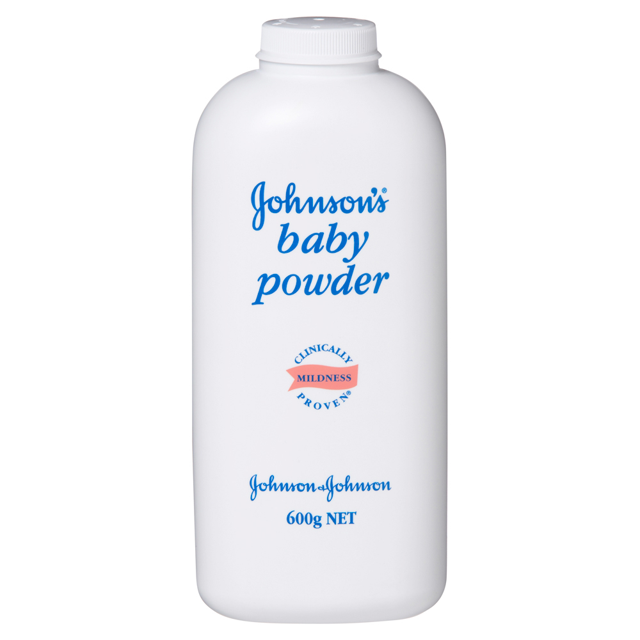 As usual, these accumulated dividends will be added to our already existing dry powder of cash and will be deployed when good opportunities present to further grow our dividend stream.
End Of Year Portfolio Recap
As of today, we now have $50,110.42 in available cash including accumulated dividends and cash received from the Reynolds American (RAI) merger with British American Tobacco (BTI).
The portfolio began a bit over 3 years ago with $411,600.00. We added a $6500 IRA contribution each year, bringing the total capital committed to $431,100.00. As of December 28, 2017, it has now grown to $581,179.32. This includes realized and unrealized capital gains/losses, covered call premiums earned and dividends accumulating as cash. So, in three years since portfolio launch, we've grown the portfolio by 34.81%, or 11.60% annually on average.
At the same time, we now have current dividends of $31,573.30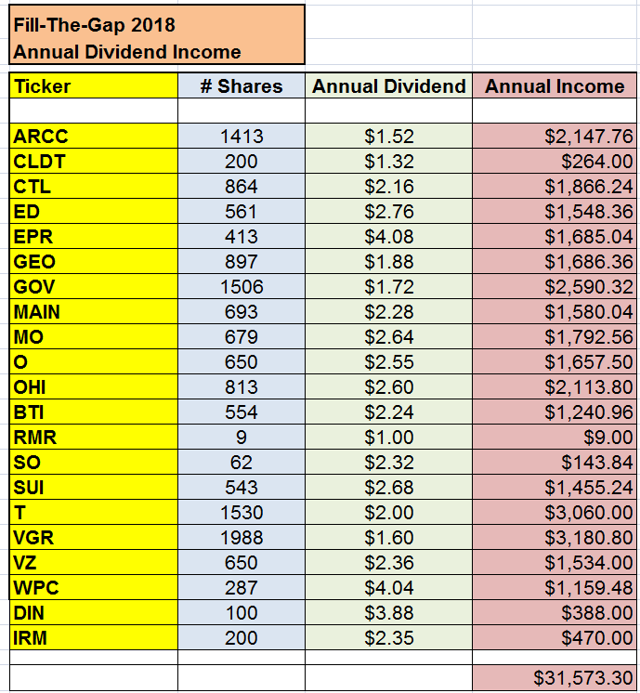 No Cuts, No Reductions, No Eliminations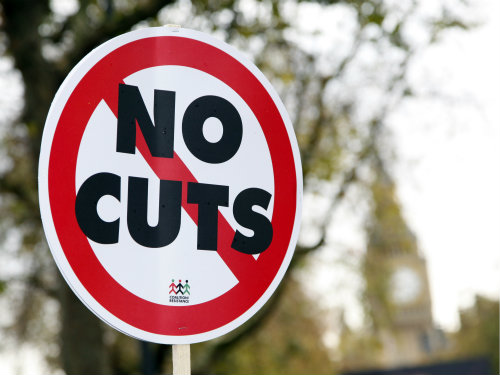 For 2017, we experienced no cuts, no reductions, no elimination of dividends in the portfolio, just increases and some that stood pat. This is also where our vigilance comes into play. We're constantly monitoring our positions, deepening our research, reading reports, news, earnings announcements, etc. to keep our analysis of each company fresh. We always want to know if there are any fundamental changes occurring at any of our companies that have the potential to impair the dividend, or the growth of the dividend.
What's Ahead?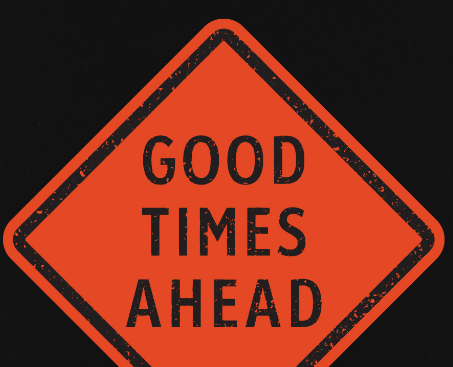 As you know, most dividend paying companies only increase the dividend once a year. We do have some exceptions in our portfolio, that pay once a month, like Realty Income (O) that increases the dividend every couple of months, and Omega Healthcare (OHI)that increases its dividend every quarter. Others, like Main Street Capital Corporation (MAIN) give us two extra dividends per year, like clockwork. The amount of those particular dividends adds up to 3 extra months of the regular monthly dividend. It's a company that pays us the equivalent of 15 months of dividends each year, not 12 months.
Though its $2.28 regular dividend reflects a current yield of 5.66%, when you figure in the additional $.55 of extras, that total of $2.83 works out to a current dividend yield of 7.12%. Quite a difference, wouldn't you agree? And because we bought our shares at much lower prices, our yield on cost is 7.92% on one purchase, and 8.66% on the other. Add in those extra dividends and our yields on cost rise to 10.75%. You can see from this that buying our shares opportunistically at value prices, when no one else wants them, results in our income from this company being almost twice as much as today's current buyer receives. Cheaper prices plus increases in the dividend work together like a powerful locomotive, pulling our income ever higher.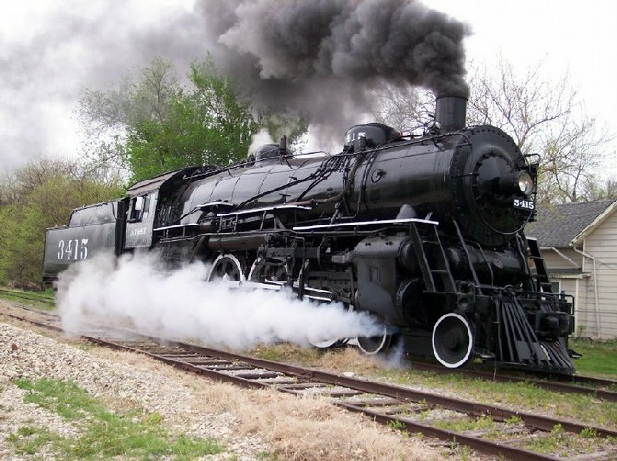 Economic Outlook
Both the U.S. economy and the global economy continue to grow strongly. Unemployment in the U.S. is at a 17 year low. Corporations continue to report rising profit growth. Wages are finally rising for salaried workers at a 2.9% year over year rate. Interest rates are rising, which in this instance reflects a strengthening economy. Jerome Powell, the new Fed chairman, will not make a rookie mistake by raising rates too high or too fast. He's not interested in spoiling the party. Consumer sentiment and business confidence are both very high. A recession is nowhere on the horizon. It would appear that last week's market meltdown represents the long-awaited correction. It will probably be looked back upon as a short-term blip and the best buying opportunity of the year.
So, for the next 6 months, going into the new year, we fully expect many of our other companies to grace us with our share of increasing profits in a strengthening economy. Dividend increases look to remain strong for 2018, barring any unusual, unforeseen circumstances.
This is how we will continue to build, grow and protect our dividend income for our present or future retirements. Thank you for choosing to follow the FTG Portfolio. If you also followed some of my recommendations these past three years, I hope you are satisfied with the growth of your portfolio and growth of income.
Here's to another great, healthy and prosperous New Year for all of us!
FTG Portfolio Close, December 28, 2017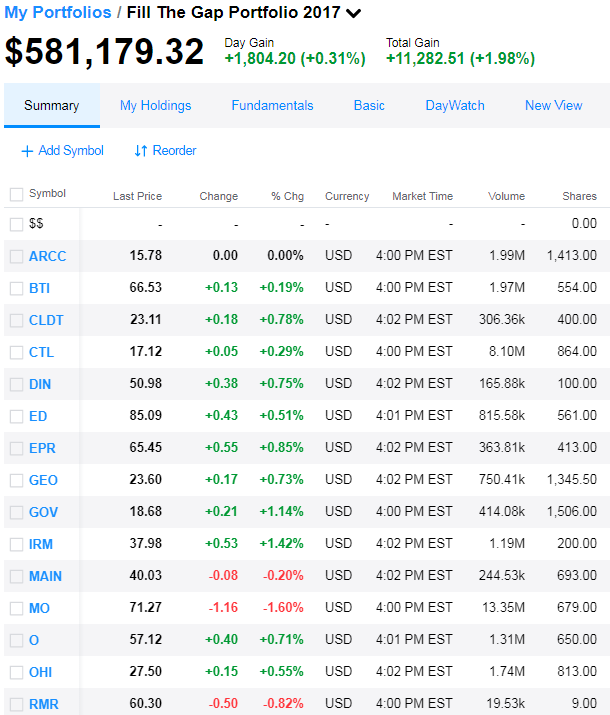 The Fill-The-Gap Portfolio
The FTG Portfolio contains a good helping of dividend growth stocks, like AT&T (T), which has been in the portfolio for a good length of time. DineEquity (DIN), by comparison, is newer to the portfolio and we have not yet experienced an increase in the dividend. Should current momentum continue and carry forward over the next several quarters, it is possible we will see the dividend increase. While we wait for this, we've seen its price rise 44% in the last four months. The portfolio was built with the express purpose of benefiting from this and other strategies.
Three years ago, I began writing a series of articles on December 24, 2014, to demonstrate the real-life construction and management of a portfolio dedicated to growing income to close a yawning gap that so many millions of seniors and near retirees face today between their Social Security benefit and retirement expenses.
The beginning article was entitled, "This Is Not Your Father's Retirement Plan." This project began with $411,600 in capital that was deployed in such a way that each of the portfolio constituents yielded approximately equal amounts of yearly income.
The FTG Portfolio Constituents
Constructed beginning on 12/24/14, this portfolio now consists of 21 companies, including AT&T Inc. (NYSE:T), Altria Group, Inc. (NYSE:MO), Consolidated Edison, Inc. (NYSE:ED), Verizon Communications (NYSE:VZ), CenturyLink, Inc. (NYSE:CTL), Main Street Capital (NYSE:MAIN), Ares Capital (NASDAQ:ARCC), British American Tobacco (NYSE:BTI), Vector Group Ltd. (NYSE:VGR), EPR Properties (NYSE:EPR), Realty Income Corporation (NYSE:O), Sun Communities, Inc. (NYSE:SUI), Omega Healthcare Investors (NYSE:OHI), W.P. Carey, Inc. (NYSE:WPC), Government Properties Income Trust (NYSE:GOV-OLD), The GEO Group (NYSE:GEO), The RMR Group (NASDAQ:RMR), Southern Company (NYSE:SO), Chatham Lodging Trust (NYSE:CLDT), DineEquity, and Iron Mountain, Inc. (NYSE:IRM).
Because we bought most of these equities at cheaper prices since the inception of the portfolio, the yield on cost that we have achieved is 7.66% since launch on December 24, 2014.
Due to our recent purchases of additional shares of AT&T at fire sale prices, current portfolio income now totals $31,573.30 annually, which is $392.00 more annual income than just last month. This represents a 1.95% annual income increase for the portfolio.
When added to the average couple's Social Security benefit of $32,848.08, this $31,573.30 of additional supplemental income brings this couple annual income of $64,421.38. This far surpasses the original goal set to achieve a total of $50,000.00, which is accepted as a fairly comfortable retirement income in many parts of the country. That being said, this average couple now has the means to splurge now and then on vacation travel, dinners out, travel to see the kids and grandkids and whatever else they deem interesting.
Your Takeaway
By reinvesting our dividends at opportune times we experienced good growth of dividend income this year. The trick is to spot where the sales are and how they coincide with your watch list. When both conditions are met, we strike while the proverbial iron is hot. We demonstrated this recently with our most recent purchase of AT&T shares at $32.60, in November. We grabbed a 6.01% yield, significantly higher than its 5 year average dividend yield near 5%. Weeks later, those shares climbed to $39.00, giving us 22.7% capital appreciation. With T's dividend raise this month to $2.00 per share, we effectively bought ourselves a 6.13% yield while current buyers have to settle for just 5% again.
We focus on dividends and their growth, because they are cash, proof that a company's free cash flow is growing. When this occurs, investors bid up the price of shares. They do this because FCF is growing and dividends are growing in tandem, making the stock that much more attractive. This is what is responsible for the growth of capital in the FTG Portfolio.
2018 has brought us a very large tax cut for corporations. With the rate going from 35% to just 21%, and with the rate on repatriated funds held offshore going down to 15% if companies bring that money home, there will be plenty of capital available to our companies to expand operations, grow their earnings, pass on larger dividend increases to us and buy back shares, causing prices to rise. As the economy continues to strengthen, it will easily handle 3 more quarter point projected increases in the Fed funds rate. The New Year would seem to offer a similar, if not greater, potential for investors and the FTG Portfolio both as to capital appreciation and income growth.
With this past week's market sell-off, the Dow Jones Industrial Average lost more than 10% of market value from its recent top just days ago. This market correction is making additional equities on our watch list that much more attractive. We expect to commence our buying and shopping spree, layering in slowly, with small-sized allocations. This will afford us the ability to buy at still-cheaper prices if they occur, and the opportunity to enhance our yield and income even further. Keeping some cash in reserve pays off whenever the market loses its collective mind.
Your Engagement Is Appreciated
As always, I look forward to your comments, discussion, and questions. Did your portfolio benefit from capital appreciation in 2017? Did you also participate in good dividend growth? Were you able to spot some good sales and add shares at bargain prices and higher yields? Please let me know in the comment section how you approach these situations in your own portfolio and how you arrive at your decisions.
Author's note: Should you be interested in reading any of my other articles detailing various strategies to enhance your returns on a dividend growth portfolio, you will find them here.
If you'd like to receive immediate notification as soon as I write new content, simply click the "follow" button at the top of this article next to my picture or at the bottom of the article, then click "Real time alerts."
Disclaimer: This article is intended to provide information to interested parties. As I have no knowledge of individual investor circumstances, goals, and/or portfolio concentration or diversification, readers are expected to complete their own due diligence before purchasing any stocks mentioned or recommended.
Disclosure: I am/we are long ALL FILL-THE-GAP PORTFOLIO STOCKS. I wrote this article myself, and it expresses my own opinions. I am not receiving compensation for it (other than from Seeking Alpha). I have no business relationship with any company whose stock is mentioned in this article.