It's been quite a ride for Boot Barn (BOOT) since its October 2014 IPO:
And this isn't just a case of sector correlation. Retail as a whole admittedly has struggled, but Boot Barn's own performance has been volatile: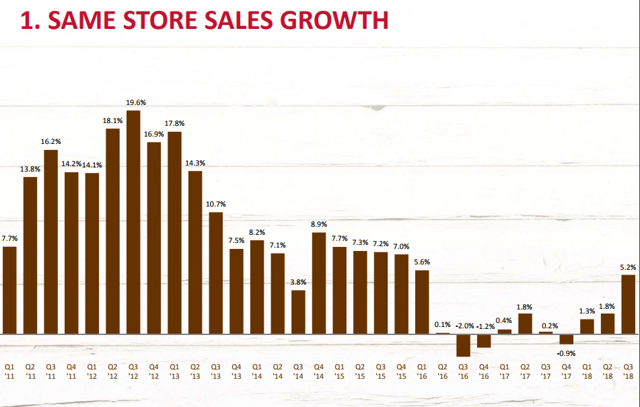 Source: Boot Barn ICR presentation, January 8
There are reasons BOOT plunged. The acquisition of Sheplers in the middle of 2015 added more debt - and pressured margins. Comps fell off a cliff starting in Q2 2016 (announced in November 2015), with the shale bust hitting key markets in Texas, Colorado, and North Dakota.
I was a bit early in calling for BOOT's rebound, first cautiously recommending the stock at $15 in late 2016 and then taking a position myself a little over a year ago around $11. BOOT would touch $6 soon after, and I'd bail at the bottom - but it's since tripled, and I've managed to capture most of that upside after re-entering after the stock gave back post-Q1 gains.
I'm still bullish on BOOT, and still long - though cautiously so. Q3 was impressive, and Q4 guidance looks solid as well. Valuation isn't necessarily prohibitive, and whitespace expansion can add to growth, with Boot Barn now returning to its strategy of ~10% annual unit increases going forward.
But, again, there's reason to be somewhat cautious as well. Even a cursory glance at the chart shows that BOOT has been here before. Same-store sales are getting better - but easy comparisons have helped, too. Valuation is rather expensive compared to the sector (a low bar to clear admittedly). And, more broadly, BOOT is difficult to model; three and a half years after its IPO, this remains a 'feel' stock. There's only ~7 years worth of available data, with Y/Y comparisons skewed by dramatically different oil patch environments and steady M&A, among other factors.
This story still can play out a number of ways. But for now, I'm sticking with BOOT.
Has The Corner Been Turned?
It's not a coincidence, or even really surprising, that BOOT has moved so sharply based on comp trends. There's a decent amount of leverage on the balance sheet, with the net leverage ratio just under 3x based on updated FY18 (ending March 31) EBITDA guidance. There's obviously quite a bit of operating leverage in the model as well. EBITDA margins are in the 9% range. The long-term bull case still depends on unit growth - and it will be tougher to justify that growth, and drive real ROI, if the existing base is posting ~flat same-store sales.
This is a comp story, pure and simple. Even Boot Barn management knows that: the first of its four strategic initiatives is to drive same-store sales growth. And, again, the trend appears to have turned nicely, as seen in a zoomed-in clip from the slide linked above:
Source: Boot Barn ICR presentation, January 8
Notably, in both Q2 and Q3, the strength came with full-price selling: merchandise margin expanded 140 bps in Q2 and 10 bps in Q3 despite increased freight costs, which cost at least 20 bps, per the Q3 conference call. Those costs were mostly one-time, it appears, a result of the company not quite getting new automation equipment at a Wichita, Kansas distribution center running at full speed.
The sense from Q2 and Q3, plus Q4 guidance for comps of 4-5%, is that Boot Barn is back on track. It's not buying those sales; in fact, it appears Sheplers online prices (a source of margin pressure post-acquisition, since the online business competed largely on price) have come up quite a bit relative to my past searches.
Whether Boot Barn indeed is back on track is the heart of the bull/bear argument here. Clearly, some traders don't see it that way, given a short interest that sits at ~20% of shares outstanding, and over 26% of the float. And some skepticism isn't necessarily unwarranted.
It's still possible that Q3 is an outlier, though Q4 guidance is helpful in confirming what is starting to look like a four-quarter trend. (Obviously, that guidance needs to be met when BOOT reports Q4 earnings in late May or early June.) Comparisons have been rather easy: FY17 same-store sales were +0.3%, and FY16 -0.1%, which makes updated full-year FY18 guidance of 3-4% feel far less impressive. Second-half performance might be colored by the fact that this year's Q3 and Q4 benefited from the weakest 2-year stacks.
And there's been one key underlying trend that has improved notably: Boot Barn's performance in oil-producing regions. As of the end of FY17, per the 10-K, Boot Barn had 29 stores in Wyoming, Colorado, and North Dakota. Another 48 were in Texas. Combined, that's ~35% of the year-end base. And management commentary from conference calls shows a steadily improving trend:
The interesting question for BOOT is whether that necessarily is a good thing. I have repeatedly argued in the case of Stage Stores (SSI), another oil patch-affected retailer, that the oil bust less created a headwind than it took away a tailwind. 2011-2013 wasn't a normal environment (it seems by now pretty much widely accepted that US shale was close to a bubble at that time); demand is not going to return to those levels. As even Boot Barn management has pointed out in the past, in North Dakota markets, many workers simply left. And overall O&G employment has stabilized, not grown over the past few quarters: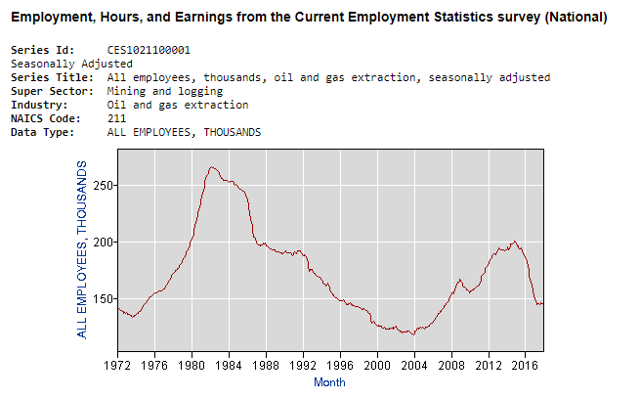 Source: Bureau of Labor Statistics
Meanwhile, in the other ~65% of Boot Barn stores, comps this year probably are in the 2% range, after being in the 1-2% range the past two years.
So the bear case for BOOT comps is that the company is benefiting this year from easy comparisons across the board, and in particular in the one-third of its base in the four aforementioned states. Come FY19, those comparisons get tougher. Should Boot Barn return to 0-2% comps, even, there's room for downside, as the stock still isn't priced for ~flat earnings.
Admittedly, that's a risk. But I'm willing to ride with BOOT a little longer despite that risk. As a customer squarely in the middle of Boot Barn's demographic, I like the operating model. In the January presentation at ICR, Boot Barn highlighted its organic search rankings; it's building a solid presence in its niche. Consolidation of the e-commerce operations of Boot Barn, Sheplers, and recently acquired CountryOutfitters.com should further help in terms of the omnichannel offering, and the WHIP (We Have It Promise) offering rolled out last year allows in-store salespeople to offer inventory available online or at other stores.
As for the SSI comparison, a key difference is that Stage's comps were plunging, and the company was blaming significant company-wide declines on the oil patch. Boot Barn's business hasn't been torrid outside of O&G, but it's been positive, and even stabilization in O&G should be enough to drive positive overall comps going forward. Comparisons will get tougher in 2H FY19, but first-half numbers still have room to impress.
Again, it's a 'feel' argument - but it's tough to offer too much else here. There's only a few years of data, which include a pretty marked upheaval in a number of Boot Barn markets. But there's enough in the business model here to believe in the longer-term story. Recent results are impressive beyond the comps, with pricing remaining intact (no small feat in this environment).
There has been quite a bit of disruption operationally over the past few quarters, but Boot Barn looks 'clean' heading into CY18, and able to get down to basics. That includes driving comps and opening new stores - and if Boot Barn can do both, BOOT is likely to continue its rally.
Margins, Unit Growth And Valuation
BOOT isn't cheap. Above $18, the stock trades at 11x FY18 EBITDA guidance (from the ICR presentation). Tax-normalized EPS this year looks to be about $0.80, backing out a one-time benefit in Q3, implying a P/E in the ~22x range. Both figures suggest a premium to Tractor Supply (TSCO), an interesting if imperfect peer, which trades at ~17x EPS and 10x EBITDA (both based on the midpoint of the company's CY18 guidance).
Obviously, both figures suggest a premium to the sector as well - and imply a good deal of growth. But Boot Barn believes it can double its store count from a current 226, and said on the Q3 call it was returning to a previous plan of driving 10% unit growth a year. Acquisitions may help as well; Boot Barn picked up Texas-based Wood's Boots (4 stores) in Q3, and can continue rolling up an extremely fragmented industry going forward.
If Boot Barn can drive low- to mid-single-digit comps, as is its target (and, to reiterate, that's a big 'if'), then top-line growth should be solid for several years. And margins have room to expand as well. FY18 guidance suggests 6.9% Adjusted EBIT margins this year; the figure was 9.7% in FY15, and 8.1% in FY16 even amid the Sheplers acquisition. Obviously, deleveraging has been a factor amid weaker comps the past couple of years - and without comp growth, that could continue.
But Boot Barn does have room to expand those margins. One key initiative has been private-label offerings, which per the Q3 call saw penetration rise 300+ bps to ~14%. The consolidation of the distribution footprint should pay dividends in FY19, as should the automation efforts in Wichita. And, of course, if comps are good enough, there's operating leverage to add plus any potential benefit from whitespace expansion over time.
All told, BOOT's current valuation isn't one that necessarily prices in guaranteed success, at least from a long-term standpoint. I'm not sure I necessarily see much in the way of multiple expansion from here, but growing retailers with room for expansion generally can maintain low double-digit EBITDA/low to mid 20s EPS multiple (think TSCO or Burlington Stores (BURL), for instance, though BURL remains a much better and more dearly valued story) and BOOT should be able to do the same going forward. Assuming double-digit growth in EPS and EBITDA in FY19 and beyond, BOOT itself should offer mid-teen returns given the leverage on the balance sheet.
It's tough to nail down a specific price target given the 'garbage in, garbage out' problem of modeling, but the bull case in my mind is pretty simple: If Boot Barn is on track, the stock is going to rise. Multiples should hold, at least, and EBITDA should grow double digits next year with some help from new stores and assuming even some modest level of margin expansion back toward prior-year levels.
And if Boot Barn's improvement in Q3 and Q4 proves to be somewhat illusory, those multiples are going to compress, earnings growth will be modest at best, and the stock is likely to decline. BOOT looks like a straight, leveraged, bet on the top line. I'm taking the long side of that bet - at least for now.
Thank you for reading this Seeking Alpha PRO article. PRO members received early access to this article and get exclusive access to Seeking Alpha's best ideas. Sign up or learn more about PRO here.
Disclosure: I am/we are long BOOT.
I wrote this article myself, and it expresses my own opinions. I am not receiving compensation for it (other than from Seeking Alpha). I have no business relationship with any company whose stock is mentioned in this article.