It was painfully obvious that a correction was coming…
In his January 6th newsletter, renowned market technician and intermarket analysis expert John Murphy pointed out that the S&P 500's (SPY) monthly RSI reading had reached its highest level since the late 1990's and additionally that the weekly RSI reading for the SPY had reached its most overbought condition since 1958 – sixty years ago.
Murphy went on to explain that the last two times the SPY monthly RSI crossed the 70 threshold, indicating an "overbought" condition, were in 2006/07 and in 2014.
The latter occasion would eventually lead to a correction of more than 10% in 2015, while the former preceded the major correction of 2008/2009.
Besides having a solid background in fundamental analysis, I also happen to be a big believer in technical analysis and the RSI in fact is one of my favorite, and most reliable indicators.
The only thing missing was a catalyst – enter, a "hawkish" Fed policy
When an asset, be it an individual security, index or asset class, experiences such an anomalistic rise, it normally does not take very much to push it off the proverbial pedestal.
Yet, Friday's report showing that employment wages are rising, in turn leading to heightened inflationary expectations which would be expected to spur on higher rates, should not be viewed as a "shock", but rather as confirming evidence of what was already occurring in the bond markets.
Bond yields have been rallying since the summer of 2016, with the bullish breakout taking place early in September when the US 10-Year Treasury broke out of its downtrend.
Following a sharp rise in the 10-Year yield to 2.55%, which took place over less than six months following the breakout, the yield on the 10-Year would then form a solid base with a confirming breakout occurring this past fall, in September, when yields rallied another 72 bps.
Meanwhile, as John Murphy has been pointing out in his newsletter all along, reported inflation has been understating the effect of rising commodity prices, including the Reuters/Jeffries CRB index making a two-year high last month.
With rising wages forthcoming and a stronger commodity market, I'm not quite sure how much uncertainty there is regarding a more hawkish central bank policy as things continue to transpire in 2018.
Should I stay, or should I go now?
The real question is, what actions do you take in your portfolio to combat the above factors?
Our response was simply to take some risk off the table.
On January 16th we sold out of our most leveraged position, which were the Ford (F) January 2019 8-strike calls, closing out for a 60% gain in a little less than eight months.
Fortunately for us, the move could not have worked out any better.
Ford shares have absolutely plummeted since we closed out, with the underlying down 22.1% in the three weeks since.
But now that the SPY is already down 8% from its highs, I'm not sure that there's a real need to take any action in terms of a strategy to that would require a more defensive stance.
Granted, Monday's session was downright nasty with an unabashed move through the 50-day moving average which was previously viewed as the "next potential stop" of support.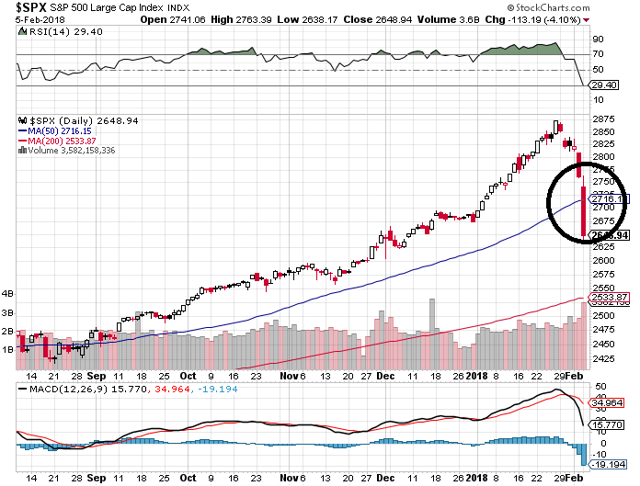 The next most obvious "stop" then, would be 2,533 level, also the 200-day moving average, which iin the end, would work out to be a very "healthy" 40% retracement coming off the 2017 meteoric rise of the S&P 500.
Yesterday's rally provided cause for optimism but I don't claim to be any kind of expert at day-to-day movements in the markets and that statement would be particularly true of the broader market averages.
Instead, I tend to take a step back and look at the bigger picture.
"Bad News is Good News Again"
Keep in mind that the stock market is just an attempt to replicate the performance of the underlying economy through a basket of publicly traded securities.
And while the market may have gotten a little ahead of itself lately, there's encouraging signs taking place in the underlying U.S. economy which may suggest in a contrarian sense that the "bad news" of a more hawkish Fed policy eventually leading towards more "normal" levels of interest rates is actually "good news" in that the economy, now ten years removed from the financial crisis, has begun to regain a more firm footing.
Taking a Closer Look at the Business Cycle
Keep in mind the following characteristics of the "Expansion Phase" of the business cycle:
GDP growth rate increasing
Unemployment decreasing
Investment in capital increases
Inflation likely to be rising
Imports likely to increase
(taken from: gostudy.io)
Let's take these one by one.
GDP growth grew by 2.6% in the fourth quarter (lower due to a dramatic surge in imports, more on that below), following a 3.2% increase in the third quarter.
For the full year GDP expanded by 2.3%, an improvement over 1.6% growth in 2016.
Most economists expect that the Trump administration will hit its target of 3% GDP growth in 2018 thanks to a weaker dollar, rising oil prices and a stronger economy benefitting from 2017's tax reforms.
GDP growth rate increasing: PASS
The unemployment rate fell in 2017 to a new, 17-year low of 4.1 percent. The aforementioned reports that a tighter labour market is leading to long-awaited wage increases should lead to increased consumer spending.
Unemployment decreasing: PASS
In the fourth quarter, it was reported that business investment increased by 11.4% which was an improvement over 10.8% in the third quarter and the fastest pace since the fall of 2014.
Investment in capital increases: PASS
In the fourth quarter, inflation rose at a 1.9% rate which was the fastest pace in over a year, and an increase from 1.3% inflation reported in the prior quarter.
Moreover, if recent increases in the price of raw commodities are passed on to customers through the supply chain in 2018, the trend of higher inflation should be expected to persist.
Inflation likely to be rising: PASS
Imports in the fourth quarter were dramatically higher - the highest in more than 6 years, since the third quarter of 2010.
Meanwhile recent statements made by U.S. Treasury Secretary Steven Mnuchin indicate the U.S. is pursuing a weak dollar policy.
This should help spur exports and serve to make imports more expensive in an effort to close the country's problematic trade deficit. However, this means that the aforementioned "weak dollar" policy may also have the effect of distorting the level of reported imports in future periods.
Imports likely to increase: PASS
Therefore, is there evidence that the U.S. economy is presently in the "expansion phase" of its business cycle?
Result: Convincingly, a PASS (5/5)
Conclusion
I tend to side with statements made by industry leaders like Warren Buffett, who is on record suggesting that it would take a much sharper rise in yields to make stocks look unattractive at current levels, or Ray Dalio, who has recently compared the current economic environment to something akin to 1937 in that it's not great, but it's not terrible either, you need to proceed with a heightened sense of caution.
While there is reason to be cautious regarding the short term direction of the market, in light of interest rates that remain well below historical norms and a U.S. economy that appears to be gaining strength rather than losing steam, I tend to suspect that the market will look back on the current period in much the same way that it today looks back the "taper tantrum" of 2013 – which would also happen to be the same year the S&P 500 would go on to gain 29.6%.
Author's note: A fellow contributor to Seeking Alpha, Avi Gilburt, who runs his own Marketplace service, Market Pinball Wizard, posted what I thought was a great article on the subject of the recent correction which you can find here.
While I have come at the problem from a different, more "fundamental" perspective, I think when you read Avi's analysis you'll find that we are seemingly arriving at the conclusion.
I don't want to put words in Avi's mouth - far from it, in fact - but I for one find it extremely encouraging that two differing schools of thought ie. traditional economic analysis and technical analysis (which I also have a great deal of faith in) are pointing to the same conclusion that this latest pullback was long overdue, there is no need to provide any additional significance to it and that we are likely looking towards a stronger market for the rest of the year.
Disclosure: I/we have no positions in any stocks mentioned, and no plans to initiate any positions within the next 72 hours. I wrote this article myself, and it expresses my own opinions. I am not receiving compensation for it (other than from Seeking Alpha). I have no business relationship with any company whose stock is mentioned in this article.
Additional disclosure: Additional disclosure:

The above research does not constitute investment advice nor is it a recommendation to take action in any investment security.

Any positions disclosed are subject to change and without warning.

You are encouraged to conduct your own due diligence before taking investment action including a careful review of the risks associated with the security in question.

Before taking investment action, you are also encouraged to consult with your investment advisor, if you have one, regarding the suitability of the investment within your portfolio, risk tolerance and investment objectives.

The research and opinions expressed above are by definition, incomplete, only address select aspects of the investment and are not a substitute for your own due diligence.

Any references to financial performance and forecasts are subject to error, are the author's best estimate at the time of publication, and are subject to change without notice.

Past performance is no guarantee of future results