The markets are roaring and everyone is partying like it's 1999, you try to close your eyes and brace for panic, but times are just too good. And then, as if by the instant touch of serendipity, everything changes. It's time to worry, they say. "The great repricing is upon us." Suddenly, you jump to your first worry: is this the beginning of something bigger?
I'm here to suggest that, no, this isn't the end. (Only with one critical caveat)
Why isn't this the beginning of the proverbial end?
To debate this mystical question requires a dissection of the arguments around why the market won't face its day of reckoning in 2018. We looked at the bullish factors driving the market higher and noticed four key themes: 1.) Quite simply, the tax cut and its initially positive implications will put a floor on US corporate earnings. 2.) Disharmonious tightening, and therefore a continuation of stimulus by global central banks as a result of philosophical divides on the trajectory of inflation. 3.) Global economic expansion buttressed by a rebound in commodity prices that is 'spreading to the periphery.' 4.) There is simply too much debt outstanding to withstand higher rates.
Tax Cuts
The tax cut will put a floor on US equities. For the year, earnings are expected to grow by 12%, outpacing foreign peers. Moreover, analysts have yet to revise their earnings estimates upward to reflect the further economic growth that may come from tax reform. And while the margin compression possibility is a legitimate concern, top-line growth from higher consumer and business spending will steal the spotlight and maintain current valuations.
Stimulus
Global central bank stimulus continues to sustain the easy financial conditions that have characterized the 2010s economic recovery. The persistence of such easy conditions cannot be overstated. The ECB and the BoJ continue to be committed to their QE campaigns thereby offsetting the effects of a hawkish Fed. Coupled with weak inflation, continued implementation of QE has kept real rates in some EU countries and Japan negative and corporate bond spreads dangerously tight.
The primary reason for the continuation of monetary easing is simply that inflation is tiered globally with the US leading and Japan the lonely laggard. For instance, a look at inflation differentials would indicate that the Eurozone and Japanese inflation rates are greatly underperforming relative to US inflation rates.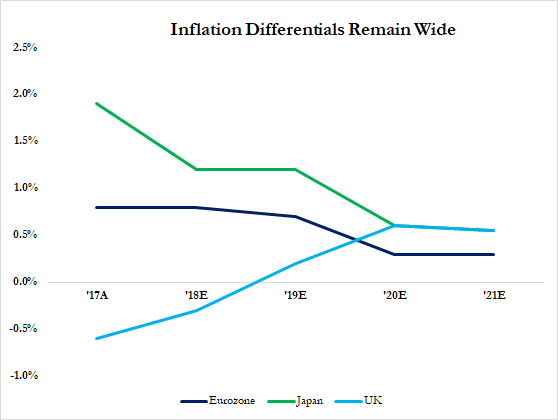 Source: BlackVault Investments Research
And yet, even as core CPI differentials are expected to tighten, the structural forces acting against inflation may gain strength forcing the ECB and the BoJ to defer monetary tightening and continue pumping trillions of dollars (euros and yen) into the economy. As an aside, it's crucial to remember that the tax cut in and of itself is a form of stimulus that will pump new money into the economy leaving financial conditions relatively easy still.
Rebounding Commodity Prices
Our team felt that the commodity story was a crucial element to the rebound despite being the least compelling reasons to remain long in equities. It cannot be overstated that the commodity downturn experienced in mid-decade caused a mini-slowdown that depressed growth rates and inflation. The subsequent rebound in prices following record stimulus from China to shore up its economy (despite leading to a massively leveraged building boom) in the wake of a growth slowdown acted as a rising tide for the depressed mining and energy industries. We are uncertain about whether or not the commodities rally has long-term legs, but acknowledge the positive impact of stabilized commodity prices on the global economy; particularly emerging market economies (Brazil, Russia).
The rebound in emerging markets is indeed extensive. First of mind is Latin America where two powerhouse economies, Brazil and Argentina, are slated to emerge from recession lifted by a recovery in the oil market. Meanwhile, the periphery Eurozone will also get a slice of the 'boom' cake once split only between Eurozone heavyweights (Germany and France) dampening the rise of Eurozone skeptics that have muddied the political outlook in Europe.
A Trillion Here, a Trillion There ($18 Trillion)
The size of the National Debt is well understood and often, albeit comically, represented on poster boards and doomsday websites (Even Washington, sometimes) as a symbol of our country's irresponsible fiscal behavior. The irony of this notion is that debt has increased as a % of GDP on a global basis. According to the IIF, global debt jumped over $230 T in Q3 2017 and has been steadily climbing in each measured sector. Take non-financial corporates, who have experienced a tripling in debt that now eclipses 92% of global GDP. The government and financial sector currently have >80% of debt-to-GDP with a combined debt of $121 T.
In our view, the overhang of excessive sovereign debt coupled with a maturation of developed economies has played an instrumental role in depressing interest rates. We suspect that this confluence of factors acts as a bulwark against 'reflation' thereby capping the Federal Reserve's target rate and sustaining relatively easy monetary conditions. In other words, there is an inflection point to where a pronounced upside move in government bond yields would amplify the systemic debt problem and ultimately destabilize the global economy; a suicidal path for any Central Banker.
Why We Should Begin to Worry
This equity market sell-off will prove to be a good buying opportunity; however, the critical risk is that irresponsible fiscal policy causes a dramatic rise in interest rates that chokes off the expansion.
We highlighted monetary policy missteps as a potential downside risk in our previous article, but the recent gyrations in markets got our team thinking about the long-term effects of fiscal policy on US rates and the inflation outlook and what that means for US government yields.
The new tax bill will add $1.5 trillion+ to the federal deficit pushing the overall deficit to 5% of GDP. Nevermind the fact that the pro-forma effects of the bill come with a +/- some billion/trillion depending on the trajectory of the US economy. Furthermore, when you square that with the potential infrastructure bill that could be signed into law (more on this in our next article) in the coming year, deficits as a % of GDP will run-up further.
There are troubling implications posed by the implementation of expansionary fiscal policy, more specifically, in regards to interest rates and inflation. The obvious impact is the shift in perception of the United States' creditworthiness. Skeptics point out the more sinister interplay between higher deficits and government bond yields and what that means for economic growth. Douglas Holtz-Eakin points out that higher deficits have a direct impact, through higher rates, on private sector demand for capital. Econometric analyses have suggested that a 1% increase in the deficit-to-GDP ratio can cause a 2-25 bp increase in the 10-year rate. Such a move in long-term yields may prove benign; however, when you start to factor in the underlying effects of expansionary fiscal policy on an already stimulated economy, the picture begins to get ugly.
Deficits and Inflation: The Misunderstood Correlation
Theoretical economics stipulates that deficits cause inflation. Empirically; however, this postulation is ambiguous as it is clouded by an intricate web of external factors tied to the long-run growth and inflation trajectory of a nation's economy.
A working paper written by the IMF corroborate this analysis by citing the puzzling disconnect in the relationship between deficits and inflation in emerging and developed economies. According to the IMF, high inflation, developing economies are likely to carry larger deficits while low-inflation, developed economies are not. While this is encouraging, the current trends in the US economy may prove to be a statistical outlier.
Fiscal policy from Washington has become increasingly expansionary in a late cycle economy cutting policy makers' margin of error. Given the already tight capacity, any additional stimulus that injects new money into the economy will be inflationary, and in turn, push the Fed to hike rates an additional 25 bp. When you dovetail this with the interest rate impact of higher deficits, markets may be forced to face the music.
Disclosure: I/we have no positions in any stocks mentioned, and no plans to initiate any positions within the next 72 hours. I wrote this article myself, and it expresses my own opinions. I am not receiving compensation for it (other than from Seeking Alpha). I have no business relationship with any company whose stock is mentioned in this article.
Additional disclosure: The views expressed in this article reflect the opinions and beliefs of BlackVault Investments, LP and are not intended to serve as an offering and/or solicitation of investment securities.