Background
This month's article marks the thirty-fifth installment in my ongoing series outlining my efforts to achieve dividend growth success. The portfolio is nicknamed the MnM portfolio, which is a moniker for "Minne(sota) 'n Monthly."
Note: The portfolio remains at 38 stocks. I am still working towards a target portfolio size of ~40. I feel that at this level, the portfolio holds a sufficient number of stocks such that I can effectively follow them all. I will work towards achieving more equal weightings, as this will provide strong diversification with each stock representing approximately 2%-3% of the portfolio total. I also receive 100 free trades each year from my brokerage, so I can trade in small quantities without worry about brokerage trading costs.
That being said, here's what happened in January.
January 2018
While not the principal marker I use for performance, each month I do mention the total returns in comparison to the broader market. This month was decent for the portfolio, which increased by 1.7%. This gain did trail the S&P 500's 5.6% return, which I expect to continue throughout this year, at least until the selling in REITs subsides and we see some stabilization in prices.
I have captured the activity for January and for the year-to-date in the standard rollforward summary below.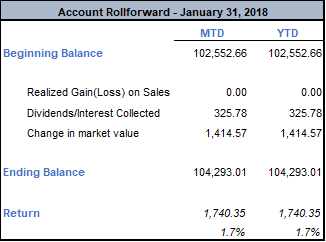 The portfolio collected $325.78 in dividends and interest during the month, all of which was recurring on positions held with the exception $.01 of interest. Note that this was larger than normal as Ventas (VTR) paid their normal December dividend in January.
The portfolio was comprised of the following securities as of January 31, 2018: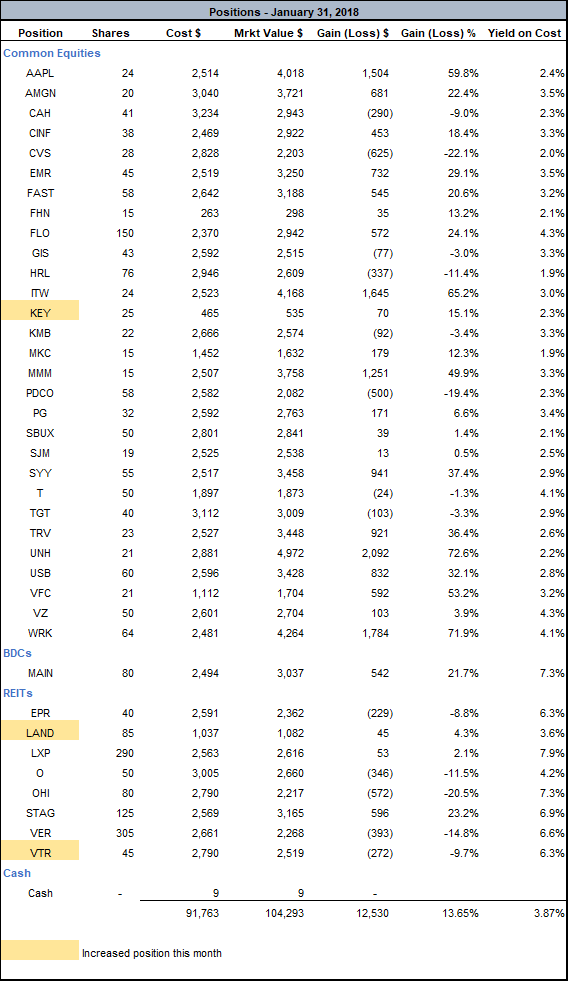 The following sections go into greater detail of the events that have occurred since the end of December.
Sales
None.
Additions
In a slight twist of irony, I found myself directing the largest amount of dividends received in January towards more shares of Ventas. As I wrote last month, I was upset with the Company for delaying the distribution, but upon realizing the short-sightedness of my decision to sell it, I quickly added the stock back. Now I've added to it.
The remainder of the ordinary dividends were spent on building the new positions of KeyCorp (KEY) and Gladstone Land (LAND). I seem to find myself buying Gladstone each month, and am happy to see it come down in price.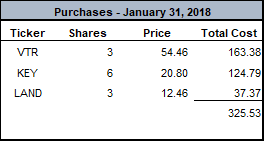 Dividends Collected
As noted earlier, I collected $325.78 in dividends during the month. For comparison purposes, I have included the Ventas dividend in December's figures and removed it from January's to follow its normal pattern. I have updated and included the forward-looking dividend summary as follows: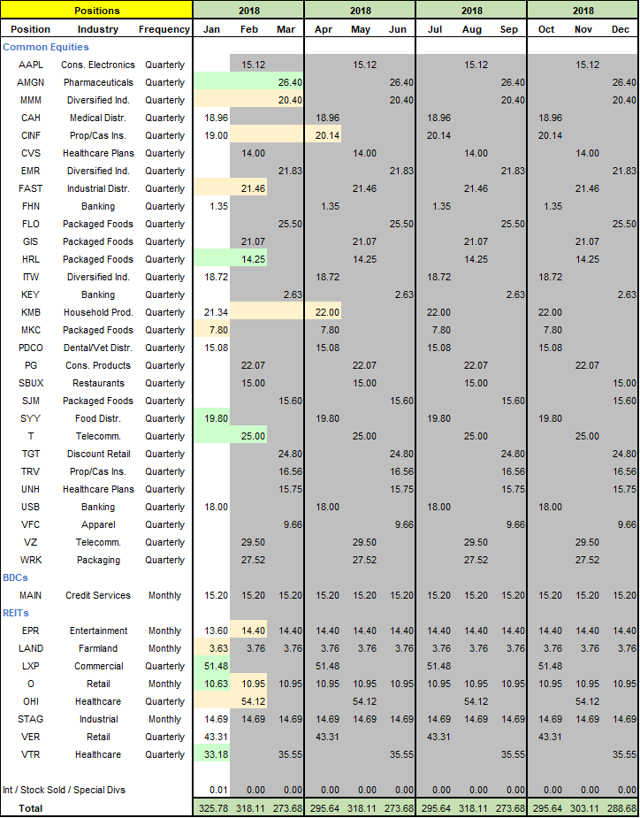 Note: I have highlighted current month dividend raises in a shade of yellow to distinguish from previously reported increases.
As I try to highlight each month, my goal is to have year-over-year organic income growth of 10+%. With the purchases and raises received, I am already well on my way, and do not see much difficulty in hitting the target this year.
Dividend Increases
Wow.
What a month for raises.
We all know that the year starts off strong, but last year only included six increases in January. I have to note, however, that in my total of 9 increases I am including the McCormick (MKC) dividend increase that was announced last November. I somehow missed this as my Seeking Alpha notification was off. Sometimes it's nice to see more cash hit the account than you were expecting, though I try to stay on top of the increases.
Looking over the list, it included a good mix, and really spanned the gambit of raises we see as dividend growth investors. This month included stellar double-digit bumps from 3M (MMM), Fastenal (FAST), and McCormick, accompanied by decent annual bumps from Cincinnati Financial (CINF), EPR Properties (EPR), Realty Income (O) and Kimberly-Clark (KMB), rounded out with smaller quarterly bumps from Omega Healthcare (OHI) and Gladstone Land.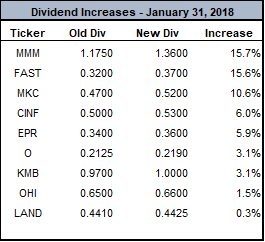 The MnM 401(k)
The 401(k) keeps chugging along, adding just over $2k this month from contributions and market changes. I increased my 401(k) contribution this year, so you will see higher contributions. I aim to inch up the contributions each year with the goal of hitting the maximum by the time I turn 40.

Next month I am aiming to see my employer's profit sharing contribution hit the fund, which should be the highlight of the month.
Closing Thoughts
It's great to start the year with a boatload of dividend increases!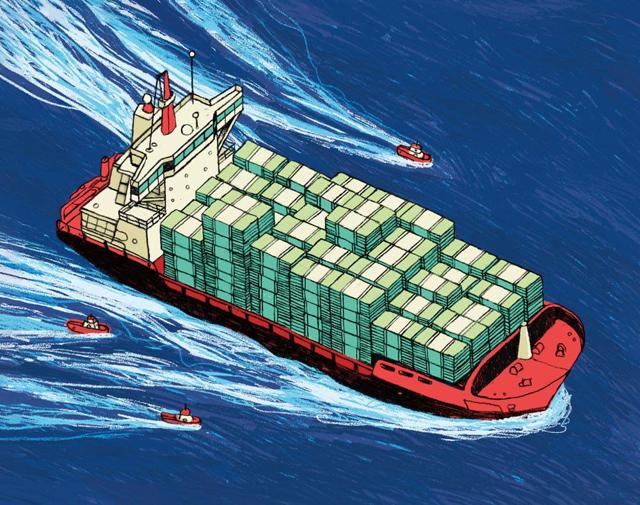 In terms of income growth, the year is off to a fantastic start. One month in and I've nearly hit my mid-year income growth goals.
Based on past history, the number of increases will go down from here, but that's no surprise. I was, however, pleasantly surprised by the double-digit increases from the Minnesota companies (3M and Fastenal) this month. I wasn't expecting them to hit the double digits.
Looking forward, there is a lot to be excited about. I will receive my first profit sharing contribution to the MnM 401(k), which should add $11k+ to the fund. Also, February will include some interesting earnings calls. I am particularly interested in VEREIT's (VER) to see if they have continued making progress turning things around and Gladstone's is always fun to listen in on.
Lastly, I am excited to pick up more shares of the REITs in the portfolio - which seem to be totally out of favor in the market right now. We may not yet be at the bottom, but the sell-off has provided much better valuations in these than the common equities. EPR Properties is trading at 11x FFO, VEREIT is trading at 10x FFO, Omega Healthcare is at 8x FFO, and even Realty Income and Gladstone Land are coming down.
I also intend on writing a piece about REITs, looking at how they performed in the last rising rate environment we saw in the early 2000s to see if we can gain any insight from what happened during that time frame.
I hope you had as good of a January as well, thanks for your support.
Disclosure: I am/we are long THE STOCKS LISTED IN THE PORTFOLIO.
I wrote this article myself, and it expresses my own opinions. I am not receiving compensation for it (other than from Seeking Alpha). I have no business relationship with any company whose stock is mentioned in this article.