REIT Rankings: Apartments
In our REIT Rankings quarterly series, we analyze one of the 15 real estate sectors. We rank REITs within the sectors based on both common and unique valuation metrics, presenting investors with numerous options that fit their own investing style and risk/return objectives.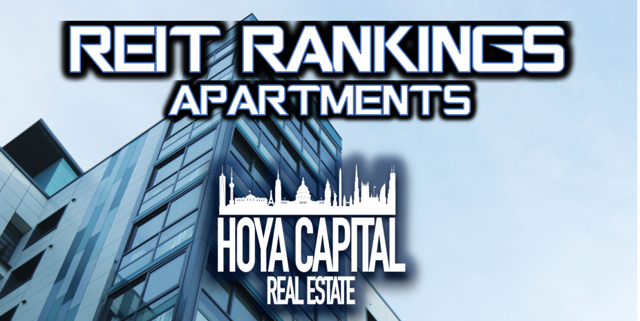 We encourage readers to follow our Seeking Alpha page (click "Follow" at the top) to continue to stay up to date on our REIT rankings, weekly recaps, and analysis on the REIT and broader real estate sector.
Apartment REIT Sector Overview
Apartment REITs comprise roughly 13% of the REIT Index (IYR and VNQ). Within our Hoya Capital Apartment REIT Index, we track the nine largest REITs within the sector, which account for roughly $90 billion in market value and 500,000 total housing units: Apartment Investment (AIV), AvalonBay (AVB), Camden (CPT), Equity Residential (EQR), Essex (ESS), Mid-America (MAA), UDR, Inc. (UDR), Preferred Apartment Communities (APTS), and Independence Realty (IRT).

Above we show the size, and strategy and geographical focus of these nine REITs. "Quality" is determined by the average rent per unit of the apartment portfolio. As a whole, REITs tend to own high-quality assets in major "job hub" cities, though several REITs focus more on suburban and lower-quality assets. We note that the two small-cap REITs have higher leverage ratios than the seven larger REITs.
Recent Developments and Performance
Apartment REITs have dipped 16% over the past 13-week quarter, underperforming the 11% fall in the broader REIT index. Essex, Equity Residential, and Aimco have been the best relative performers so far in 2018. Preferred Apartments has been the worst performing name amid a broader flight to quality within the sector.

4Q17 earnings were generally solid and in line with expectations, but most REITs struck a cautious (but perhaps overly conservative) tone for 2018. Apart from weakening rent growth, fundamentals were actually quite strong in 2017. Occupancy increased 20bps to 96.2% while turnover dipped 140bps to 46.9. Same-store revenue growth slowed to 2.9% in 2017, continuing a downward slide after the peak in 2015 at 5.6%. Average rents were higher by a disappointing 2.1% in the fourth quarter, but as we'll discuss below, national rent growth appears to have bottomed. Expense growth was manageable, helped by lower turnover but dragged higher by rising property taxes.

All seven REITs reported guidance that was below consensus expectations and most REITs expressed concern that new supply will continue to put downward pressure on rental rates. Revenue growth is expected to slow to just 2.4% in 2018, barely above the inflation rate. Meanwhile, expense growth is expected to outpace revenue growth in 2018, sending same-store NOI growth down to just 2.2%. Below we show the revenue growth trends of all nine REITs including estimates for 2018. It's clear that the significant disequilibrium between supply and demand from 2013 to 2015 has been erased, but we continue to see rents rising slightly higher than inflation for the next several years, driven by strong demographics and homeownership unaffordability.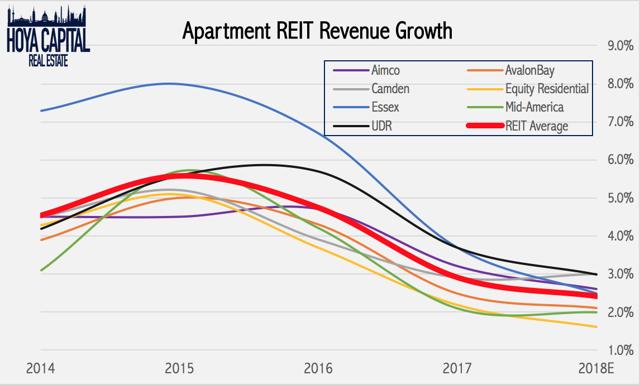 Over the past quarter and during earnings calls, several key themes and recent developments are being discussed.
1) Supply Growth Remains An Issue
Elevated levels of supply growth in the multifamily sector have been the major focus of REIT investors over the past several years. 2017 was supposed to be the year that we saw a spike in new supply, but construction delays have pushed back many of the completions into the second half of 2017 and into 2018. Completions have finally "caught-up" with starts, as seen below. More than 600k units are still under construction with peak-deliveries expected to be in the first half of 2018.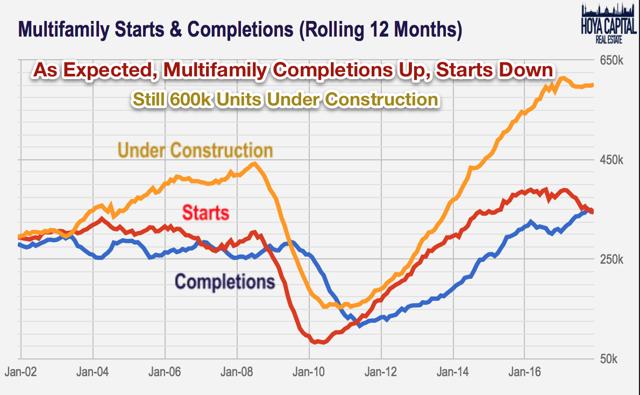 Roughly 350k apartment units were delivered in 2017 following 310k in both 2016 and 2015. We expect completions to remain in the 350-400k/year range through 2018 which amounts to nearly 2% expansion of existing stock. With demand growth expected to be 1-2% in 2018, this will continue to put downward pressure on rent growth, all else equal. Supply pressure will be a continuing theme throughout 2018. With supply growth a certainty, the wild card for apartment rent growth will be demand.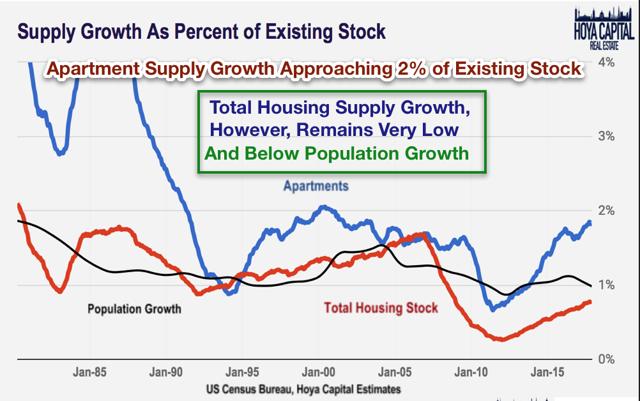 2) Rent Growth Slowed in 2017, But Finished Strong
Rent growth at the national-level finished the year surprisingly strong, buoyed by the effects of Hurricane Harvey. Axiometrics publishes a monthly rent growth tracker. It noted that rents rose 2.5% YoY in December, accelerating into year-end after bottoming during the summer at 2.0%. 2017, however, saw the second-slowest rent growth since the end of the recession at just 2.6%, slowing considerably from the 5.0% growth in 2014.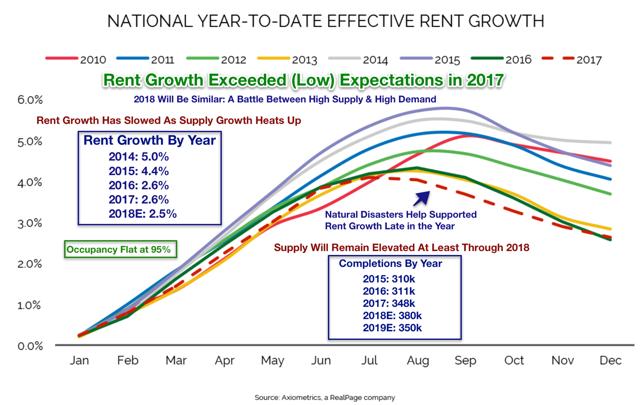 Zillow also publishes a monthly rent growth index, the Zillow Rent Index (ZRI), which tracks both single-family rental and multifamily. Zillow's index shows more pronounced trends, with multifamily peaking in 2015 above 6% and bottoming this summer at 0.2%. Rent growth has been strong since May and is now higher by roughly 2.0% YoY. Single-family rent growth has outpaced multifamily this year as supply growth has been most significant in the multifamily category.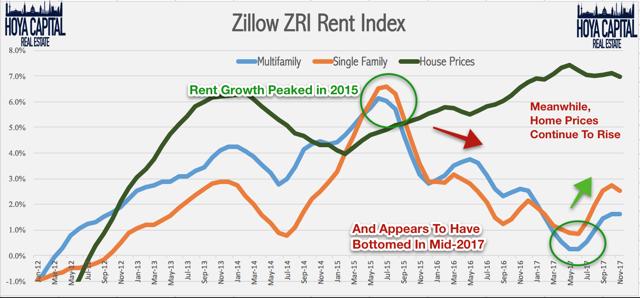 Rent growth is also tracked by CPI inflation data. Rent growth tends to track the broad CPI inflation index quite closely, meaning that apartment REITs should be an effective inflation hedge over time. Looking closely at the data, we see that CPI data tends to lag the other rent indexes by 12-24 months. CPI data continues to show 3.7% rent growth, but this should drop towards the 2.5% level in the coming months, acting as a downward pressure on the broader inflation measures. Housing accounts for more than 40% of the CPI weighting, so the forthcoming downward pressure on inflation from rents will have broader economic implications.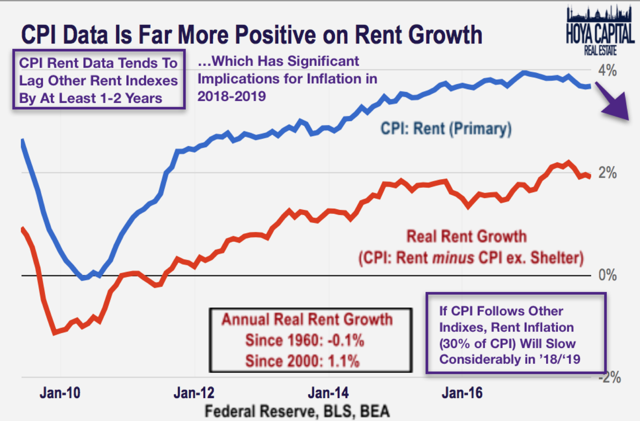 3) West Coast Still Strong, But Markets Are Equalizing
As we get later into the cycle, the variance in fundamentals between markets has lessened as there is a convergence towards supply/demand equilibrium. The West Coast markets, which were once producing double-digit annual rent growth, have cooled but continue to outperform the national average. Northeast markets, particularly New York City, continue to underperform. Sunbelt markets have performed well outside of Houston, which remains negative but showed signs of recovery in 2017.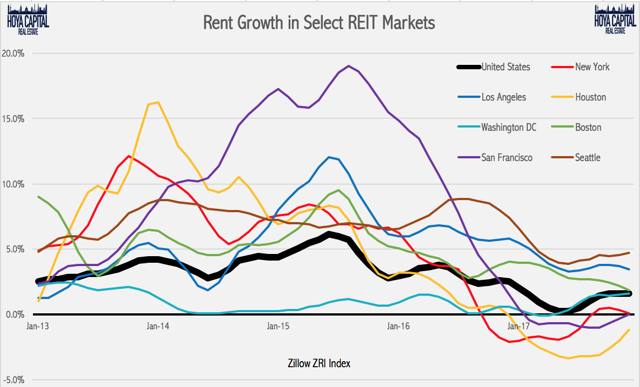 4) Development Yields, Cap Rates Steady
Development yields are an important indicator of future new supply, and low yields should be expected to prevent marginal projects from breaking ground. Higher construction costs, moderating asset price appreciation, and weaker fundamentals have made new development less attractive over the past several years, but many developers continue to see positive value-creation spreads. AvalonBay sees 6.1% stabilized yields compared to 4.4% capitalization rates. This 170 bps spread compares to the 300bps+ spreads in 2014-2015.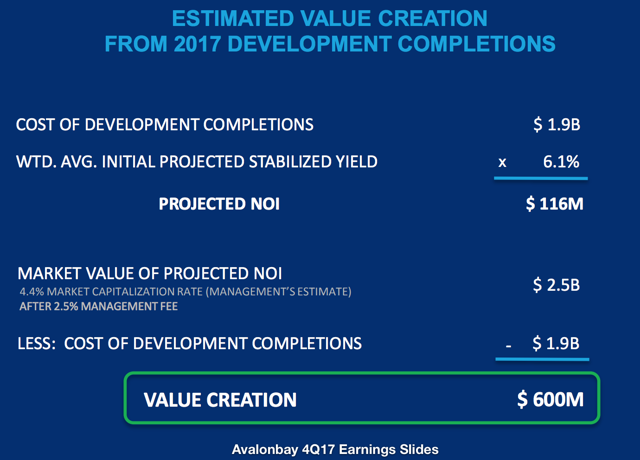 Meanwhile, private market valuations for apartment assets are essentially flat YoY after rising at a steady 7% per year rate from 2008 through 2015. Few buyers or sellers expect further cap rate compression. As private developers can no longer project significant rent growth or asset price appreciation, we expect new development to continue to tail off in 2018 and into 2019.
2018 YTD Performance
Below is our REIT Heatmap, showing the YTD performance in relation to other sectors: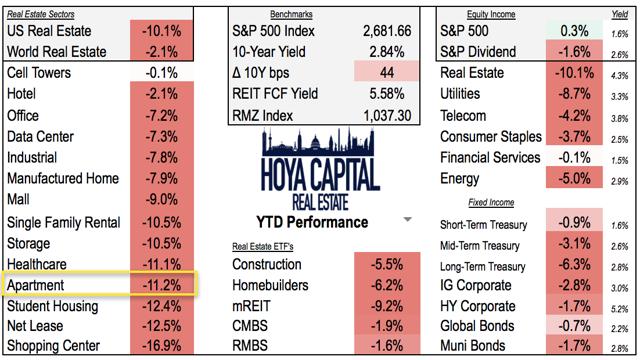 The 2 Reasons to Be Bullish on Apartment REITs
1) Demographics Remain Highly Favorable
While high levels of supply have apartment REIT investors on edge, don't count out apartment REITs quite yet. We are right in the middle of the demographic boom that is most likely to prefer apartment living. As of today, the most common age in the United States is 26. After that, it's 27. Then 25, 24, and 28. There are five million more Americans in their 20s than in their 40s.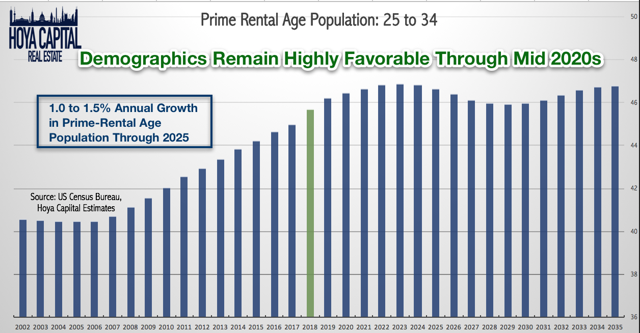 The prime rental age population (25 to 34) will continue to grow until the mid-2020s, adding 1.0% to 1.5% per year. High student loan debt burdens, moderate wage growth, and a "rent-by-choice" preference also makes this demographic more likely to rent apartments further along into their family and career paths.
2) Tax Reform Tilted The Scale Further Towards Renting
We continue to discuss home price affordability (or lack thereof) and how we believe that rental demand will continue to surprise to the upside as potential homebuyers remain in the rental markets for longer than expected when faced with the reality that renting is simply a far better value at these house price levels. Home prices are up more than 40% since 2012 while rents are higher by roughly 20%. Meanwhile, median household income is higher by roughly 15%.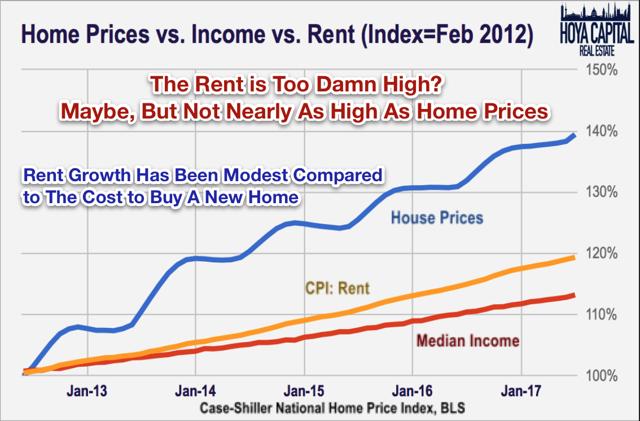 Below we show our Hoya Capital Buy vs. Rent Index. Using the assumptions below, we estimate the annual costs for the equivalent housing unit for an owner and a renter. Because of robust home price appreciation, rising mortgage rates, and rising property taxes, it is now 10% more costly to own versus rent.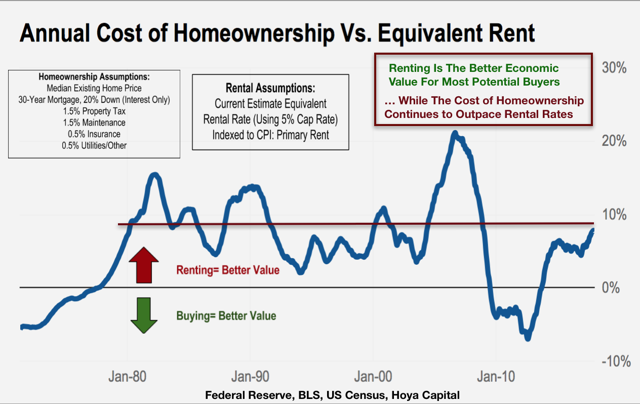 Tax reform is expected to tip the scales even further towards renting. By doubling the standard deduction, only 14% of households will now benefit by itemizing their mortgage interest, according to a Zillow report. This removes a key incentive that is currently used by nearly half of all homeowners. For potential homeowners in high-tax localities, property taxes also became significantly more expensive through the capping of the state and local tax deduction at $10,000. Perhaps the NAR said it best. During negations of the tax reform package, the National Association of Realtors issued a press release reading:
"By doubling the standard deduction and repealing the state and local tax deduction, the plan would effectively nullify the current tax benefits of owning a home for the vast majority of tax filers. Current homeowners could very well see their home's value plummet and their equity evaporate if tax reform nullifies or eliminates the tax incentives."
The 2 Reasons To Be Bearish on Apartment REITs
1) Oversupply Issues Will Linger
Builders want to build. When there's a demand imbalance creating positive fundamentals, it is never for very long as developers swoop in and add new supply to the market. This reality is readily apparent when looking at the long-term rent growth data compared to inflation. Since 1960, "real" rent growth (in excess of inflation) is essentially zero, meaning that over the long run, supply and demand tend to balance, leaving a theoretical investor with a "commodity-like" investment that provides an inflation-hedge but not much else.

Robust rent growth from 2013 to 2015 prompted a wave of new development that is equalizing the supply/demand imbalance. We expect completions to remain in the 350-400k/year range through 2018, which would continue to put downward pressure on rent growth, all else equal. The question remains whether we will indeed see development activity tail-off in 2019 and beyond or whether builders will continue to build until every bit of "real" economic value is sapped out of the apartment markets.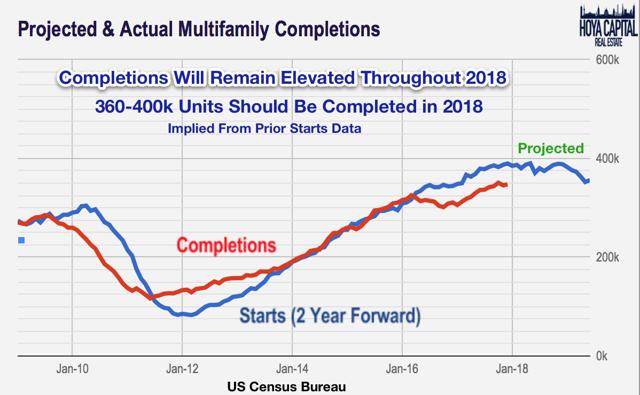 The good news is that, since 2000, real rent growth has averaged 1.1% per year, which indicates that there may be structural impediments to new supply growth such as restrictive zoning regulations and limited access to capital. If this is the case, then apartment ownership should continue to provide positive real economic returns over the long run.
2) The Homeownership Rate Has Bottomed
The modest tick higher in the homeownership rate in 2017 has gotten a lot of media attention. Articles have been written that raise questions about the health of the rental markets if younger households suddenly acquire a taste and ability to own rather than rent. Below we show that the homeownership rate has returned to the pre-bubble average of 64%. Digging deeper into the data, however, we can see that the recent modest climb in homeownership is not because of millennials re-entering the market in great numbers.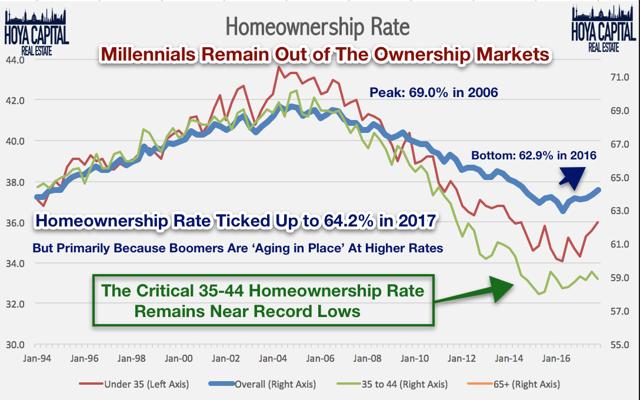 The homeownership rate among households less than 44 years old has fallen considerably more than the overall rate since the recession and has been moving sideways since bottoming in 2015. The largest climb in homeownership rate in the third quarter and fourth, interestingly, was among the 55+ demographic. That being said, the data does indicate that homeownership rate as a whole has indeed bottomed in this cycle and there is an argument to be made that a "reversion to the mean" would entail a larger upward percentage move in this millennial demographic. This, of course, would mean incrementally less demand for apartments.
Valuation of Apartment REITs
Compared to the 14 other REIT sectors, apartment REITs appear attractive across all three metrics that we track.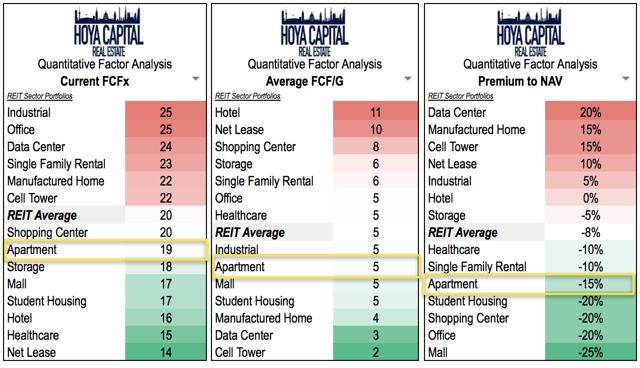 (Hoya Capital Real Estate estimates, Company Filings)
Within the sector, we see how the small-cap REITs, APTS and IRT, trade at sizable discounts to the established players, in part due to their high leverage ratios. We believe that MAA and AIV appear to be the most attractive across the three metrics.

Dividend Yield and Payout Ratio
Based on dividend yield, apartment REITs rank in the middle of the sector, paying out an average yield of 3.5%. Apartment REITs pay out just 69% of their available cash flow, the fifth lowest payout ratio sector, giving these companies quite a bit of flexibility to take advantage of development opportunities or to increase distributions through higher dividends or share buybacks.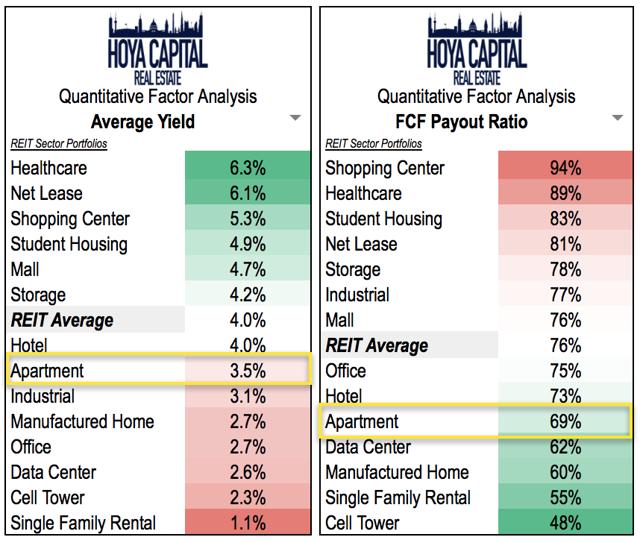 More so than other sectors, the dividend and payout strategies of the seven large apartment REITs are quite similar. The two small-cap REITs pay a higher dividend yield but also tend to pay a higher percentage of FCF towards the dividend.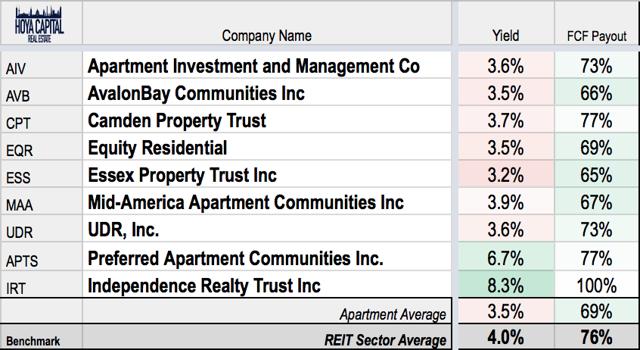 Sensitivities to Equities and Interest Rates
Using our factor calculations, we show that apartment REITs are not particularly interest-rate-sensitive sector, nor are they sensitive to movements in the equity markets. The short lease terms of apartment REITs provide investors protection against inflation as rents are able to re-price more often than other REIT sectors with longer average lease maturities. Rental apartments have some counter-cyclical properties: when incomes fall, it encourages potential home buyers to hold off on the home purchase, putting a floor on the demand for apartment units.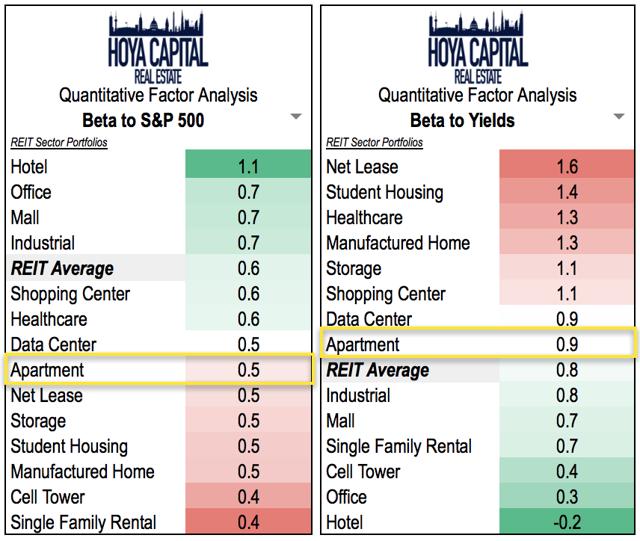 We separate REITs into three categories: Yield REITs, Growth REITs, and Hybrid REITs (Click on each link to read more information about our methodology). As a sector, apartment REITs fall into the Hybrid REIT category.

Within the sector, CPT, EQR, and MAA are categorized as Yield REITs and IRT is a Growth REIT, while the other five names are Hybrid REITs.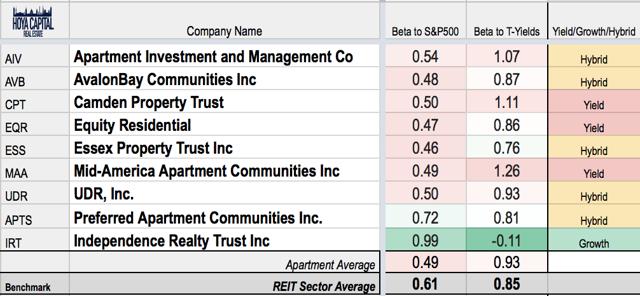 Bottom Line
Apartments have been the weakest performing real estate sector of late, dipping 10% YTD. While 2017 was solid, REITs raised caution for 2018 as pockets of oversupply continue to linger. Rent growth finished the year strong, buoyed by the effects of Hurricane Harvey. 2017, however, saw the second-slowest rent growth since the end of the recession at just 2.6%.
Robust rent growth from 2013 to 2015 prompted a wave of new development. Multifamily completions are expected to peak in 2017 at nearly 2% of existing supply and remain elevated through 2019. Multifamily starts pulled back sharply in 2017 as lending markets tightened and construction costs continue to rise. Higher interest rates should further dampen risk appetite for developers. "Renter nation" isn't going away anytime soon. Strong job growth, a "rent-by-choice" attitude among a large millennial demographic, and homeownership unaffordability should keep demand growth (and rents) firmly above expectations.
We aggregate our rankings into a single metric below, the Hoya Capital REIT Rank. We assume that the investor is seeking to maximize total return (rather than income yield) and has a medium- to long-term time horizon. Valuation, growth, NAV discounts/premiums, leverage, and long-term operating performance are all considered within the ranking.

To see where apartment REITs fit into a diversified REIT portfolio, be sure to check out all of our quarterly updates: Hotel, Cell Tower, Single Family Rental, Industrial, Healthcare, Mall, Net Lease, Data Center, Shopping Center, Manufactured Housing, Student Housing, Office, and Storage sectors.
Please add your comments if you have additional insight or opinions. Again, we encourage readers to follow our Seeking Alpha page (click "Follow" at the top) to continue to stay up to date on our REIT rankings, weekly recaps, and analysis on the REIT and broader real estate sector.
Disclosure: I am/we are long VNQ, SPY, MAA, CPT, OHI, PLD, GGP, STOR, SHO, SUI, ELS, ACC, EDR, DLR, COR, REG, CUBE, PSA, EXR, BXP, EQR, INVH, SPG, HST, TCO, SBRA. I wrote this article myself, and it expresses my own opinions. I am not receiving compensation for it (other than from Seeking Alpha). I have no business relationship with any company whose stock is mentioned in this article.
Additional disclosure: All of our research is for educational purposes only, always provided free of charge exclusively on Seeking Alpha. Recommendations and commentary are purely theoretical and not intended as investment advice. Information presented is believed to be factual and up-to-date, but we do not guarantee its accuracy and it should not be regarded as a complete analysis of the subjects discussed. For investment advice, consult your financial advisor.