Snap (SNAP) surged nearly 50% the day following Q4 results that beat analyst estimates. The important numbers though showed no significant improvements warranting a sudden positive change of opinion in the stock suggesting that investors need to hit the brakes on this rally.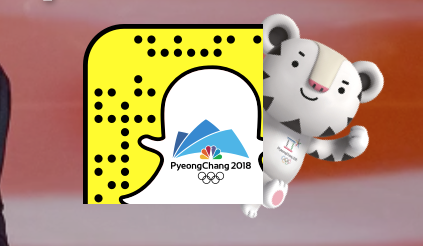 Finally Beat Estimates
To end 2017, Snap had some encouraging developments from a platform standpoint. The camera company was able to accelerate user growth and juice ARPU leading to numbers that beat analyst estimates.
Snap was able to add 9 million DAUs during Q4 for the fastest net additions since Q3 2016 when the company added 10 million users. Redesigning the Snapchat platform last year was a big positive for the company, but a lot of the growth came from focusing on the less profitable Android users.
The DAU growth was generally in the range of the last year with Snap adding similar amounts in Q1 and Q2 and never dipping below adding 5 million DAUs in a quarter. The sign is encouraging, but nothing worthy of a huge rally in an already expensive stock.
The solid revenue beat in Q4 was another positive, but investors need to keep in mind that the original analyst estimates for 2018 were above $2.1 billion. The company reported revenues of $286 million versus estimates closer to $253 million, but this improvement leaves Snap far beyond original expectations.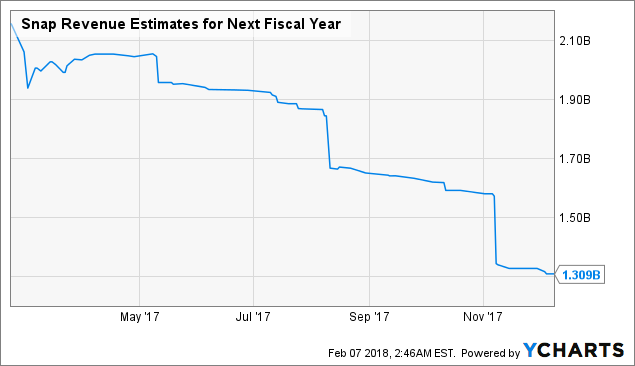 Snap has substantially underperformed expectations since becoming a public company. Beating estimates is partly due to analysts pushing numbers too low based on past misses.
Only Numbers That Matter
Improving user metrics and boosting advertising revenue is an important part of the equation in valuing a stock. Ultimately though, what really matters is the ability to generate positive cash flows.
Snap has failed miserably in this key category due to absurd costs that soar along with revenue growth. The social networking company hasn't shown any ability to generate positive leverage and Q4 was no exception.
Despite beating most analyst revenue estimates by over $30 million and growing revenues by $120 million YoY, Snap actually generated adjusted EBITDA and free cash flow metrics that declined from Q4 levels last year. Incredibly, the company continues to burn nearly $200 million in cash per quarter.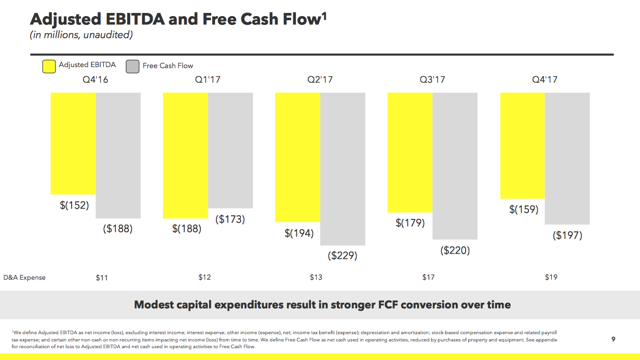 Source: Snap Q4'17 presentation
Snap has about $2.0 billion in cash so the company can afford to continue burning a large amount of cash each quarter, but the goals have to include significantly cutting its cash burn rate. The company had about $3.24 billion on March 31, 2017 after the IPO. As an investor, the biggest fear has to be that the social messaging company burns the remaining cash.
The big disappointment is that Snap made an effort during Q4 to reduce hiring by cutting HR employees, yet expenses still surged. As the company started getting hosting cost growth under control, Snap saw operating costs surge from about $175 million last Q4 to $275 million this quarter (ex stock-based comp).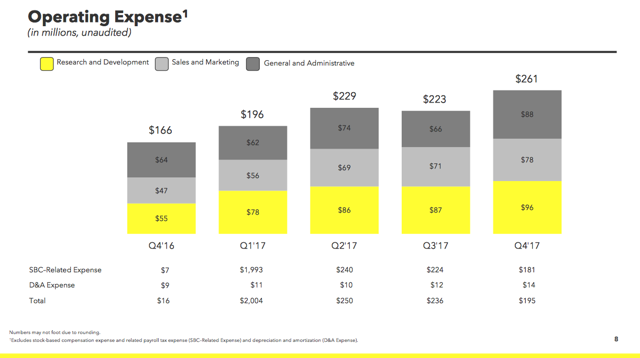 Source: Snap Q4'17 presentation
One of the most concerning aspects of the earnings release was the prepared remarks where CFO Drew Vollero tried to paint the picture of improving financial metrics. He had this to say about cash:
Lastly, we focused on capital deployment priorities and thoughtfully managed our cash position this quarter.
Huh? Snap burned another $200 million in cash last quarter, but the management team apparently thinks this is normal.
While analysts were busy buying into the story, the case for a $7 target by Shyam Patil at Susquehanna is one that is easy to make. With 1.42 billion diluted shares outstanding, Snap is worth an incredible $29.5 billion at the closing price of $20.75 on Monday.
Compared to the well run and very profitable Facebook (FB), Snap trades at over 2x the P/S ratio. The below chart doesn't appear to even use the diluted share count that pushed the ratio up to over 22x forward sales estimates.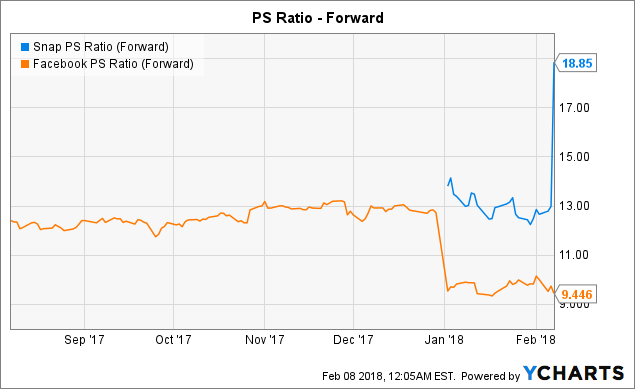 At a more meager 10x sales estimates, Snap would trade for $9. This number even appears aggressive for a company burning that much cash. And don't forget that the company still has to compete with Facebook and Instagram that will adjust to any success that Snap achieves.
Takeaway
The key investor takeaway is that Snap improved some key operating metrics, but the important numbers don't provide much hope for the future. Unfortunately, the social networking company hasn't figured out a way to reduce cash burn to acceptable levels.
Investors need to pump the brakes on this stock with the only thing preventing an outright short being the momentum in the stock. Snap is really in no different situation when the stock soared over $29 following the IPO and the same outcome could occur now whether rational or not.
Disclosure: I/we have no positions in any stocks mentioned, and no plans to initiate any positions within the next 72 hours. I wrote this article myself, and it expresses my own opinions. I am not receiving compensation for it (other than from Seeking Alpha). I have no business relationship with any company whose stock is mentioned in this article.
Additional disclosure: The information contained herein is for informational purposes only. Nothing in this article should be taken as a solicitation to purchase or sell securities. Before buying or selling any stock you should do your own research and reach your own conclusion or consult a financial advisor. Investing includes risks, including loss of principal.