Public market investing has the convenience of price being instantly and continuously available. Value is more difficult to ascertain, requiring analysis that is somewhat subjective and includes assumptions about the future.
The apparent subjectivity of value and objectivity of market price can lead some to consider price to be the ultimate barometer of success. When a stock's price is down, it implies that something is wrong with the company, but this is only true when markets are efficient. In inefficient markets like that of the present, price and value can diverge. An astute investor who is able to spot these divergences can selectively pick the higher of the 2 measurements of worth.
Desiderata of price and value
To understand why price and value might diverge, we must know what makes them move.
Price is determined by a confluence of the following factors:
Capital flows

Sentiment

Momentum

Fundamentals
Value, however, is determined entirely by one factor:
Fundamental intrinsic value
Note that the determinant of value is also a determinant of price, but it is only one of many determinants of price. Fundamentals are generally slower moving and more consistent while the other factors can be quite erratic. The change in worth of an investment over time can take any shape, but for illustrative purposes, consider the pattern below.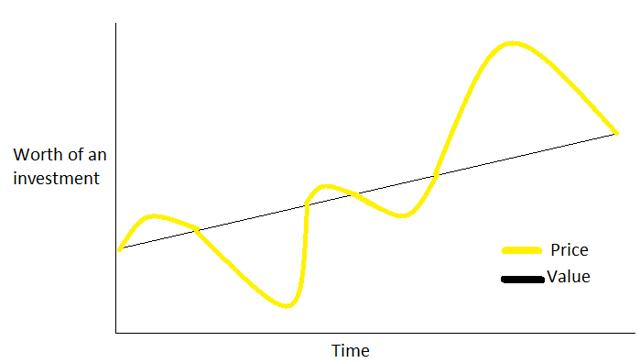 During times when the market is mostly focused on fundamentals or when the aggregate impact of capital flows, sentiment and momentum washes out, price can closely resemble value.
This is not one of those times.
When it comes to REITs, capital flows, sentiment and momentum are currently all working in the same direction to pull market prices quite far from intrinsic value.
As of late, capital flows have tilted toward tech and the giants like FANG. While it may seem odd that just a handful of stocks can trigger capital flows, the sheer size of these dwarfs the REIT market. Apple (NASDAQ:AAPL) and Amazon (NASDAQ:AMZN) together have a market cap of $1.47 Trillion. The entire publicly traded REIT space has a market cap of just over $1 Trillion. When FANG moves up 10% or 20%, it pulls in a truly massive amount of capital and this money has to come from somewhere. Lately, it has been pulled away from REITs.
Prevailing market sentiment is that REITs are to be avoided in a rising interest rate environment. This blanket statement is ubiquitous in financial media and has unfortunately wormed its way into the minds of many investors. When the entire sector is considered something to be avoided, I would suggest that sentiment is about as low as it can get.
Momentum is better understood by technicians than fundamental analysts such as myself, so I cannot quantify the impact of momentum, but I think the direction is fairly obvious.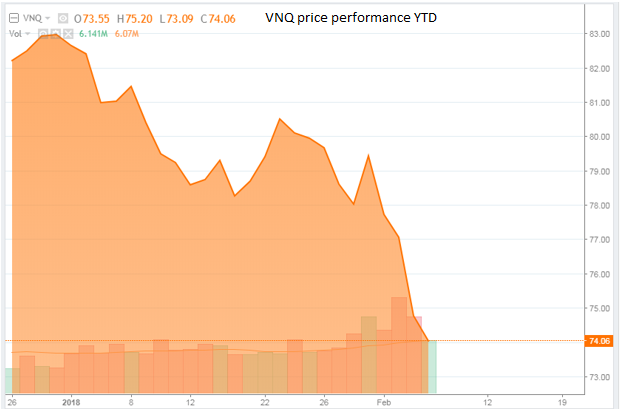 Source: Seeking Alpha 2/6/18
Given that the weakness in REITs has corresponded with all-time highs for the broader markets (until the last few days), the momentum appears to be sharply negative.
Thus, I would suggest that whatever the fundamental value of REITs is, the market price is significantly lower right now given that it is simultaneously pulled down by capital flows, sentiment, and momentum. We previously showed a theoretical graph to illustrate the concept of fundamental value versus price. Below, is my actual estimation of fundamental value as it relates to actual price over the last 5 years as measured by the MSCI US REIT index RMZ.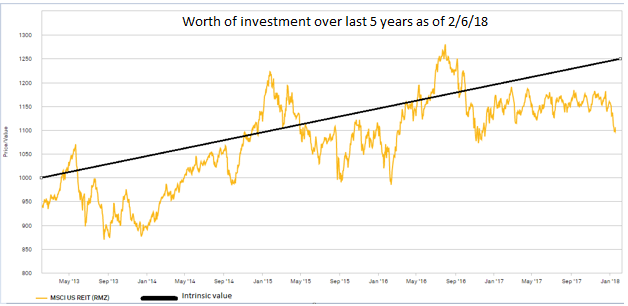 Data from SNL Financial: Intrinsic value line is my estimation
In early 2013, I think REITs were worth about 1000 on the RMZ as this would have represented a mid-range valuation in terms of price to FFO. Over the past 5 years, I estimate that the intrinsic value of REITs has gone up about 25% (~5% a year) and it has been quite smooth as illustrated by the black line above.
With every single quarter (over this period), REIT FFO has gone up and dividends have gone up. Most REITs have contractual stipulations with tenants that cause rents to continuously roll up over time. Most REIT properties have appreciated slightly and external growth has brought slightly positive incremental cash flow. The United States tax code has been reformed to be substantially more favorable to REITs with qualified REIT dividends now being 20% tax deductible.
Even now, in what appears to be the darkest hour for REITs judging by market pricing, fundamental value is increasing. We watch week after week as strong earnings reports pour in. The industrial sector is growing at a rapid pace with double-digit rent roll ups. Office demand is refreshed as employers realize workers are less productive when working remotely and strong employment stimulates need for office space. Hotel RevPAR is gaining speed in 2018 indicating a healthy recovery from the supply issues that hurt 2017 results.
Even in some of the so-called disappointing earnings reports, this quarter's growth was positive. It turns out high-end retail REITs are only growing FFO and same-store NOI at a moderate pace as opposed to the fast pace of prior years. Apartment rents are guided to only increase slightly from the currently record high levels.
Essentially, the moral of the story is that real estate is integrated into just about every aspect of the US economy so when GDP is growing, it trickles through to REIT bottom lines as the economic conditions afford raising rents. Inflation has been muted over the past few years but appears to be rising and this should further bolster the value of real estate as it is a natural inflation hedge.
The only true weakness I am observing is in the healthcare REIT space. Rising labor costs are decimating operators working on tight margins. So far, this has not hit REIT bottom lines, but EBITDAR coverage of rent can only go so low before something has to give. Medicare reimbursement rates simply are not keeping up with costs. We project weakness in the SNF and senior housing space. Senior housing is not reliant on Medicare reimbursement as it is mostly private pay, but labor costs still hurt and supply growth is far too high.
REITs are too often looked at as a single entity which hides the vibrant ecosystem within. Some REITs are performing exceptionally well fundamentally, others have more tepid growth and a few are struggling. Overall, the weighted average is experiencing slow to moderate growth which we believe translates into higher dividends and higher intrinsic values over time.
I can understand how the volatile market pricing would imply risk, but I would encourage taking a look at REIT earnings throughout their history. During the financial crisis, REIT earnings ticked down only slightly, proving far more stable than the broader markets. In previous rate hike cycles as well as this one, REITs generally grew earnings. REITs are a boring asset class worthy of neither excitement nor fear and we continue to be perplexed by the vicissitudes of market sentiment as it pertains to REITs.
Fundamentals are the opposite. They historically stay in a tight range from slightly negative growth in the worst of times to moderately positive growth in the good years. REITs do not grow explosively and I don't think they will anytime soon. They are simply a steady asset class that generates a strong return over long stretches of time. REITs are the tortoise to the broader market's proverbial hare and we all know who won the race.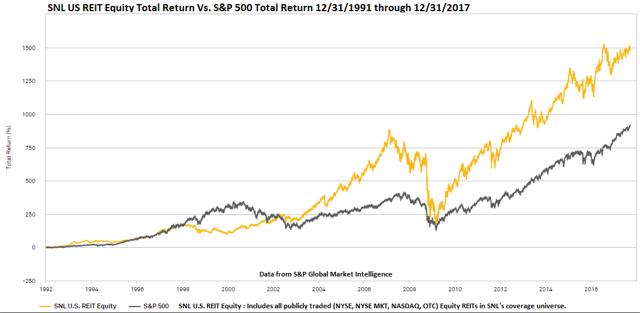 Lesser of evils or greater of goods
At any given time, an investor can choose between the price of a security or its value. Through buying a stock one does not have, or holding a stock one already owns, the investor is choosing the value. Selling a held position or shorting is choosing price.
I like to choose whichever is higher between price and value. I sell when price exceeds value and buy when value exceeds price. Given that REITs are trading at market prices steeply below where I estimate fundamental value to be, I have been buying through this downturn. As of 2/6/18, I am net long 196% in my personal margin account. It is rare that I will margin to that extent but with REITs dropping about 10% YTD despite healthy fundamentals, I feel the opportunities are too strong to pass up.
While many stocks became opportunistic in the last few days, we felt the following opportunities trumped the rest and bought more shares.
Sotherly Hotels (SOHO) pre-released 4Q17 earnings as part of a prospectus for a new Notes offering and the growth is impressive. Using the midpoint of the range provided, hotel EBITDA is up 19% from 4Q16 and AFFO/share grew a whopping 50% to $0.24. This growth supported another dividend hike to $0.115 quarterly marking 155% dividend growth since the start of 2014. We anticipate about $1.15 of FFO in 2018 suggesting SOHO trades at just 5.2X forward FFO.
One Liberty Properties (OLP) has been quietly succeeding with strong operating performance and increasing dividends.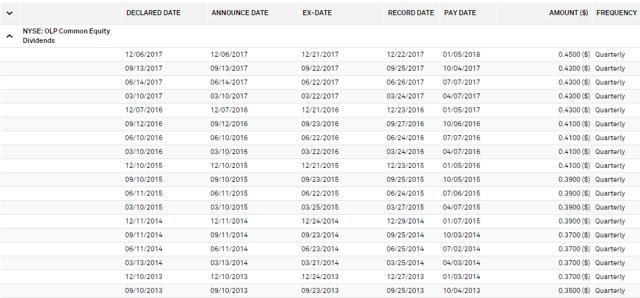 Source: SNL Financial
It is a company we have liked for a long time, so when it dropped as much as 8% during the flash crash of 2/5/18 we saw it as a clear opportunity to buy more.
CatchMark Timber (CTT) has been one of few REITs bucking the downtrend. The rapidly increasing number of sawmills in the southeastern US portends favorable pricing for timber suppliers and the prospects of future growth have largely buoyed CTT's market price until recently. In the last week, CTT has fallen about 8% creating a nice price to get back in.

Source: SNL Financial
STAG Industrial (STAG) is firing on all cylinders with double-digit leasing spreads and a massive pipeline of acquisitions at accretive cap rates. Given the strength of the industrial sector illuminated in the Prologis and Duke conference calls, we think STAG's growth will continue to outpace the market for the next few years. As STAG's price dropped this week, we bought more.
Smith Travel Research indicates that 4Q17 was a bumper quarter for Florida and we suspect the first half of 2018 will see similar post-hurricane benefits. Hersha Hospitality (HT) is poised to profit with significant exposure to Miami and the surrounding submarkets. After a sizable share buyback, the enhanced revenues could have a major impact on the bottom line.
Our analysis of intrinsic value has never been perfect, but it is consistent in its methodology. We are not always bullish on REITs, but presently, the numbers are saying REITs are quite cheap.
Disclosure: 2nd Market Capital and its affiliated accounts are long SOHO, OLP, CTT, STAG and HT. I am personally long SOHO, OLP, STAG and HT. This article is provided for informational purposes only. It is not a recommendation to buy or sell any security and is strictly the opinion of the writer. Information contained in this article is impersonal and not tailored to the investment needs of any particular person. It does not constitute a recommendation that any particular security or strategy is suitable for a specific person. Investing in publicly held securities is speculative and involves risk, including the possible loss of principal. The reader must determine whether any investment is suitable and accepts responsibility for their investment decisions. Dane Bowler is an investment advisor representative of 2MCAC, a Wisconsin registered investment advisor. Commentary may contain forward looking statements which are by definition uncertain. Actual results may differ materially from our forecasts or estimations, and 2MCAC and its affiliates cannot be held liable for the use of and reliance upon the opinions, estimates, forecasts and findings in this article. Positive comments made by others should not be construed as an endorsement of the writer's abilities as an investment advisor representative. 2nd Market Capital Advisory Corporation does not provide tax advice. The material contained herein is not intended to replace the advice of a qualified tax advisor. Investors should consult with their own tax advisor or attorney with regard to their personal tax situation.
Disclosure: I am/we are long SOHO, STAG, HT, OLP. I wrote this article myself, and it expresses my own opinions. I am not receiving compensation for it (other than from Seeking Alpha). I have no business relationship with any company whose stock is mentioned in this article.
Editor's Note: This article covers one or more microcap stocks. Please be aware of the risks associated with these stocks.