The management team at Chesapeake Energy Corp. (CHK) came out with some exciting news on February 6th that shows some progress has been made at the firm. With some recent divestitures and a spinoff of FTS International (FTSI), a firm that Chesapeake owns a sizable stake in, the firm is making strides to monetize its assets and lower leverage. While this is great news, there is one intimation from the firm's press release that tells a different story: Chesapeake is still far from being out of the woods.
Great production and other positive news
In the third quarter of its 2017 fiscal year, Chesapeake stated that oil production in the fourth quarter would average around 100 thousand barrels per day. This would represent a significant increase of 16.3% over the 86 thousand barrels reported for the third quarter, but management surprised and delivered. Total production for the fourth quarter came out to 593 thousand boe (barrels of oil equivalent) per day, 9.5% above where it was in the third quarter and up around 15% from the same time last year.
Production figures aside, however, management did announce some other positive developments that have transpired recently. First and foremost, the firm said that between the fourth quarter of last year and so far in the first quarter this year, it struck three different deals to sell off various assets in exchange for aggregate proceeds of $500 million. These assets consist of 238 thousand net acres located in the Mississippian Lime operating are of the Anadarko Basin. With these sales, Chesapeake is effectively exiting the area and intends to allocate its time and energy on its core assets.
These sales will see 3,000 producing wells leave the firm's control, resulting in 23 thousand boe per day in production leaving the business. This represents approximately 3.9% of Chesapeake's total daily production in the fourth quarter, so it's not material. What's more, only about 25% of the output from the sold-off assets is in the form of oil, which is where I see more upside potential for any E&P firm in the next few years.
The last piece of positive news I noticed involves the firm's ownership in FTS International. Chesapeake has owned a substantial portion of the business, which provides hydraulic fracturing services to E&P firms in North America, since 2006. In order to realize value potential on the business, its shareholders decided to take it public (the IPO was on February 6th of this year), putting onto the market a firm with a market capitalization in excess of $2 billion. As part of the going-public process, Chesapeake elected to sell off 4.3 million shares of the enterprise, raising gross proceeds (so before underwriting and other costs) of $78 million at an effective sale price of around $18.14 per unit.
Even after the sale, Chesapeake owns 22 million shares in the business. With a current share price of $20.04, this values Chesapeake's remaining stake in FTS at $440.88 million. This outcome, in my opinion, is a positive one for the E&P firm's shareholders because the transition of FTS from being an illiquid asset on Chesapeake's books to being a highly-liquid one allows the business flexibility and the opportunity to monetize these assets if they feel the need to. What's more, the fact that FTS is now a publicly-traded enterprise will give Chesapeake the potential to benefit from investor sentiment if the services firm's performance warrants additional upside in the future.
But there's a dark side to management's press release
By and large the information relayed to investors by management was positive. However, some of the news underscores a problem Chesapeake has that I have outlined in the past. You see, the E&P firm must allocate significant amounts of cash in order to even keep production levels flat. This, combined with the repayment of some debt, has resulted in large capital outlays that have surpassed how much cash flow has come into the business. At the end of the first quarter of 2017, for instance, the firm had $249 million in cash and cash equivalents. At the end of 2016, just one quarter earlier, this number totaled $882 million. By the third quarter of last year, the business had just $5 million.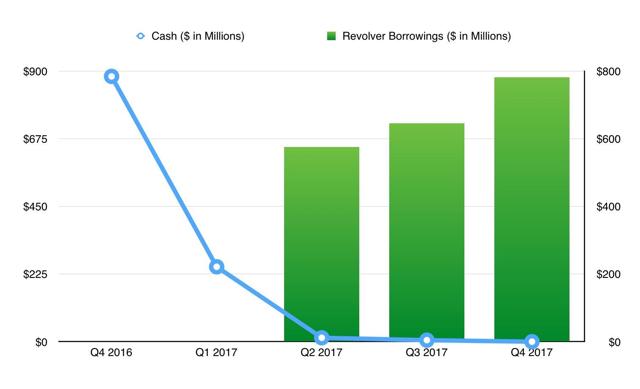 *Created by Author
As you can see in the chart above, even as cash declined over the past four quarters (ending in the third quarter of last year), the amount borrowed under the business' revolving credit facility grew from nothing to $645 million. I stated before that continued expansion of amounts borrowed here would probably occur without any material asset sales and/or without cutting back on capex. Sure enough, I was correct.
According to management, Chesapeake's revolving credit facility at the end of 2017 totaled $781 million, up $136 million from one quarter earlier. Some of this difference is sure to have gone to the spread between the $470 million in operating cash flow Chesapeake brought in during the fourth quarter and the $525 million allocated toward capex in that same timeframe. If the business were using this cash to grow production, I would probably feel better about it, but in its press release the firm said that output this year should be approximately flat. Management has not disclosed anything regarding its cash on hand, but it did say that total liquidity (which includes borrowing capacity) was $2.9 billion at the end of last year. Stripping out current borrowings and the $116 million in letters of credit that are backed by Chesapeake's facility, I arrive at $2.903 billion in borrowing capacity on its $3.8 billion revolver. This implies zero of close to zero cash on hand today.
Fortunately, these numbers do not include proceeds from its asset monetization strategy. The $78 million from its sale of shares in FTS and the $500 million that it's receiving thanks to its asset sales should, according to management, be used to either pay down some of the revolving credit facility or may be used to pay down higher-rate debt (my personal preference being the latter). This will help, as will management's forecast that capex this year will be lower than last year, but until we see what those numbers look like, we can only speculate on the outcome.
Takeaway
Chesapeake's management team has been busy and that generally bodes well for shareholders. High production figures quarter-over-quarter and year-over-year, three nice asset sales, and the monetization of FTS are all beneficial to investors. However, the firm's continued reliance on its revolving credit facility and overspend on capex when the end result will be flat production points out the problem that has been facing Chesapeake for a while now. Namely, if production isn't growing and if all cash goes toward just keeping everything running as-is, where's the value for investors? If management can make significant headway when they announce 2018's budget, my feelings on this could change, but until then I don't feel comfortable with owning Chesapeake.
Disclosure: I/we have no positions in any stocks mentioned, and no plans to initiate any positions within the next 72 hours. I wrote this article myself, and it expresses my own opinions. I am not receiving compensation for it (other than from Seeking Alpha). I have no business relationship with any company whose stock is mentioned in this article.