Introduction
Baker Hughes, a GE company (NYSE:BHGE) is making some progress in key areas, principally upstream opex. This gives me pause to reflect on my over all concerns about the company going forward.
All of my concerns are related to risk vs. reward. Baker's stock had followed the oil price up this fall, and to me, with the overhang from GE's (NYSE:GE) decision to divest them, made the stock uninvestable.

You can see from the chart above the market valued the Baker Hughes/ General Electric combination at almost $44.00 for a nanosecond. Gravity then began to pull it down, and down, and down -- with occasional blips up. I will discuss my thinking behind that a little later in this article.
The recent market sell off has dropped the price to where I regard it as being investable, and put out this opinion Monday to members of the Daily Drilling Report.
In this article I will expand my thinking on this stock.
Notes from the Dog House
Greetings gentle readers of the Daily Drilling Report. It's been an interesting couple of days in the market to be sure. And, looking at the futures, down some 777 points, as I write this, it is going to be another interesting day. Superlatives are being thrown around right and left on the financial chat shows to describe the selling pressure the market is experiencing. Here are some good ones;
"Largest ever one-day decline."
"Dow down nearly 1,600. Is it different this time?"
"Wall Street was due for a correction."
"Is there more to come?"
It's enough to bring out the Chicken Little in all of us, if we let it. I always like to say, inside every investor there's a five-year old who wants his/her mommy on the bad days. Mom's been a popular gal the last couple of days!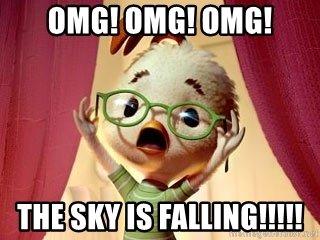 Source (Bet I'm not the only financial writer who gives Chicken Little a job today.)
If you read my recent article, "Energy Stocks Suffered Some Pains Friday, I Went Shopping," and I urge you to do so, you saw that the Daily Drilling Report's Oilfield All-Stars took a 4% hickey. For one day, that's quite an ouchie!
It turns out I was a little early buying on Friday, and took another hickey on Monday. An even bigger ouchie, on top of the previous ouchie.
I could have panicked. Basically decided the it was the end of the world as I knew it. Or, like mom once advised me over cookies and milk -- between munching cookies and slurping milk, I had some questions.
Mom, what is this all about?
"Inflation jitters, dear. The 10-year note hit 3% the other day. In theory creating an lower risk alternative for short-term investors to the stock market. That's poppycock! I am hanging on to my 5.83 % yielding Shell stock for dear life, and if other people want to sell theirs, well ... I may just buy that too." (Mom had a dangerous gleam in her eye as she spoke this.)
Mom, what is this not about?
"The economy dear. Even though unemployment is low, inflation is low so no recession is likely."
"Corporate profits too. It is earnings season and company after company is reporting better than expected numbers."
"And, that nice President fellow..., you know, the one down at 1600 Pennsylvania Avenue... well, he just gave Corporate America a tax cut. Tax cuts are nice dear. The economy is just going to rip the cover off the ball in the coming year." Mom hates big government and bureaucracy, but loves sports metaphors. She will fight the I.R.S. (which Mom thinks is the very definition of the "Swamp"), for the last nickle on her tax return.
But, Mom, isn't that ... risky?
This question got me a sharp look from Mom. And, I immediately realized that I had done the equivalent of dropping a pop-fly ball in the infield, and she was going to remind me of a previous cookies and milk discussion.
"Eyes on the prize, dear. It's a question of what you want out of life. For example, when you're through working like me, do you just want money to go on vacation at the bingo parlor every Tuesday?"
"Or, do you want to go to ... Macao?"
"My Shell dividends are sending me to Macao this summer," she said with an air of triumph, and waving her passport under my nose!
"Always remember dear, rewards are commensurate with risk."
Mom knew everything!
So by and large the reason to be in stocks versus other instruments is still there, and we should eat our cookies, drink our milk, and take Mom's final bit of advice, "Finish your milk, and be a lion, and go shopping, dear."
Good advice, Mom. That's just what I did. I took my ouchies, and headed back into the market again today. Mom raised a lion!
Let's do a review of BHGE.
Tool Box Talk
General Electric had a couple of ideas in mind when they bought Baker Hughes. One was it fit with the thinking of conglomerate building GE mentality. Bigger is better, and this would help leverage their legacy business, GE Oil & Gas into something it could never be without Baker. An oilfield colossus, that could blend revenues from short-cycle upstream oilfield development, with the long-cycle capital equipment that was their stock in trade.
Next, they wanted to move Halliburton (NYSE:HAL) out of second place, and possibly, just possibly challenge Schlumberger (NYSE:SLB) for number one. No one ever said Sir Jeffrey didn't have grand ambitions! There were some other elements to their rationale, fully deploying their Predix software among them as an example, but these two are the main ones in my mind.
Have a look at this table I put together at how the composite business compares with SLB. With SLB now exiting the seismic business, the comparisons are even closer.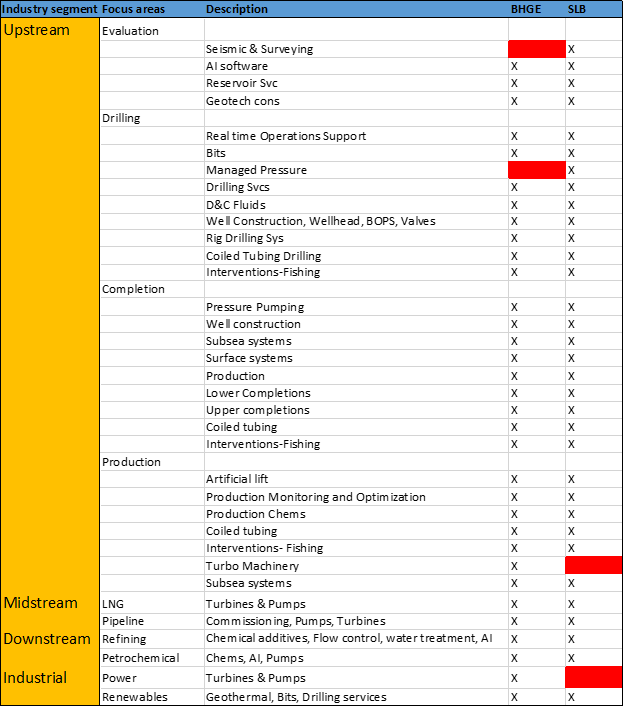 This table is what pulled me into this stock, as opposed to ponying up the money for SLB, or HAL. I saw potential for growth as the offshore industry recovered, as I believe it will.
The market has punished Baker, and me by proxy almost from day one. Have a look at my Oilfield All-Stars Report below to see the pain I've suffered. (I've updated it for closing prices yesterday) Down another 6% in one day ... ouch, Mom, you there?

I think there are a number of reasons for this:
1. The market never saw the strategic fit that a lot of folks like me did.
2. There has also been some concern on my part about whether the oil service market really has room for them. The oilfield is a smaller place than it used to be.
3. GE's troubles of recent generally. It seems to have no bottom and this has been a drag on Baker.
4. GE's decision to realign their core business strategy and put BHGE (possibly) on the market for sale. Although recovering, the oil service business is nowhere near ready to absorb 63% of the second largest OFS company on the planet. I wrote a lengthy article last Fall detailing some options for monetizing the Baker asset for GE. Have a look.
Number four is the primary reason I've gone iffy on this stock, and reevaluating my early reasons for being long, long term.
Notes from the CC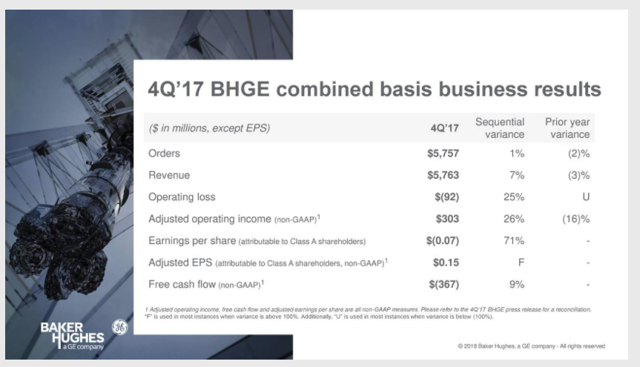 Revenue up dramatically YoY ~63%. Positive!
Narrowed losses, Q/Q, YoY. Positive!
Maintained and slightly increased new order booking Q/Q. vs slightly down YoY. Cautiously positive!
EPS improved Q/Q, YoY. Positive!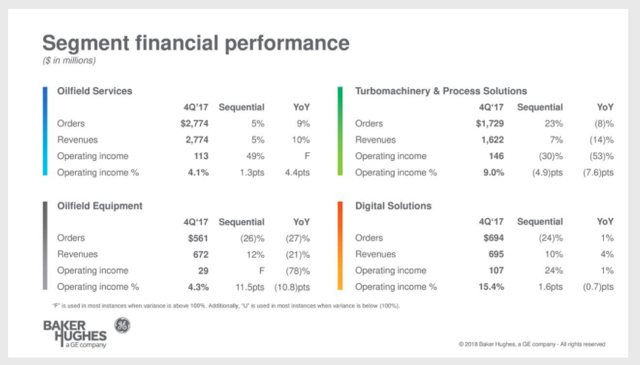 As expected OFS segment carries the company, bolstering the short-term thesis for the merger.
Oilfield Equipment down. No one is building rigs, or buying well heads just now.
Turbo machinery up for the quarter and down vs 2016. No surprise as the LNG market is built up right now.
DS down for the quarter, up for the year. Connectivity and AI were highlighted as drivers in the call. In my view this could be a differentiator for BHGE.
Basically, the company is delivering on its intended mission, go head to head with Schlumberger and win. The recent Twinza illustrates this concept.
Conclusions and your takeaway
Basically, I think the company has moved into buy territory sub-$30.00/share. If BHGE meets your with risk profile, I think there is significant upside to the high $30s. Beyond $40 I will take profits.
Let's be clear about one thing. I am adjusting my thinking on this stock due to the recent price drop. As previously stated, I have some issues concerning the long-term potential while it is under the cloud of GE's intent to divest. These concerns include
The ability of the market to absorb such a large offering under current conditions.
The valuation of parts of the company if it is sold piecemeal.
How a spin-off (in my view the most likely outcome) would be effected.
Final note - crude prices
Any discussion of a OFS stock like Baker must include the crude price direction. Several bearish factors were reported by the EIA.
January domestic production, 10.25 mm BOPD.
A build of 3.3 mm bbls
Strengthening in the dollar
Investors should keep this in the back of their minds as oil issues could weaken further as a result.
About The Daily Drilling Report...
I hope you will think about a subscription to this service. I am different than anyone else covering the oilfield on Seeking Alpha. I have spent years on drilling rigs, working with oil companies, and intend to put this knowledge to work for all of us.
Like most of you, I am a retiree. I live on social security, a pension from my employer, and savings. Savings supplies over 50% of my present income, so you can just better bet I am looking for ways to maintain, and increase it. I want safe, secure dividends from my big cap companies, along with some price appreciation. I want to score some long-ball home runs from my small caps; companies that have the potential to double or triple within a couple of years. Those are things I want, and I expect you want them too.
My pledge to you:
I am here nearly every day. Typically, I work 10-12 hours a day. Hey, that's the way I worked on the rigs, and I am too old to change. What am I doing? Reading summaries, articles, writing my own articles, answering questions on comments left on my previous articles, etc. I am active and engaged in looking for winners.
I will put my years of experience to work on your behalf.
I will look past the fluff, and get you real, actionable intelligence that can aid you in making an investment decision.
I will post several articles weekly that will be of use to you in looking for oilfield investments.
I will be available for chat several hours a day. More commonly in the early mornings (CST).
I will reply promptly to emails.
That's it in a nutshell. I hope you will join my private investing community as we search the oilfield for gems that will make us money.
Disclosure: I am/we are long BHGE. I wrote this article myself, and it expresses my own opinions. I am not receiving compensation for it (other than from Seeking Alpha). I have no business relationship with any company whose stock is mentioned in this article.