Supreme Cannabis Co. Inc. (OTCPK:SPRWF), until recently known as Supreme Pharmaceuticals Inc., will compete in the soon to be supremely competitive Canadian marijuana market. The company already produces and sells bulk products out of its Kincardine, Ontario, facility.
The Canadian marijuana market was one of the most exciting markets to watch in 2017. The market was full of speculation, volatility and hopes of high returns. Legalization is set for late this summer pending approval from the Senate; however, Mr. Trudeau plans on avoiding a July 1st Canada Day legalization date to the dismay of weed enthusiasts across the country.
Market Sizing Up
The Canadian Marijuana market has had a lot of hype in 2017 and for good reason. Analysts estimate the market will range anywhere in between $3 billion and $10 billion CAD ($2.4 billion-8 billion USD). The higher end of estimates is based off of extrapolating Colorado's annual sales, which will likely prove to be overestimated as Colorado sees tourist buyers crossing the border from other states. The lower end is an estimate from International Journal of Drug Policy which estimated $400 million CAD sales for B.C. alone; on an equivalent per-capita basis, it would indicate a $3 billion CAD market. The only guaranteed winner in this new market will be the Canadian government pocketing taxes from the new revenue stream.
Supreme Competition and Differentiation
Supreme Cannabis wants to become the largest B2B cannabis seller in Canada. It is looking to uniquely position itself as both the grower of the highest quality cannabis and the go-to supplier for B2B bulk sales. Supreme currently has no intentions of selling its products at the retail level and instead focuses on product quality and expansion. The other major players in this market Canopy Growth Corp. (OTCPK:TWMJF), Aurora Cannabis Inc. (OTCQX:ACBFF), Aphria Inc. (OTCQB:APHQF), and Emerald Health Therapeutics (OTCQX:EMHTF) already created unique branding and retail distribution channels through partnerships. The sector has been red-hot, making several yet-to-be major producers multi-billion dollar companies. The massive run-up in share prices has some investors wondering if this market has already priced in future earnings from the yet-to-be recreational market.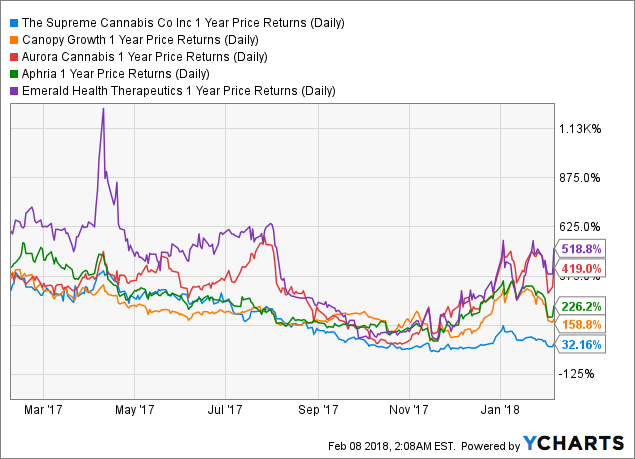 Supreme has made progress completing a $1,519,877 CAD bulk sale to two licensed producers: Aurora Cannabis and Emerald Health Therapeutics. Supreme is already building relationships with major retailers who will be able to distribute its premium cannabis. This was the inaugural B2B sales transaction for Supreme which is an important first step in its plan to differentiate as a B2B wholesaler in this soon-to-be competitive market.
Grow More
In October, Supreme completed construction of a 30,000 sq. ft. addition to its 7ACRES facility, quadrupling its capacity. Then, shortly after approval from Health Canada, planted the facility in November. This expansion puts its production capacity up to 5,000 kg per year which will help it continue to supply to the increasing demand from medical marijuana market. Supreme for the first time hit sales of more than $1.5 million for a single month in the quarter ending September 30th. The company expects harvests from the 3 additional 10,000 sq. ft. rooms in the first quarter of its calendar year 2018; so it is reasonable for sales to nearly triple in potentially less than 6 months' time. For a company with a market cap of $436 million, its current sales are inconsequential compared to sales post legalization and after Supreme finishes the next step in its expansion plans.
The 7ACRES facility once completed will be 342,000 sq. ft. with an annual average capacity of 50,000 kg of premium dried cannabis. Supreme will potentially have sales in excess of $250 million CAD ($200 million USD) if it can realize a wholesale price of $5-6 per gram on 100% production capacity. It remains uncertain if Supreme will be able to realize $6 per gram pricing with its B2B bulk sales model with significantly higher volumes.
A November analysis from Canaccord Genuity estimates average prices for the total legal market (medical and recreational) will stay steady around $8 per gram until 2019 or 2020, with illicit prices remaining slightly higher, between $8 and $9 per gram."
Supplying a premium product should help fetch a higher wholesale price for Supreme. Buying at a wholesale price of $6 per gram, retailers will be able to mark up the product by about 40% potentially more considering the high quality, no pun intended. Supreme has even purchased an adjacent six-acre parcel to its Kincardine facility with the intention of growing an additional 10,000 kg of "California-Style" indoor cannabis. The project timeline has Supreme breaking ground this summer and completing the project by the end of 2019.
Finance, Finance, Finance
Major producers know they will gain from economies of scale not yet seen until the recreational market is available. Events have been moving fast, since Supreme opened its 7ACRES facility it has issued in March of 2016, and shortly after brokered a private placement of 37.37 million shares for aggregate proceeds of $14.95 million in the summer of 2016 at an average price of $0.40 each unit - each unit contains one common share and one warrant.
Supreme upsized its capital with a $55 million unsecured convertible debenture issue. The company had originally announced a $40 million issuance but increased it to $50 million and then two days later increased the issuance to $55 million. The debentures carry a 10% interest rate, a conversion price of $1.30 and a total of 42,350,000 common share purchase warrants with an exercise price of $1.70 within three years (by 2019). The same day Supreme changed its name to Supreme Cannabis; it converted $17.4 million of its debentures due by 2019, adding 13.35 million shares to its capital base.
Most recently, Supreme Cannabis closed a private placement of 40,250 senior convertible debentures units at a price of $1,000 per unit, principal bearing an 8% interest rate, and 313 common share purchase warrants. Supreme shaved its interest rate from 10% to 8% in a year's time - this shows the company is viewed by credit markets with less risk and will save Supreme $805,000 a year in interest payments assuming no conversion. The conversion price is $1.60 per common share; the company may force the conversion on a 30-day written notice if the average trading weight on 10 consecutive days is above $2.10. While each warrant has an exercise price of $1.80, each warrant will be exercisable to acquire one common share for a three-year period. The share price must be above an average of $2.90 for 10 consecutive days and 30 days written notice must be given.
On September 30, 2017, the company had 191,991,398 common shares issued and outstanding with an additional 82,779,888 warrants outstanding with an average exercise price of $1.12 and weighted average life of 2.06 years. The company also has 17,403,783 options outstanding with only 7 million above the current share price. Within the next two years, by only exercising of warrants and options Supreme will likely increase its share base by 50 million common shares, further diluting future returns and shareholder value. That would still leave an additional 50 million units yet to be exercised. Expect for Supreme to have nearly 250 million common shares a year from now and in two years' time about 300 million common shares even without new financing. Nearly half of the outstanding warrants are exercisable at $0.55 or less, enriching the original financiers of Supreme Cannabis. Expect to see strong downward pressure on the share price as those warrants are exercised to commons, then sold in the open market for profit-taking.
High Risk, High Reward
The MD & A of the most recent quarterly report lists 25 different risk categories. The company, like any other publicly listed company, is required to list risk factors, some risk factors will likely never materialize, while others have a higher probability of affecting the business. Interestingly, the risk factor section of Supreme Cannabis's Annual Information Form filed on SEDAR contained 4,114 words and was 7 pages long. A report by The IRRC Institute found the average risk factor section in a 10-K for a consumer discretionary firm contained 16 risk factors, 4,312 words and was 5 pages long. Supreme Cannabis listed 56% more risk factors with 5% few words and 2 additional pages of risks listed than an average consumer discretionary company (the most comparable). To me this implies more risk, and with less information provided on those risk factors, making me wary of the stock. The largest sections of the risk disclosure are:
Change in Laws, Regulations, and Guidelines
Competition
Environmental and Other Regulatory Requirements
I think the company's assessment of risk is fair, without a doubt regulatory risk is the greatest for Supreme Cannabis. The market will be controlled through permits and licenses for production capacity from the Feds and distribution regulation will be created at a Provincial level. The minister of Health, Minister of Justice and the Public Safety Minister made a rare appearance in the Senate this week answering questions on the government's C-45 legalization bill. Health, safety and judicial concerns will likely push back legalization but for good reason. Once the bill is passed and the legal framework is in place, the first major risk factor will be minimized.
Over the long term Supreme will face price erosion as Health Canada will likely grant more licenses to grow and sell. Long-term fundamentals of the market will lower margins in a price-decreasing environment as supply steps up year over year. The profits of producers may eventually be determined by the government through permitted production capacity and number of entrants.
Growers will need bullet-proof records of their growth, harvest and distribution to ensure compliance to maintain the trust of the government, which will place an additional cost on producers and distributors. Creating a regulated market will make cannabis safer for the consumer, by reducing additives and ensuring smokers can access "clean" strains.
Most importantly, there is no guarantee of approvals or permits or that they will be obtained at all or even on a timely basis. Additional facilities need additional permits. Currently, Supreme does not have approval for its next expansion to produce 50,000 kilograms annually, it is only approved for the current 5,000 kg to supply the medical market.
Stuck in the Pot
Supreme Cannabis has had the lowest share price growth of the major players since 2016, being surpassed by other producers doubling, tripling and even quadrupling their share prices. No one knows exactly how big the Canadian cannabis market will be, and it looks like future profits are already priced into the share prices of expected producers. I don't see large share price appreciation going forward, considering the market caps of major producers. Supreme does have an advantage with its B2B model, but every producer will be growing high-quality strains, making its premium product differentiation strategy less valuable.
Supreme will be arriving small and late in the game with its 342,000 sq. ft. facility opening in 2019. Canopy Growth is planning operating 2.4 million sq. ft. of greenhouses. Although Supreme Cannabis will be one of the top 10 producers, it is dwarfed by the giants who will have larger capacity and distribution networks.
It is hard to see a whole lot of future value with the 100 million of outstanding warrants and options yet to be exercised. The share base will likely expand by more than 25% in 2018 and then again in 2019. The huge increase will only dilute future profits and cause downward pressure on the share price as debenture investors dump shares in the open market after exercising their warrants.
If everything aligns, the company could break out in 2018 or 2019 but I am not sure the high reward is worth the risk.
Editor's Note: This article covers one or more microcap stocks. Please be aware of the risks associated with these stocks.